Hello! It's Virginia Tech Calling!
by Kathleen Pantaleo
Assistant Director of Annual Giving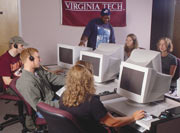 "Good evening, this is Nancy, and I'm a Virginia Tech student caller...."
Sound familiar?
If you're a Virginia Tech graduate, chances are you've already heard from the Virginia Tech Student Telefund Program, operated by the university since 1989. Largely student-driven, the program is a serious effort with ambitious goals. Every call is designed to share university news, facilitate demographic updates, gather feedback, and provide a convenient way for Virginia Tech alumni to pledge financial support to the university. Last year's telefund program raised over $2 million in much-needed private gift income.
While this money goes a long way toward bolstering the university's overall operating budget, Virginia Tech students are the number one reason that alumni pledge their support. Students who work for the telefund strive to personalize each call they make on behalf of Virginia Tech. These students typically begin their calling shifts in the evening after classes and work until 9:30 p.m.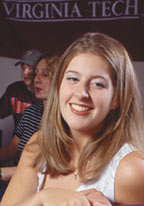 In addition to a paycheck, many students gain professional experience that contributes to future career goals. Jennifer Harlow, a student caller since May, hopes to enhance her résumé by working for the telefund. As a junior in communication studies and public relations, Jennifer knew she'd found the right position when she spotted an ad for student employees with public relations and marketing skills.
While on the job, she enjoys her contact with alumni and believes that they like hearing from students. Even if an alumnus or alumna cannot make a financial pledge at the time of her call, she says, it's nice to get their feedback and share campus updates. She believes that she's making a valuable contribution to her university. "Being a student here at VT, I'm biased. It's my life right now. I can't think of anything better to work for. Fundraising is important to the current and future success of Virginia Tech. As a student, as well as through my work with the telefund, I'm a part of that success." Jennifer can identify many ways in which students benefit from private gift income to the university, including her own participation in Virginia Tech's Study Abroad program.
Bernie Boteler has been with the telefund program a bit longer than Jennifer, having begun in September 1999. He saw an ad for the student telefund in a dining hall on campus, and the reference to "convenient work hours" caught his attention. He had also heard that the telefund was an enjoyable work environment.
Since then, Bernie has found that his job as a student caller puts him in touch with a wider range of individuals than he would ordinarily encounter through his degree program in forestry. He agrees with Jennifer that student callers gain many valuable job skills while fundraising for Virginia Tech. Recently promoted to supervisor, Bernie now enjoys helping student callers understand the importance of their job. "For alumni, talking to a student caller comes close to actually being on campus and hearing Virginia Tech news." He also loves to hear alumni reminisce about Virginia Tech in earlier times. He enthusiastically relates the story of visiting a graveyard in a Virginia Tech cornfield mentioned in a call. The alumnus had pledged funds toward having the graveyard cleaned up, so Bernie and a friend went to find it. After locating it, they were pleased to see how the alumnus' donation helped in its restoration. "Talking with alumni over the phone enables a caller to see things on campus that might ordinarily escape his or her notice," he says.
One thing that never escapes a student caller's notice, according to Bernie and Jennifer, is an alumna or alumnus on the other end of the phone who says yes when asked to pledge their support to Virginia Tech.