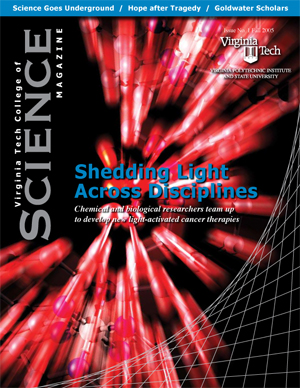 The College of Science at Virginia Tech has
• eight departments: biological sciences, chemistry, economics, geosciences, mathematics, physics, psychology, and statistics;
• nationally ranked undergraduate and graduate programs in geosciences, psychology, chemistry, and mathematics;
• a Nobel prize-winning alumnus, Robert C. Richardson (physics '58; M.S. '60);
• two alumni who are the only Rhodes Scholars in Virginia Tech's history, William Lewis (physics '63) and Mark Embree (computer science, mathematics '96); and
• undergraduates who regularly receive such national honors as the prestigious Barry M. Goldwater Scholarship.
The late, great astronomer Carl Sagan once said, "Somewhere, something incredible is waiting to be known."
Just as Sagan lived his life with an insatiable quest of the unknown, the College of Science at Virginia Tech pursues its vision to be a world leader in the discovery, learning, and engagement of science.
"We are all about creating breakthroughs on demand," says Dean Lay Nam Chang. "Today's societal problems require complex solutions, and we can deliver by drawing upon the expertise of our world-class faculty, latest technologies, and extraordinary caliber of undergraduate and graduate students."
Breakthroughs on demand
From the use of nanotechnology in diagnosing and treating brain tumors to the discovery of new ways to help childhood victims of trauma, breakthroughs in the College of Science meet critical demands.
For example, one aspect of nano-scale science that is making a mega-scale impact is Virginia Tech's involvement in fullerene research. These hollow carbon cage-like molecules were discovered in the 1970s and are popularly known as "buckyballs." For decades, scientists attempted to put atoms with useful properties inside these cages. In 1999, Professor of Chemistry Harry Dorn, along with other colleagues, succeeded in inserting metal into these carbon molecules. A few years later, fellow chemistry professor Harry Gibson expanded on Dorn's groundbreaking research by adding functionality to these fullerenes, thus ushering in the age of chemical nanotechnology with potential applications ranging from medicine to electronics.
Most recently, Dorn and Gibson have created a functional metallofullerene that may boost the sensitivity of magnetic resonance imaging (MRI) techniques and improve the diagnosis and treatment of brain tumors. They are part of a multimillion-dollar medical research project with Virginia Commonwealth University.
Such research is just one reason that it is easy to argue that the future is literally in the making in the College of Science. Scientific breakthroughs in critical areas are changing the way we live--for example, take a look at the college's ongoing research in fuel cells.
Fuel cells convert chemical energy from hydrogen or methanol fuels into electrical energy. Proton exchange membranes (PEMs) are fuel cells that use an ion-containing polymer for this process. For the past seven years, James McGrath, University Distinguished Professor of Chemistry, has been conducting groundbreaking research with PEMs that will ultimately reduce our dependence on petroleum-based energy. In this PEM process, electrons are captured to generate electricity. Protons pass through the membrane film and then combine with oxygen to create an environmentally neutral water byproduct. Potential uses for this technology are seemingly endless, including the invention of a high-temperature PEM that could be used as a portable power pack for cell phones and computers. These fuel cells will last longer and weigh less than batteries.
McGrath is internationally known for his fuel cell research and discoveries. He and his research team have received multimillion-dollar research grants from the Department of Defense, Department of Energy, National Science Foundation, and NASA, as well as private support from Nissan Motors.
The college's reputation as a scientific leader also fosters innovative collaborations. Earlier this year, the College of Science entered a joint degree program with the University of Richmond's law school that allows students with the right skills and motivation to earn a bachelor's degree from the College of Science and a law degree with an emphasis in intellectual property law from the University of Richmond's law school--both in a total of six years. "This is truly a unique partnership that will produce intellectual property attorneys prepared to navigate the intersection of science, law, and public policy," Chang says.
A look back
Intellectual property law was not on any class schedule when the Virginia Agricultural and Mechanical College (VAMC) welcomed its first students in 1872, but several subjects offered then can be linked to current departments in the College of Science. The connection is human, too: college alumna Patricia Caldwell (mathematics '71) is the great-granddaughter of Daniel Franklin Hale, a member of the first class of VAMC. Caldwell is now an active member of the College of Science Alumni Roundtable, an advisory group to the dean that meets twice each year.
"I love being part of the roundtable," Caldwell says. "Also, I find it so rewarding to meet with students in the college. They are phenomenal. It's staggering how impressive they are as students and as individuals."
As the university grew during the first half of the century, so did the number of courses it offered. Many of the departments in the college were part of the administrative unit with the title Applied Sciences and Business Administration in the 1950s. That unit became the School of Science and General Studies in 1961 and two years later became the College of Arts and Sciences. The college saw rapid growth through the 1970s and became the largest "college" in the Old Dominion with more than 6,000 majors and 41,000 alumni.
Virginia Tech's College of Science was formed as a result of the university's restructuring in 2002-03. Departments from the former College of Arts and Sciences were divided among several existing colleges as well as two newly formed colleges: the College of Science and the College of Liberal Arts and Human Sciences. The College of Science is now home to eight departments, over 300 teaching and research faculty, and approximately 3,300 students each year.
Welcome home
Yet the college is about more than research and education--it also remains a friendly environment for its alumni. This year, the College of Science welcomes alumni to its homecoming weekend Nov. 10-12. The college's third annual victory "Aftergate" will be held immediately following the football game on Saturday, Nov. 11, at The Inn at Virginia Tech. Festivities will include great food, live music, and plenty of camaraderie. The college will also be hosting a pre-game tent celebration prior to the Virginia Tech-University of Virginia football game on Saturday, Nov. 25. All College of Science alumni are invited to stop by the tent on the Career Services lawn on Washington Street starting two hours before kick-off for food, music, prizes, and fun.
For details about these alumni events or more information about the College of Science, see www.cos.vt.edu.

Catherine Doss is the college communications manager for the College of Science.