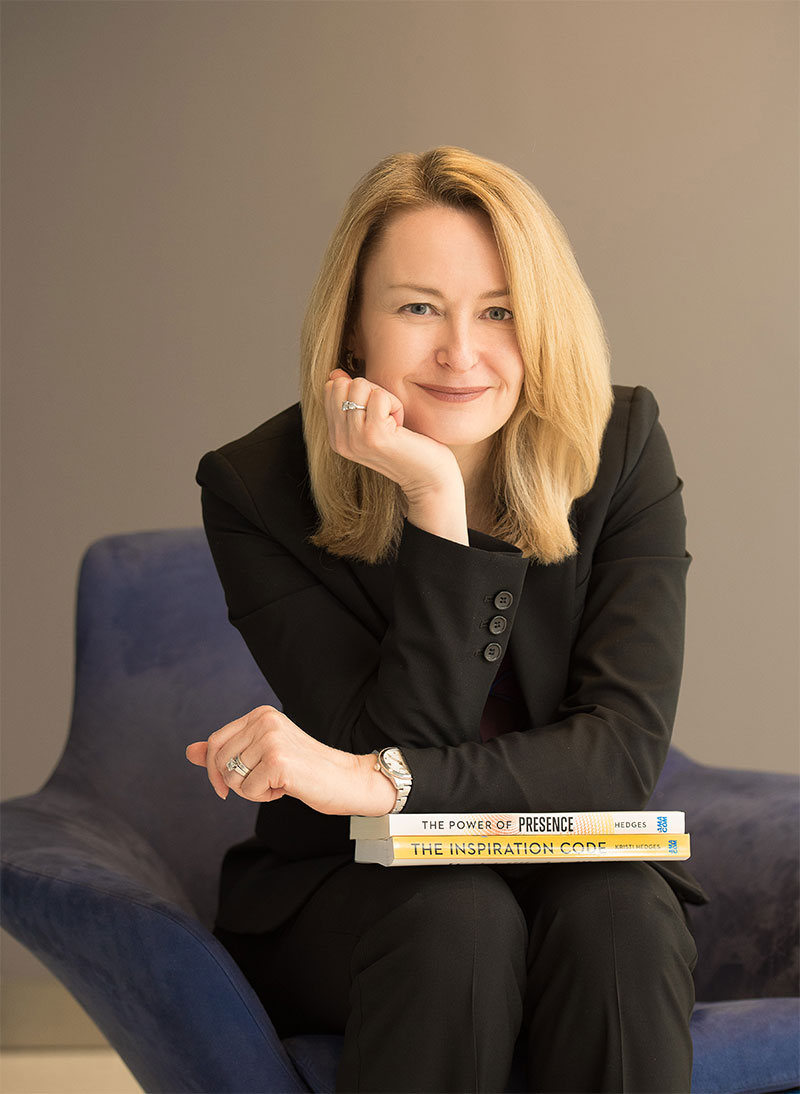 Kristi Hedges with her books
Be an inspiration to just about anyone
Contributed by Kristi Hedges '92
Kristi Hedges (communications '92) is a leadership coach to senior executives and C-level leaders at companies around the world. Recognized for her expertise in leadership communication, she's authored two books, "The Power of Presence" and "The Inspiration Code."
For "The Inspiration Code," which was released in 2017, Hedges spoke with hundreds of leaders to identify behaviors that profoundly affected them. What she learned challenged conventional wisdom. "My research found that Inspirational leadership isn't about captivating personalities or grand visions," said Hedges. "It's about small moments of real connection."
Hedges' findings suggest that whether work takes place in the executive board room, at a community volunteer venue, or even within a family, there are five practices that contribute to becoming an inspiring leader.
Be present
The interviewed individuals frequently described how meaningful it was when leaders made time to truly focus on them at key moments. They weren't distracted or rushed, but prioritized the person in front of them. The amount of time involved wasn't as significant as the willingness to be in the moment.
"It blew me away to hear how many times something said in 10 minutes was carried by another an entire lifetime," said Hedges.
Listen well
Open, attentive listening was the most-cited inspirational behavior in Hedges' research. "When we listen, we create space for others to have their own insights. We don't make it our agenda, but let it be their agenda," she said. For the person speaking, listening feels like care, and attention feels like respect.
Call out potential
The simple act of highlighting the capacity we see in other people can change what they see as possible for themselves. According to Hedges, most of us understand the specific skills of the people around us; we just have to remember to recognize those attributes often and out loud. Calling out others' strengths supercharges their growth.
Show emotion
Perfection, reserve, stoicism — none of those motivates like authenticity.
"We're inspired by people who are real and can connect on a human level, no matter their stature," said Hedges. "We need to see how much our leader cares to determine how much we should care."
Talk about purpose
Inspirational leaders engage in a larger conversation about purpose and help others to connect the threads between what they're doing now and what they want for themselves moving forward. They model a purpose-driven life, serving as catalysts for meaning, which encourages others to follow suit.
Hedges writes about leadership for Forbes, and her work is periodically featured in such publications as Harvard Business Review, The Wall Street Journal, and on CNBC. She founded and manages The Hedges Company and is a teaching faculty member of the Georgetown University Institute for Transformational Leadership. During her time at Virginia Tech, Hedges was inducted into Phi Beta Kappa and was selected as the Outstanding Senior for the College of Liberal Arts and Human Sciences.