ARCHITECT OF CAREERS
By Marya Jones Barlow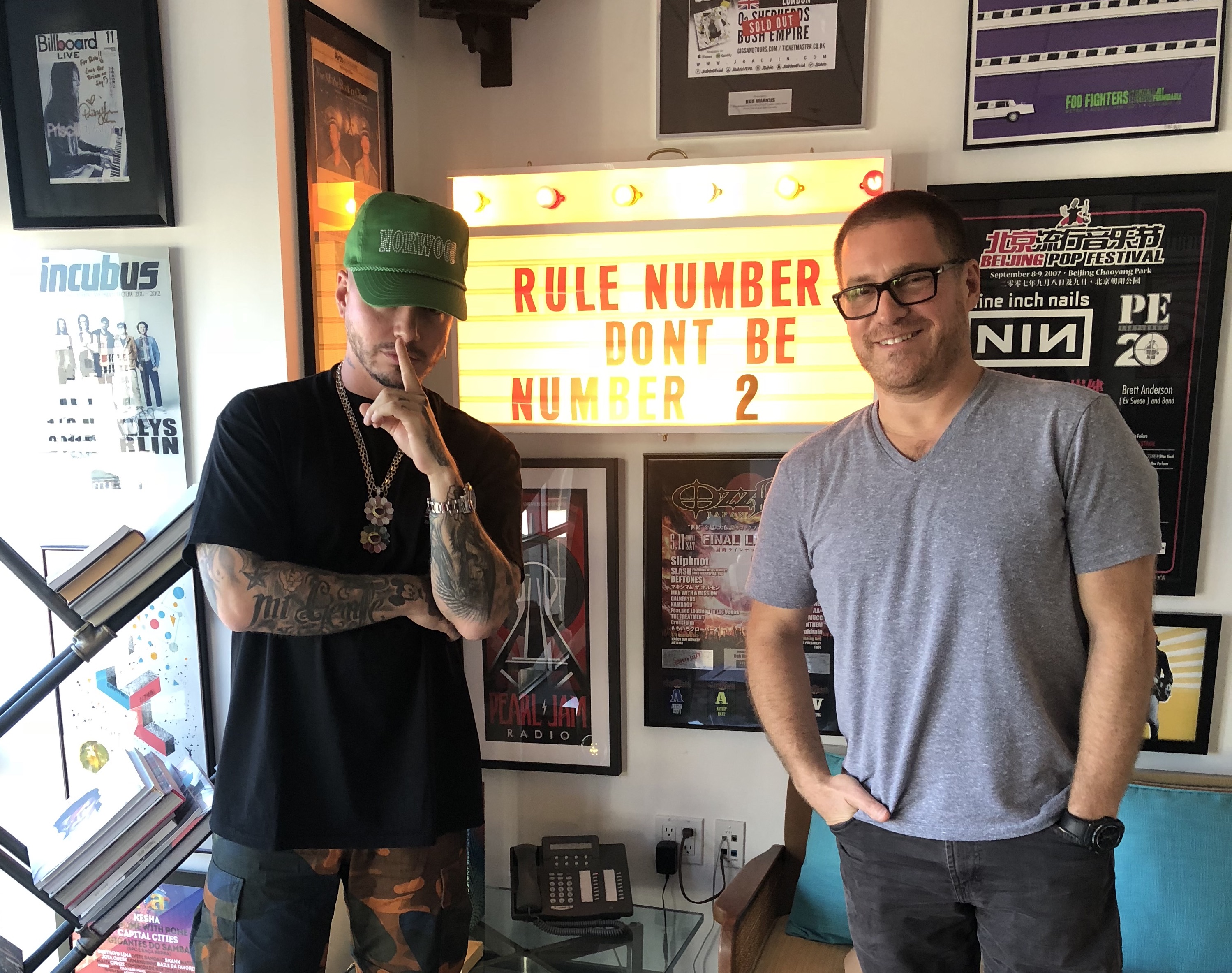 Rob Markus '90 (right) with client J Balvin in his office in Los Angeles. Markus is a talent agent representing some of the world's hottest musicians.
In a career as a talent agent spanning over 15 years, Rob Markus has represented clients like James Brown, Nine Inch Nails, Chris Cornell, and J Balvin, and booked sold-out shows in venues from Coachella and Lollapalooza to Madison Square Garden and the Hollywood Bowl.
However, his spring headliner at Burruss Hall as commencement speaker for the College of Architecture and Urban Studies counts among his favorites.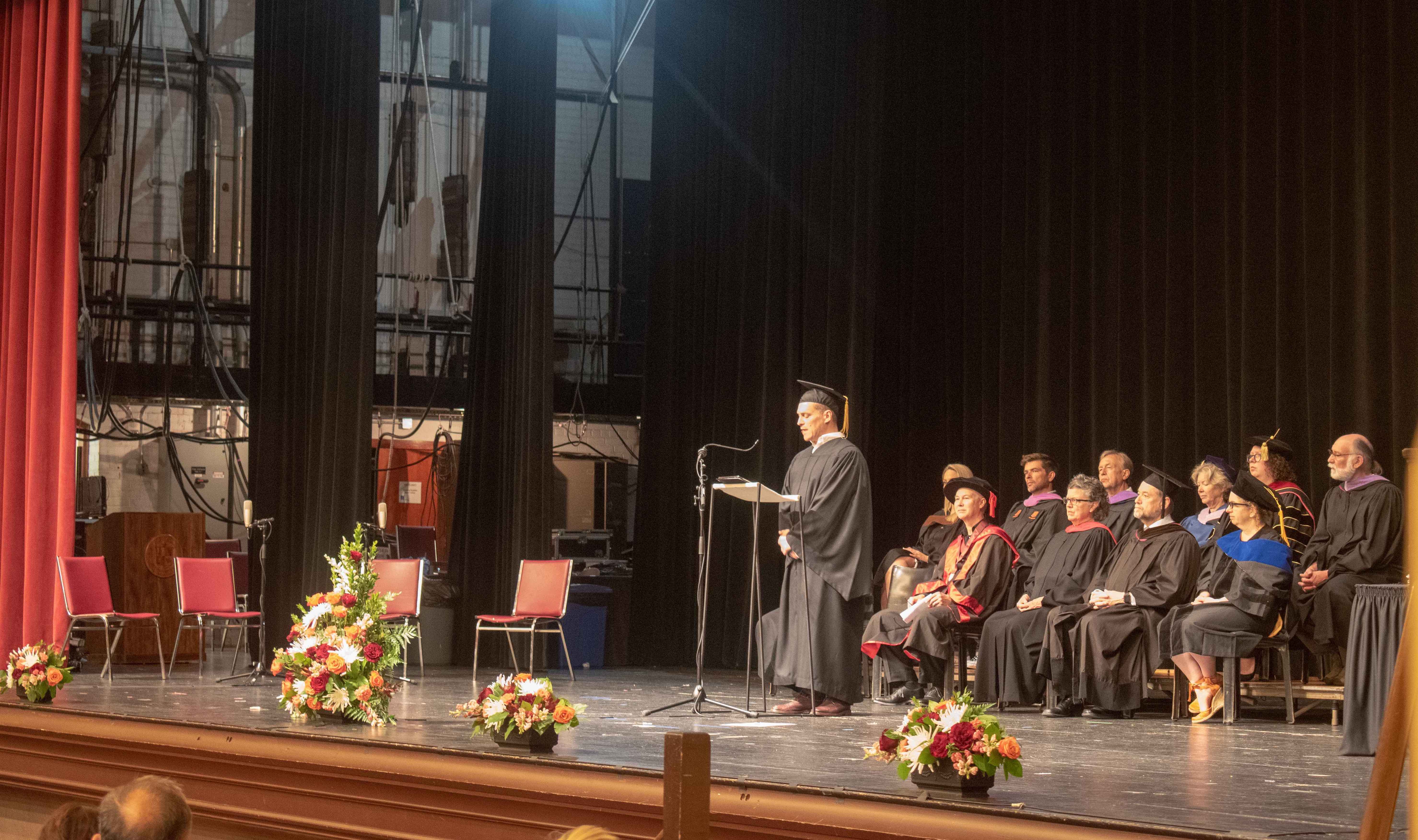 Spring Headliner: Markus speaks at the College of Architecture and Urban Studies commencement in Burruss.
"It was one of the biggest honors of my life," he said. "The School of Architecture + Design laid the foundation for pretty much everything I've done in my life. I found my passion in the music business, but I'm still an architect of sorts, helping build the careers of artists and growing festival brands."
As a senior partner at the world's leading talent agency, WME (formerly William Morris Agency), Markus is building its international music division, and is consistently named one of Billboard magazine's "International Power Players" for his ability to identify and cultivate international talent. He speaks four languages, holds three passports, and represents artists including Depeche Mode, Aloe Blacc, deadmau5, Kygo, Incubus, Juanes, Seal, and Toto. He's also helped drive the global expansion of one of the world's leading festival brands, Lollapalooza, and co-runs WME's music agent trainee program.
"I get a thrill from the business," he said. "I love the fact that I'm at the intersection of business and art—two things I'm equally passionate about."
Born in Australia to Hungarian parents, and a father who worked for the World Bank, Markus grew up in Asia, Europe, South America, and the U.S. He caught "the travel bug" and a passion for languages and world cultures early.
In high school in McLean, Virginia, his technical drawing teacher persuaded him to pursue a degree in architecture. Virginia Tech's program was his top choice. Markus says his most cherished college experiences include studios with Professor Emeritus Gene Egger, touring Europe with Professors Emeritus Olivio and Lucy Ferrari, and interning at a Paris architecture firm.
After graduating, he took a job as a draftsman at an architecture firm in Northern Virginia.
"It wasn't for me," he said.
So, Markus moved to Hungary and worked at an international real estate consulting firm to feed his travel bug. While hanging out in the clubs of Budapest, he befriended the members of a leading Hungarian rock band, became the band's manager, and fell in love with the music industry. That led him to pursue his MBA at INSEAD, a top international business school, in France in 1995.
Though Markus could have joined MBA classmates in the financial sector, his heart was still in the record business. So, he took an entry level job with EMI Records in London. Within three years, he had set up EMI's Hungarian music publishing company and was, at 27, the youngest managing director of a major international record company. During that time, he also met and married his wife of 20 years, Edina, a Hungarian native.
Over the next few years, Markus helped start up two hot Internet-based music companies that ultimately dissolved in the dot-com crash of 2000-2002.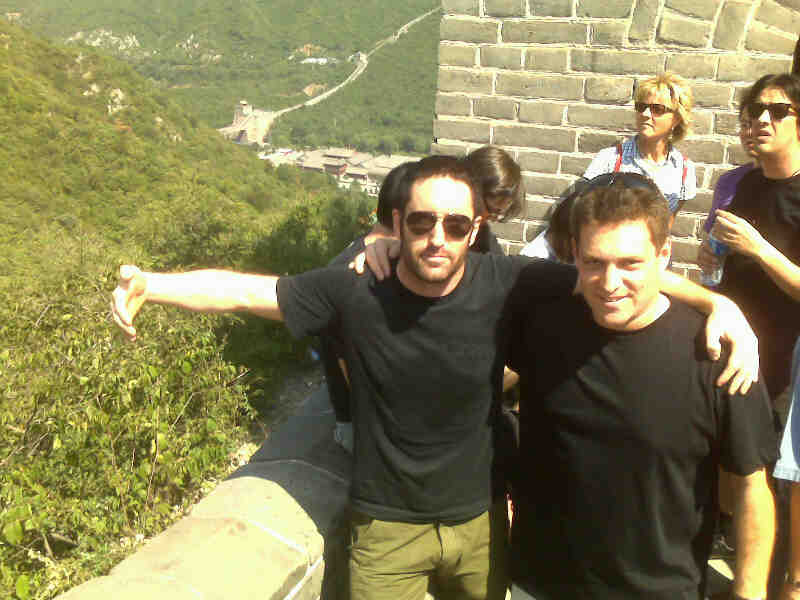 China: Markus and Nine Inch Nails frontman Trent Reznor at the Great Wall of China in 2007, where the band played the Beijing Pop Festival.
"The truth is that your failure only really matters to you," he said. "No one else cares about it. And I had to experience this myself to understand it. As Henry Ford said, 'Failure is simply the opportunity to begin again, this time more intelligently.'"
In 2004, William Morris Agency called to ask Markus to help build its international department. Though he'd never worked as an agent, Markus thought the challenge sounded exciting.
Now based in Los Angeles, Markus has spent the last 15 years helping grow WME's international department into a powerhouse, helping open offices in London and Sydney, and watching the group expand from three agents to 50. He enjoys signing new talent, launching international careers, and re-energizing the careers of veteran artists. He's also helped expand the Lollapalooza festival from the U.S. into Chile, Brazil, Argentina, Germany, France, and Sweden.
Some of his greatest thrills have come from working with the music icons he grew up worshipping and introducing them to new generations and audiences.
Addressing the Class of 2019 on May 22, Markus urged them to see his story as proof that they can build a meaningful career on the foundation they received at Virginia Tech—even if it's in a field far different than they envision now.
"The only thing I really know for sure is that almost no plans will go the way you imagine them," he told the graduates. "And by the time you get there—anywhere—you will be a different person. Hopefully, someone who you would enjoy knowing."