SCIENTIFIC RELEVANCE
By Matt Chittum
WITH THE COVID-19 PANDEMIC BEARING DOWN, CRUCIAL CAPACITY TO TEST FOR THE VIRUS WAS IN SHORT SUPPLY.
RESEARCH SCIENTISTS AT THE FRALIN BIOMEDICAL RESEARCH INSTITUTE AT VTC AND COLLEAGUES ON THE BLACKSBURG VIRGINIA TECH CAMPUS PIVOTED FROM THEIR USUAL SCIENCE TO EMBRACE AN EMERGENT NEW ROLE.
WORKING THROUGH THE OFFICE OF THE VICE PRESIDENT FOR HEALTH SCIENCES AND TECHNOLOGY, VIRGINIA TECH EARNED RAPID APPROVAL FROM STATE AND FEDERAL GOVERNMENTS TO ANALYZE COVID-19 TESTING SAMPLES AND, IN A MATTER OF WEEKS, LAUNCHED LABORATORIES THAT DRAMATICALLY EXPANDED THIS IMPORTANT RESOURCE IN SOUTHWEST VIRGINIA. THE WAIT TIME FOR VIRGINIA DEPARTMENT OF HEALTH TEST RESULTS IN THE REGION PLUMMETED FROM A WEEK TO AS LITTLE AS A DAY OR TWO.
"THERE IS NOT ANOTHER PLACE IN SOUTHWEST VIRGINIA THAT HAS THE TECHNOLOGICAL SOPHISTICATION, INSTRUMENTATION, AND SCIENTIFIC EXPERTISE TO RUN THESE TESTS. I DON'T KNOW WHERE ELSE IT WOULD HAVE HAPPENED," SAID MICHAEL FRIEDLANDER, EXECUTIVE DIRECTOR OF THE FRALIN BIOMEDICAL RESEARCH INSTITUTE AND VIRGINIA TECH'S VICE PRESIDENT FOR HEALTH SCIENCES AND TECHNOLOGY.
TEN YEARS AGO, IT COULDN'T HAVE HAPPENED.
The ability to respond rapidly to a national and community crisis reflects, in part, the university's decision in 2008, in partnership with Carilion Clinic, to add to its biomedical research infrastructure, embodied over the past decade by the Fralin Biomedical Research Institute.
The institute launched in 2010 with its first faculty member and executive director—Friedlander—and $2 million in extramural research funding from the National Institutes of Health. Today, 33 research team leaders with the support of more than 300 students and staff conduct research with $135 million in active grant awards.
"There is not another place in southwest virginia that has the technological sophistication, instrumentation, and scientific expertise to run these tests. I don't know where else it would have happened."
Michael Friedlander, executive director of the Fralin Biomedical Research Institute and Virginia Tech&Rsquo;s vice president for health sciences and technology
Over the summer, the first of what will eventually be an additional 20 to 25 teams of researchers moved into a new 139,000-square-foot building on the Virginia Tech Carilion Health Sciences and Technology campus in Roanoke, more than doubling the institute's space and adding what will be another 300 to 400 research faculty, staff, and students.
They'll investigate new frontiers in biomaterials/body-device interfaces, brain health and disorders, cancer therapeutics, cardiovascular science, obesity and metabolism, and immunity and infectious diseases, including the novel coronavirus.
Investigators will use a highly secure Biosafety Level 3 lab to gauge the effects of COVID-19 on multiple bodily processes, including cardiovascular function. The Virginia-Maryland College of Veterinary Medicine's Animal Cancer Care and Research Center and the College of Science's Center for Biostatistics and Health Data Science are also located in the new research institute addition and will contribute to the overall interdisciplinary research enterprise.
Given the achievements of the first decade, the next may be even more dramatic.
Setting Standards For Worldwide Science
The Fralin Biomedical Research Institute's job is to create new knowledge. Its scientists have tallied over 700 publications, accrued 35 patents, and are behind numerous important discoveries.
In a neurosurgical suite at Wake Forest University Medical Center, surgeons implanted tiny electronic leads into the brain of a Parkinson's patient, who was awake during the procedure, to implant a deep brain stimulator.
Led by Read Montague, the Virginia Tech Carilion Vernon Mountcastle Research Professor, a group of scientists adapted equipment to be inserted surgically into willing patients' brains and developed a high-speed scanning procedure to identify serotonin fluctuations while the waking patients played a risk-and-reward game.
The researchers were the first in the world to take such measurements directly in humans, and they documented the first clear evidence that serotonin helps people contend emotionally when events don't go as they expect.
Research at the Fralin Biomedical Research Institute is supported mostly through federal grants, 90 percent of which come from the National Institutes of Health. Industry partners also support the institute, inspired in part by the institute's modern and innovative approach to translational research, innovation, and entrepreneurship.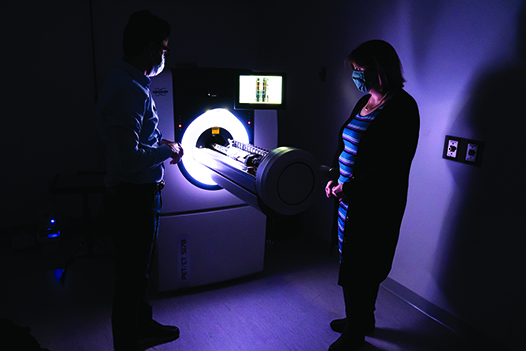 High resolution: Cancer researcher Jenny Munson (right) stands beside a brand new micro positron emission topography (PET) system, which is used to visualize tumors with high precision and resolution.
For example, state-of-the-art imaging equipment manufacturer Bruker selected the institute to partner in using its newest technology that allows for unprecedented high-resolution visualization of structures and biological processes inside the living brain and heart. Also, pharmaceutical company Indivior chose the institute to collaborate on a large-scale follow-up study aimed at developing long-term treatment management of people trying to recover from opioid addiction.
And the institute's full potential is still being realized.
"There's not a full understanding yet of just how impactful the Fralin Biomedical Research Institute can be," said Heywood Fralin, who with his wife, Cynthia, and the trustees of the Horace G. Fralin Charitable Trust, donated $50 million to the institute in 2018. "There's nothing that's going to help the community and the citizens more than this."
The institute is more than fulfilling its promise of scientific relevance and economic power, and it's poised to reach beyond the region and the state. Children's National Hospital in Washington, D.C., sought out the institute as a key founding partner for its new innovation campus, where the institute will begin expanding Virginia Tech's research operations in pediatric brain cancer treatments next summer.
Sharon Landesman Ramey and her husband, Craig Ramey, both research professors and distinguished research scholars, were among the first scientists to join the institute. They were on the brink of retiring when they answered Friedlander's call. The institute's initial focus on the brain and nervous system rapidly and organically broadened into study of the heart, cancer, neuromotor disabilities, addiction, and other areas.
With a relatively modest initial investment compared to larger institutes, Fralin Biomedical Research Institute has over-achieved.
"We're just a bunch of hard-charging people who love our work," Landesman Ramey said. "That's who we are in the research world. In less than a decade, we made it to the national and international scenes."
"We're really setting standards for worldwide science," Friedlander said.
The power of the institute is its people—from pioneering faculty research team leaders to dedicated staff and talented students, he stressed.
Scientists at the Fralin Biomedical Research Institute are leaders in using new ways to study a human's brain during tasks to learn more about the neural activity that underpins actions and decisions, including after brain injuries and when such disorders as major depression or neurodegeneration occur.
Investigators are changing views of damage to the heart from heart attack, arrhythmia, and viral infection and developing new insights and approaches for heart-healing.
The institute is home to a world-leading program for rehabilitation of the brains of children who had strokes as infants. The institute's Neuromotor Research Clinic develops new approaches to pediatric rehabilitation for children affected by stroke, cerebral palsy, and brain injury and shares them with other clinicians.
"It's a bit intimidating to think that people come halfway across the world for us to help them here in Roanoke," said Stephanie DeLuca, director of the clinic. "But it is truly one of the biggest honors of my career that people put their trust and the trust for their children's development in us and let us be a part of that."
"The science at Fralin Biomedical Research Institute has become an area of celebration and pride and recognition for the university," Friedlander said. "But it's also a magnet that draws in other academics—faculty, students, and staff—to participate in collaborative research."
In 2019, institute investigators formed the new campus-wide Virginia Tech Cancer Research Alliance with colleagues in Blacksburg, a cohort of more than 25 research teams seeking new ways to prevent, quickly diagnose, and treat brain, breast, colon, lung, liver, and bone cancers in humans and animals.
Handle With Care: A laboratory technician performs COVID-19 sample analysis in the Virginia Tech Molecular Diagnostics Laboratory, located at the Fralin Biomedical Research Institute.
The institute, along with the Virginia Tech Carilion School of Medicine, was born of a partnership between Virginia Tech and Carilion Clinic, when the university sought to increase its research capacity and the health care system desired an academic association that would help attract more world-class physicians to the region, enhance its level of care, and train future physicians to serve citizens of the commonwealth.
Its most dramatic impact in Roanoke has been primarily economic.
"In 10 years, the community narrative in Roanoke has changed from an old railroad town to an active outdoor community with a strong innovation space," said Beth Doughty, executive director of the Roanoke Regional Economic Development Partnership.
The institute anchors the city's Innovation Corridor, an economic development initiative where start-up businesses that spin out of institute research take root and grow the local economy. Investigators at the institute have already developed five new startups, three of which are currently carrying forward innovative ways to diagnose and prevent alcohol addiction, treat aggressive forms of brain and breast cancer, and prevent cardiac injury after a heart attack.
"It really is kind of a paradigm shift," said Roanoke City Manager Bob Cowell. "The Fralin Biomedical Research Institute, right alongside Carilion Clinic, really is setting the new foundation for this community's economic future."
The institute is only gaining momentum and building critical mass, Doughty said. "The opening of the new building is perhaps as significant as the original creation of the research institute."
"The Fralin Biomedical Research Institute is far more powerful than the railroad would ever be," Fralin said. "This has far more potential. It ought to be one of the priorities of major philanthropists in the area."
"The Fralin Biomedical Research Institute at VTC has been transformational for the region, the university, and our communities," said Virginia Tech President Tim Sands. "In addition to the significant economic impact and groundbreaking research, the research institute is addressing key societal issues, such as childhood development, addiction, and community health. The rapid transition to COVID-19 testing demonstrates the university's capacity to address issues of immediate concern."
"Ten years ago, the partnership between Carilion Clinic and Virginia Tech offered a lot of promise," said Nancy Howell Agee, president and CEO of Carilion Clinic. "The hard work and commitment of many have left an indelible mark on the region and the scientific and health care communities. The original promise of a decade ago has turned into concrete outcomes that go far beyond economics and bricks and mortar. The institute's success has exceeded what I could have imagined 10 years ago, and I can't wait to see what the future will bring."
In 2021, the Fralin Biomedical Research Institute will expand beyond Virginia, into Washington, D.C., when it opens a 12,000-square-foot research facility on the Children's National Research & Innovation Campus on the site of the former Walter Reed Army Hospital.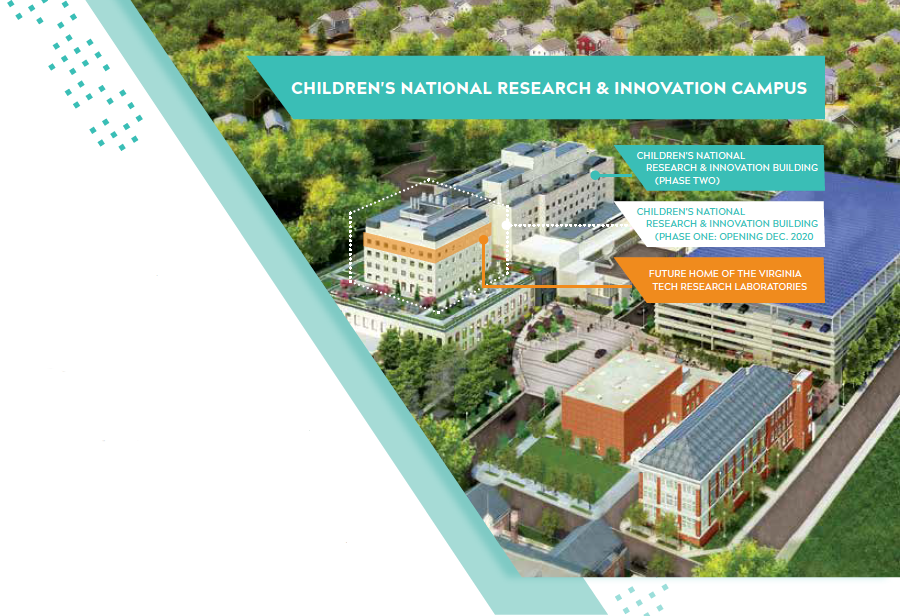 Leaders at Children's National Hospital knew Friedlander, the institute, and Virginia Tech's reputation, and sought the university out as a founding partner for their new project, in part because of shared interest in brain tumor research.
Children's National is a top 10 children's hospital in the U.S., as ranked by U.S. News & World Report. Its neonatal program is ranked first in the country and its neurology and neurosurgery services ranked third.
"It really felt like a dream team," said Kurt Newman, president and CEO of Children's National Hospital. "For a hospital like ours, there's nothing like having a first-class research university as a partner. You never quite know where the breakthrough is going to come from or where the smart graduate student, really enthusiastic undergrad, or medical student is going to have the big idea. Having access to that pipeline of intellectual talent, it's just priceless."
The Fralin Biomedical Research Institute will join a campus already home to JLABS @ Washington, D.C., a collaboration between Children's National and Johnson & Johnson LLC.
"How can you miss with a world-class children's hospital, a world-class university, and a location in Washington, D.C., with access to the National Institutes of Health, the Food and Drug Administration, and all of the other government research pieces?" Newman asked. "We may even be thinking too small."
"The partnership with Children's National is another great nexus for us," Friedlander said, explaining the institute is readying itself with the right people, rich facilities, and strong partnerships to accelerate into the next decade.
WORLD-CLASS RESEARCH
In a decade, the Fralin Biomedical Research Institute has expanded from a single researcher with a few million dollars in grant funding to 33 research teams performing groundbreaking research across a wide range of areas. For a full list of the research institute's primary faculty members, please visit fbri.vtc.vt.edu. Here are some highlights of recent research and discoveries by primary investigators and their teams at the institute: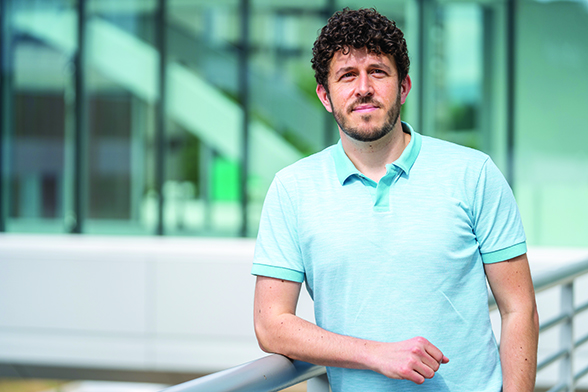 SAMY LAMOUILLE is developing new therapeutics to treat brain, breast, colon, and other cancers. His work is aimed at the cells that rekindle abnormal cell growth and proliferation after tumors are removed. Lamouille's research is the basis of a new company that has received support from the National Institutes of Health through the small business technology transfer program.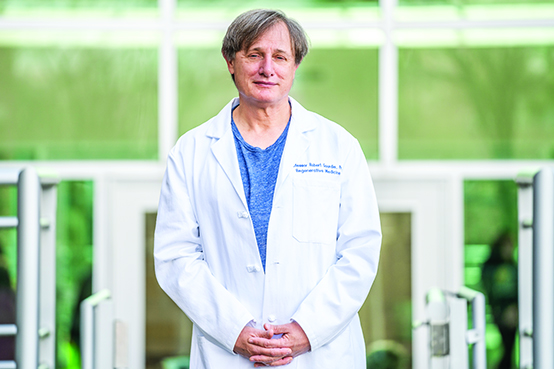 ROBERT GOURDIE'S interest in heart development and repair led him to discover new molecular therapies and delivery approaches to aid and accelerate wound healing and tissue repair in scarring, diabetic ulcers, and heart repair after a heart attack. He's moved his work from bench science to starting multiple companies that translate his discoveries to the clinic to heal patients.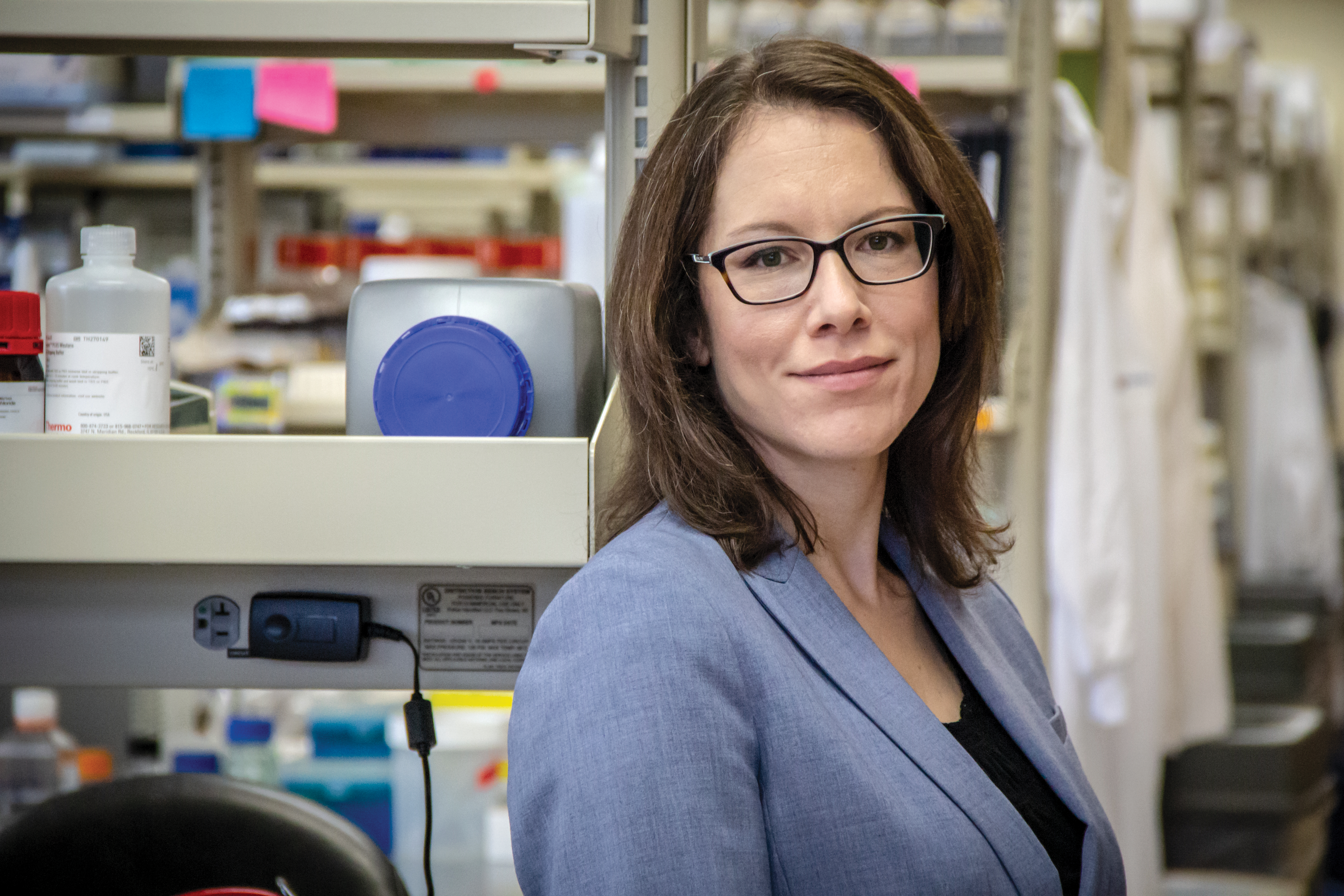 SHARON SWANGER is fascinated with how receptors located on individual nerve cells in the brain contribute to the behavior of large-scale circuits formed to produce perception, integration of information, and behavior. Her work focuses on how changes in these molecules can cause circuits to undergo abnormal patterns of activity, leading to such disorders as epilepsy.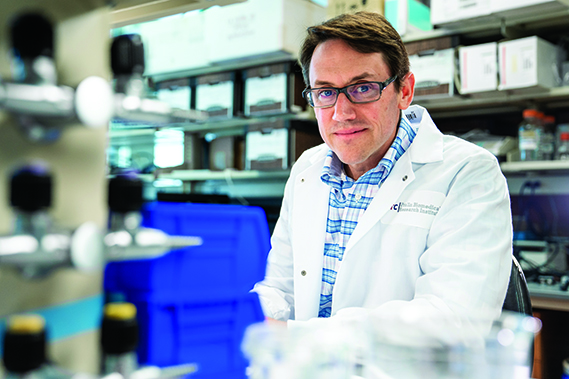 MICHAEL FOX has tracked the developing brain's guidepost signals for more than a decade. Recently, he and his team made major discoveries illuminating molecular cues that help create functional circuits in the fetal brain. Fox's work shines new light on the assembly of these connections, and also on how disruption of these processes may be implicated in neuropsychiatric and developmental disorders.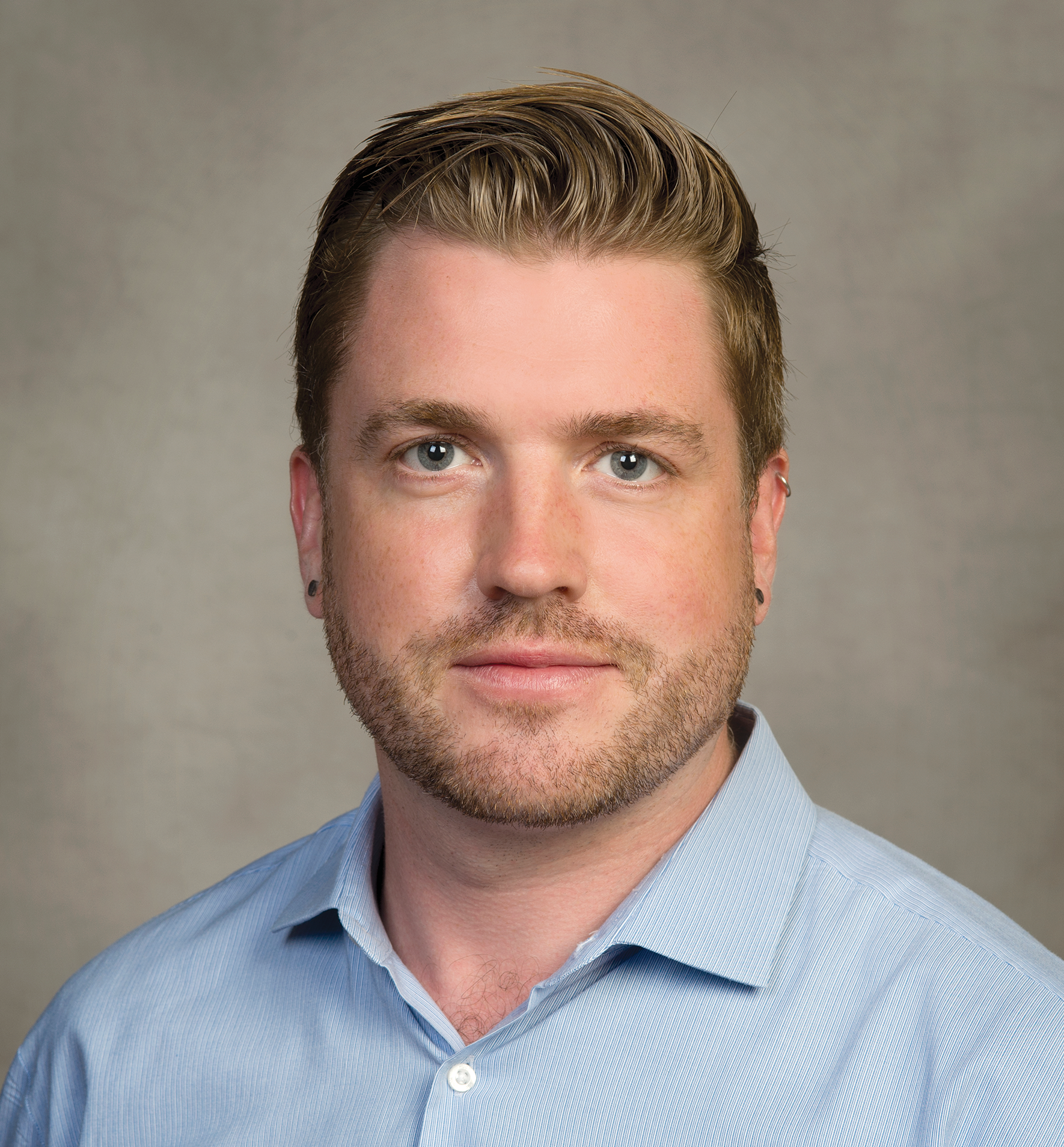 JAMES SMYTH, initially trained in molecular virology, now uses those tools to study connections between heart muscle cells and how heart disease affects them. He is also taking on the problem of how viral infections, such as COVID-19, attack the heart and blood vessels.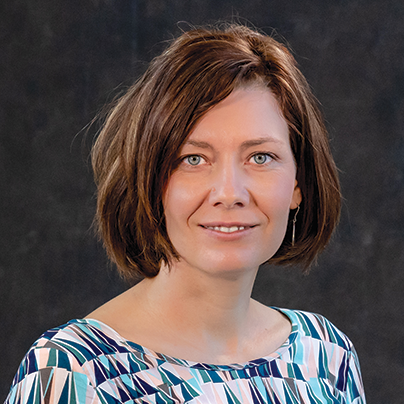 STEPHANIE ROBEL seeks to understand how brain injuries can lead to seizures. Her recent work has shown the first direct cellular evidence for how the glial cells in the brain create hyperexcitable networks that can trigger seizures subsequent to a traumatic brain injury.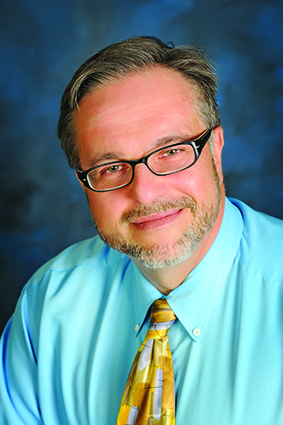 WARREN BICKEL'S team identified brain processes as therapeutic targets for changing a person's behavior from seeking unhealthy, short-term gratification to more-deliberate planning for the future. This work gives hope to those addicted to opiates, alcohol, tobacco, and smoking. Bickel's team is extending this approach to other health behaviors, including those that lead to diabetes and obesity.