UNIVERSITY NEWS
CONTENTS
Smart Road" kicks off with ceremony
Tech graduates sprint onto career track
Robertson's Stonewall Jackson wins major Southern history award
Air Force cadets learn from computer simulation
Cockroach-powered car tops in student research
Equine center obtains ambulance for horses
Tech car tops in acceleration, appeal, and teamwork
Northern Virginia Center expands technology offerings
Tech pioneers electronic theses and dissertations
Tech professor heads largest wood association
Computers are teachers in the Mathematics Emporium
Engineer receives national teaching award
Insurance company awards grant to "safety-belt" man
Veterinary researchers awarded army contracts
Football players' cases concluded

---
"Smart Road" kicks off with ceremony

Groundbreaking rituals for the "smart road" July 8 marked the start of construction of the six-mile, high-tech highway connecting Blacksburg to Interstate 81. Virginia Gov. George Allen joined Tech President Paul Torgersen and other officials to plunge golden shovels into the dirt of the road's Blacksburg terminus.
The first part of the road to be constructed is a two-mile test bed for advanced transportation technologies. Embedded with sensors and fiber-optic cable, this segment will enable specially equipped cars to communicate with a test facility. Among the test facility's powers will be to simulate snow and other inclement-weather conditions from 40-foot-tall towers lining the test bed.
By summer 1998, nearly one mile of the smart road is expected to be ready for initial research. The fully equipped two-mile test bed is expected to be in use by 2000. In 2002, commuters between Blacksburg and I-81 may be traveling the six miles of completed highway.
Torgersen said Tech will contribute $1.3 million during the next two years for equipment at the university's Center for Transportation Research, which is leading research on the Smart Road project. The Virginia Department of Transportation designed and is overseeing construction of the road.
Among the ceremony attendees were a group of protestors who opposed construction of the highway for environmental reasons. Holding signs, most conducted themselves peacefully; however, three bullhorn-wielding demonstrators who interrupted the governor's speech were charged with trespassing on adjoining private property.Back to Contents

Tech graduates sprint onto career track
Virginia Tech graduates are faring well in the job market. A recent survey of 1995-96 graduates reports that 79 percent of employed respondents are working in career-related jobs. Many are continuing their education. Eighty-one percent of all respondents report being employed full-time, in graduate school full-time, or employed part-time and attending graduate school part-time.
The average salary reported for bachelor's degree recipients is $26,240, which is competitive with those salaries reported in a national survey. Top employers include American Management Systems, Andersen Consulting, KPMG Peat Marwick, Lockheed-Martin, Allied Signal, First Virginia Bank, and Montgomery County (Va.) Schools. The Tech survey shows graduates working primarily in Virginia, Maryland, North Carolina, Washington D.C., and New Jersey.
Reporting the highest percentages of career-related, full-time employment were the College of Engineering (90.5 percent), the College of Architecture and Urban Studies (87.2 percent), and the Pamplin College of Business (87 percent). Personal contacts did the trick for many job-seeking graduates (35 percent); other successful job-hunt strategies included on-campus interviews (18.1 percent), job advertisements (14.5 percent), and previous experience (12.3 percent).Back to Contents

Robertson's Stonewall Jackson wins major Southern history award
Alumni Distinguished Professor James I. Robertson Jr. has received the 1997 Douglas Southall Freeman Award for his book Stonewall Jackson: The Man, The Soldier, The Legend.
The award honors the best book published on Southern history over the past year and is named for an esteemed Richmond newspaper editor and Civil War historian.
Stonewall Jackson was one of 45 nominations considered by the awards committee. The book is "not a biography of a great general; it is the life of an extraordinary man who became a great general," Robertson says. It covers not only Jackson's military life, but his personal life, including the years in Lexington when he learned social graces and progressed from being the worst teacher Virginia Military Institute had ever had to one who inspired the cadets' confidence.
The book was a main selection by both the Book-of-the-Month Club and the History Book Club. Back to Contents

Air Force cadets learn from computer simulation
Virginia Tech's Air Force ROTC students are confronting war situations and making managerial decisions through realistic computer simulations. Air War 2000, created by Tech Air Force ROTC commander Col. Rock Roszak, is designed to give the cadets experience not just in combat tactics, but also in finances, budgeting, and long-term planning.
The students are given 3,000 buying points and told to create a fully capable air force based on the planes available in 1970. Roszak provides information on maintenance costs, manpower expenses, and how long it takes to create new aircraft from drawing board to flight-line.
The cadets also lay out an eight-year simulated research and development program and devise three 10-year-budgets to bring their forces up to the year 2000. "I play the role of Congress and tweak their budgets," says Roszak, "telling them what they can and can't have, so that they have to adjust their plans and specifications just as real Air Force officers must."
Once the students have brought their forces up to the year 2000, Roszak springs a surprise conflict on them, again using the simulation. This simulated use of their resources helps ascertain whether their force is combat ready. The climax of the year-long program is a full-scale simulated campaign over fictional "Hokieland," complete with campaign maps and kill tallies.
So far, 18 other colleges and universities are signed up to test the program this fall. In addition, the program may be adopted nationwide by ROTC programs by the end of 1998. Back to Contents

Cockroach-powered car tops in student research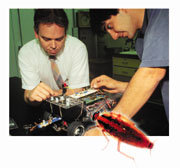 A student who electronically processed signals from the flight muscles of a cockroach and used these signals to power a small car won first place in the undergraduate division of the Virginia Tech Graduate Student Assembly's annual research symposium.
Steven Bathiche (electrical engineering '97) will use his cockroach experiments to help severely handicapped people harness machines to increase their mobility. Bathiche worked with entomology professor Jeff Bloomquist.
Bathiche shares first-place honors with Beth Costine (animal and poultry sciences '97), who, with professor Gregory Lewis, designed an instrument to improve artificial insemination of sheep.
Rhonda Hoffman (animal and poultry sciences Ph.D. '97) won first place in the life sciences category of the graduate student competition for her work determining the effect of dietary supplements on mares' milk.
In the physical sciences and engineering category, industrial systems engineering doctoral candidate Richard Hanowski won first place for his field experiment investigating the benefits of an in-vehicle information system during unexpected driving situations.
Psychology doctoral student Rebecca Columbus was first in the social sciences section for her work with the effect of sensory disruption on newly hatched quail chicks.
Back to Contents

Equine center obtains ambulance for horses

The Marion duPont Scott Equine Medical Center in Leesburg has acquired an ambulance to provide emergency transport from an accident scene to a treatment area. The ambulance was first made available at steeplechase and point-to-point races in the spring.
The custom-designed trailer is equipped with a winch that powers a sled, sling, and hoist assembly to load incapacitated animals into the ambulance. The ambulance, which is taller and wider than stock-model trailers, includes extra padding and a special ventilation system.
Tech car tops in acceleration, appeal, and teamwork

The Virginia Tech entry in the FutureCar Challenge, a national competition among 12 of the top engineering colleges in the nation, was judged best in acceleration, consumer acceptability, and teamwork.
The Tech entry, a Chevrolet Lumina converted into a hybrid electric vehicle (HEV) by a team of more than 50 engineering students, was ranked second best overall for the 1997 phase of the competition. In 1996, the Lumina placed best overall for the first year of the two-year challenge.
In June, the 12 entries were judged during a week of testing near Detroit and a 600-mile over-the-road endurance rally to Washington, D.C.
Sponsored by the Big Three automakers and the U.S. Department of Energy, the competition challenged engineering students to design the next generation of fuel-efficient, low-emissions cars without sacrificing comfort, safety, or consumer satisfaction.
The prize-winning HEV Lumina can go 600 miles without refueling, a range more than twice the minimum goal set by the competition's sponsors. Randy Senger, a Tech mechanical engineering graduate student who is co-leader of the HEV Team, says the car can reach a top speed of 75 miles per hour and gets 40-50 miles per gallon from its propane-fueled generator engine.
Virginia Tech has added five new information technology faculty members and expanded its technology-related offerings to include more than 30 courses at the new Virginia Tech/University of Virginia Northern Virginia Center in Falls Church in response to the growing needs of the region's vibrant technology sector.
Back to Contents

Northern Virginia Center expands technology offerings
Virginia Tech has added five new information technology faculty members and expanded its technology-related offerings to include more than 30 courses at the new Virginia Tech/University of Virginia Northern Virginia Center in Falls Church in response to the growing needs of the region's vibrant technology sector.
Working professionals in the region can now choose from an expanded roster of course offerings in computer science and information systems, electrical and computer engineering, information and decision support systems, applied physics, civil engineering, and interdisciplinary applied mathematics.
The Northern Virginia Center is at the forefront of serving the region's technology community. In 1996, more than one-fourth of the 405 engineering master's degrees conveyed by Virginia Tech -- the most by a university in the commonwealth -- were earned at the Northern Virginia Center. In addition, over one-half of all master's degrees in computer science conveyed by Virginia Tech last year were earned at the Northern Virginia Center.
Back to Contents

Tech pioneers electronic theses and dissertations
Virginia Tech has become the first university in the country to require posting of graduate research on the Internet. In spring 1997, graduate students submitted electronic theses and dissertations (ETDs) for inclusion on Tech's website.
Tech is also preparing 12 other universities -- including North Carolina State, the University of Florida, and the University of Texas -- for the switch from bound theses and dissertations to ETDs, in a project funded by the U.S. Department of Education.
Universities nationwide are watching the initiative closely. Far-reaching consequences, including a new definition of what it means to be "published," are expected. The new policy troubles students and faculty members who fear academic publishers will refuse to publish research previously available on the Internet. Some publishers already vow not to accept the Internet-published studies.
Since hiring and tenure decisions often depend on traditional academic publishing of a candidate's work, concerns about ETDs carry weight with Tech officials. To accommodate, Tech currently allows students to delay the Internet posting of their ETDs for a year or more.
Defenders believe ETDs will have a positive impact on the academic community at large. Studies can now be accessed from a computer anywhere in the world -- allowing greater knowledge transfer among scholars and providing deserved recognition for thesis and dissertation authors.Back to Contents

Tech professor heads largest wood association

Geza Ifju, professor and head of the Department of Wood Science and Forest Products at Virginia Tech, was elected president of the Forest Products Society (FPS), the largest international wood-products organization. Ifju is also the immediate past president of the Society of Wood Science and Technology, the professional society of practicing wood and forest products technologists.
Computers are teachers in the Mathematics Emporium
This fall, 3,500 students are taking courses taught in a new mathematics computer laboratory called the Mathematics Emporium. These students, who are enrolled in precalculus and linear algebra, get immediate feedback when they make mistakes and receive suggestions for alternative ways to learn challenging material. Lessons are designed to help students obtain a deeper understanding of the concept behind the computations and to prepare them for the technology they may encounter after graduation.
"Students don't need to be able to manually perform so many computations, because computers do them in the real world," says mathematics chairman Robert Olin. "We're teaching our students the underlying concepts and the skills they need to take advantage of the computer's computational abilities."
Students in precalculus and linear algebra will spend one-third to two-thirds less time in the traditional classroom. They schedule their own lesson times 24 hours a day, and they have math professors, tutors, and graduate students on hand 14 hours a day to assist them.
The new Mathematics Emporium is located in a former department store in the University Mall near campus. The facility currently has 250 computers, with 250 more scheduled for installation within the next two years.
A math assistance area in the facility is open to all students taking mathematics at Virginia Tech. There, they can learn how to install and use mathematics software on their own computers.
The emporium is a response to President Paul Torgersen's five-year plan, which calls for more technology in freshmen-level courses.
Engineer receives national teaching award

John S. Bay, associate professor of electrical engineering at Virginia Tech, was selected by Eta Kappa Nu, the national engineering honor society, for honorable mention in the C. Holmes MacDonald Outstanding Teaching Award. The national award recognizes excellence in teaching engineering subjects.
Bay, who joined the Tech faculty in 1988 after receiving his Ph.D. in electrical engineering from Ohio State University, has developed robotics courses and research programs. Supported by the National Science Foundation, he and his undergraduate students designed and built "army ant" robots, so named because the tiny robots work as a team to perform industrial tasks such as lifting and moving materials.
Bay is the third Virginia Tech engineer to receive honorable mention in the MacDonald Award. Past recipients are electrical engineering professors Richard Claus and Theodore Rappaport.
Back to Contents

Insurance company awards grant to "safety-belt" man

The man who got television tough guy Mr. T to buckle up has received a $50,000 grant from Travelers Insurance Co.
Scott Geller, a Virginia Tech psychology professor and director of the Center for Applied Behavior Systems, will use the grant to continue his research on making people safer and healthier.
"They (Travelers) wanted to fund the dissemination of our efforts," Geller says. "We've been doing this every year, but we can do more than ever with the Travelers grant."
Geller pioneered the use of behavioral psychology to accomplish such things as increasing work-place safety and healthful food choices and decreasing college-student alcohol abuse. He will present nine one-hour seminars across the country to Travelers personnel, who will pass on the information to clients nationwide. Geller's students also will be involved in some presentations.Back to Contents

Veterinary researchers awarded army contracts
Researchers in the Virginia-Maryland Regional College of Veterinary Medicine have been awarded more than $132,000 in grants from the U.S. Army to study the illness-related effects of chemical combinations.
Three contracts have been awarded to the college's Laboratory for Neurotoxicity Studies and the Immunotoxicity Risk Assessment Laboratory (IRAL) by the Health Effects Research Program at the U.S. Army Center for Health Promotion and Preventive Medicine.
Soldiers deployed around the world can be exposed to a number of chemicals and environmental factors, which may interact. One objective of the work with the IRAL will attempt to document a relationship between stress, neurotoxicant exposure, and compromised immune-system function.
One of the reasons the Virginia-Maryland Regional College of VeterinaryMedicine was selected to conduct the work is because it has the capability to conduct research under Good Laboratory Practice (GLP) guidelines. Only a few university laboratories in the country have earned GLP status, which is a detailed quality assurance program promulgated by the Food and Drug Administration and the Environmental Protection Agency.
Back to Contents

Football players' cases concluded
Court cases against the final two of eight current and former Virginia Tech football players charged in connection with the beating of Tech track stars Hilliard Sumner and Jonathan Nelson on Aug. 31, 1996 were resolved in July. Nathaniel Williams, defensive tackle, was found innocent of misdemeanor assault and battery. Sean Sullivan, tight end, was acquitted of one assault charge and was sentenced to two days in jail for another.
Previously in the same case, charges against linebacker Michael Hawkes, flanker Angelo Harrison, and former tailback Greg Melvin were dismissed. Former All-America defensive end Cornell Brown, who now plays professional football for the Baltimore Ravens, was convicted of assault and battery; he received a 30-day jail sentence, with 28 days suspended. Linebacker Tyron Edmond was convicted of assault and battery, and former starting fullback Brian Edmonds was convicted of disorderly conduct. Both received a 30-day jail sentence, with 28 days suspended.
Also at the July 7 trial, defensive tackle Brad Baylor faced unrelated charges of abducting a visiting University of Virginia student and forcing him to drink a potentially fatal quantity of alcohol. Baylor was found innocent.
Cases are pending against Brian Edmonds and former wide receiver James Crawford, who were arrested Dec. 16, 1996, when another Tech student accused them of raping her during a party at their apartment. The two have dropped a $32-million countersuit they had filed against their accuser.
In the wake of the last two years' spate of off-the-field altercations implicating student-athletes, Derita Ratcliffe has been named assistant athletic director for student services. The former director of student life for the athletic department is overseeing a plan that provides preventive counseling of athletes and mentors for freshman student-athletes and includes mandatory sanctions against athletes charged with crimes.