SHORT FEATURES ABOUT
VIRGINIA TECH ALUMNI
CONTENTS
Southern Colonels' music plays again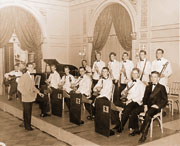 Mel Feldenheimer (business '44) wants to share a piece of post-World War II college music history with former members of a dance band he led from 1944-1947. Virginia Tech's VPI Southern Colonels Orchestra had disbanded during the war. When Feldenheimer returned to campus in 1944, he helped reorganize the band, which quickly became a favorite at dances held at Virginia Tech and other colleges.
From 1946 to 1947, the band toured the South under the name "Mel Felton and the Southern Colonels." Radio station WCSC featured the Colonels on a weekly broadcast while the band played on the Isle of Palms, near Charleston, S.C.
For 50 years, the original recordings of those broadcasts drew dust in Feldenheimer's attic. In July, his son had the 15-inch glass records converted to cassette-tape format. Former Colonels members interested in receiving a copy of the cassette can write Feldenheimer at: 1133 Welsh Road, Huntington Valley, PA 19006 or phone him at (215) 947-7569.
Gene James retires as CEO of Southern States

After a career of more than 43 years at the Southern States Cooperative Inc. -- 17 of them as president and chief executive officer -- Gene A. James (animal science '53) retired Feb. 1. James doesn't expect to be idle; he is president of the Virginia Tech Foundation, co-chairman of the Virginia Tech College of Agriculture and Life Sciences Development Council, and a member of the Virginia Tech Economic Development Advisory Board and the College of Agriculture and Life Sciences Leadership Council.
James also serves as treasurer on the board of directors of the Virginia United Methodist Homes Inc., a corporation of seven retirement homes.
James is succeeded in his position at Southern States by Wayne Boutwell (ag economics Ph.D. '73), who has served as president of the National Council of Farmer Cooperatives in Washington, D.C.
Southern States is a farmers' cooperative operating in six states (Virginia, West Virginia, North Carolina, Maryland, Delaware, and Kentucky) and employing more than 4,000 people. The company purchases, processes, and manufactures feeds, seeds, and fertilizers, and distributes a range of farm, home, and garden supplies to 520 dealers. It has grown from a small seed company established in 1923 by Virginia Tech faculty member W.G. Wysor to a $1.2-billion company.
Woteki '71 new undersecretary for food safety

President Bill Clinton has nominated Catherine Woteki (human nutrition '71, M.S., Ph.D.) as undersecretary for food safety at the U.S. Department of Agriculture. Woteki was sworn into office in August. In this position, Woteki will oversee the Food Safety and Inspection Service, the public health agency responsible for ensuring that meat and poultry products are safe, wholesome, and accurately labeled.
Woteki served as deputy undersecretary for research, education, and economics at the U.S. Department of Agriculture. She was responsible for management of the Agricultural Research Service, the Cooperative State Research, Education, and Extension service, the Economic Research Service, and the National Agricultural Statistics Service.
Woteki is co-editor of Eat for Life: The Food and Nutrition Board's Guide to Reducing Your Risk of Chronic Disease and has published many other articles about food, nutrition policy, and nutrition monitoring.
She has received the Elijah White Award of the National Center for Health Statistics, the Special Recognition Award from the U.S. Public Health Service, and the Staff Achievement Award of the Institute of Medicine.
Ladd leads national counselor group
Judith Lee Ladd (English '68, M.S. counseling '71) of Manassas, Va., has been elected president of the American School Counselor Association, a national organization of 13,000 K-12 and post-secondary counselors.
Ladd is working with newly elected presidents from each state to plan and conduct a national leadership-training conference next summer. Ladd will respond to recent questioning of the role of school counselors in a U.S. News and World Report cover story on "Are School Counselors Evil?" by emphasizing ways counselors meet student needs and support the academic process.
Ladd has served as president of her local and state counselor-association chapters. She helped to found and was a charter member of Chi Delta Alpha service sorority at Virginia Tech.
Alumna named university president
Judith I. Bailey (education M.A. '73; Ed.D. '76), former vice president for academic affairs and provost at the University of Maine, has become president of Northern Michigan University (NMU).
While at the University of Maine, Bailey developed a major reorganization plan redirecting a savings of over a million dollars to academic programs and compensation. Bailey is also credited with improving recruitment and retention and increasing the use of instructional technology. Her legacy includes the establishment of the School of Marine Sciences and the William Cohen Center for International Policy and Commerce; she also implemented a Native American studies program.
NMU, located in Marquette, Mich., is a public, comprehensive, liberal arts university with approximately 8,000 students. Bailey is the first woman to hold NMU's top post. Participating board members were unanimous in support of her nomination.
Fulton named leader by Discovery Channel
B. Keith Fulton (urban affairs and planning '89) has been named a Contemporary Leader by the Discovery Channel. Fulton is director of electronic communications and technology development at the National Urban League in New York City and chairman of the board of TechniCoach, a commercial technology integration firm.
While at Tech, Fulton won a Sloan Fellowship that allowed him to study at the Harriman School of Public Policy at the State University of New York and the Kennedy School of Government at Harvard University.
In graduate school at the New School for Social Research in New York City in 1991, Fulton was named one of four President's Distinguished Interns and contributed to the production of a resource guide for New York City's diverse high-school population. He co-directed and taught full time in one of New York City's largest job-training and placement programs, with a budget of over $1-million dollars, and was instrumental in establishing a computer learning center that helped make his the most successful job-training program in the city. His master's thesis has become a widely published reference on business and community development in minority and low-income neighborhoods.
In 1991, Ebony Magazine named Fulton one of 30 "Leaders of the Future" at the age of 25. In 1992, the president of the National Urban League selected him for a task force to help recovery efforts in Los Angeles in the wake of the massive riots sparked by the Rodney King beating.