ATHLETICS
CONTENTS
by Bryan Messerly
For Hokie senior flanker Shawn Scales, growing up on the streets of Woodbridge, Va., with a drug-addicted mother, a drug-dealing brother, and an absent father was difficult. From an early age, Scales was determined to escape the harsh world that surrounded him. But he needed someone to give him a chance.
It came in 1988, when 13-year-old Scales overcame his shame to ask Richard Fry -- his football, basketball, and baseball coach at Fred M. Lynn Middle School -- for lunch money. Soon he was eating dinner at the Fry home. Then he moved in, staying from the middle of ninth grade through his sophomore year at Woodbridge High.
He was with the Frys both the times he got word his brother had been shot. Raymond, Scales' brother, is now in federal prison on drug-related charges. His mother has served time for possession of cocaine.
Then the Frys moved to Manassas, and Scales stayed with five different families before moving in with his stepfather. Scales moved again during his senior year, to the home of his teammate Brion Dunlap.
That football season, Scales was named an honorable mention All-America pick by USA Today and was selected as a first-team All-Metro honoree by The Washington Post. Scales also excelled in basketball, averaging more than 18 points per game.
He was heavily recruited, with offers from Virginia, North Carolina, Tennessee, Penn State, Northwestern, and Virginia Tech. But Scales' inability to achieve the required minimum SAT score meant that he was ineligible for an athletic scholarship. That seemed the end of his college hopes.
Scales decided to try Fork Union Military Academy to improve his SAT scores. There was one problem -- a $12,000 tuition bill. Scales turned back to the Frys, and they took out a $2,000 loan. The Frys circulated a letter requesting donations throughout the Manassas and Woodbridge communities. With the $5,000 they raised, the $1,000 Scales earned doing construction, and a $4,000 scholarship from Fork Union, Scales was admitted.
During Scales' year at Fork Union, he caught 30 passes as a wide receiver for Coach John Shuman and was offered a Virginia Tech scholarship.
After battling a few nagging injuries, Scales has enjoyed an outstanding career at Tech. Last season, he started every game as flanker, becoming a big-play man as both a receiver and a return specialist. He helped lead Tech to 10 straight wins and to the FedEx Orange Bowl game.
Scales tied for the team lead in receptions, with 30 for 510 yards and four touchdowns during the regular season. He also had a touchdown catch from quarterback Jim Druckenmiller in the Orange Bowl.
"I hope football is in my future after college," says Scales, who will leave Tech with a degree in human nutrition and foods. "If that's not the case, I'll work toward teacher certification. I could make a good teacher because I've dealt with things kids are going through now. I'd like to tell them that there are many other options out there."
Scales got the chance to tell his story when Woodbridge High School invited him to speak at graduation last spring. The invitation came after his inspiring story was printed in The Washington Post.
"That was an honor for me," recalls Scales. "What made it more special was that the students voted to have me come back to speak again. That's what it's all about -- to have a chance to give back what has been given to me.
"I was pretty nervous at first, but as I got going, I was able to speak to them as if they were brothers and sisters. The most important thing I told them was that, to be successful in life, you must first help yourself."
Scales certainly has done that.
"My whole life has been adversity," recalls Scales. "I can't say one obstacle was bigger than any other; they all seemed pretty big to me. But I didn't let them stand in my way."
It seems that this ultra-talented athlete's determination and hard work have paid off. Scales also says faith has definitely made him a success in life.
"I just lean on Him and pray every day to get by," he says. "You've got to keep the faith."
Amen.
Bryan Messerly is an assistant sports information director at Virginia Tech.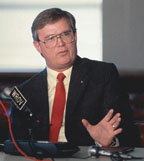 After 10 years at Virginia Tech, athletic director David Braine left for the same post at Georgia Tech in August.
Braine is leaving Tech at a high point: Nine of Virginia Tech's 20 athletic teams in the Atlantic 10 Conference won titles during the past school year, and the football team made its school-record fourth straight bowl trip.
Sharon McCloskey, senior associate athletic director, will direct the Hokie's athletic program until a permanent replacement is hired. A search committee is being organized.
Braine was lured away with a five-year contract worth $250,000 annually. Virginia Tech was paying him $150,000 a year, and elected not to match the pot in an effort to keep the man Virginia Tech President Paul Torgersen called the "most successful athletic administrator in the history of this institution."
Torgersen drew praise from media around the state for saying he wasn't prepared to pay the athletic director half again the salary Virginia Tech pays its provost. "I wasn't prepared to make that a priority statement for Virginia Tech," he said.