Memory Makers

Where are they now?

by Christian Moody
We remember our heroes. We remember where we were when we watched them in their defining moments. We remember those who made us laugh, entertained us, infuriated us, and made us think. As the years pass, we wonder "Whatever happened to?"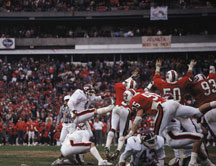 Some Hokies etched themselves into our memories with one shining moment that defined them for the rest of their college careers. They stood in the spotlight and made us proud. Chris Kinzer (physical education '94) was one of those people.
With four seconds left in the 1986 Peach Bowl, Kinzer knelt on the field at Atlanta's Fulton County Stadium, smirking, waiting out a time-out N.C. State had called to rattle him in his attempt to win the game for the Hokies. When he kicked the ball, there was never a doubt. Officially 40 yards, it would have been good from 55. The Hokies won a bowl game for the first time in six tries. A picture of "The Kick," as it is called in the Tech lexicon, is one still recognized by many Tech football fans.
Thirteen years later, people still talk to Kinzer about "The Kick." These days he teaches physical education in a Fredericksburg elementary school, although he had been a shoo-in for the National Football League during his sophomore year.
"I had one of the best years a kicker has ever had," Kinzer says. He made 22 field goals, including 17 consecutive ones.
Despite that, the dream of playing in the NFL never materialized. Kinzer went to several teams' tryout camps but never signed a contract. He left school and sold insurance for a few years, but he could not see head coach Frank Beamer without being prodded to finish his degree. In 1994 he graduated. "It takes you a while ... to realize the world doesn't revolve around sports," Kinzer says.
Bobby Stevens (biology education '74) made the shot every kid with a basketball hoop acts out 100 times a day. Time was running out in the 1973 National Invitational Tournament final. Notre Dame had a one-point lead, but Stevens had the ball. Do most people remember that Stevens' first shot missed? Probably not. The second shot went in as the final horn sounded. He had 17 points, but the final two were his defining moment.
Like Kinzer, Stevens still hears about his biggest shot. "People tell me where they were when I made that shot," he says.
Stevens now coaches basketball at Rock Hill High School in Rock Hill, S.C., after 20 years as an assistant coach at the college level, including a stint at Tech from 1984-1990. Stevens coached at Tech during the playing days of Dell Curry (sociology '90), who played several years for the Charlotte Hornets, but now plays for Toronto. Stevens' former teammate, Allan Bristow (marketing '73), coached in Charlotte for several years.
Two years ago Stevens decided he needed more nights with his wife and daughter, so he took a job at the high school his daughter attends. "I do not regret getting out of the college game. I didn't want to end up thinking I didn't get to be a good father."

Kylene Barker Hibbard (clothing textiles '78) will always be remembered as she tearfully walked down a runway in Atlantic City in 1978 while Bert Parks sang "There She Is, Miss America." The Miss Pulaski County crown she won a few months before qualified her for the Miss Virginia Pageant, which she won in July. After taking the national title, she spent the next year touring the country and visiting military bases in Iceland and Germany, frequently mentioning that she was a graduate of Virginia Tech.
Hibbard is still active in the Miss America Pageant, returning to Atlantic City often to mingle with former winners and offer advice. In 1995, she was a celebrity judge. Before her reign ended in September 1979, she had signed a lease to open a boutique in Palm Beach, Fla. Hibbard closed the boutique in 1992 so she could travel with her husband between homes in Naples, Fla., and Ontario.
Famous firsts
We remember groundbreakers for famous firsts, be they honors or positions. Tech's pioneers have prospered after their days on campus were behind them.
In 1963, William W. Lewis Jr. (physics '63) was named Tech's first Rhodes Scholar. He earned a Ph.D in theoretical physics from Oxford University as a result of that opportunity. "I got to meet and exchange ideas with some of the most extraordinary people on earth," Lewis says.
Lewis's career progressed through positions in the U.S. departments of defense and energy and the World Bank. Now he works as a senior partner with McKinsey & Co. Consultants, a management consulting firm. Currently, Lewis leads a think tank that studies the global economy. "A career is a long time," Lewis says. "A series of steps made consistently and persistently can lead you a long way."
For more than a decade, students asked to be part of the university's governing board. In 1983 Jim Stroh (architecture '85) was selected to serve as the first student representative on the Virginia Tech Board of Visitors. "They treated me like every other member," Stroh says. "I think back on how much business experience was there. I had an unbelievable group of mentors."
Stroh moved to Las Vegas soon after graduation to work for an architecture firm. In 1995, he opened his own firm designing commercial property in Nevada.
Carroll Dale (vocational industrial education '64) came out of Wise County, Va., in 1956 to become the first consensus All-American football player in Tech history. Dale, a wide receiver and defensive end, started 39 straight games. After his eligibility ended, Dale was drafted by the Los Angeles Rams, but he met with most success playing for Vince Lombardi in Green Bay as a member of the 1965 NFL championship team and the teams that won Super Bowls I and II. A member of the Tech sports hall of fame and four others, Dale was nominated to the Pro Football Hall of Fame, but fell a few votes short of induction.
While playing pro football, Dale enrolled in school during the off-seasons and graduated from Tech in 1964. He returned home to Wise after his playing days and worked in the coal industry. Dale was instrumental in starting a football program at Clinch Valley College (now UVACollege at Wise) and now serves as the school's athletic director.
Faceless celebrities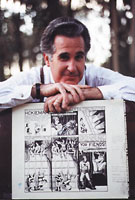 The campus media created its own celebrities--writers, cartoonists, and disk jockeys--who were recognized by name but not by face. Tom Brodeur (communications '78) penned the Collegiate Times' Hokieman cartoon character who vaulted from crisis to crisis, usually allegories of real campus events, often accompanied by a character who resembled university president Bill Lavery. Brodeur poked fun at this unremarkable character, whose wife had to be prompted to remember his first name, but never intended malice. In fact, Brodeur ended the cartoon series with a conclusion suggested by Lavery.
"I had a great deal of respect and affection for the man. He understood that the cartoon was not intended as demeaning, just good-natured jesting," Brodeur says. Brodeur avoided vulgarity, deciding he would not to produce anything he would be ashamed to show his parents.
Now living in Jacksonville, Fla., Brodeur says he made a conscious decision to forego striving after fame to be a family man. He is a computer information systems manager and has worked with graphics programs since they hit the market.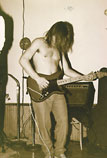 Lewis King (communications '89) was "The Punk Next Door," the title of his Collegiate Times column during the nine years he lived in Blacksburg. The Punk told stories and criticized popular culture with equal fervor. King now lives comfortably in the Washington suburbs, working in the government printing office and helping his wife and former college sweetheart, Tina Dale (psychology '90), rear their two daughters. King writes music reviews in the Journal newspapers of Northern Virginia and occasionally plays in a band. "I haven't completely sold out," he says. "I'm instilling my punk ethos in my children."
At least two of WUVT's on-air hosts have become highly visible television journalists. Peggy Fox (communications '86) and Hoda Kotbe (communications '86) were best friends and roommates who both served as news directors for the campus radio station and hosted Tech Talk, a show Fox started.
Fox is now an anchor with WUSA-TV in Washington, D.C., after stops in West Virginia and Florida, and Kotbe is a correspondent for Dateline NBC, based out of New York, after a career path through stations in Mississippi, Florida, and New Orleans.
Activists, left and right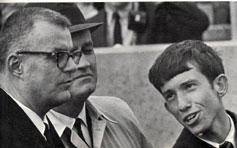 In the late '60s and early '70s especially, students made their voices heard in record numbers. Although Ray Smoot (English '69) admired university president Marshall Hahn's administration and sought various class offices, he may also be remembered for his part in an organized boycott of the dining hall food. "I bet fewer than 25 people ate in the dining hall that night," Smoot says. "We called the newspapers; we had television here. We had a guy dress up like a cockroach, and we carried him around on a stretcher."

Yet Smoot was not a rabble-rouser. He and his friends cheered Hahn's aggressive agenda for transforming a 7,000-student land-grant college into a major research university and were active in SGA politics. Considered conservative in the late 1960s, Smoot also worked on state-wide campaigns for Republican Gov. Lynwood Holton and others.
What Smoot found at Tech in those days was enough to make him want to stay. He worked outside the area for a few years but returned and is now Tech's vice president for administration and treasurer. New Tech President Charles Steger (architecture '69, M.Arch., Ph.D.) and football coach Frank Beamer (distributive education '69) were among Smoot's classmates.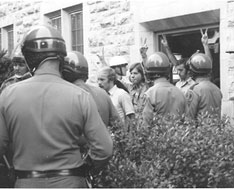 Bob Filippi (English '72, MS) found himself active in ways he never intended. When a group of students took over Williams Hall in May 1970 to protest the university's refusal to close to observe mourning for students slain at Kent State U., among other issues, Filippi had no intention of joining them. In fact, he visited Williams to persuade a friend to leave and instead got talked into staying. The occupation was short lived. State police brought in a moving van, pulled the doors off the building, and arrested all 107 protesters. "We didn't even passively resist," Filippi recalls. "The point was to get arrested."
They were detained in a courtroom because the jail wasn't big enough to hold everyone. "It was my 21st birthday. The police gave us doughnuts, and I got a candle in mine," Filippi says.
Tech suspended all 107 from school. Some never returned, but Filippi graduated and earned a master's degree. He now owns a sign shop in Christiansburg, a business he opened while seeking teaching jobs. Once, a part-time job offer came from Tech--a position that would have had Filippi teaching in Williams Hall--but the sign business was so lucrative that he declined.
Electrifying events
Sometimes the names are cloudy but the event is clear, a moment to remember for its "Did-I-see-that-right?" quality.
Karen Dillon's (urban affairs '75) story as the Gobbler mascot attacked by UVA students is shrouded in rumor. For the record: Yes, she was the Gobbler mascot in 1974 who was attacked by members of the UVA band, but they did not break her arm or cause permanent injury. She was not forced to give up the long-necked turkey costume to a man. The athletic department decided she could not suit up as the Gobbler at away games, so she quit. Her replacement was also a woman.
Dillon, now head of the advertising design department at the Richmond Times-Dispatch, says Tech's football success has revived interest in her mascot years. Now a picture of Dillon in Gobbler costume sits on her boss' desk.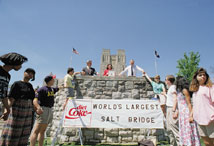 The ring of 1,500 students holding hands around the Drillfield may have caused a few double-takes by campus visitors in 1991, especially if they heard organizer Barbara Bunn (chemistry Ph.D. '93) explain it as a chemistry experiment. The World's Longest Human Salt Bridge allowed an ion exchange between a solution of zinc sulfate and copper sulfate with 1,500 pairs of human hands in the middle. Salted potato chips crumbs and soft drinks enhanced the salt and moisture content of those with less than sweaty palms, allowing a small, but measurable voltage to pass.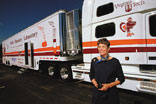 Bunn still shows students the wonders of chemistry, although now she does it on the road. A Tech assistant professor, she heads a mobile chemistry lab housed in a 53-foot trailer that travels to rural high schools.
So, for Tech's leaders, its characters, its heroes, life continues after graduation. Though they live forever, captured freeze frame in a single image in our minds, a full life has many frames. These campus celebrities flash by larger than life on the screen of our memories. We keep these memories, balanced later by frames of family, community life, and diligent careers.
Home | News | Features | Philanthropy | Alumni | Classnotes | Editor's Page