Our Alumnus President Charles Steger

by Clara B. Cox

Student . . . graduate teaching assistant . . . alumnus . . . visiting lecturer . . . professor . . . researcher . . . department head . . . dean . . . vice president. No other president in history has experienced so many facets of Virginia Tech life--and no other president has carried into the top position such intimate knowledge of the university.
When Charles W. Steger (architecture '69; M.Arch., Ph.D.) moved into the presidency of Virginia Tech on Jan. 7, he brought with him a three-and-a-half-decade affiliation with his alma mater. He had garnered teaching awards, played a major role in crafting the university's mission statement, helped develop the institution's strategic plan, and forecast the technological future of the university.
He had also chaired national conferences for the American Institute of Architects and the Association for Collegiate Schools of Architecture, served on accrediting teams for schools throughout the nation, helped organize architecture schools in Saudi Arabia and Iceland, served as a trustee for Hollins College and a Swiss foundation, served on a governor's commission examining Virginia's population growth and development, and helped an international committee evaluate the world's urban habitat. He is noted for his vision, leadership, ease with people, and sense of humor.
Steger has been known to whip out a repertoire of jokes when the occasion demands. During an unanticipated lull in a public service forum in Norfolk several years ago, his impromptu David Letterman routine drew praise from hard-core national news reporters. "Who is that guy?" asked a Washington Post political reporter between chuckles. "He's great!"
Quality and accessibility are his focus
Tech's 15th president emphasizes quality and accessibility as he leads the university into a new era. "We want to have an institution where we can provide any young person from any race, any gender, any socio-economic group--if they meet our admission standards--with the opportunity to get an education. If we fail to do that, Virginia Tech will have lost its soul," he says.
Steger thinks that Tech must improve the quality of all of its programs to compete with the best institutions in the world. "If we're going to propel Virginia Tech to its next stage of evolution, an emphasis on quality in everything we do is going to be extremely important," says the 52-year-old president.
He also thinks the university must foster an atmosphere outside the classroom that will help students develop as leaders and productive citizens. "I know we work at that now, but it's something that requires eternal vigilance," he says.
Enjoys the integration of science and art
After graduating in 1965 from Henrico High School near Richmond, Va., where he led his school's student government and lettered in track, Steger headed to Tech to major in architecture--his dream since the seventh grade. "I always enjoyed the integration of science and art and the fact that architecture translates and interprets the philosophy and values of particular periodsif it's doing its job," he says.
After earning the professional Bachelor of Architecture in 1970 and Master of Architecture in 1971, Steger left the university to work for Wiley & Wilson, Inc. in Lynchburg, Va., and became a registered architect. During his last two years with the firm, he returned to campus on weekends to teach urban design methodology as a visiting lecturer.
Tech ascension began in '75
Steger returned to his alma mater permanently in 1975. He spent the next three years completing requirements for his Ph.D. in environmental science and engineering. He worked concurrently as an instructor of urban design, a job he retained after receiving his third Tech degree in 1978.
He rose quickly through the ranks of the College of Architecture and Urban Studies, becoming an assistant professor and chair of the graduate program in urban design in 1976, then associate professor and interim dean of the college in 1981. Following a national search that same year, he was named dean--at the age of 33, the nation's youngest dean of architecture.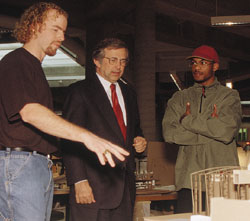 Several programs in the college consistently ranked in the top 20 in the nation during his deanship. Under his guidance, the college expanded its Washington-Alexandria Center from an in-house center for urban design studies to a five-school, international consortium; expanded its study abroad program; and secured four endowed professorships, the first in the college's history.
Steger pushed college faculty members to expand their research, and the college was subsequently named one of the nation's top architectural research schools. He personally recruited minority students, established formal faculty and student exchange programs with foreign universities, and helped found the International Archive of Women in Architecture. He also played a leading role in acquiring a facility in Europe for international study. In 1990, the American Institute of Architects recognized his contributions in architectural education by elevating him to Fellow status.
That same year Tech President James McComas added responsibilities as acting vice president for public service to the dean's duties. That job, Steger says, "gave me the opportunity to get a much better understanding of the role of the outreach/extension mission of the university."
Positions stoke an appetite for leadership
The job also whetted his appetite for a broader leadership role in the university, and, in 1993, he was named to the dual role of vice president for development and university relations and vice president of the Virginia Tech Foundation. During his six years in the position, Steger directed the university's second major campaign, raising $337.4 million and surpassing the original goal by 35 percent. He also initiated a major television-ad campaign to position the university as a leader in information technology and biotechnology. And he worked behind the scenes for two years on the Carilion Biomedical Institute and the governor's bioinformatics project, both million-dollar-plus, futuristic partnership initiatives that will take advantage of Tech's technology know-how.
Now that he is president, Steger has listed graduate and research programs and international studies as areas of emphasis. For a new initiative, he wants Tech to play a key role in helping alumni re-tool their skills for new stages of their careers. Overall, he thinks the university should "foster an environment where people understand the need to establish a set of values and ethics that guide their behavior in a society that is changing at a pace faster than anything we have ever experienced before."
Steger will propose specific long-term goals and strategies during Founders Day ceremonies on April 28, when he is formally installed as president. Meanwhile, his intimate knowledge of the ins and outs of higher education, academic administration, and land-grant roles and missions should give him a head start as he plans Tech's future.

Home | News | Features | Philanthropy | Alumni | Classnotes | Editor's Page