Engineer on the Fast Track

Brian Whitesell keeps Nascar's winningest cars in the running
by Su Clauson-Wicker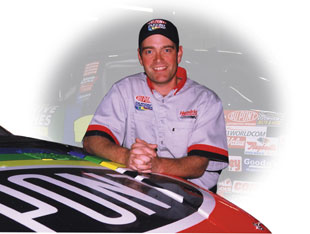 Seven years ago, Brian Whitesell (mechanical engineering '87) jumped jobs in a move that eventually landed him in the team manager spot for Nascar's hottest driver, Jeff Gordon. To Whitesell's family, it looked like his career had been derailed.
"Yes, they thought I was crazy," Whitesell reflects. "I had a secure engineering job at Mack Truck, and I was essentially my own boss. My folks couldn't understand why I left to drive a truck. Especially when I told them I wouldn't have any more free weekends or vacations. But being part of the racing scene was where my heart was--I had to do it."
So Whitesell spent the next two years transporting cars to the races for the 20-year-old driver; that was the only paid position Gordon's fledgling team could offer. When Whitesell wasn't driving the 18-wheeler, he was helping the crew prepare cars for Winston Cup races.
It paid off. In 1995, Whitesell was promoted to the new position of engineer. That year Gordon won his first championship.
In the next three years, Gordon racked up two more championships and had a lot of conversations with Whitesell about what happens to the various components of a car when it's pushed to the max. He respected Whitesell's engineering perspective. When Gordon's longtime crew chief, Ray Evernham, left last fall for part ownership of the Dodge team, no one was too surprised when Gordon announced that he had faith in Whitesell to be his No. 1 man for the team. Whitesell finished off the season as crew chief and was promoted to team manager in December.
"Now I'm exactly where I wanted to be a lot sooner than I expected," says Whitesell. "The team was more successful right off, in large part due to Jeff's driving ability and a lot of pretty severe hours of hard work from all of us."
Whitesell grew up in Stuarts Draft, Va., souping up the family car and tinkering with engines. But it was serving as crew chief and driving in competition for Virginia Tech's Mini Baja team that cinched his future in racing. "That's when I knew what I wanted to do," he says.
Unfortunately, the jobs were in big trucks. After co-oping at Volvo White trucks, Whitesell accepted a job offer with Mack in Pennsylvania and teamed up with a fellow Tech alumnus after hours to modify a Camaro for racing. The costs, they discovered, were daunting.
After a transfer to Mack's Winnsboro, S.C., plant, Whitesell began volunteering nights and weekends for the racing team of Winston Cup owner/driver Allan Kulwicki. "I knew he had a lot of potential and a small budget, so I could really contribute," Whitesell says. "It turned out that he won the championship that year."
Picking the winners seemed to come easily for Whitesell. By the end of the year, he joined Evernham on Gordon's No. 24 team, and the rest is history.
"Being in charge has me feeling like a kid again," Whitesell says. "It's not an easy job, but the thrill is definitely back. As Ray's assistant, I'd gotten to the point where I felt I wasn't contributing as much as I could. Now I have the ability and the power to get the job done."
While Gordon pulls down an annual salary of $2 million, plus another $3.5 million in product endorsements for soft drinks, toothpaste, ice cream, and Chevrolet, Whitesell emphasizes that he and the rest of the team are not in a position to see money as their motivator.
"We're in it for the close competition," he says. "Each person who works on the car knows he really does make a difference. Every weekend you get to prove your work. If you did your job well, the payoff is the car's performance Sunday. If you didn't do well, you hit the restart button Monday and have another opportunity to prove yourself."
The only time Whitesell comes close to sounding wistful is when you mention driving. How much of a temptation is that stable of a dozen 700-horsepower cars capable of doing 200 mph?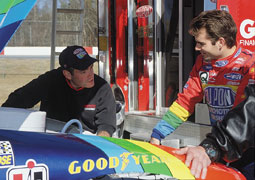 "Sure, I'd love to get in the car and play around, but it's not very realistic," he says. "Every so often the crew gets to visit a racing school to try out a vehicle, but for the most part we just build them and take care of them for Jeff."
Nobody disputes that Gordon is a flat-out awesome driver. His concentration is so intense that he loses about 8 pounds a race and gives himself an eyeball ache each time.
"Jeff has incredible natural ability," Whitesell says. "His eye-hand coordination is excellent--it's extremely difficult to beat him in a video game."
Whitesell watches the races from the top of the pit box beside his new crew chief Robbie Loomis, where he listens over headset to Gordon talk about the car's performance and assists Loomis with race strategy and changes to the car. The vehicle goes through six to 12 sets of treadless tires and about 100 gallons of gas per race.
Although Whitesell has "set up" the car Saturday--set the engine timing, determined the carburetor jetting, and made other final preparations--his final adjustments are attuned to the weather Sunday morning.
Unlike Gordon, Whitesell exudes calm at races. "I guess it's the engineer in me," he shrugs. "I've prepared for certain contingencies. In seven years, I've seen everything that can happenwe wrecked a lot of cars in our early years. So when things happen, I just handle them."
Being in charge of the team doesn't leave time for a "real life," Whitesell says. Hunting, camping, working on his '79 Bronco, and visiting the family are things of the past. His wife, Mary, makes the best of it, travelling with him every weekend.
"We're on the road Thursday. Friday is qualifying day. We use lighter engine components that wouldn't survive a 500-mile race, so we pull the qualifying engine out Friday afternoon. We practice with the race motor on Saturday, set that up, race, and Sunday night we're on the road again," Whitesell says.
The crew spends Monday through Wednesday in the shop preparing for the next race and eating carry-out most nights. Even the off-season between the last November race and the February opener is busy, especially this year as they built the 2000 Monte Carlos.
Nascar strives to keep a level playing field, so crews have to be very careful in how much they tinker with the aerodynamic advantages or even the engine performance. A 200 mph speed limit was seta car built to go faster is a danger to the crowd. Under Nascar rules, the driver is the main variable. Still, teams are close-mouthed about their components around the competition.
"In actuality, the driver, the team, the pit crew, and the quality of your parts are all integral," Whitesell says. "You can't make it on just one element."
Hendrick Motorsports, which owns the Gordon team and two others, was one of the first to recognize the importance of team engineers.
"More and more science is needed to keep up with the competition," Whitesell says. "You must have a thorough understanding of what is happening to the car. We wear out people with our grueling schedule. There's not time to learn enough through experience alone."
The Gordon team now employs five engineers, including new hire Todd Bosserman (mechanical engineering '99).
"If there's anything I'd like to emphasize about Winston Cup, it's that it's not a bunch of good ole boys going out and running their cars," says Whitesell. "It has evolved into a science and a $2-billion business involving major corporate sponsorship. It's an exciting place for me to be right now."
Home | News | Features | Philanthropy | Alumni | Classnotes | Editor's Page