THE 2000 SUGAR BOWL
by Shane Beamer '99
If someone had asked me to script out the perfect regular season, 1999 would be it. The way we won games--Shayne Graham's field goal at West Virginia, blowing out Syracuse, and then Miami. And our seniors' last game in Lane Stadium--seeing the goal post torn down and carried right by me. All the fans were running, screaming, and my dad (Coach Frank Beamer) was up on a stage with sugar cubes raining down all over. It was like a scene out of a movie.
In the locker room after that last game, there wasn't much talk about Florida State. We were saying, "We're playing in the national championship game," but that seemed so far down the road. All the emotions from the whole year reached their climax when we beat Boston College. To finally reach our goal was exciting.
I enjoyed the time before the Sugar Bowl. For a month that was all the whole country wanted to talk about. The coaches didn't have to say much to keep us focused. We knew what we were playing for. You can't say the national championship game is the same as playing Rutgers, but we prepared the same way we'd prepared for all 11 games this year.
As the season progressed, the media attention built up, but the coaches told us before we went to New Orleans that the media would be more than we had ever seen. They said, "Do what you've done all year." Everybody made a big deal about the media and how that was going to affect us, but I don't think it was a big deal. The media talked to Mike Vick, Corey Moore, and seven or eight other guys, and they got used to it. I was asked about 20 times: "What does your dad think about all this?"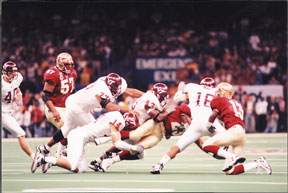 On December 27, we landed in New Orleans, and it really hit me what we were about to get into. The media were all over the tarmac. It's different coming home at night to see ESPN talking about your arrival as one of its lead stories. They went to our practice, and there was as story on that. Wow, we're really here.
The chief of New Orleans police told us not to go more than two blocks off Bourbon Street and to respect the drinking age. Make sure if you're talking to a girl, it's really a girl, he warned us. That got a big laugh. We only had maybe 10 guys who went as freshmen in '95, so for 100 other guys it was their first time down there.
Then Keith Short got up. Keith had been sent back as a freshman in '95. He said you better do right because they won't hesitate to send you home on the bus if you're late for curfew or if you get in trouble for alcohol. "How long was that bus ride?" Dad asked him. "Twenty-six hours," Keith answered. Enough said.
No one was going to get in trouble; no one wanted to miss the game. On New Year's Eve, Corey Moore stood up in the practice and said, "We've had our fun down here but this is game week now. I better not see anybody out tonight. If anybody has a problem with that, stand up and tell me now." That's Corey's way.
Once you've seen Bourbon Street a few times, it gets old anyway. Everyone was back by 12:15 a.m. for a 1 a.m. curfew. Assistant Athletic Director John Ballein came around and made sure. He has a great relationship with all the players and is the unsung hero of this program.
All the seniors visited a children's hospital early in the week. Seeing those children makes you appreciate the blessings you have in your life. Corey Moore got a lot of bad publicity during the week, but people didn't see him at the hospital, coloring for 20 minutes with a little girl who was about six, making her smile.
The only time we saw Florida State was the night we had to go to dinner with them. We walked in together, but we were on one side and they were on the other. There's not much to be said.
We did the same things we always did the night before the game--went over to the Superdome. Tech fans were all over the streets. Shyrone Stith commented, "I never realized how many fans we actually have. This is unbelievable." Going to the pep rally that night was the same thing--seeing masses of people up there. It got us excited. No matter what bowl game it is, it's always neat because everybody shows up.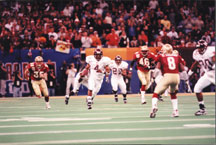 At the team meeting the night before our games, they show a video of highlights from the previous game and funny stuff that happened at practice. My dad narrates it. It's hilarious. For this game they showed some of the highlights of the year: Graham's kick, Vick running, Andre Davis catching the ball, Ricky Hall returning the punt for a touchdown against Miami, and John Engelberger or Corey Moore making big plays. Then they would have funny stuff--Anthony Midget mockingly interviewing Coach Jim Cavenaugh, Mike Vick in the locker room dancing, and Shyrone acting like Corey Moore and telling them to get that camera out of his face. The whole place was laughing. Dad gets into it.
Former All-American and current Cleveland Brown Jim Pyne showed up to tell us to seize this once-in-a-lifetime opportunity.
Game day: The security around the hotel was unreal. All the doors had guards. Wes Worsham is a big supporter who travels with us to all the games. He tried to come in for a meal, but security wouldn't let him. All the players love him, so they went to Ballein for help. "That's our Jerry Jones," one of the players said about Worsham.
We had our last offense and defense meetings before we went to the stadium. This is the last time there's much talk. In the offense meetings Coach (Ricky) Bustle comes in and dims the lights. By then there are no words; either you're ready to play or you're not. Coach Bustle just says we're going to attack them. Get out there, be loose, and have fun like we had all year.
The defense joined us, and Dad came in to talk to us one last time. He said play hard between the whistles, get after them, and hit them right in the mouth. Go out there and have fun.
The hotel lobby was a madhouse as we left for the Superdome. I felt like we were a rock group. They had ropes to keep the crowd back. The cameras were flashing. People were lined up on steps as we were going down the escalators, and they were on the balcony above us clapping and cheering. It was awesome.
My dad got off the bus at the stadium, and the defense followed him. You saw all the TV cameras. They led us right across the field. You looked in one end zone and saw ESPN. ABC was back there.
In the locker room, everybody has his own way of getting ready. Engleberger, Wincek, and Short--whether it's a home game or away game--always get a game program, take a marker, and draw pictures on people's faces. They drew on Butch Davis' face when Miami was here. Same for this game.
Playing University of Alabama-Birmingham in front of 52,000 people had been exciting. Boston College had a different electricity in the air. But the Sugar Bowl was unreal. You came out for warm ups, and the crowd was wild. I tried not to think about how many millions of people were actually watching. I thank God I had the opportunity to play, and I thank God I didn't screw up in the game.
During warm-up drills, Florida State players were running their mouths, walking into our guys, bumping into us on purpose. Miami did the same thing. I don't know if they think they're going to intimidate us, but that gets us more ready to go.
We came back in to the locker room for 25 minutes. No one said much. Some guys were praying. Buffalo Bills' defensive end Bruce Smith '85 showed up and wished us well.
Right before we went onto the field, Dad came in. He'd seen how they were walking into us during warm-ups. "That's a team that doesn't respect you," he said. Everybody agreed. We had a quick prayer, and then we went out into a big tunnel during individual player introductions. "Wow," I thought. "Here we are, and the whole country is watching."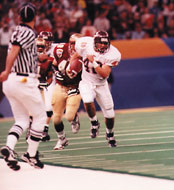 The game obviously didn't get off to a good start. You can't give them breaks, and we did. The fact I was out there for 14 of the points we gave up will always live with me.
At halftime, we were down but we felt good. The coaches said we gave up only four plays and we were moving the ball. We felt confident that we were going to get back into the game, and we did. Mike Vick took over; then we took the lead. Pandemonium hit. It was unbelievable.
We had Florida State on the ropes, but give them credit--they made a great play when they had to. That fourth-and-one was the key. They took over and made some plays, and that was the ballgame.
It was disappointing to say the least. I was so jealous of Florida State because here they were celebrating. The hardest part was in the locker room. FSU coach Bobby Bowden had said Virginia Tech was fired up for the game, but they didn't see his team in the locker room last year after they lost the championship game. I understand what he means now. After making it to that game and losing it, the hardest part for a senior is not having a chance to get back to that position. Dad talked about how proud he was. The seniors got up and spoke. Most of us were crying. The common theme was "We had a great year, and I'll never forget anybody in this room."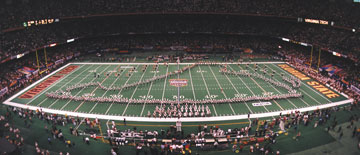 Then somebody walked in and said, "Coach Beamer, the president is on the phone." Dad came back and told us that President Clinton had said he had watched us all year and he liked the way we played. That hits you--the president of the United States is sitting in the White House watching us and being impressed with the way we played.
We got back to the hotel and our fans, who were great all year, were there in the lobby, still cheering for us. That meant more than they know. We realized we had a lot to be proud of. It was a great season.
Shane Beamer (interdisciplinary studies '99) was long snapper on the Hokie football team. As the son of Coach Frank Beamer, Shane has seen the program's success follow the tough times of a six-year bowl drought.
Players mentioned were: Corey Moore (finance '99); John Engelberger (interdisciplinary studies '99); Keith Short (interdisciplinary studies '00); Michael Vick (sociology '03); Matt Wincek (business '02); Ricky Hall (interdisciplinary studies '00); Shyrone Stith (interdisciplinary studies '01).
---
by Su Clauson-Wicker and Clara B. Cox
After so many years of tending the fire, Virginia Tech's football team has been dancing in the spotlight. It's a Cinderella story fans love--even those with no Hokie affiliation. The enthusiasm--mania, even--for all things Hokie has been tremendous.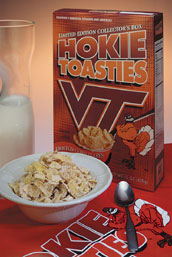 Hokie Toasties popped up in cereal aisles; RC Cola bottles sported the Tech colors; a Northern Virginia high-rise office building spelled its Hokie Pride in lighted windows nightly; and legions of vehicles proudly bear the Tech logo. Hokie mania swept the country during the fall, gathering steam as the undefeated team headed to New Orleans.
Just when sportswriters were lamenting that they see the same ol' top teams in college football year after year, Tech blazed onto the scene. The Hokie players proved themselves a legitimate contender for the No. 1 spot, lost, but won the hearts of a nation.
Sales of orange and maroon Hokie paraphernalia at the campus bookstores--both in Blacksburg and at the Northern Virginia Center--zoomed up more than a third over last year. Licensing revenue from the marketing of Tech hats, shirts, and other merchandise hasn't yet been calculated, but Tech Director of Licensing and Trademarks Locke White expects to almost double the $340,000 annual licensing revenue. "In past years, we've been receiving one or two inquiries a week. We're getting one or two a day now," he said in mid-January.
Tech Director of Admissions Karen Torgersen has seen a bump up in the number of students applying for early admission for the fall of 2000, by about 10 percent, and she expects the overall applicant pool for next year to grow by 20 percent. She attributes the increase largely to the football team's visibility
When an estimated 54 million people tuned to ABC television and watched Tech take on top-ranked Florida State at the Sugar Bowl, Tech also got an opportunity to showcase its reputation as a top research institution. ESPN, which broadcast its Game Day pregame show from Blacksburg last fall, cast the university in an especially positive light and made an unprecedented return to Blacksburg for a second show. The network praised the football team and also raved about Tech's academic reputation and the campus scenery. The show drew record crowds both times.
In Washington, D.C., CBS affiliate WUSA-TV focused on the capitol area craze for anything orange and maroon. After the game, Sports Illustrated issued a special edition on the Hokies, the first time the national magazine has featured a No. 2 team in a special edition.
Locally, the Roanoke Times drew both criticism and praise for running Sugar Bowl related articles on the front page at least twice a week all December. "We feel good about our coverage up to and after the Bowl game," says managing editor Rich Martin. "More than athletics was involved here--this was a social and economic phenomenon."
Donations from alumni and other contributors are up, particularly among the athletic supporters who gave the university $1.2 million more than last year from July '99 to December '99, according to Lu Merritt, director of development for intercollegiate athletics.
"A significant number of donors increased their giving levels, and 400 new members joined the Hokie Club. Some of them probably wanted to position themselves to get tickets for the Sugar Bowl and next season," he says.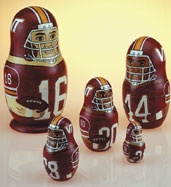 In November and December when momentum was building, donors contributed $2.6 million to the Tech athletic fund. "Some of them were year-end donors, who needed the tax advantage of making a gift," says Merritt. "But a lot of them wanted to go to the Sugar Bowl. They did the math. They knew that Tech would only get about 16,000 bowl tickets and only about 10,000 tickets would be available through the Hokie Club. With 10,000 active members, we did what other universities do; we started with our top donors and backed down the list. We assumed that our Silver Hokies (those who give up to $1,000 annually) would get tickets, and I think this got on the Internet. We actually ended up getting tickets for all our Bronze Hokies, who give $500 annually, and even a few others."
Outside the university, a national firm that specializes in selling tickets to major events priced its supply of Sugar Bowl tickets at $365-$1,000. The vice president of the firm made a trip to New Orleans the weekend before the game in hopes of locating additional tickets--without success.
In Virginia, a small-town mayor who owned an 1876 diploma from Virginia Agricultural and Mechanical College--Tech's first name--offered the diploma to the university in exchange for four Sugar Bowl tickets. Two weeks later he had the tickets in hand, and Tech now owns a diploma from its second graduating class.
In the president's office, Paul Torgersen received a message from a woman he had dated in high school about 50 years ago. All she wanted to know was whether he could help her get tickets to the game.
Merritt has found a way to gauge the level of Hokie mania. All he has to do is check the pile of hats, cereal boxes, magazines, and other paraphernalia stacked on Coach Frank Beamer's desk. "People are still asking us to get Frank or Michael Vick to sign these things," Merritt says.
In March, the Virginia General Assembly joined the Hokie craze by recognizing the team, Coach Beamer, and his staff. The legislative body passed a special resolution, citing the team and coaches "for brilliantly representing Virginia Tech and the commonwealth during the 1999 football season." The resolution also pointed to the team's "grace under pressure, . . . their winning performance under unprecedented national scrutiny, . . . their exuberance and positive attitude, and . . . the unparalleled excellence of their performance on the football field."
Perhaps the most powerful testimony comes from Blacksburg resident Ashley Chance, who found that even hundreds of miles away at another university--in a confessional booth, no less--she had not escaped Hokie mania. Chance, whose father, Don Chance, teaches finance at Virginia Tech, opted to attend Ohio State. Shortly before exam week, she went to confession at the local Catholic church. The priest on the other side of the curtain began by asking her some questions about herself. "Where are you from in Virginia?" he asked. When she responded, "Blacksburg," he exclaimed: "How about them Hokies!"
Home | News | Features | Philanthropy | Alumni | Classnotes | Editor's Page