FICTION
Mark Brickwedde's (management science '97) The Clone combines courtroom drama intrigue with a medical thriller. A crazed gunman claims the lives of more than a dozen innocent victims on a wild rampage through a string of fast-food restaurants. Could the accused man, a former employee of a federally funded medical research facility, be telling the truth? Could someone identical in appearance have committed the crimes? The publisher is Ruthledge Books, Inc. (107 Mill Plain Rd., Danbury, CT 06811).

Homer Hickam's (industrial engineering and operations research '64) memoir, Sky of Stone, completes the trilogy including October Sky. It describes "Sonny" Hickam's experiences revisiting his coal-mining hometown, where he finds his father under suspicion for fatal negligence in a mining accident. When his father cuts off his money, Sonny takes the toughest job at the mine and falls for its only female engineer. As the summer wears on, Sonny learns that in a town where everyone supposedly knows their neighbors, mysteries remain.
The publisher is Delacorte Press (1540 Broadway, New York, NY 10036).
TECHNOLOGY

Information technology executives, managers, engineers, and software architects will appreciate Software Architecture: Organizational Principles and Patterns by David Kane (information systems '99), David M. Dikel, and James R. Wilson. The book provides a framework for building software that balances the needs of organizations and their products while providing stability through the rapid changes associated with business and technology. It also introduces the innovative VRAPS (Vision, Rhythm, Anticipation, Partnering, and Simplification) model for software architecture.
The publisher is Prentice Hall PTR (One Lake St., Upper Saddle River, NJ 07458).
BUSINESS

Building the Optimum Organization for Federal Agencies, by C. Robert Nelson II (mechanical engineering design technology '76), subtitled, "The Guide for Developing the MEO through Functionality Assessment, A-76, or Other Strategic Sourcing Study," provides ways to construct federal agencies so that they can more effectively and efficiently contend with current trends in downsizing and industry competition. Step-by-step, simple instructions fill this workbook to guide federal agencies toward a changing future of competition with the private sector.
The publisher is FPMI Communications, Inc. (707 Fiber St., Huntsville, AL 35801-5833).
FORESTRY

If you are an arborist, community forester, or a resource manager and would like to know the likelihood of a leaning, cracked, or decayed tree failing, Ed Hayes' (forestry '75) Evaluating Tree Defects is the book you're looking for. With quick-reference color photographs and to-the-point analysis, Hayes not only describes tree defects but also a tree's adaptive growth strategies to compensate for those defects.
The publisher is Safetrees (532 22nd St. NE, Rochester, MN 55906).
HISTORY
Factory workers, doctors, politicians, and lawyers share stories of life in Iowa from the 19th century to present day in Life Narratives of African Americans in Iowa, by Charline J. Barnes (Ed.D. '95). Despite the challenges of prevalent racism, each person profiled in this oral history made a significant contribution to society. Just two of the many stories include Willie Glanton's experience as the first African American woman in the Iowa legislature and physician Percy Harris' recollection of his problems finding a place to live in Cedar Rapids.
The publisher is Arcadia Publishing (3047 N. Lincoln Ave., Ste. 410, Chicago, IL 60657).
SOCIAL ISSUES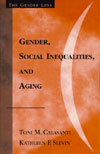 Gender, Social Inequalities, and Aging by sociology associate professor Toni M. Calasanti and Kathleen F. Slevin explores how both women and men are influenced in later life by factors such as gender, ethnicity, class, sexual orientation, and race. The authors show how neither policy nor traditional research has adequately considered these factors, preferring instead a monolithic and stereotypical vision of old age. Through discussions of body image, sexuality, retirement, and family relationships, the authors work toward forming a new lens through which to look at aging.
The publisher is AltaMira Press (1630 N. Main St., #367, Walnut Creek, CA 94596).
TRAVEL
Dr. Jo's How to Stay Healthy & Fit on the Road, by Joanne V. Lichten (M.S. human nutrition and foods '80), is a compendium of solutions for attaining travel health and sanity. Lichten, a registered dietitian and professional speaker who travels 100 days a year, says, "There are 44-million business travelers and 93-million recreational travelers. That means eating out often, not sleeping at home, and struggles related to living on different time schedules. It's no wonder that travelers often experience a decrease in health and an increase in their weight."
The publisher is Nutrifit Publishing (P.O. Box 90452, Houston, TX 77269-0452).