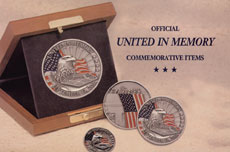 Southwest Virginia businesses commemorate Sept. 11
Two alumni were part of efforts by companies that produced commemorative items to show Sept. 11 survivors and rescue and relief workers that their grief and efforts will not be forgotten.
"When you start putting names on these medallions, you realize that you're not just looking at a statistic anymore," says Chip Forbes (business '80), founder and president of C. Forbes Inc., of the American-flag medallions the company produced for the families of each victim of the Pentagon attack. The Richmond-based company co-designed a pin for the Pentagon bombing memorial event as well, which both President George Bush and Secretary of Defense Donald Rumsfield wore. "Some of the burn victims were unable to attend the ceremony, so we sent pins to be handed out in the burn center," says Forbes. The firm also produced the Medal of Freedom presented to families of the postal workers who died of anthrax.
Prestar Packaging of Christiansburg, Va., manufactured, without profit, 15,000 paperboard flag boxes to hold the American flags given to the surviving families of the terrorist attack victims and to Sept. 11 rescue and relief workers. Prestar's vice president, Anne Pugh Chrisman (finance '82), says, "We know that this in no way heals their pain or assists them in their awful task, but we do hope that one day it will provide some comfort knowing that 22 people in a small company in Southwest Virginia wanted to show we care." The boxes have the U.S. House of Representatives seal on the front, stamped in gold, and members of Congress from all 50 states took part in the presentation of the boxes.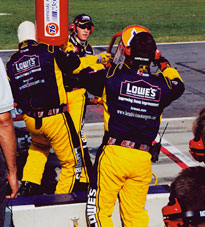 From holding for the Hokies to catching for NASCAR
Hokie football fans might think that playing in the Sugar Bowl for the national championship against Florida State would be a lifetime's achievement. But as soon as Caleb Hurd (mechanical engineering '01), former Hokie place holder--and unofficial Heisman candidate!--finished his last game, he decided to go after another dream of his: working for the NASCAR Winston Cup Series.
Brian Whitesell (mechanical engineering '87), the manager of Jeff Gordon's Hendrick Motorsports No. 24 team, offered Hurd an internship in the summer of 2000. Hurd worked with Jimmie Johnson's No. 48 Lowe's car, owned by Hendrick and Gordon, by helping to install data acquisition sensors on the car and downloading the data produced at the track. In order to become more involved with the testing process, he is learning how to analyze the data. Hurd currently works for Gordon's team as "catch-can man," the person who assists in the fueling of cars on pit stops.
"I was surprised that I, having no previous pit road experience, was able to go out and win a job on the seven-man team," Hurd admits. But Tech apparently played its part: "Getting a mechanical engineering degree helped me become an engineer for these teams and playing football helped me to become a pit crew member," he says.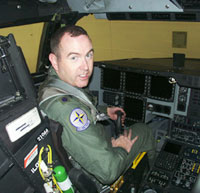 The flying elite
Lt. Col. Norman Bruce Adams (education '82) is the 53rd individual ever to qualify to fly what is considered the most advanced bomber in the world, the B-2 stealth bomber. Although Adams has not yet seen combat, all B-2 pilots at Whiteman Air Force Base in Missouri are on the roster to fly combat missions if necessary.
Adams is currently an instructor in the training squadron, where the 21, $1.3-million B-2s in the military's inventory are stationed, and has worked with and trained several individuals who flew the 44-hour bombing missions to Afghanistan. Adams explains that "during a long duration mission, one of the pilots has the opportunity to sleep while the other flies, unless both are required for air refueling, bombing, or other necessary tasks."
Despite Adams' distinctive position as one of the few pilots capable of flying the B-2, he stresses that the B-2 is only part of a larger network of military strength. He speaks highly of his friend, Lt. Col. William Overbey (education '83). According to Adams, Overbey "is truly the hero when it comes to serving his country. He has been an instructor and navigator on the KC-135 Air Refueler for most of his career." The KC-135 is vital to the support of the 44-hour missions, says Adams, who notes that Overbey also flew in the Gulf War, Kosovo, and "for several other humanitarian actions.
"Flying or the military was never a dream of mine until I got to Tech," Adams adds. "Only after joining the corps of cadets did I realize how much I liked the military way of life."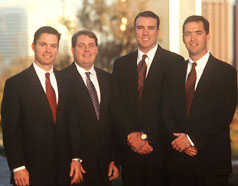 Apex Systems makes good
When Brian Callaghan (psychology '93), Jeff Veatch (finance '93), and Win Sheridan (English and political science '94) were fraternity brothers at Tech, they didn't imagine that their not-yet-in-existence company would one day be ranked number 51 in Inc. magazine's annual listing of the 500 fastest-growing private firms in the country for 2001. What began as three 24-year-olds taking a big chance now comprises branch locations in 17 U.S. cities and more than 1,000 employees. Apex Systems is a technical staffing company specializing in the placement of information technology, telecommunications, and engineering professionals. Revenues grew from just under $1 million in 1996 to more than $46 million in 2001.
Its first three employees, Rob Lowry (finance '95), Greg Cooper (biology '96), and Shawn Handley (history '96), are Hokies, as is CFO Ted Hanson (accounting '91). Callaghan estimates that about 30 of Apex's employees are also Hokies. "We wanted solid people, with good character, that enjoyed dealing with people. Where better than Virginia Tech to find them?" Veatch says.
How will they keep their heads with what could be for some a dizzying rise to the top? "You have to get up every day, strap your helmet on, and prepare to go fight for your business," says Callaghan. "If we become comfortable with ourselves then we are open to being passed by a competitor."
Sharing the art of laughter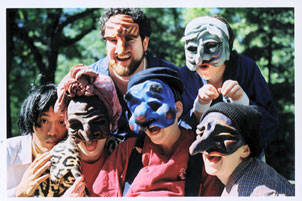 Last fall, TriArts, Inc., an ensemble of actors, directors, designers, and writers dedicated to producing company-created and existing pieces of work, presented workshops and a commedia dell'arte symposium on campus. "I hope that some of the students went away with a great respect for commedia as an art form and as a teaching tool for theatre," says Loevner (theatre arts '95). Along with Loevner, Troy Fujimura (theatre arts '95), and John Rogers (theatre arts '94), all living in Chicago, formed the company, and Allison Latta (theatre arts '97), Noel Williams (theatre arts '97), and Patricia Austin (theatre arts '95) later joined. Today, four other Tech graduates are also members.
Commedia addresses social issues in a light-hearted manner with its improvisations, exaggerated gestures, facemasks, and familiar stock characters such as the young lovers, the meddling servant, and the lecherous old man. "The characters are based on a social class structure that is all about power, who has it, who doesn't, who should, and who shouldn't," says Williams. "The audience can see a glimpse of themselves in any of these characters who have blown the situation and themselves up to such a ridiculous degree that the audience laughs at them, and, in turn, can laugh at themselves."
While at Tech, several members of the group went to Switzerland to study with the world authority on commedia dell'arte, Antonio Fava. The experience convinced them they had to keep working with the form. Today, TriArts believes in a process-oriented approach to crafting theatre experience where all contributors to a piece work together, including the director, actors, and designers.