Tech baseball players enjoy summer travels
by Jimmy Robertson
Ask anyone his or her idea of a dream summer vacation and a cruise around the Caribbean pops up. Or maybe a tour of Europe. Or a couple of months surfing and sunning off the coast of Maui.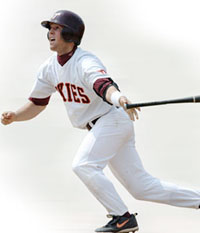 But Virginia Tech baseball players Marc Tugwell and Brad Bauder took the unorthodox route, spending last summer playing baseball in Alaska, of all places.
The Alaska League, comprised of six teams, resembles the better-known Cape Cod League in New England. Players from around the United States make the trek to Alaska and live with "host" families. The league itself usually sets players up with jobs to allow them to earn some money. At night, the players compete for their respective teams against each other.
Tugwell knew about the Alaska League and got a shot at it thanks to his father, a successful high school baseball coach in Northern Virginia whose contacts helped Tugwell land a spot with the Alaska Goldpanners, based in Fairbanks.
"It was a great, great experience," Tugwell says. "Not many people get the opportunity to take a two-month, all-expenses-paid trip to Alaska just to play baseball. It was a lot of fun. [A teammate] and I stayed with a great family. They made us dinner even though we didn't get home sometimes until 11 p.m. or later. Just great people. They made it a great experience."
Tugwell did not get to see Bauder much because Bauder was several hours away, playing for the Mat-Su Miners in Palmer, Alaska. So Tugwell needed to make friends on his own, which he did.
His day consisted of getting up late and then working 11 a.m.-1 p.m. at the baseball fields, raking them and picking up trash before each game. Tugwell usually returned to the park around 3:30-4:00 p.m. and then played that night. After the game, he and his roommate went home and often stayed up until 2:00 or 3:00 in the morning.
"It was hard to sleep because it doesn't get dark," Tugwell says. "We'd sleep late or take naps during the day. On off days, we'd go fishing and just relax.
"The weather was great," he continues. "It was about 80 degrees and sunny, not too hot. And it hardly ever rained. We didnÕt have a rainout. But we did have a 'sunout.' The sun was so bright one day that a couple of people had trouble seeing, so they called the game. Iove never seen anything like that."
Tugwell's crowning moment came in the Midnight Sun Game--a 42-year tradition in which a game is played late at night without the aid of artificial lighting. Tugwell scored the winning run in the 13th inning of that game in front of 3,500 people. The game ended at 2:05 a.m. At that point, Tugwell says, it actually started getting lighter.
"[ESPN baseball analyst] Peter Gammons said that playing in the Midnight Sun game is one of the most amazing things a player can do," Tugwell says. "It was a lot of fun."
As for the league itself, he says, "I don't think I would have ever gotten to go to Alaska otherwise. My family came up for vacation and made a week of it. They really enjoyed it as well. It was just one of those great experiences you'll never forget."
Jimmy Robertson is the editor of The Hokie Huddler.
Editor's note: Tech's baseball team, the "Hammerin' Hokies," started the 2002 season--and their second year playing in the Big East--on Feb. 22. Follow their season online at www.hokiesportsinfo.com/baseball.