Paving the way: African Americans at Virginia Tech
by Juliet Crichton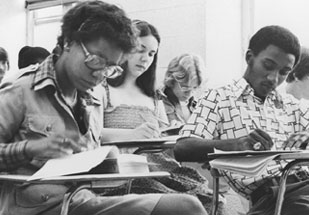 How far has the commonwealth's largest public university come in shedding its reputation as a white agricultural school in a culturally isolated corner of the state? A long way, judging from the increasingly diverse student population on campus these days—and Virginia Tech still has plans to go the distance.
Diversity, as President Charles Steger noted in mid-2001, is what makes a campus "open, representative, and civil." Tantamount to inclusion, diversity helps create a legitimate learning environment, one genuinely reflective of the world in which we live.
Tech's journey toward diversity is perhaps nowhere more evident than in the history of African-American students on campus, a testament to a constantly evolving university with an unchanged mission of instruction, research, and addressing the needs of society through public service and outreach activities.
Breaking the color barrier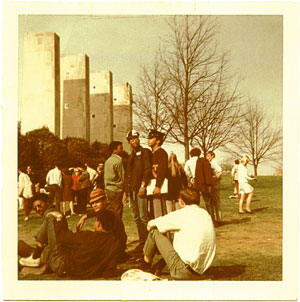 In 1953, more than 80 years after its establishment, Tech was the first historically white land-grant institution in the former Confederacy to admit a black undergraduate, Irving L. Peddrew III, of Hampton, Va., the only African-American student among 3,321 white students on campus his first year. The following year, Lindsay Cherry, Floyd Wilson, and Charlie Yates (mechanical engineering '58), all from Booker T. Washington High School in Norfolk, Va., were admitted to Tech's engineering program and the corps of cadets. Although Wilson and Cherry left school to pursue careers in the military and the postal service, respectively, Yates remained, and the bachelor's degree he earned in 1958 was the first awarded to an African American by Tech, as well as the first by an historically white land-grant college in the former Confederacy.
To honor its first black student and first black graduate, Tech renamed New Residence Hall-West, which opened in late 1998, Peddrew-Yates Residence Hall, a permanent reminder to current students of two trailblazers who, Steger notes, "endured and broke the color barrier at Virginia Tech." [Go here for more on these two men.]
During Yates' four years at Tech, Matthew Winston (mechanical engineering '59) and Essex Finney (agricultural engineering '59), a transfer from Virginia State University, were admitted to the engineering program, still the only option of study open to African-Americans. In 1959, Tech granted admission to Robert Wells (mechanical engineering '63), along with James Whitehurst (electrical engineering '63), who became a pioneer among pioneers.
Prohibited from joining the football team, much less living or eating on campus, Whitehurst, with the help of Montgomery County's commonwealth's attorney, filed an injunction under the 1954 Civil Rights Act. Ultimately, Whitehurst, though permitted to practice with the team, wasn't allowed to use the athletic facilities in the old War Memorial Gym and so had to walk through town in his football equipment. He quit the team and filed a grievance with the Civil Rights Office in Washington, D.C.
As a result of this second injunction, Whitehurst was assigned an entire bay of Lane Hall—which he shared with a resident advisor—and was allowed to eat with the corps of cadets on campus. Moreover, he attended the Ring Dance his junior year, a move that President Walter Newman had publicly discouraged but acquiesced to because of another injunction filed on Whitehurst's behalf. Accompanied by the dean of students and his wife and required to sit in the balcony of the gym, Whitehurst remembers being greeted by cheers and applause from his classmates when he and his date took the floor to dance.
In 1970, Whitehurst forged yet another first as the first black member of the Tech Board of Visitors, setting a precedent for the later appointment of black alumni: Yates from 1983-1985; Rose M. Robinson (horticulture '81) from 1988 to 1996; the graduate student representative for the 1997-98 term, Michael Herndon (Ph.D. educational leadership and policy '00), Tech's current director of interdisciplinary studies; Philip Thompson (M.S. systems engineering '77) in 2000; and Bruce Smith (general arts and sciences '85) in 2002.
The 1960s and 1970s: Decades of progress and change
Despite these firsts and the growing numbers of African Americans enrolled in all programs at Tech, desegregation was a slow process. Only three African Americans received degrees from Tech in the 1950s and just seven in the 1960s. After Wells and Whitehurst graduated in 1963, five years passed before Stanley Harris (mechanical engineering '68) and Linda Adams (statistics '68) received degrees, followed by Charles Beane (psychology '69, sociology '69), Eli Blackwell Jr. (mechanical engineering '69), and James Lee Jr. (mechanical engineering '69). However, nearly 50 black undergraduates and graduate students were enrolled and would graduate in the next decade, and this number would rise considerably throughout the 1970s.
In addition, a different sort of progress was made when Tech admitted its first black female undergraduates in 1966: Adams, Jacquelyn Butler (sociology '70), Linda Edmonds (clothing & textiles '70, M.B.A. '76, Ph.D. general business '79), Freddie Hairston (who left Tech and went on to earn a doctorate at the University of Oregon), Marguerite Harper (history '70), and Chiquita Hudson (who died from lupus following her freshman year). Eschewing racism and sexism alike, these six black women—among nearly 9,500 white men, 500 white women, and 20 black men—were instrumental in Tech's move toward total inclusion.
Tech's first black female graduate, Linda Adams, transferred in as a junior from Clifton Forge-Covington Community College, a branch of Tech. She was assigned a room in Eggleston, but her white roommate's parents objected and had their daughter moved. Despite this inauspicious beginning, Adams went on to organize the House Councils in the Eggleston Complex and to chair the West Eggleston Disciplinary Committee. Soon after, her sister, Sherrie Adams (computer science '74), enrolled; Adams' nephew, Brian Holloway, currently attends Tech.
Undoubtedly, 1968 was a momentous year for African Americans across the nation. In April, following the assassination of Martin Luther King Jr., an interracial group of Tech students gathered on the steps of the War Memorial chapel for a prayer vigil. At the same time, hours before President Lyndon Johnson ordered that all flags be flown at half-mast, another group lowered the flags at Burruss Hall and took turns guarding them from students who disapproved.
The late Everett Hogg, coeditor of Alice, an alternative campus newspaper, and the leader of its correspondent activist organization, The Alice Group, noted that the students "remained around the flagpole [to] discuss the ideals of Dr. King's life. Race hatred is a problem in this country that can't be ignored, and we felt that we had a moral responsibility to talk to people about King's nonviolent beliefs. The students here are finally beginning to think." This incident is often referred to as Tech's first campus demonstration, marking the onset of a progressively more vocal student population.
As enrollment of African-American undergraduates jumped from 43 during the 1967-68 school year to nearly 80 the following year, Tech's administration completely revised the "Student Life Policies" to ensure identical freedom of rules for men, women, and minorities, an important step toward equity on campus. In the student ranks, Larry Beale (sociology '71, political science '71), Dwight Crewe (political science '71), Harris, Steve Pyles (physics '70), Byron Rimm (physics '70), and James Watkins (biology '71) established Tech's first all-black organization, Groove Phi Groove, a male social fellowship.
In addition, the late 1960s marked a shift in the membership of the university-recognized Human Relations Council, a formerly white organization that, as James Watkins remembers, "black students joined for an opportunity to participate in something that was campus recognized. When the black students started to join, the white students didn't. It became a black organization purely by default." The group initiated a successful movement to remove the Confederate flag and to stop the playing of "Dixie" at sporting events and went on to sponsor an annual Black Week, actively championing unity among the administration, campus community, and minority students.
In the wake of the increasing enrollment during the 1960s, 17 African Americans received bachelor's degrees from Tech in 1970, and the school awarded its first advanced degrees to three black students: Camilla Brooks (M.S. statistics), Franklin McKie (M.S. statistics), and Alphonso Smith (Ph.D. fisheries and wildlife). By the late 1970s, more than 30 blacks had received undergraduate degrees, and the number of graduate and doctoral degrees earned by blacks reached nearly 40. An entering freshman class of 60 African Americans in 1977 grew to 165 in 1978, legitimately establishing an African-American presence on campus.
The 1970s also ushered in a wave of black fraternities and sororities on campus, as well as the establishment of the Black Student Alliance (BSA)—the successor to the Humans Relations Council—in 1978. At present, the BSA promotes racial inclusiveness by organizing a variety of cultural, social, and educational programs throughout the year and is joined in its mission by several other minority-focused campus groups.
Black leadership in the 1980s and 1990s
| | |
| --- | --- |
| | |
| | |
| Tech's first black homecoming queen, Marva Felder '83, '87, and her escort, William R. Billups Jr. '84, at the 1982 homecoming game. | |
| | |
As the Tech campus continued to evolve and become more inclusive, so did its student representatives and concerns. D.K. Brockett (building construction '81) was elected Tech's first black class president by the class of 1981, and James Ferguson (electrical engineering '82) became the first black to sit on the Student Government Association's (SGA) Executive Board; however, the SGA wouldn't have its first black president until the 1993 election of Ronnie Stephenson (political science '95).
Mirroring student concerns, Tech's Black Faculty/Staff Caucus was founded in 1981 to strengthen the university's African-American campus community by recruiting and graduating black students at every academic level. The following year, the Virginia Tech chapter of the NAACP was established and became the university's largest black organization with 115 members.
To represent the nine black groups on campus in 1982, the Black Organizations Council was founded as an umbrella organization and liaison to Tech's administration and the black community. Similarly, in 1984, to correspond with the increase in black students enrolled at Tech, student leaders proposed establishing a Black Cultural Center to heighten campus awareness and understanding of black culture and to offer under-represented students a place in which to network and socialize. After several years of struggle, the center opened its doors in 1991.
During the 1990s, a decade in which the number of entering black freshman hovered around 200 each year, among the young trailblazers were Phallisha Newsome (political science '93), Tech's first Truman Scholarship recipient for students preparing for a career in government or public service, and B. Keith Fulton (urban affairs and planning '89), director of electronic communications and technology development at the National Urban League in New York, who was named the College of Architecture and Urban Studies' first Outstanding Young Alumnus in 1998.
Responding to the rising number of black graduates, Tech held its first black alumni reunion in 1986, featuring a keynote address by Charlie Yates. Attended by 150 alumni and guests, this official reunion caused enough excitement that a second reunion was held the following year. A third black alumni reunion was held in the fall of 1996, and 1999's reunion, "Come See What We've Started," brought 169 black alumni and guests back to Blacksburg, the largest gathering to date.
With nearly 200 black graduate students and more than 1,200 black undergraduates enrolled at the start of the fall 2002 semester, representing a 40 percent increase in the number of entering black freshman, Tech continues to confirm its commitment to diversity. Black alumni now number in the thousands, an ever-growing legacy of the university's mission of sustaining a diverse learning environment, one that is supported by students, faculty, and staff, and the development of programs and resources that fuel a multicultural campus.
The future of diversity
In 1998, President Paul Torgersen created the position of vice president for multicultural affairs, appointing Benjamin Dixon to "pull together important efforts to enhance the diversity at this university." An expert in the fields of diversity and equity with a background in both the corporate and the educational sectors, Dixon asserts that the biggest indicator of Tech's progress is the board of visitors' willingness to endorse and construct the university's Diversity Strategic Plan, which will ultimately be incorporated into the university's overall strategic plan.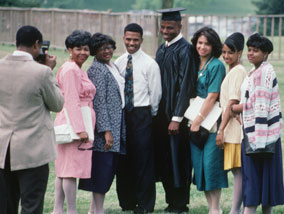 Because blacks are under-represented in Tech's faculty ranks, the university has undertaken a pilot program of workshops and forums that addresses efforts to recruit and retain minority faculty. In February, Cathy Trower, a senior research associate at Harvard University, moderated a faculty diversity and retention panel at Tech, presenting the results of a recent study of faculty nationwide. Currently, the university's full-time minority faculty stands at 11 percent, equivalent to the national average, but generally not indicative of the available pool of minority doctorates.
Among the students, Dixon notes, there are more blacks than ever at Tech. However, as the black general population grows, administrators want the university's enrollment rates to reflect that growth—20 percent of the general population in Virginia is black, four times the percent of black students that currently make up Tech's student body. To that end, Dixon reports that a commission on equal opportunity and diversity at Tech—unprecedented for the university and unique in the country—is close to approval by the board of visitors. The proposed 32-member commission would become part of the University Council, which has the power to recommend policies to the board of visitors.
"During the past year, we've been benchmarked by other universities for the work we've been doing, such as our strategic plans," Dixon says of Tech's diversity efforts. "We're getting attention from those paying attention to what's happening on campuses around the country." He also points to the VT Conductor—a campus forum for diversity issues that appears quarterly as an insert in Spectrum, Tech's weekly faculty-staff newspaper—as an indicator of Tech's commitment to carrying out its mission of diversity and equal opportunity.
"Greater diversity is not an end of itself," Dixon asserts, "but part of the environment that makes students competent culturally and makes students more marketable. Diversity is not just a social justice and equity issue; it better prepares students and is a way to be sure that Tech is tapping every potential source for research dollars and opportunities."
By continuing to embrace and nurture multiple perspectives and differences, the university will broaden its ability to capture the best scholars in the country. As Provost Mark McNamee noted in mid-2002, "All top 30 universities have recognized that excellence and diversity go hand in hand in a coordinated effort to recruit and retain outstanding faculty, students, and staff."
---
Interested in learning more about African-Americans at Virginia Tech?
Go to http://spec.lib.vt.edu/archives/blackhistory/.
Providing opportunities for minorities

As affirmative action and race-conscious programs undergo increasingly unfavorable legal scrutiny, Randolph Grayson, founder and co-director of Tech's Minority Academic Opportunities Program (MAOP), will be key in the university's efforts to sustain diversity.

Credited with helping Tech earn a No. 3 national ranking in awarding M.S. degrees in agriculture to blacks, a No. 5 ranking in awarding doctorates to blacks, and a No. 8 ranking in awarding master's degrees to all minorities, MAOP is not, Grayson points out, a financial-aid program. Nor is it solely race-based.

Aimed at all under-represented minorities—who must maintain a 2.5 GPA and attend all MAOP functions—the program provides academic direction, a network of student and faculty mentors, and active partnerships with minority communities and corporations.

The formula works. Over the past decade, 90 percent of all undergraduate participants have received degrees, and of approximately 200 summer interns assigned a faculty advisor and placed in ongoing research projects, nearly 100 percent have graduated and 70 percent have gone on to graduate studies, 35 percent at Tech.

Grayson says that his program is not just about altering the face of academia at Tech; he's committed to larger sociological changes and believes that "the whole population needs to help lead us into the future. One-third of the population cannot be left behind. Everyone must have a place at the table."

Brought to Tech in 1984 as the director of the electronic microscopy laboratory, Grayson repeatedly voiced concerns regarding the university's limited diversity; and although he recalls receiving polite responses from the administration, he saw little change. As a result, he drafted a blueprint for MAOP in 1992, seeking assistance from the Virginia State Legislative Black Caucus, which contributed $75,000 to jumpstart the program.

MAOP's current annual budget of nearly $700,000—none of which is funded by Tech—speaks both to Grayson's initiative and to the program's worth. "When you propose something whose only objective is to do something good," Grayson admits, "you can get support. That's the bottom line."
---