On April 16, 2008, students, faculty, staff, alumni, and other members of the greater Virginia Tech community gathered for a Day of Remembrance. From a moving reading of the unique and inspiring qualities of the 32 victims to a somber candlelight vigil, thousands of members of the Hokie Nation paid tribute to the victims, their families, and the survivors.

At midnight on April 15, a memorial candle was lit; cadets guarded it all night.

During the vigil, the memorial candle was used to light a candle for each victim.
"Walk Humbly, Son" by Eddie of Ohio


Walk humbly, son, walk humbly now
and cherish every step.
For a life well spent
on this Earth we're lent
will be marked by the void you have left.







May you conquer not curse challenges
may you hold back the dark like a dam
May you lead your life with a lion's roar
may you leave it like a lamb




Gov. Timothy Kaine spoke at the morning commemoration ceremony.

Thousands gathered to hear about the unique qualities of each victim.
The Virginia Tech softball team played in recognition of the victims
and the survivors.





Don't await rewards for your good deeds
a reward won't make them good
Don't await judgment of any foes
they'll receive just what they should.


The Alumni Center Museum exhibit

Students painted remembrance stones for the victims.

When you find the axis of this world
don't tread too far inside.
Run away as far as you think you can
be well and enjoy the ride.



The university's Chamber Singers performed "Walk Humbly, Son."

Perspectives Gallery hosted an art exhibit.

Walk humbly, son, and store your pride
when you need strength later on.
For your life's worth
will be judged if Earth is saddened
when you have gone.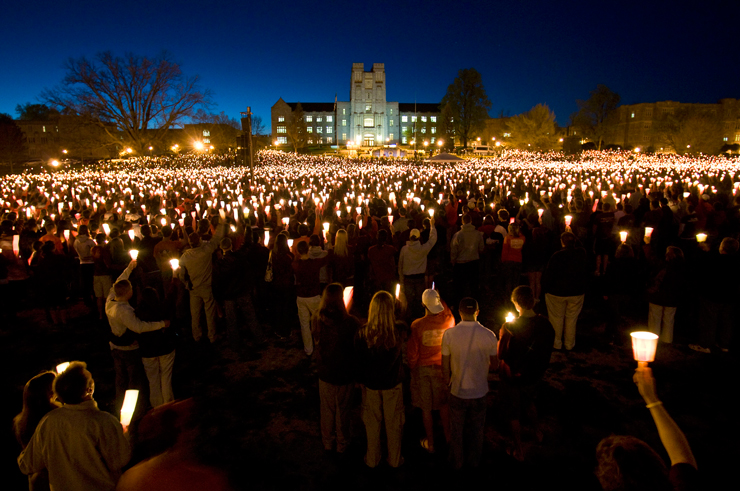 Members of the Hokie nation crowded the Drillfield for the candlelight vigil.
Walk humbly, son. Walk humbly now
and forget not where you're from
May you go further than those before
and provide for those to come.

Will you walk humbly, son.





Lyrics reprinted with permission
from Eddie of Ohio.

One member of the four-person group
is Julie Murphy Wells (hotel, restaurant,
and institutional management '88).