A Cuban family escapes from Fidel Castro's communist revolution and moves to Peru, El Salvador, and Puerto Rico before making a permanent home in the United States. One of the children, Elsa Murano, learns English at age 14 and does well enough in school to enroll in community college. She completes a bachelor's degree at Florida International University and then attends graduate school at Virginia Tech.
After graduation, Murano (M.S. anaerobic microbiology '87; Ph.D. food science and technology '90) lands a tenure-track job at Iowa State University and later joins the faculty at Texas A&M. President George W. Bush appoints her as the undersecretary for food safety at the U.S. Department of Agriculture (USDA), and she spends several years in Washington before returning to academia. And just last year, Murano was named president of Texas A&M--both the first woman and the first Hispanic in the university's history to hold that position.
This remarkable story, which in recent months has put Murano in the national spotlight, only scratches the surface.
"After graduating from Florida International University, I originally wanted to attend medical school, but the competition was steep, and I became interested in research while I was working on an undergraduate research project," Murano says. "My boyfriend at the time, who is now my husband, was interested in nutrition and suggested that I continue with biology in some way at Virginia Tech."
Murano has fond memories of Blacksburg. "It snowed quite a bit in Blacksburg," she recalls. "I remember one day the classes were canceled because of the snow, and I spent the afternoon at a little donut shop near campus. I loved sitting at the counter enjoying hot chocolate and donuts."
She also remembers an ice cream machine that her fellow students in the Department of Food Science and Technology would use every Friday afternoon. For Murano, food became not just a way to celebrate weekends or snow days but also an area of research. While at Virginia Tech, she earned a master's degree in anaerobic microbiology in 1987 and a doctorate in food science and technology in 1990.
"She was an excellent student and very diligent at her work," says Merle Pierson, professor emeritus of food science and technology at Virginia Tech. He was also Murano's faculty advisor while she completed her Ph.D. "The fact that she went directly to Iowa State University in a tenure-track position right after earning her Ph.D. is a testament to her motivation and the quality of her work."
Pierson was also the USDA's deputy undersecretary for food safety during Murano's leadership of the 10,000-employee department with a $905 million budget.
"Working with Dr. Murano was a great professional experience," Pierson says. "We made significant advancements in meat and poultry food safety and addressed several major public health issues."
These food-safety issues included the first discovery of BSE, or "mad cow disease," in the United States and disease outbreaks caused by E. coli bacteria in ground beef. Murano says her research at Virginia Tech gave her special insight into the latter.
"When I was a graduate student at Virginia Tech, I did my research on E. coli," Murano says. "I remember having trouble publishing my first paper on E. coli when I was a student because there were so many other papers out there on this bacteria. It turned out that the specific strain I was researching is the one now famous for causing food-safety issues in the United States."
As USDA's undersecretary for food safety from 2001 to 2004, Murano was the highest-ranking food-safety official in the U.S. government. After she left the USDA, Murano returned to Texas A&M, where she had previously worked as an animal science professor and director of the Center for Food Safety. Her new role as vice chancellor of agriculture and life sciences for the Texas A&M University System meant she not only served as dean of the College of Agriculture and Life Sciences but also oversaw the Texas Agricultural Experiment Station, the Texas Cooperative Extension, the Texas Forest Service, and the Texas Veterinary Medical Diagnostic Laboratory.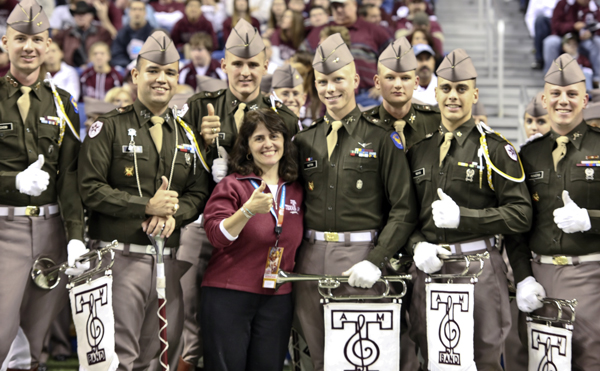 According to Murano, Virginia Tech and Texas A&M have a great deal in common--both schools are large land-grant universities with a corps of cadets.
Murano worked in this capacity for three years until Texas A&M's president, Robert Gates, left to become the U.S. secretary of defense in 2006.
"The Board of Regents, our governing body, liked me as dean so they encouraged me to apply for the opening when Dr. Gates left," says Murano, who describes Gates as a mentor and a friend.
By December 2007, Murano was the search committee's sole finalist, and at the start of 2008, she became president of the 46,000-student university. At age 48, she is also Texas A&M's youngest president in recent memory, although she cannot claim the title because a former chief executive, Louis Lowry McInnis, was 32 years old when he became the university's fifth president in 1888.
Murano credits "being in the right place at the right time and being prepared" as the reasons she was able to climb to the top, crossing so many barriers on her way. "If you are always striving to be your best, it makes people around you pay attention," she says.
According to Murano, Virginia Tech and Texas A&M have a great deal in common. Both schools are large land-grant universities with a corps of cadets, and both share a history of remembrance and recovery from tragedy.
"Twelve students as Texas A&M died in a bonfire on our campus in 1999, and we have a memorial here for those students," Murano says. "Immediately after the tragedy at Virginia Tech, a kinship formed between the two universities."
Murano was a proud Hokie the day that Texas A&M students and faculty planted a tree on the College Station campus in honor of the individuals who lost their lives on April 16, 2007.
"At Texas A&M, our colors are maroon and white, and of course, at Virginia Tech the colors are maroon and orange," Murano explains. "It is that maroon that binds us together."

Michael Sutphin '06 is a writer for the College of Agriculture and Life Sciences.