FEATURE
Danielle Talamantes
Debuting on one of opera's biggest stages
Talamantes' debut album, "Canciones Españolas," produced with friend and pianist Henry Dehlinger, features classical Spanish music. Funded via Kickstarter, which finances individual creative projects through online donations, the album is currently in production and is slated to appear soon in Amazon and iTunes stores.
Performing with the Metropolitan Opera in New York City is one of the highest goals that a singer can set, and one that is rarely achieved. So when Danielle Talamantes (vocal performance, music education '98) received a phone call from the opera company, her initial reaction was skeptical.
"When I got the phone call for the audition, I thought maybe it was a joke," Talamantes said. "The Met doesn't generally call you, but they did."
A native of Vienna, Va., Talamantes spent her first two seasons on the Met roster as a covering artist, essentially an understudy; but in her third season, she debuted in a small role in Strauss' opera "Die Frau ohne Schatten," which ran for six performances in November 2013. In February, she was offered the role of Frasquita in Bizet's "Carmen" for the 2014-15 season. Entailing a good amount of stage and singing time, the role is "a huge break for my performance career, and I'm still floating from the news," she said.
Opening her voice
Performing at the Met is quite a leap for someone who chose to attend a state university over a traditional conservatory route. Although she grew up around music, Talamantes was hesitant to pursue music for a living—and was certain that she wanted to experience a university.
"I ended up going to Virginia Tech, and I loved it," Talamantes said. "It was the perfect blend of a big school and football games, and then this small music department that was like a family and very nurturing."
Although Talamantes pursued double majors at Tech in vocal performance and music education, she realized that the front of the classroom was not for her, deciding that there were others better suited to teach. Indeed, she found several such people in the Tech music department who helped shape her vocal performance skills.
Dave McKee, director of the Marching Virginians, was Talamantes' freshman aural skills professor and recognized her talent early on.
"With a kid like that, you take a deep breath and say, 'Wow, I'm in the presence of somebody who's really got a lot of talent and a great work ethic, and we'll see where she goes,'" McKee said. "And in her case, she's certainly gone to the moon, hasn't she?"
Talamantes also had private lessons with Nancy McDuffie, who taught at Tech for close to 30 years before stepping down as an assistant professor of voice. Like she did with all students, McDuffie started out slow to diagnose Talamante's voice, but she quickly saw her potential.
"With Danielle, it was just obvious from the start that this voice of hers just had easy production with very few problems," said McDuffie. "She was a fun voice to work with because whatever I asked her to do, she would just do it."
While training with McDuffie, Talamantes began her foray into the operatic style. "You begin to bring operatic arias into the student's repertoire as soon as you think the voice is strong and stable enough to handle it," McDuffie said. "[Danielle's] voice was just so capable from the start, it was just a matter of opening up her voice and allowing it to be free and get stronger."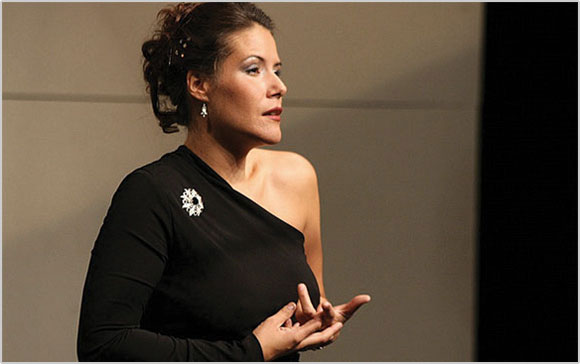 Danielle Talamantes '98; photo by Bill Larson, Clarksville Online
Hitting the high notes
After leaving Virginia Tech, Talamantes attended graduate school at Westminster Choir College, then returned to her hometown and opened a private voice studio. She also began auditioning and performing in regional operas and competitions, which ultimately led to her position at the Met.
Although the Met keeps her busy, Talamantes has found time to take on other performances, including the lead role in the debut of "The Lost Childhood," an opera based on the memoirs of an 11-year-old Polish Jew at the time of the Nazi takeover in Warsaw. The show's world premiere was in Washington, D.C., the same week as Talamantes' debut at the Met, which she laughingly refers to as the busiest week of her career.
"The fact that these two things were happening at the same time was totally dizzying," Talamantes said. "Really, really exciting, but kind of stressful because I was going back and forth."
Talamantes also has a debut album, "Canciones Españolas," which will be released soon.
Produced with friend and pianist Henry Dehlinger, the album features a range of classical Spanish music, touching on their shared Latin roots.
The album's production was funded via a website called Kickstarter that finances individual creative projects through online donations. The pair began with a goal of $8,800, but raised more than $12,000 between June and July 2013. The album is currently in production and is slated to appear soon in Amazon and iTunes stores.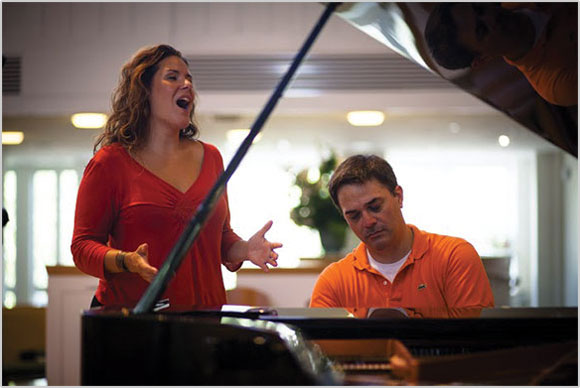 Talamantes with pianist Henry Dehlinger; photo by James Trent
Performing at Tech
As part of the inaugural season of Virginia Tech's new Moss Arts Center, Talamantes will return to campus in May as the soprano soloist in Mendelssohn's "Elijah" oratorio, featuring the Blacksburg Master Chorale, the university choirs, and the Roanoke Symphony Orchestra.
Branch Fields (liberal arts '92), the bass soloist for the performance, is looking forward to sharing the stage with Talamantes again. Fields, a successful opera performer in his own right, said that the fact they have done so well post-graduation is a testament to their alma mater. "We both had teachers that directed us in the right way at Tech, which says a lot for [the school] because music is not a big department," Fields said.
According to McDuffie, boasting graduates like Talamantes and Fields may help grow the music program at Tech even further. "It works somewhat like a sports program," McDuffie said. "If you have a star player or a winning team for a season or two, it automatically brings attention to the program."
Looking Ahead
A career in music is never a certain path, and although Talamantes has debuted with one of the world's most respected opera companies, she is still unsure of what the future holds. However, McKee insists that with the combination of work ethic and talent that Talamantes possesses, her next steps in music will be even bigger.
"I would say the best is still yet to come," McKee said. "I think she's just made it, and people are going to discover what we've known for years."
Said Talamantes, "I can't believe that I get to do what I love ... and I know it's what I'm supposed to be doing. It's absolutely the best thing in the world."
Rachel Cline, a senior majoring in communication and sociology, was an intern with Virginia Tech Magazine.