FEATURE
Caring for the Community
The complexities of responding to sexual violence and harassment on a college campus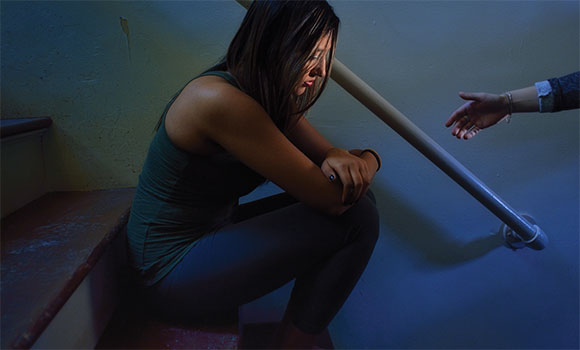 Photos by Jim Stroup
Set aside, for a moment, the peripheral issues surrounding sexual violence and sexual harassment—the reporting requirements and investigations and laws and university policies and sanctions and scars for life.
Set all that aside, and ask a person to recall, through each of the five senses, a recent sexual encounter. Even retelling a consensual event aloud would be uncomfortable. If the encounter were traumatic, however, sharing the details would become an act of "reliving it," said Montgomery County Commonwealth's Attorney Mary Pettitt, whose office prosecutes sexual violence cases that originate on the Virginia Tech campus.
A victim also might not want parents or friends to know or might not even want to name a fellow student whose life would be seriously affected by an accusation. The victim has to feel convinced that opening up is worth it. "You have to acknowledge that something really bad happened to you rather than pushing it aside," Pettitt said. "And that's a really hard thing to do."
A victim's choice to come forward sets in motion a long process beset by complexity, from the notion of applying legal principles to intimacy to the sometimes conflicting laws that govern a university's response. At Virginia Tech, helping victims and the accused navigate such an emotionally wrenching minefield is the charge of the multidisciplinary Title IX Advisory Committee, a team operating in the broad landscape of sexual violence and harassment prevention, education, and adjudication. In recent months, that landscape has come under scrutiny at colleges and universities across America.
The frontline
One of the campus venues on the frontline of Virginia Tech's response is the Women's Center. Situated in a yellow house on Washington Street northeast of campus, the center offers advocacy and counseling services to victims. Christine Dennis Smith, the center's co-director, likened her case-management role to an air-traffic controller's. Victims are presented with an intimidating list of options: investigations by the Title IX office on campus and the Virginia Tech Police Department; an Office of Student Conduct hearing; prosecution through the criminal justice system; interim measures, such as changing a class schedule to avoid the alleged offender; and more. "The complexity is daunting for students, notwithstanding the fact that the student has experienced a traumatic event," Smith said.
Three entities on campus—the Women's Center, Cook Counseling Center, and Schiffert Health Center—are considered confidential resources. All others on campus are required to report knowledge of an incident to the university's Title IX or deputy Title IX coordinator. However, if the report suggests an ongoing threat—for instance, the report is similar to an earlier incident in the same student organization and thus represents an emerging pattern—those with rights of confidentiality immediately share the information with the Title IX office.
The myriad laws guiding the university's approach to sexual violence and harassment are shifting. "Right now, our biggest challenge is finding a way to prepare for the potential changes coming out of the state legislature," said Pamela White, executive director for equity and access and the university's Title IX coordinator.
For instance, the potential for additional mandatory reporting, as proposed in the Virginia General Assembly's notification bill (see the sidebar below), raised a red flag for campus advocates and others. Mandated reporting will "drive more people underground," said Virginia Tech Police Department Chief Kevin Foust. "We will see less reporting. We will see victims who will again feel re-victimized by the system, and they will not report to anybody."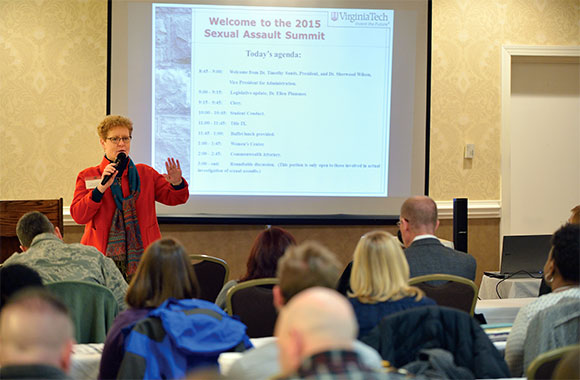 Assistant Provost Ellen Plummer spoke at a sexual assault summit organized by the Virginia Tech Police Department on Feb. 20. Attendees representing Title IX, student conduct, the Women's Center, local law enforcement agencies, and prosecutors gathered to deepen their understanding of how their various roles intersect.
Ahead of the curve
When Ellen Plummer, now the assistant provost who oversees the Women's Center, was hired at the center in 2000, she orchestrated a series of grants through the U.S. Department of Justice to address campus sexual violence by building relationships among Women's Center, Office of Student Conduct, and Virginia Tech Police Department personnel. The three groups underwent education and training together, presented at national conferences, and developed a reservoir of trust. "The leadership has changed, and yet [these relationships have] moved forward," Plummer said. "It may be imperfect, but I do believe our students receive the very best care."
This cooperation is paramount, in part because a police department's criminal investigation and a Title IX inquiry have different standards of evidence. Criminal charges rely on "beyond a reasonable doubt" while Title IX inquiries rely on a "preponderance of evidence"—that is, 50.1 percent of the evidence suggests, more likely than not, that the allegation occurred. As such, in the event of a criminal complaint, Title IX investigators will delay the fact-finding part of their process so that the police can collect evidence.
"We all want to do the same thing," Foust said. "That's protecting our community, making Blacksburg and Virginia Tech as safe as it can possibly be for the students who reside on campus, the students who reside off campus, and everybody else in our community."
The sharing of information is "one of the things that makes us a model for the rest of Virginia," Foust said. "I think that's one of our strengths. We do not want to sit back and wait for Richmond or Washington to tell us how to [respond to reports]. Instead, we want to be on the front edge … [as] one of the leaders in this field."
"While we're always making improvements, we have been doing this well for a long time," said Frank Shushok Jr., the university's deputy Title IX coordinator and senior associate vice president for student affairs.
A delicate balance
Foremost in the minds of those who respond to sexual violence are the victim's rights. A young woman or man might not want to share details or pursue criminal charges.
Said Shushok, "I can think of two or three cases where the incident occurred between two very good friends who had close family relationships, and the complexity of their decision-making is something I don't envy. As much as we possibly can, we want to keep the victim in the driver's seat."
"There's still some negative social stigmas attached to this particular heinous crime," added Foust. "That's why I know it's a difficult personal decision for a victim to say, 'I want to come forward to law enforcement.'"
Some argue that response should be the purview of the criminal justice system; others argue that any disruption of the living and learning community is the responsibility of the university, which must protect its constituents and identify potential patterns. "Balancing the tension between the individual's right and the community's rights takes wisdom and finesse and is incredibly sensitive," Plummer said.
Discovery
Shushok coordinates the response to reports of student-on-student incidents, while White coordinates the response to incidents between a student and, say, a staff member.
"Virginia Tech takes every complaint of sexual violence seriously," said White, "and we provide a holistic approach to addressing each allegation within a case-management framework. We work very hard to protect the rights of all students and hold offenders accountable."
In both the Title IX and the law enforcement investigations, there is no presumption of guilt. "Every student I meet with," said Byron Hughes, a Title IX investigator who also serves as director of fraternity and sorority life, "I tell them my job is not to determine what I think is true or what I think is not true. My only role in this process is just to gather information."
Applying legal principles to sexual intimacy is difficult. In their formative years, college students are wrestling with notions of love and attraction while developing a sense of self. The choices they make are influenced by these factors. Hughes said the Title IX investigations often reveal an intersection of two people "who truly don't know themselves."
In addition, the details surrounding a sexual encounter gone wrong are often blurred by alcohol. The drinking might have been voluntary, leaving authorities to determine whether the victim was incapacitated. "Often it's agreed between the two parties [that sex] occurred, but it's a matter of whether consent was there," Smith said.
Education and a culture change
If addressing a university's response to sexual violence and harassment is akin to treating a symptom of a disease, the root of the disease is cultural perception. Fixing policies and procedures at colleges and universities across Virginia is the easy part, Shushok said. "The real heavy-duty, long-term work is going to be in cultural change and changing people's minds and perspectives."
Just a few of the educational approaches under way on campus include bystander intervention training to help students understand how to intervene; online learning modules on sexual violence, required for incoming students beginning with the fall 2014 semester; outreach to groups considered to be high-risk, such as athletics teams, the Corps of Cadets, and fraternities and sororities; and training employees on reporting requirements and encouraging increased reporting.
"We must continuously find effective ways to educate our community," White said. "And we must continue to encourage our students to trust our system. The more students trust the system, the more they will come forward and the more we can hold offenders accountable."
In Virginia Tech's fraternity and sorority community, which numbers around 4,300, members have stepped forward to lead the discussion, both before and after the nation's attention turned toward Greek culture following the unflattering depiction of the University of Virginia in a Rolling Stone magazine article, portions of which have since been discredited.
"When I hear about things like this, it makes my blood boil. I have a sister, so I'm a brother," said Thomas Sefcik, a senior agricultural and applied economics major, member of Farmhouse fraternity, and president of the Interfraternity Council (IFC), one of four governing bodies in the Greek community. "I think that the general reaction has been for people to get heated because our community doesn't agree with sexual violence, sexual misconduct, or anything of that sort."
Sefcik cited a number of efforts in the Greek community, such as No Hokies Left Behind, an initiative he and others launched to encourage Hokies to care for those around them. "The goal was to create a culture here on the Virginia Tech campus where we don't stand for these kinds of actions, and we're going to all be Hokies together and make sure everybody gets home safe," Sefcik said.
At the early-February forum the Greek community held with President Sands, "a lot of men spoke up and gave their opinion or gave their suggestions on how things can be prevented," said Jamaica Sykes, a senior biochemistry major, vice president of Delta Sigma Theta, and president of the National Pan-Hellenic Council, which oversees Tech's nine historically black fraternities and sororities. "I definitely see that they have concern, they care about the issue." Sykes believes that the Greek community was already sensitive to sexual violence and harassment, but the national conversation put the issue "under our microscope" even more.
Leaders hope that students are more apt to act courageously and serve others because of Hokie Spirit. "That simple word of being a Hokie gives you a common ground where you can relate, and it makes you close, in a way," Sykes said.
Said Hughes, "I think we all have to own that sexual [violence] is a community problem. It's our problem. It's our issue that we all need to take ownership of."
"We're probably ahead of the curve, but we still have a lot of work to do," Shushok said. "Virginia Tech doesn't exist in a vacuum; we're part of a larger culture, and there's a significant consensus that our culture needs to change in the way we think about sexual violence. And if we're going to make a difference in the world, [there is] no better place to start than our colleges and university students and the way that they understand this issue."
Laws governing the university's response
On the federal level, Title IX states that "No person in the United States shall, on the basis of sex, be excluded from participation in, be denied the benefits of, or be subjected to discrimination under any education program or activity receiving federal financial assistance." (Under Title IX, sexual violence—rape, sexual assault, sexual battery, and the like—is considered a severe form of sexual harassment that impedes a student's education.)
In Washington, D.C., a proposed bipartisan bill called the Campus Accountability and Safety Act would, among other things, fine institutions for Title IX violations.
In 2011, a "dear colleague" letter from the U.S. Department of Education's Office of Civil Rights, based on Title IX language, stipulated that in addition to the law enforcement and the student conduct processes, universities must investigate whether an alleged incident amounted to a violation of a student's civil rights.
The Clery Act requires timely reporting of about a dozen types of crimes to the campus police. The Violence Against Women Act amended the Clery Act, adding dating, domestic violence, and stalking to the list of reportable crimes.
---
State laws are in flux. In the 2015 session, the Virginia General Assembly dealt with about 25 different bills related to campus sexual violence. In the end, three bills emerged and were approved. As of press time, the bills were awaiting the governor's signature or modification.
• The transcript bill would require that schools include a "prominent notation" on academic transcripts of any student who is suspended, dismissed, or withdraws while under investigation for any student sexual misconduct violation. Students who serve out their suspensions may have the notation removed when they are deemed to be back in good standing.
• The mutual aid agreement bill would require that colleges and universities add to existing mutual aid agreements with local law enforcement or the Virginia State Police (which Virginia Tech has had for many years) a process to notify the local commonwealth's attorney within 48 hours of the launch by campus police or the external law enforcement agency of an investigation of felony criminal sexual assault on campus or on nearby property, as defined by reporting requirements under the federal Clery law. Institutions that do not have campus police departments will be required to enter memoranda of understanding with local police or the Virginia State Police to carry out this notification.
• The notification bill would require campus employees, with some exclusions, to report allegations of sexual violence to the Title IX coordinator "as soon as practical." The coordinator must report the allegation, including personally identifiable information, to an internal review team that would meet within 72 hours. The review team would determine if the reporting of information about the allegations to law enforcement is necessary to protect the health or safety of the campus community, notwithstanding the wishes of the victim to not involve law enforcement. This bill will also require a higher education institution to enter a memorandum of understanding with an external victim-advocacy and support organization.
The numbers
Clery Act statistics are gathered and reported by the Virginia Tech Police Department, a fully accredited state agency that exists apart from the university. In calendar years 2011, 2012, and 2013, 36 incidents were reported, the vast majority by third parties. Of the seven victims who asked for a criminal investigation, all seven investigations resulted in arrests. Six were successfully prosecuted, while the seventh alleged offender is a fugitive. Calendar year 2014 statistics will be released later in 2015.
In fall 2014, based on Clery requirements, the police department issued three timely warnings to the campus community.
Office of Student Conduct hearings
2012-13
• 30 reports • 15 hearings • 10 were found to be responsible for violating the Student Code of Conduct • 5 were not responsible
2013-14
• 35 reports • 9 hearings • 5 were found responsible • 4 were not
Fall 2014
• 43 reports • 6 hearings • 4 were found responsible • 2 were not
• The increase in fall 2014 reports is due to greater awareness and campus-wide Title IX training. The number of hearings hasn't kept pace with increased reporting because reports often come from third parties, meaning that investigators may not know the identities of victims and offenders.