Freshman applications hit record
Everybody wants to be a Hokie. It may be the winning football team; it may be the national exposure; it may be a synergy of the university's emphasis on technology, its computer-related majors, and its national rankings.
Whatever the reason, students are applying to Tech in record numbers. Freshman applications are up 12 percent over last year, and transfer applications are up 25 percent. A third of the applications come in on-line.
"We're also seeing an upward trend in the profile of students who want to come to Virginia Tech," says Karen Torgersen, director of undergraduate admissions. "The typical student being offered admission has a 3.7 grade-point average and a combined SAT of 1212."
Back to Contents
Sherali named to National Academy of Engineering

Hanif Sherali, a professor of industrial and systems engineering, is among 78 engineers elected to the National Academy of Engineering (NAE) this year. Sherali's chief contributions have been to engineering system design based on optimization theory.
Election to the NAE is among the highest professional distinctions accorded an engineer. Academy membership honors those who have made important contributions to engineering theory and practice, including significant contributions to the literature of engineering theory and practice.
Among Sherali's research accomplishments is the invention, in collaboration with graduate students, of the Reformulation-Linearization Technique. This groundbreaking work has been applied to a variety of complex, real-world problems that arise in production, location, distribution, and engineering design situations.
Back to Contents
Steger installed as 15th president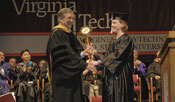 Charles W. Steger was installed as the 15th president of Virginia Tech during Founders Day ceremonies on April 28.
At the presidential installation, Steger outlined his vision for the future of the university, a vision that includes expanding the university's level of sponsored research with the goal of positioning Virginia Tech as one of the top 30 research institutions in the country by the year 2010. In recent years, Tech has consistently been in the top 50.
During the ceremony, Steger was presented with a new mace, commissioned by the Class of 2000, and designed and fabricated by Steve Bickley, professor of art. The gold-plated aluminum mace features a contemporary metal design.
Founders Day also honored John D. Wilson, former president of Washington and Lee University, with the university's highest award, the William H. Ruffner Medal. Wilson served Virginia Tech as executive vice president for academic affairs and provost from 1975-1982 before becoming the 21st president of W&L. Roanoke lawyer John Rocovich and Robert Delano, a former president of the national Farm Bureau, received Alumni Distinguished Service Awards.
Back to Contents
Gift gives Tech rare look into Virginia Secession Convention
A collection of letters donated to Virginia Tech by Mr. And Mrs. Lacy McClain '62 of Roanoke promises to give historians a unique and unprecedented inside look at the Virginia Secession Convention.
John Janney had served in the Virginia General Assembly and was an elderly Virginia statesman when he was elected as a representative to the convention in 1861. After he arrived in Richmond, he was selected president of the convention. "What was exceptional," says James I. Robertson Jr., Alumni Distinguished Professor of history and executive director of the Virginia Center for Civil War Studies, " is that he was a Quaker." As a result, Janney voted against secession both times it came up.
During the six weeks or so that he was in Richmond, Janney wrote 60 letters to his wife, each on one sheet of paper folded in half. Most importantly, each letter contained a paragraph about the convention--the only such view of the convention that Robertson has ever seen. "This gives us a personal insight into the Virginia Secession Convention that we've never had," Robertson says. "It's kind of touching. He's not having a good time."
The letters are even more valuable because they have been kept together as part of a family collection and because Janney's comments are not guarded. In one passage he refers to former President John Tyler as "old man Tyler." Robertson has not studied all of the letters yet, but he hopes one day to either publish them or to use them in a biography of Janney.
The letters and other books and documents in the collection have been independently appraised at "more than $209,000," according to Robertson.
Back to Contents
Robertson named Virginian of the Year

The Virginia Press Association (VPA) has named nationally renowned Civil War scholar James I. Robertson Jr. as the Virginian of the Year for 2000.
Robertson, Alumni Distinguished Professor of history at Virginia Tech and executive director of the university's Virginia Center for Civil War Studies, is the author of several books on the war. Among his award-winning works are General A. P. Hill, Soldiers Blue and Gray, and Civil War! America Becomes One Nation. His most recent book, Stonewall Jackson: The Man, The Soldier, The Legend, has won eight national awards and was a main selection of two major book clubs. Movie rights for the book have been sold.
Also noted for his lectures on the period, Robertson has written and narrated several public television programs and a public radio series. He also appears regularly in Civil War programs on the Arts & Entertainment Network and the History Channel.
Robertson conducts the oldest summer Civil War program in the nation, the popular weeklong "Campaigning with Lee" seminar, which draws 130 participants from over 30 states. He also directs an annual "Civil War Weekend," which is held on campus each spring and draws 350 alumni and friends of the university.
The presentation of his most recent award was made during VPA's convention in Virginia Beach on May 20.
Back to Contents
Famous Civil War artist will donate proceeds of limited edition print to Tech's Civil War center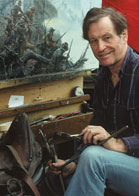 Nationally renowned Civil War artist Mort Künstler will paint Stonewall Jackson in a winter setting and will donate proceeds from the limited edition print of the scene to Virginia Tech's Virginia Center for Civil War Studies. The print will be unveiled when Künstler, considered "America's foremost historical artist," visits the university on November 10-11 for a special exhibition of his work in support of the center.
James I. Robertson Jr., executive director of the center and Alumni Distinguished Professor of history at Tech, expressed delight in the gift and the upcoming exhibition. "Mort Künstler is a premiere Civil War artist. His work is of the highest caliber and is most impressive in its historical accuracy," said Robertson, a famous Civil War historian and author. "For him to paint a scene for Virginia Tech and to display his other pieces here is a compliment of the highest order. His support of our center is an honor."
The two men worked together in 1995 to produce Jackson & Lee: Legends in Gray. The product of their next collaboration, The Confederate Spirit, is due for publication in October.
The print of Jackson will sell for $200 (plus shipping) and will be available to a limited number of people. Purchasers of the print may opt to have their copy personally signed by Künstler during his Tech visit. For information on obtaining this special Künstler print, call 540/231-2892 or visit www.majbill.vt.edu/history/CivilWarCenter/index on the Internet.
Back to Contents
Castagnoli named Virginia's Outstanding Scientist

Neal Castagnoli Jr., the Harvey W. Peters Professor of Chemistry at Virginia Tech and Eminent Scholar of the Commonwealth of Virginia, has been honored as one of the state's top two scientists for advancing the understanding of neuronal degenerative diseases, such as Parkinson's. The Science Museum of Virginia and the Commonwealth of Virginia named him Virginia's Outstanding Scientist of 2000.
Castagnoli is co-director of the Harvey W. Peters Center for the Study of Parkinson's Disease and Disorders of the Nervous System and an adjunct faculty member at the Virginia-Maryland Regional College of Veterinary Medicine.
He is a world-renowned researcher whose work has brought scientists one step closer to identifying the cause of Parkinson's disease, a progressive disorder characterized by shaking and slowing of movement. The disease is associated with destruction of certain brain cells. Castagnoli's research focuses on the molecular mechanisms by which specific chemicals cause toxic effects that ultimately lead to neuronal degenerative diseases such as Parkinson's disease. According to the Science Museum of Virginia, Castagnoli is responsible for "helping pinpoint an underlying chemical mechanism by which a compound found in a drug known as 'street heroin' destroys brain neurons and causes an irreversible Parkinsonian syndrome." Castagnoli's team has also found a compound in tobacco that may block the toxicity of street heroin.
Back to Contents
Vet school fights rabies in Fairfax County
The Virginia-Maryland Regional College of Veterinary Medicine at Virginia Tech is helping Fairfax County, Va., to control a raccoon rabies epidemic by immunizing the wild animals. Fairfax reported nearly 20 percent of the state's rabies cases in 1999.
While rabies is largely controlled in domestic animals through mandatory immunization programs, according to Dr. Francois Elvinger, an associate professor in the college's Department of Large Animal Clinical Sciences, it remains difficult to get the vaccine into wild animals. Elvinger plans to deliver the vaccine in sachets embedded in fishmeal wafers.
In April, public health workers and volunteers began distributing 17,000 vaccine doses over an area that covers about one-sixth of Fairfax County.
Back to Contents
Giovanni wins NAACP Image Award again

Nikki Giovanni, renowned poet and Virginia Tech University Distinguished Professor, has won the NAACP Image Award for literature again, this year for her book Blues: For All the Changes.
This is Giovanni's third major award in five years. Besides the Image Award in 1998, she received the prestigious Langston Hughes Award for 1996 for distinguished contributions to arts and letters. Previous Hughes award winners include James Baldwin, Toni Morrison, Ralph W. Ellison, Alice Walker, and Maya Angelou.
Back to Contents
Senator, special students highlight commencement
U.S. Senator John Warner was the keynote speaker at Virginia Tech's undergraduate commencement ceremony May 13.
Listening from the audience were several students who could give some interesting comments themselves. For example, Jennifer Graham (management '00), at the age of 20, could talk about earning her management degree in record time. Graham, from Berryville, Va., began her freshman studies at Tech's Pamplin College of Business in the fall of '98, but she graduated in May after just two years here.
Her fast track through college is a result of her having earned transferable community college credits during her high school years as well as her taking more than the usual five undergraduate courses per semester. Her overall QCA is a 3.9 out of a perfect 4.0.
Greg and Grant Vogl also have 3.9 QCAs. In fact, the graduating identical twins from Reston, Va., share quite a lot. Both graduated as top honor students at Herndon High School in Reston. Both liked science and math, so both decided to major in engineering at Tech. They also shared a residence hall room.
Back to Contents
Library, students profit from football team's prowess
Virginia Tech's second-ranked football team raked in the money for its appearance in the nationally televised Nokia Sugar Bowl, but the Athletics Department isn't pouring all the winnings back into its own programs. It has donated $250,000 to enhance other university programs.
The largest beneficiary, University Libraries, received $100,000. According to Eileen Hitchingham, dean of libraries, the donation "will support electronic resources accessible to all members of the Virginia Tech community; fund library space improvements to make the library easier to use and more accessible as Newman Library links to the university's new Advanced Communications and Information Technology Center; and provide some matching funds for proposals to expand the digital library and archives (Special Collections) resources, particularly Civil War materials and manuscripts and the Archive of the International Association of Women in Architecture."
"The Athletics Department felt that the University Libraries impacted the greatest range of students and staff. A great university is always looking to improve its library," says Jim Weaver, director of athletics.
Additionally, the department endowed two scholarships: a $75,000 scholarship in multicultural affairs and
a $25,000 scholarship in athleticsthe Paul Torgersen Athletic Scholarship. Another $50,000 went to the Student Athletics Office of Academic Enrichment Programs to upgrade the H.E.A.T. (Hokies Engaged in Advanced Technologies) Laboratory.
Back to Contents
Borggaard receives Presidential Early Career Award

Jeffrey Borggaard, assistant professor of mathematics at Virginia Tech, received the prestigious Presidential Early Career Award for Scientists and Engineers in an April ceremony at the White House.
This award is the highest honor bestowed by the U.S. government on young professionals who are at the outset of their independent research careers.
The award includes a five-year, $500,000 research grant. Borggaard was one of two researchers to receive the award, which recognizes the researchers' efforts in conducting top-quality research in areas of critical importance to the Air Force.
Borggaard will use the award to look at ways to control turbulent flows. A potential benefit would be that planes might feel less drag force, allowing them to travel farther and use less fuel.
Back to Contents
Norris wins Willa Cather Fiction Prize

Lisa Norris (forestry '79), an English instructor at Virginia Tech, has received the Willa Cather Fiction Prize from Helicon Nine Press for her book of short fiction called Toy Guns.
The award was established to honor Cather, a writer "from the heartland whose works reflect the poetic mood, pioneer spirits, and creative energy of America."
"All 10 stories in this disturbing collection revolve around Americans' passionate devotion to guns, gun-toting, sexually tinged violence, and the womanly pursuit of power and dignity," the judge, writer Al Young, said of Norris's collection. "With a sharp eye for irony and the bizarre, the author of these troubling stories lays out a clear, compelling version of the way we live right here and now."
Back to Contents
Halal and kosher foods available at dining hall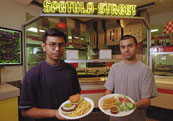 In an effort to serve its increasingly diverse customer base, Virginia Tech's Culinary Services now offers several new halal and kosher food entrées at the Owens Food Court, giving Muslim and Jewish students more on-campus dining options that meet their religious dietary guidelines. These foods can be ready in only two minutes.
" There are very few universities in the United States that serve both halal and kosher foods," said Rick Johnson, director of culinary services. "We take pride in honoring every individual's right to a quality experience, and meeting a student's religiously mandated dietary needs is part of a quality experience."
Culinary Services decided to make the move after surveying Muslim and Jewish students who indicated that they would be interested in purchasing appropriate "convenience" style menu items that are within their religious guidelines. Muslim students who follow halal guidelines eat only certain types of meat, and Jewish students who keep kosher eat only certain types of meat and consume meat and dairy products separately.
Based on student feedback, the new food items are a big hit. "This program is very important to us. We are now able to receive a balanced diet," says Ali Bin Omer, a Virginia Tech freshman. "We appreciate the acknowledgment of the Muslim community through this program."
Back to Contents
High status models enhance learning
Do celebrity endorsements influence how people make decisions? Advertisers who pay big bucks for celebrity endorsements seem to think so. And now an innovative economics research project has demonstrated that most people will follow the example of a successful "celebrity."
Catherine Eckel, professor of economics at Virginia Tech, and Rick Wilson, professor of political science at Rice University, tested whether people can be influenced to make economically beneficial decisions. Eckel says that while people tend not to collaborate with others, even if the result could be beneficial, individuals are influenced by neighbors or others whose actions they observe, and the influence is stronger when the person they observe has high status, i.e., a celebrity. The celebrity's success can get others to change their behaviorto a point.
Eckel's and Wilson's research, which is sponsored by the National Science Foundation, shows that celebrity endorsement can get people to change behavior. "Our work suggests that celebrity endorsement can get people to chose a better product, or one of two equally good products, but cannot influence people to make a foolish choice," Eckel says.
Back to Contents
Have you checked your water lately?
The corrosion of metallic plumbing materials, once thought to last for centuries, is posing a concern for the quality of drinking water. The problem is expected to cost as much as $325 billion during the next 20 years and create environmental problems for consumers and industry.
Marc Edwards, a Virginia Tech professor of civil and environmental engineering who has received a National Science Foundation Presidential Fellowship, is one of the few researchers looking into this problem. He points to some relatively new water treatment steps that remove natural organic inhibitors of copper corrosion as a cause for this deterioration.
Deteriorated plumbing results in contaminants in drinking water systems, the loss of the water resource itself, and property damage. More recently, leaching of lead and copper from plumbing materials into drinking water has received widespread attention due to health concerns. But replacing the copper pipes "does not seem practical, since it would cost each homeowner several thousand dollars, and copper has many important benefits as a plumbing material when compared to proposed alternatives," Edwards says.
Edwards' research is aimed at gaining a better understanding of how to mitigate excessive corrosion problems and the associated release of metals into water. His work is leading to the ability to predict water qualities that are susceptible to problems and to the development of specific steps that may mitigate problems when they occur. In fact, Edwards recently developed a software program to help guide utilities when considering options for corrosion control. He has also designed a corrosion test that can produce some results in five days instead of the standard months or years.
Back to Contents