---
GARDENING


The New York/Mid-Atlantic Gardener's Book of Lists, by associate professor of horticulture Bonnie Appleton and Lois Trigg Chaplin, compiles vital information and expert advice for gardeners in the unique climates of New York and the mid-Atlantic region. The book contains more than 200 lists of plants grouped by their uses and characteristics, such as "Low-Pest Trees," "Spring-Flowering Vines," and "Deer Resistant Plants." The lists in this guide help the average gardener put less time and money into gardening while taking advantage of the mid-Atlantic region's seasons and growing conditions.
The publisher is Taylor Publishing Company (1550 West Mockingbird Lane, Dallas, TX 75235).
FISHING


Fishing the New River Valley, by M. W. Smith (marketing '87; M.A. English '89) is a resource for novices and professional anglers alike who are interested in finding out when, where, and how to catch fish in Blacksburg and its environs. Covering a wide range of prime fishing territory across western Virginia, Smith's guidebook includes lists of stocked trout streams, tips for successful wintertime fishing, live bait approaches, and spinning and fly-fishing suggestions.
The publisher is University Press of Virginia (P.O. Box 400318, Charlottesville, VA 22904).
EDUCATION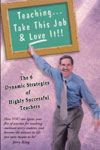 Professional speaker and educator Jerry King (M.A. student personnel services '90) shares his view on ways to educate and inspire students in Teaching...Take this Job & Love It!! The book is a self-described "success blueprint"for teachers on recognizing their own value, achieving their long-forgotten dreams, and motivating students to become champions in the classroom and in life. It also offers "The 6 Dynamic Strategies for Highly Successful Teachers," a step-by-step plan for personal and professional success.
The publisher is Insight Publishing Company, Inc. (134 Court Ave., Ste. 108, Sevierville, TN 37864).
NOSTALGIA


In Past Deadlines, Past Lives: News, Views, and Second Thoughts, Garret Mathews (economics '71) has compiled the thoughts of various media personalities about their first jobs in the field. Contributors include cartoonist Bil Keane, nationally syndicated columnist Elaine Viets, and longtime TV personality Art Linkletter. Expressing both humor and fear, they describe primitive working conditions, lack of pay, eccentric characters, and connections forged under the ever-looming deadline.
The publisher is Albion Press, Inc (4532 W. Kennedy Blvd. 233, Tampa, FL 33609).
FATHERHOOD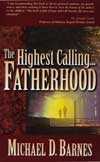 Michael D. Barnes' (M.Arch. '79) The Highest Calling...Fatherhood is a guide offering step-by-step instructions for fathers who want to teach their children the ways of God. Barnes considers fatherhood a position of honor and responsibility, and by incorporating various biblical passages into the book, he shows that fatherhood has had this distinction throughout time. As a father of four children, he also illustrates his points with real-life examples.
The publisher is Huntington House Publishers (P.O. Box 53788, Lafayette, LA 70505).
POETRY
Mercy Me! Cancer Prayers, Poems and Psalms, by Mary L. Roark (counseling and student services '78), gives a faith-based approach for dealing with the challenges of cancer treatment and recovery. As the spouse of a cancer survivor, Roark wrote this book to give comfort to those facing difficult times. The poems and prayers use a positive outlook to address the physical, psychological, and spiritual issues that cancer patients and their families commonly face.
The publisher is Morgen Publishing, Inc. (P.O. Box 754, Naples, FL 34106).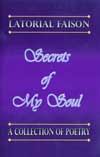 Latorial Faison's (M.A. English '97) Secrets of My Soul: A Collection of Poetry urges men and women to get in touch with their souls and seek inner peace in today's multifaceted world. The collection of poems addresses motherhood, love, friendship, self-identity, freedom of expression, pride, and self-esteem. Many of the poems were written during Faison's college years. She stresses that the poems are about ideas and truths that have surfaced within her throughout her life.
The publisher is Poetically Speaking Publications (P.O. Box 632, Courtland, VA 23837).