It's a bird, it's a plane
It's Tech's Hokie Bird, piloted by none other than two Hokies, Phil Harman (animal science '54) and Cecil "Mac" McBride (agricultural education '54).

Harman, chief pilot and director of air transportation, and co-pilot McBride have nearly a century of flying experience between them, as well as a camaraderie that has kept them connected for almost 50 years.

"Some of my closest friends are the people I've flown with," Harman says. "They're among the ones I can truly depend on."

Phil Harman (left) and Cecil "Mac" McBride
As cadets, Harman and McBride lived in the same freshman dorm (Number Seven, surrounded by a moat, each now long gone). After graduation, both men entered USAF flight school, Harman later flying for the West Virginia Air Guard and McBride for the Air Reserve out of Rochester, N.Y. Twenty-eight years after graduating, the two men--who had never been completely out of touch--found themselves together in Blacksburg again, this time flying for Tech.
Following his stint in the Air Force, McBride, a native of Grayson County, Va., returned to Southwest Virginia as an Extension agent, moved to New York to complete a master's degree in Extension education at Cornell, and later retired from the commonwealth's 4-H staff after 31 years of service. During this period, his wife operated a charter service, Blacksburg Aviation Corporation. Not surprisingly, one of her first hires was Harman, who eventually left to fly for Tech when the university began acquiring "quality" airplanes in the early '80s. McBride was soon to follow.
"There's something intangible about flying, and I enjoy every minute of it," Harman says, though he confesses to disliking traditional thrills such as Ferris wheels, roller coasters, and tall buildings because he's "not in control." Which might explain why the Christiansburg native owns several big-engine "muscle cars," a Suzuki 850 motorcycle, and eight boats, among which is a '54 mahogany Chris-Craft, a "cream puff" docked at his home on Claytor Lake.
Also no stranger to adventure, McBride, who established the Hokie Flying Club in 1965, remains its oldest charter member and is Virginia's longest serving FAA Designated Pilot Examiner. He owns a white Honda Goldwing 1500, which he rides with the New River Motorcycle Group, a hobby he returned to in 1995. Having once traded flying lessons for a Honda 300 in the early '60s, McBride gave up riding when his work took him to Appomattox. These days, he and his wife prefer to travel the country in their diesel truck and fifth-wheel trailer. Unlike Harman, McBride doesn't "do boats," but he taught his granddaughter how to fly: "She soloed at 16 and had her license at 17, both the minimum," he reports, "and now she's a captain in the Air Force."
Lest it seem that the Hokie Bird pilots are nothing but thrill-seekers, Harman quips, "Flying is nine-tenths boredom and one-tenth stark terror." Maybe these two need all the adventure they can get.
---
Bill Berry '84, the 1982-83 HokieBird, wrote to Virginia Tech Magazine about the Adopt-A-Highway road clean-up program in which he, his wife, daughter, and son are participating.

"We thought this would be a great way to look out for our community and at the same time promote the Hokie name to all the Wahoos here in Madison, Va. After all, it is tough being this close to Charlottesville when you are a Hokie."
---
Teaching out
The recipient of the 2002 Outstanding New Biology Teacher Achievement Award from the National Association of Biology Teachers, Jim Egenrieder (M.Ed. curriculum and instruction '99), in his fourth year with Arlington, Va., public schools, has made a habit of taking the outdoors to the classroom--and the classroom outdoors.

A former wildlife specialist and firefighter with the U.S. Forest Service in Idaho and Wyoming and a private consultant in agriculture and environmental policy, Egenrieder is a scholar of the natural world, teaching courses in animal science, freshwater and marine biology, pet first aid, advanced dog training theory, and animal art.

Egenrieder (center) and pals
He's also a master at incorporating his numerous outdoor "hobbies" into his instruction, and his students, with whom he maintains a biology and life sciences reference Web site (www.hbwbiology.net), usually accompany him on his outings.
Egenrieder possesses professional certifications as a SCUBA and mixed-gas diving instructor and as a whitewater kayaking instructor, a teaching opportunity that, he explains, "provided me with the most fascinating perspective on how people learn. I realized how many adults complicate their learning as I saw teenagers experiencing the river kinesthetically, interpersonally and intra-personally, logically and through visual/spatial awareness, and even rhythmically in their stroke patterns." The experience prompted Egenrieder to design a river curriculum, a process that made him realize how much he was discovering about himself and his own motivations as a lifelong learner.
Having always "disliked prescribed lesson plans and cookbook-style prescription for lab work and activities," Egenrieder emphasizes that he hasn't met many students who like them, either. As a result, his students engage in ever-changing hands-on activities that would excite even the most disinterested pupil. "My students built and run my aquaculture and hydroponic systems, created a school-based life sciences library, developed a taxonomy and classification Web site (regularly used by university professors), designed and built zebrafish breeding systems, and planned for the implementation of an automated photography system for documenting evidence of coyotes in Arlington County."
Despite all the excitement, Egenrieder admits that "teaching the life sciences is tough. I was warned during my student teaching experience that science teachers are usually the first to arrive at school and the last to leave--with aquariums, plants, critters, grocery store, and hardware trips, life sciences teachers are first and last among them."
Nonetheless, the outdoorsman acknowledges that he teaches in "one of the most wonderful schools," Arlington's H-B Woodlawn Program, where the teachers "go way beyond the standard biology, math, or social studies curriculum [and help students] to be good people, good citizens, and great communicators." The openness of the school has clearly helped to mold Egenrieder's teaching style and methods, and he notes, "There is a lot about teaching that is therapeutic. It's easy to be a lifelong learner in this environment."
Currently pursuing an Ed.D. at Tech's Northern Virginia Center in Falls Church, Va., Egenrieder genuinely loves his vocation. "My wife strongly encourages me to work toward teaching at the university level in teacher preparation or adventure sports instruction," he says, "and I'm very interested, too, if I can continue to teach in a high school at the same time."
---
What's brewing in Blacksburg?
Beer. But not your average brown-bottle variety.
This beer is made with the highest quality barley, not rice or corn. This beer isn't pasteurized, doesn't contain any flavor-altering preservatives, and isn't sold in bottles, only kegs to guarantee the quality and freshness of every batch.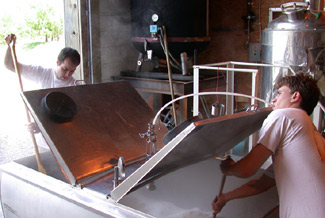 And these brews bear names delightfully familiar to Tech alumni: Hooptie Ride Red Rider Ale, Hokey Pokey Lager, Dragon's Tooth Pale, Blacksburg Blonde Ale, and Capt. John Smith's Stout.
Founded, owned, and single-handedly operated by John Bryce (finance '01), the Blacksburg Brewing Company (BBC) became the New River Valley's first microbrewery last year, premiering its first keg this past February at the Rivermill Map Company Bar and Grill in downtown Blacksburg.
Though only 24, Bryce is no stranger to jumpstarting a new business, having helped create Resume Chase, a human resource management software development company, back when he was still a student. His education and experience were instrumental in that venture, and he applied the same careful preparation and financial savvy to establish BBC.
Ever the Hokie, Bryce admits that he had a brewery in Blacksburg in mind all along. "It's long overdue here. Southwest Virginia is a very young market when it comes to craft brewing," Bryce says. "People here haven't been exposed to the good stuff for as long or as extensively as they are in the eastern part of the state. But that's changing right now, and I hope to be a big part of the change. Blacksburg deserves a brewery that it can be proud of, and I want to be the one to do it."
So far, so good. BBC's brews are available on tap at more than a dozen local establishments and popular Blacksburg and Christiansburg venues. New brews, Bryce promises, are always in the works, along with long-range plans for his own brewpub in the heart of downtown Blacksburg.
Until then, Bryce will do it all, averaging a 16-hour workday and always playing catch-up. In fact, the young brewer describes a typical workday as "complete chaos. Brewing is a lot of work: wort production is a full day's work, and I do that at least twice a week. Then there's the extra time associated with the cellar work in the brewery, including transfers, filtering, carbonating, kegging, and, of course, cleaning. And I have to get people to buy, too."
Amid the chaos, Bryce has come up with some pretty good marketing efforts. Want your keg delivered? Done. Want to know how the beer is made? Bryce opens BBC to public tours on Fridays and Saturdays. Worried about driving? BCC offers group tours and tasting trips with transportation provided by Blacksburg's hip designated-driver service, Hooptie Ride.
Bryce and brewing are a good fit: "It's fun, it's art, it's science, it's business. I can be creative, but I don't have to be creative all day every day." His greatest pleasure, however, is the number of people who thank him "every day for bringing a quality local beer to Blacksburg. That's the whole point."
Learn more about the Blacksburg Brewing Company at http://www.blacksburgbrewing.com.
---
Audience appeal
No doubt about it, New City Media (NCM), a "user-centered" Web design and development firm located in Tech's Corporate Research Center, knows how to reach an audience.
Founded in 1995 by David Poteet (graphic design and illustration '92) and now among the East Coast's leading Web site development firms, NCM has reported double-digit growth for six years running and an expanding clientele that includes Luna Technologies (owned by fellow alumnus Kent Murphy), the National Science Teachers Organization, and the Free Clinic of the New River Valley--whose site was developed without charge. (In addition to this local "pro bono" work for "a great organization right in our backyard," Poteet donates 10 percent of the company's annual profits to charities.)
One of NCM's newest and most unique clients is Voice of the Blue Ridge (VOBR), a nonprofit organization that's a repository of services and information for the blind and visually impaired. This past year, VOBR's Web site was overhauled under the watchful eye of Steven White (communication studies '92), a project director who writes, edits, and manages content development and production for the firm. In White's assessment, audience concerns took on even greater significance than usual, so before going "live," the site was formally tested by retired Tech English professor, Virgil Cook, who sits on VOBR's executive committee and is himself blind.
The site works with a screen-reader program that helps users navigate by sound. White says that "these programs are a great assistive technology, reading the screen elements to users so they can surf and comprehend a Web site. It's pretty cool that a completely flat, visually designed site can become an audio experience with words being read to you and choices being made by keyboard shortcuts and key strokes, which is a totally different Web-browsing experience from using a mouse and clicking on links."
Despite his inexperience with screen-reader programs, White notes that "having a solid background in communication really helped. You can't really know your audience and communicate with them effectively until you talk to them, understand and empathize with them, then use their feedback to form an effective message." Such audience awareness guided other elements of the site's design, as well, including the use of text labels on all links, an alternative to graphics and images that are often difficult for the visually impaired to detect. "I love learning," White explains, "which has really paid off in this field. You can't help but love staying on top of the latest technologies and trends."
It's just that sort of diversity and opportunities for growth that White finds most appealing about his work. "David Poteet has established a great creative environment," he points out, "and he's instilled a real passion for providing great services to our clients." Indeed, that level of commitment led Poteet to open a Richmond office--run by Chuck Ritchie (art and graphic design '78)--and has garnered NCM its share of recognition: the Montgomery County Chamber of Commerce's 2002 inaugural Business of the Year Award for a business with less than 25 employees; a national Silver Mark Award, recognizing marketing excellence in the cable industry; one Silver and two Gold ADDY Awards sponsored by the Advertising Federation of the Roanoke Valley representing Western Virginia; and Poteet's finalist status for the 2001 Ernst & Young Virginia Entrepreneur of the Year.
"We focus on the real world goals of our clients and their Web site users," Poteet says, "and that has made all the difference." Visit New City Media at www.newcitymedia.com.
---
Have Hokie pride? Then mark your calendar!
Hokie Clubs nationwide are promoting Aug. 29 two days before Tech's football home-opener against the University of Central Florida. Fans across the country are encouraged to promote pride and enthusiasm for Virginia Tech and the football team by making your loyalties known to all. Suggested activities to celebrate Hokie Pride Day include:
Wearing maroon and orange

Flying VT flags

Decorating your vehicle for the day

Proclamations by local mayors

Encouring your business to have a Hokie Pride casual dress day

Working with local restaurants to offer Hokie Pride Day specials ($ off for wearing maroon and orange)

Working with businesses to use their signage or marquees to support Hokie Pride Day

Press releases to local radio and television stations re: Hokie Pride Day

Ad in newspaper for Hokie Pride Day (announce where Hokie Club gathers to watch games)

Distribute posters to businesses

Consider ways to publicize businesses who participate in Hokie Pride Day to bring them more business from Hokie fans
If you would like to distribute professionally made Hokie Pride Day posters or have any questions, contact Pat Green at 540/777-1233 or Hokie69@aol.com. Green is the president of the Roanoke Valley Chapter of the Hokie Club, which started the celebration of Aug. 29 in the name of Hokie pride in 2000.