A PORTRAIT OF COURAGE
DuBose continues amazing recovery
by Torye Hurst
On March 20, 2002, freshman center Rayna DuBose scored a career-high 13 points against Vermont in the Womens National Invitation Tournament Quarterfinal game in Blacksburg in only 10 minutes of playing time. Less than two weeks later, she was fighting for her life.
When DuBose collapsed in a weight training session, her life changed in an instant. She was diagnosed with meningococcal meningitis, a rare bacterial infection that leads to inflammation of fluids surrounding the brain and spinal cord. The next day, she was airlifted in critical condition to the UVa Medical Center, where she would remain for the next 97 days, including three weeks in intensive care. She suffered a heart attack, collapsed lungs, and kidney failure, and was in a coma for several days, making the possibility of brain damage very real.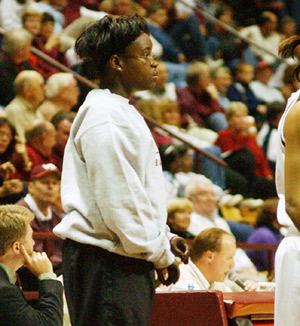 "It was quite frightening, not knowing if Rayna would actually be with us or not," says Andrea DuBose, Raynas mother. "But when she did wake up we were ecstatic because she knew who we were. It was a miracle that she actually woke up and said hi to us." According to Raynas father, Willie DuBose, her first question was, "What about my finals?" He says that if she asked about that, he knew she must have been feeling better.
In early May, DuBose underwent a series of surgeries in which doctors amputated parts of all four limbs due to tissue damage caused by the infection. On July 8, DuBose was transferred to Good Samaritan Hospital, a Baltimore rehabilitation facility near her home in Columbia, Md., then returned to her home and began regular visits to the rehabilitation facility where she later would be fitted for prostheses for her arms and legs.
During DuBoses first trip back to campus on Oct. 19, just four days after her 19th birthday, she attended a womens basketball preseason practice in a wheelchair. When she arrived, her teammates and the coaching staff immediately surrounded her with hugs. Asked what it was like to be at the practice, the typically upbeat DuBose said, "It was interesting, but I didnt miss the running."
That same weekend, women's basketball coach Bonnie Henrickson drove DuBose onto Worsham Field in a golf cart during halftime of the Rutgers football game. DuBose, with a gentle nudge from Henrickson and assistance from her father, stood up and waved to the 60,000 fans giving her a standing ovation.
DuBoses illness and rapid recovery has had a profound effect on the womens basketball team, Henrickson says. "Each of us has dealt with the situation differently, but when we see what Rayna has been through and how far she has come, its impossible for any of us to have a bad day."
Her determination was put to the test during intensive rehabilitation and therapy sessions to adjust to her prosthetic limbs. She will eventually be fitted with myoelectric arms that will allow her to control her fingers and may even be able to run again some day. DuBose plans to assist in several basketball camps in Blacksburg this summer and take second semester summer classes. She will also be a student coach with the womens basketball program.
In January, a portion of the proceeds from the Hokie Hardwood Clubs annual auction to raise funds for the womens basketball program was contributed to the Rayna DuBose Fund, which was established through the Virginia Tech Monogram Club to assist the family with her enormous medical costs. DuBose, who was in attendance, briefly addressed the audience, thanking them for their support.
Just over a year after her collapse, DuBose received the Most Courageous Award from the U.S. Basketball Writers Association. "I dont want to be treated different from anyone," said DuBose in accepting the award in New Orleans. "I want people to know my story. I think there are people who need to know it and can benefit from it."
Courage is commonly defined as an ingrained capacity for meeting stress with fortitude and resilience, and as the firmness of mind and will in the face of extreme difficulty. Courage can also be defined as Rayna DuBose.
Proceeds from the $5 tickets at the spring 2003 football gamea total of more than $200,000went to the Rayna DuBose Fund. For more information on the fund, go to www.hokiesports.com/monogram/dubosefund.html.
Torye Hurst is a writer in the sports information office.
---