---
Founders Day celebration honors alumni
Virginia Tech celebrated its 132nd birthday in April during the 2004 Founders Day ceremonies, which included presenting James E. Turner Jr. (agricultural engineering '56) with the university's highest honor, the Ruffner Medal, awarded for notable and distinguished service to the university and for extraordinary support of university faculty, staff, and students. Turner, who retired in 2000 as president and corporate executive officer (CEO) of General Dynamics Corporation, also served eight years on the Virginia Tech Board of Visitors, including three years as rector, and received a Distinguished Alumnus Award from the College of Engineering. In addition, Gene E. James (animal science '53), J. Eugene Justice (business administration '54), and L. Preston Wade (civil administration '55) all received Alumni Distinguished Service Awards. James, who retired in 1997 after 17 years as president and CEO at Southern States Cooperative Inc., also served as vice president of the Virginia Tech Alumni Association and president of the Virginia Tech Foundation. Justice retired in 1998 as vice president of systems and product management for IBM's Paris headquarters and created his own company, Alliance Europe, which distributed computer parts and refurbished personal computers. Wade, a Lynchburg resident, is CEO of Wiley & Wilson and has served on the boards of directors for the Alumni Association and the Virginia Tech Foundation. He is also a member of the Ut Prosim Society and the College of Engineering Committee of 100. Maj. Gen. Archie S. Cannon Jr. (business administration '50) was honored for nationally distinguished achievement in any field of enduring significance to society with the University Distinguished Achievement Award. (For more on Cannon, turn to page 20.) During the Founders Day ceremony, U.S. Congressman Robert W. Goodlatte delivered an address about the role of American universities in fostering agricultural and economic competitiveness .
TOP
Dietrick receiving $6.5 million facelift
Virginia Tech's Depot at Dietrick began a $6.5 million renovation to transform the traditional dining center into eight specialty shops that will include internationally themed a la carte items, a deli, a salad bar, desserts, and a vegetarian/vegan shop. Food will be prepared in front of students in an open-marketplace style. The renovations, to be completed by the fall semester, will eliminate the central dish room and serving lines, and increase seating from 900 to 1,037.
TOP
Tech grads tops in Peace Corps
Virginia Tech ranked eighth on the 2004 Peace Corps list of "Top Producing Colleges and Universities in the Mid-Atlantic Region." Tech currently has 34 alumni serving in 21 countries, and nearly 450 alumni have served the organization since its founding in 1961. Volunteers commit to the Peace Corps for two years and work in such fields as education, health, information technology, and business development.
TOP
Virginia Tech remains a top value
Despite recent tuition increases, Virginia Tech is one of 77 universities and colleges listed in the 2005 edition of The Princeton Review's America's Best Value Colleges. According to its website, http://www.princetonreview.com, The Princeton Review considered more than 30 factors for each institution, including academic quality, admissions policies, tuition, and scholarships and grants. The information came from students and administrators at more than 500 schools. Although Tech's undergraduate, full-time tuition rates for the 2004-05 academic year will rise from $5,095 to $5,838 for in-state students and from $15,029 to $16,581 for out-of-state students, the total cost (including room, board, and fees) to attend the university will remain the lowest in Virginia.
TOP
New exe

cutive VP and COO joins Tech
James A. Hyatt has been appointed executive vice president and chief operating officer of Virginia Tech. Previously vice chancellor for budget and finance at the University of California at Berkeley, Hyatt was the university's chief financial officer. Hyatt, who had been at Berkeley since 1991, was responsible for the implementation of a campus-wide financial management system, a multi-year financial capacity and planning model, and the innovative E-Berkeley Internet Initiative, which made campus-wide transactions available on the Web. He will replace Minnis Ridenour in late July. Ridenour, a veteran Virginia Tech administrator, will remain at the university to teach public policy and finance in the Center for Public Administration and Policy and to assist the president on special projects.
TOP
A look at the class of 2008
Tech's 4,975 incoming freshmen are more competitive than previous classes, with an average high school grade point average (GPA) of 3.68 and SAT score of 1203. Last year's 4,950 incoming freshmen had an average 3.60 GPA and 1197 SAT score. University officials are disappointed, however, that minority enrollment, compared to last year's incoming class, will drop by about 4 percent. This data may be slightly skewed by the 13 percent of incoming students who chose not to identify their race on their applications for admission, reflecting a nationwide trend.
TOP
Interna

tional researcher named veterinary medicine dean
In June, internationally renowned researcher Gerhardt Schurig was named the third dean of the Virginia-Maryland Regional College of Veterinary Medicine, where he has been serving as interim dean since October. "Dr. Schurig is an outstanding scholar with a long and distinguished record of service to the college and the university. His vision for the college and his commitment to excellence will ensure that the college's educational, research, professional, clinical, and outreach programs will continue to grow and develop," says Mark McNamee, university provost and vice president for academic affairs. Schurig replaces Peter Eyre, who resigned for health reasons in 2003 after serving as dean for 18 years.
TOP
Graduate programs earn high ratings
Seven individual graduate engineering programs at Virginia Tech were in the top 30 in this year's U.S News & World Report's graduate school rankings. The rankings appear in the magazine's "America's Best Graduate Schools" issue and on the U.S. News website (http://www.USNews.com). Other colleges' graduate programs were also ranked, including the Pamplin College of Business, which ranked 55th among the nation's business schools. In the College of Architecture and Urban Studies, the master's program in public affairs was ranked 26th in the nation, and the public management administration program was ranked 13th. In the College of Liberal Arts and Human Sciences, the graduate program in vocational and technical education was again ranked fifth in its category. The College of Science's graduate program in clinical psychology was ranked 62nd in the nation.
TOP
Tech took DARPA challenge
On March 13, Virginia Tech students joined 14 other teams in the DARPA (Defense Advanced Research Projects Agency) Grand Challenge to direct an autonomous vehicle across the Mojave Desert. The challenge, which garnered nationwide interest, proved to be too grand, however: none of the competitors, which included teams from corporations and other universities, made it across the finish line. Virginia Tech's team, which started in a field of 100 and survived two cuts to reach the final 15, was comprised of 30 mechanical engineering and six geography students who converted an off-road, four-wheel-drive utility cart into a driverless vehicle with high-tech sensors that interpret the terrain and make navigation decisions. Propelled by a 20-horsepower engine, Tech's entry (nicknamed "Cliff") exited the race after its brakes seized up within 100 yards of the start line. Most of the vehicles in the competition made it less than a mile before stalling, overturning, or veering off course. DARPA had hoped to accelerate development of autonomous vehicle technologies, an area it has been working on for decades.
TOP
Pat Hyer named "Woman of the Decade"
Pat Hyer, associate provost for academic administration, received the Women of the Decade Award at a March 3 reception and dinner celebrating the Women's Center's 10th Anniversary. The reception honored accomplishments of past and present Virginia Tech female faculty, staff, and students. Ellen Plummer, interim director of the Office for Equal Opportunity, noted that Hyer was recognized because of her active commitment to creating the future for Tech women, which "requires vision,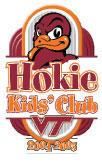 commitment, passion, patience, humor, and political savvy."
TOP
Hokies keep getting younger
Kids today have it easy--they don't have to wait until their freshman year to become Hokies. Instead, for $20 a year, kids age 14 and under can join the Virginia Tech Hokie Kids' Club. Members are invited to autograph sessions with Tech teams and to the HokieBird's birthday party, and receive a Hokie Kids' Club T-shirt and a ticket for one men's and one women's basketball game. More than 900 kids joined the club last year. To learn more, call 540/231-3236 or send an e-mail to hokiekidsclub@vt.edu.
TOP
CALS associate dean, Extension director named


On July 1, Missouri educator Patricia Sobrero assumed the duties of associate dean of the College of Agriculture and Life Sciences and director of Virginia Cooperative Extension. Since 1999, Sobrero had served as associate vice president and associate director of University Outreach and Extension at the University of Missouri, where she held the rank of professor in the College of Human Environmental Sciences. Sharron Quisenberry, dean of the College of Agriculture and Life Sciences, says, "In the future, we must closely align the educational outreach expertise of Extension together with teaching and research to address problems that face society. With [Sobrero's] leadership, Virginia Cooperative Extension can reach new heights in meeting the needs of the citizens of Virginia."
TOP
Students win financial planning competition
Three Virginia Tech students won $10,000 in scholarship money for the university for their first-place finish at the 2004 American Express Financial Planning Invitational. The students, who competed against 22 other student teams, won first prize for a financial plan they created for a fictional couple. The group also finished first in a quiz show. In addition to the scholarship money for Tech, each student won $1,000 and an individual scholarship to continue studies in financial planning.
TOP
---
Bird's eye view of earth as a compass
Migratory birds, as well as many other animals, are able to sense the magnetic field of the earth, but how do they do it? "A fascinating possibility is that they may actually see the earth's magnetic lines as patterns of color or light intensity superimposed on their visual surroundings," says John B. Phillips, associate professor of biology in the College of Science at Virginia Tech. Phillips, along with Thorsten Ritz, a postdoctoral associate at Virginia Tech, and three others, co-wrote a paper published in the May 13 issue of Nature that reports evidence that the earth's magnetic field is sensed by light-absorbing molecules in the retina of a bird's eye. Phillips' lab has conducted research demonstrating that the magnetic "compass" sense involves a light-dependent mechanism in some animals. Virginia Tech researchers are carrying out related experiments to characterize the biophysical basis of the magnetic compass in insects, amphibians, and mice.
TOP
Tech slips in research rankings
Virginia Tech's $232.6 million in research expenditures for fiscal year 2002 ranked 52nd out of 625 universities nationwide in the recently released National Science Foundation (NSF) Survey, down from 49th in 2001. Although fiscal year 2002 ended June 30, 2002, NSF rankings take more than a year to calculate. Budget cuts forced Tech to spend only 7 percent more on research in fiscal year 2002. However, Virginia Tech President Charles Steger says that initiatives such as the new Institute for Biomedical and Public Health Sciences will ensure continued quality research. Tech spent $247.8 million on research in fiscal year 2003, a 6.6 percent increase from 2002, but 2003 NSF rankings will not be released until next year.
TOP
Several "days after tomorrow"
The Ice Age depicted in the summer disaster movie "The Day After Tomorrow" may have had several more predecessors than previously thought, according to new research by a team of geologists from China and the United States. Geologists have long studied glacial deposits from an ancient geological interval known as "the Cryogenian Period" that took place between 750 and 600 million years ago, which is characterized by some of the worst glaciations in earth history, says Shuhai Xiao of Virginia Tech's Department of Geosciences. Previously, it had been difficult for geoscientists to determine how many glaciations occurred during that period, but thanks to the team's studies, Xiao says, "We believe we have evidence that there were at least three Cryogenian glaciations, and there may have been more." Xiao and Chuanming Zhou, a Virginia Tech geosciences post-doctoral associate, and four co-authors have presented their research as the cover story in the May 2004 issue of Geology, the journal of the Geological Society of America. The team's discoveries will help address longstanding questions about the causal relationship between climate change and biological evolution.
TOP
Virginia Tech to study harmful carbon
Virginia Tech's Virginia Center for Coal and Energy Research (VCCER) team has received more than $400,000 for an 18-month project to reduce environmentally harmful amounts of carbon dioxide in the atmosphere. Excessive atmospheric carbon is believed to cause global warming. The VCCER will study carbon sequestration, a process that removes carbon dioxide or prevents carbon emissions from getting into the atmosphere. The VCCER will also identify natural carbon-sequestration sinks, such as vegetation, soils, and oil and gas reservoirs, that reduce carbon in the atmosphere, and will create a database with the information.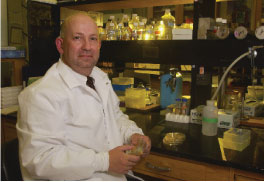 TOP
USDA chief science advisor named VP for research
Bradley W. Fenwick, chief science advisor and chief scientist for research, education, and economics in the U.S. Department of Agriculture, and professor of infectious disease pathobiology at Kansas State University, was selected as vice president for research at Virginia Tech, announced Tech Provost Mark McNamee. "Dr. Fenwick brings to Virginia Tech a wealth of knowledge about the research enterprise," McNamee says. Fenwick begins his new position in July.
TOP
---