S P O R T S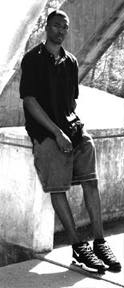 Ace
Hokies' major rebounder has already bounced back from a host of tragedies
by Richard Lovegrove


Adrian "Ace" Custis was almost ready to give up basketball.
The 1993-94 basketball season was approaching, and Custis was back on the court for a pickup game. It was a special occasion; Custis had been out of competitive basketball for the better part of 20 months because of injuries suffered in a serious car crash and then a long rehabilitation from reconstructive surgery for a torn ligament in his left knee. During the pickup game, Custis and Hokie teammate Jim Jackson both dove for a loose ball. They collided and one of Jackson's teeth stuck in the top of Custis' head (Jackson's tooth was undamaged; Custis still sports a scar that shows through his short hair). Disgusted and bleeding profusely, Custis went home and wondered "whether it was meant for me to play basketball."
Actually, the cut head was but a small bump in the road traveled by Ace Custis. He had already faced and overcome the deaths of his beloved brother and his step-brother, his own car accident and knee injury, and the difficulties of attracting college recruiters while playing high-school ball in an out-of-the-way, rural area. A cut head might have given Custis pause, but it wasn't about to stop him.
He recovered in typical Ace Custis fashion. In the three years since the pick-up game collision, Custis has been named to the Metro Conference All-Freshman Team (1993-94), the All-Metro Conference first team (1994-95), led the Metro Conference in rebounds and finished second in the balloting for Metro Conference player of the year (1994-95), helped lead the Hokies to the 1995 NIT championship, and was named to the Atlantic 10 Conference first team while finishing second in rebounding for the league (1995-96). This past season, he led Tech in scoring, rebounding, blocked shots, steals, and minutes played. He is on track to become only the third Hokie ever to score 1,000 points and grab 1,000 rebounds in a career.
More importantly, Custis has grown into the type of role model every coach would like to clone. According to assistant coach Bobby Hussey, who recruited him, Custis is an excellent team player, a team leader, and has never had any problems academically or off the court. "It's been a match made in heaven," Hussey says. "He's a great player and he's going to be one of the greatest ones who's played here, but he's also got these special qualities that will help him in life. He's in that category that you would call 'special.' "
Custis loves basketball, but he knows there's more to life. Hussey remembers when the team returned from the NIT and the players were due at a celebration in Cassell Coliseum. Custis had to make a quick trip to his apartment - his rent was due and he was determined to pay it on time. "He knows what he has to do and he gets it done," Hussey says.
Custis' mother, Barbara Ruffin, would expect no less of her son. Custis and the people who know him well praise her for teaching him responsibility and for helping him build the character he's had to call on to overcome what seems like a lifetime of obstacles and difficulties. "I credit my mom, my upbringing, my life," Custis says when asked how he was able to deal with so many obstacles. "She was my backbone. I don't want to cheat myself, and I don't want to cheat my mom."
"I stress to them not to take life for granted and to do the best they can," Ruffin says when asked for her child-rearing secrets. "Always put God first. When you wake up every morning, thank God for being alive." Education also ranks near the top. Ruffin knows that her son has at least a shot at an NBA career, and she will be proud of him if he makes it. If he doesn't, she will be just as proud of the degree in marketing that he will receive next spring. "My dreams have been matched," she says.
Ruffin, who separated from Custis' father when he was an infant, insisted on calling her son Adrian until a few years ago. She's accepted the nickname now, but when Hussey called the house for the first time and asked for Ace, Ruffin told him that nobody by that name lived there. "I have an Adrian Custis," she told him. Virtually everybody else knows him as "Ace." The nickname comes from Custis' grandfather, William Custis. Custis spent so much time shadowing his grandfather that "he always said I was his No. 1 ace," Custis says.
Custis grew up in rural Eastville on Virginia's Eastern Shore, a thin and sometimes forgotten peninsula across the Chesapeake Bay from Norfolk and Virginia Beach. In fact, the Eastern Shore is sometimes omitted from maps of Virginia, much to the chagrin of its residents. Eastville's population has shown up in stories as 185 and 310; the town clerk says it is 180. Custis thinks it's higher than that, but he concedes, "It's not many."
Custis, like many athletes in small towns, dabbled in numerous sports - baseball, football, cross country - but basketball was his favorite. He was growing faster than his classmates, and his determination and drive were evident early on. "In sixth grade, my best friend and I were talking," Custis says. "I told him I was going to play college basketball." When the friend scoffed at the notion, they made a $10 bet. Custis won the bet but never tried to collect.
One of the disadvantages of growing up in Eastville was the lack of asphalt courts or a gym that was open in the summer. So Ace and his older brother Antonio, who was an excellent athlete in his own right, played in the backyard on a rim that was 11 1/2 feet high and on dirt courts. Ace was determined that one day he would beat his brother.
That dream ended in March 1988 when Antonio, 17, fell asleep at the wheel of his car on Route 13 and was killed. For perhaps the first time in his life, Custis, 13, seemed ready to give up. He had always been a good student (he eventually graduated 18th out of 137 students in his high-school class), but his grades dropped tremendously for a while. "He didn't do any talking about it. He tried to be strong," says Ruffin, who refused to let Antonio's name drop from family conversations. Suddenly, Custis became more focused than ever on the basketball court and in the classroom. "He would always say, 'I have to play for myself and I have to play for Antonio,'" Ruffin says.
Custis played for Northampton High School his freshman year but then started fretting that college coaches wouldn't hear about him if he kept playing on the Eastern Shore. He thought about moving in with his aunt in Camden, N.J., but Ruffin didn't want her son leaving. "She told me that if it was meant for me to play basketball, the scouts would find me," Custis says. He stayed put, but decided he needed to do more than sit back and wait. After his sophomore year he attended basketball camp at Wake Forest University, and the next year joined Boo Williams' All-Stars in Norfolk, one of the top Amateur Athletic Union teams in the nation.
The Boo Williams team represented yet another challenge for Custis. He had to drive across the Chesapeake Bay Bridge-Tunnel, an $18 round trip, just to attend practice. That showed Williams the kind of stuff Custis was made of; he had seen too many players who couldn't make it to practice from two blocks away. Custis began as the last man on the bench, but he improved to the point he was starting for the team. Then, on July 18, 1991, just before Custis was scheduled to leave for an AAU tournament in Jonesboro, Ark., his step-brother Anthony was shot to death in a neighborhood argument. Custis wanted to go to Anthony's funeral to pay his respects, but he desperately wanted to catch the attention of college recruiters. He went to the tournament and his team finished sixth.
Tech assistant coach Hussey knew about Custis before that tournament but "he was just another guy." He saw Custis in Arkansas but wasn't tremendously impressed at first. Then he spoke to Williams. "Boo said, 'Ace Custis might be the best player on our team for a college team,'" Hussey says. "I said, 'What?'"
In the fall of Custis' senior year, Hussey traveled to the Eastern Shore and watched Custis in a pickup game. "I saw an unbelievable amount of raw talent," Hussey says. He was even more impressed when he visited the home and Barbara Ruffin. "It became evident this was a strong family," Hussey says. "She wanted her son in a program where all the right things would be stressed in terms of academics, values.... She's a very strong lady, and strong in the right ways."
Ruffin remembers telling her son what she was looking for in a college, but that she wouldn't step in unless she thought he was making a big mistake. She was happy with his decision then - particularly when he told her that he was attracted to the caliber of education offered at Tech - and she remains happy today. To hear Custis tell it, it wasn't too difficult a decision. He says he wasn't recruited by a huge number of colleges and that when his high school coach and he called some ACC schools, he was told he wasn't ready for the ACC. "I was really upset and hurt," Custis says. "That was another motivational factor for me."
But before he could enjoy that choice, his life almost ended on the same road where Antonio died. On Jan. 25, 1992, Custis was driving home from his girlfriend's house when he, like his brother, fell asleep at the wheel. Bloody and suffering from a broken jaw and nose, he stumbled to the house of a nearby relative, who then called his mother. "He was bleeding, cold, and shaking. He looked at me and said, 'I'm going with Tony,'" Ruffin says.
Custis' injuries required surgery, and he lost 18 pounds while his jaw was wired shut. He arrived at Tech in the fall of 1992 completely healed and ready to play. Then, another obstacle. He had just scored nine points and grabbed 10 rebounds in an exhibition game when he tore his ligament in a non-contact practice. His season was over, and his career at Tech was in jeopardy. Custis couldn't play basketball; his social life was on hold. And classes were difficult because of the medication he was taking. "I couldn't do anything but create bedsores," Custis remembers. "I called my mother to tell her to come and get me." He was ready to give it up.
Mom came. She loaded up Custis' sisters, Ayesha, now 10, and Amesha, now 8, and drove to Tech. Ruffin says her first reaction was to pack him up and take him home because he was hurting so much, but she knew she couldn't do that. "We've had tragedy within the family and my hope and dream was that he would go all the way, that he would finish college," Ruffin says. "I told him 'you had an accident just like your brother. He didn't make it and you did. God did that for a reason.'" Custis remembers her telling him that "a real man doesn't run away from his problems." Whatever the exact words, they were effective. "If it wasn't for her, I wouldn't be here," Custis says.
Custis did remain, and since then he has helped lead Tech to its second NIT championship and its first NCAA bid in 10 years. Life at Tech, however, has been more than just basketball. Custis is serious about the game, but he hates talking hoops in social situations, and he still doesn't understand why people ask for his autograph. "I just look at it as an extracurricular activity," Custis says. "Don't accept me because I'm a basketball player; accept me for my personality and for being Ace."
Then there's academics, where Custis is just 21 credit hours shy of his degree in marketing. He loves math and considered being an accountant until he took a high-school marketing course from his basketball coach, Jimmy Conrow. "It seemed like something I could do for the rest of my life," Custis says. "It's creative. You suggest ideas concerning products and you can't be wrong because it's your opinion."
Custis could have pushed harder and finished his degree this year or gotten the remaining credits this summer. But he knows that he needs more work before taking a shot at the NBA. He also knows that no matter what he does in the future, "this is my last summer to relax and enjoy myself." So he is spending at least the first part of the summer with his family in Eastville and enjoying seeing his 21-month-old son, Charles Antonio Mapp, who goes by Charles. The boy's mother (Custis split up with her about a year ago) is a student at Virginia State University, so the child stays with her parents during the school year. Custis says that no matter what happens "I'm going to be there for my son."
Custis might take some classes the second part of the summer, but he definitely will be working on "reconstructing" his game. He generally rejects setting personal statistical goals, but he was disgusted that he narrowly lost the Atlantic 10 rebounding title this past year. He feels he needs to redeem himself after some below-par performances at the end of the season, a slump that brought out anonymous critics who left ugly messages and an occasional racial slur on his answering machine. "It was upsetting, but it's part of the territory," Custis says. "I didn't play as well as I wanted to. We had high expectations, and the public had high expectations."
Custis tries to be nonchalant about his chances of making the NBA, but he acknowledges his desire to get there. "Any athlete that participates in college or high school, their goal is to make it to the top level," he says. "Hopefully, one day, I'll be there." Meanwhile, Custis will make his family proud by earning his degree, and he'll enjoy the last year of this phase of his life. "It's all what you make it," he says. "I was told that college would be some of the best years of your life, and it has been."