The house that Tech built

by Sandy Broughton, Catherine Doss, and Christian Moody
Students in the Virginia Tech College of Architecture and Urban Studies are giving a whole new meaning to the term "home"work. For more than a year, one class of students could be found shoveling truckloads of gravel, clearing debris from a wooded lot, slogging through mud to lay stakes ... and eventually... building a house. The class project was to design and build a modestly priced home. As Christmas approaches, a low-income family is preparing to move into that house, located in south Blacksburg.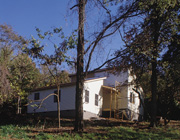 The project sprang to life last year when the College of Architecture and Urban Studies teamed up with Habitat for Humanity to offer credit courses that serve as hands-on learning projects and vehicles for providing a home for a low-income family. Habitat, based in Americus, Ga., was formed to provide affordable housing to the poor.
The Tech project marks the first time that a Habitat house has been built as part of a college curriculum. The design and construction was undertaken in conjunction with two courses, taught by Jack Davis, a Tech architecture professor who also serves on the Board of Directors for the New River Valley Habitat for Humanity affiliate, and fellow architecture professor Mike O'Brien.
Last fall students enrolled in the "Topics in Design Method" class designed a single family home to meet the criteria of the New River Valley Habitat for Humanity affiliate and to blend with the existing neighborhood. Student teams produced a comprehensive set of construction documents, three-dimensional models, project management plans, and comprehensive cost estimates.
The spring semester course, "Design and Construction of a Habitat for Humanity Home," involved design implementation, construction administration, and hands-on construction. As the custom-designed house nears completion, the students now see a tangible result of their work.
"An awakening occurs when students see something on paper actually becoming a reality," says Davis.
Graduate assistant Don Flick (architecture M.S. '99), who has worked in residential construction, sees the students learning lessons that can't be obtained in the classroom. "They see how difficult it is to build a house that isn't a perfect rectangle."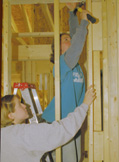 The attractive 1,100-square-foot home with a cathedral ceiling and rooms at angles contrasts with the standard Habitat home. By economic necessity, most are constructed using a cookie-cutter design and as little material as possible. The Virginia Tech house, however, blends in with its middle-class neighborhood as a distinctive home, not an obvious community-service project.
"The class split into five teams that each designed a home. Habitat picked the design we built," Flick says. "Students had to consider the slope of the land. They couldn't just plop down a rectangular box."
The process offered lessons every architect must learn--usually on the job--about problems that come up in construction that are not seen in the design phase. During construction, the addition of a porch made the front window too accessible to intruders, so the crew changed window plans.
"A change order here isn't nearly as tough as a change order in the real world," observes Megan Lewis (architecture '01). Habitat clients are more forgiving, and schedules involving mostly volunteer labor are not as strict.
Only a few students had any construction experience when they began working on the project, says O'Brien, the architecture professor. "I think the students gained respect for people who build houses," he says. "They came to realize how exacting and challenging the work is and why houses cost as much as they do."
For the students, the practical aspect of learning through hands-on experience is only part of the benefit of the class. Helping an underprivileged family is a reward in itself, says Jennifer Organsky (M. Arch '00). One of the five members of the group whose design was chosen for the home, Organsky
says she is proud to see the house as it nears completion. "Most concepts you design in school you will never see built, but this is a reality," she says. "To actually provide a home for someone who was living in sub-standard housing puts me in awe."
Her design team labored to ensure that as much attention was paid to character as to cost, Organsky says. Even though windows are more expensive than walls, the team wanted every room to have at least two windows to provide natural light. Organsky's team insisted on the cathedral ceiling. "We felt it was worth the expense. It provides a sense of open space and uniqueness to the house. It's not just another box with eight-foot ceilings, although those are cheaper to build," she says. Despite the extra accoutrements, the costs came in under the projected budget.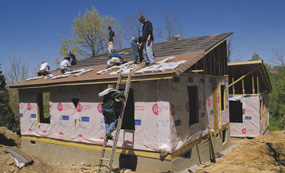 The Habitat project was made possible by a gift from William Dutton (architectural engineering '43) during the Campaign for Virginia Tech. With Dutton's gift to initiate the project, the college raised additional funds for a total of $35,000 for the materials and construction of a three-bedroom house. No state money was used; nor would it have been allowed by Habitat for Humanity policies.
"The hope is that we can work toward an endowment that will allow us to continue to fund housing through Habitat for Humanity. Our goal is one house every other year," Davis says.
The partnership with Habitat embodies the three guiding principles that Dean Paul Knox emphasizes as essential to the College of Architecture and Urban Studies' program of study for all students: creativity in design and problem solving, environmental sensitivity, and social responsibility within a civil society. "An education in the College of Architecture and Urban Studies is so much more than technical know-how and hands-on experience," says Knox. "It is also about awareness of social issues--such as affordable housing--and the ability to address them with inventiveness and enthusiasm."
Davis will always remember the words of the woman who will be moving into the finished house: "I just can't thank these students enough. All I can do is work out here with them, showing my appreciation," she said when she saw Davis on the job site.
More Tech students will be hearing these thank-yous as the newly-formed Virginia Tech chapter of Habitat for Humanity builds another house next door to the one constructed by the architecture students. Their "home"work is building a neighborhood.
Home | News | Features | Philanthropy | Athletics | Alumni | Classnotes | Editor's Page