Alumni Association Begins Campaign for "A Home of Our Own"
by Sherry Bithell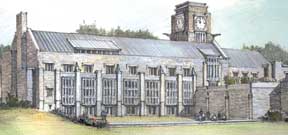 On October 27, the university launched its campaign for the Virginia Tech Alumni and Conference Center. The goal of the campaign is to raise $16.2 million to build an alumni center, conference center, and hotel on the Blacksburg campus. Virginia Tech Magazine asked Thomas C. Tillar Jr., vice president for alumni relations, about this new project.
The campaign kickoff coincided with the Alumni Association's 125th anniversary celebration. Why combine these events?
Tillar: We felt it was important to celebrate the 125th anniversary because the Alumni Association has had an impressive history, and I think the last 25 years have been the most meaningful.
Throughout our partnership with the university, the Alumni Association has provided important services for alumni, established endowments supporting scholarships and professorships, and facilitated extensive awards programs. Therefore, it seemed entirely fitting to mark our 125th milestone by embarking on the most important venture ever conceived by the Alumni Association: to build a true home for alumni on campus.
Why is this such an important project?
Tillar: Virginia Tech is blessed with loyal and supportive alumni who have shown increased interest in returning to the campus for a variety of reasons, including participating in traditional alumni programs, visiting faculty and students, and attending athletic events. Virginia Tech, like most major universities, needs a facility designated for alumni activities on campus. Our estimates show that our alumni, whose number will approach 220,000 by the year 2010, increasingly require significantly more space when they return to the campus for various reasons throughout the year. The time to plan for this coming demand is now.
It's been said that the new alumni and conference center will help Virginia Tech meet its goal of becoming a top research university. How?
Tillar: The amount of research activity conducted at Virginia Tech has expanded dramatically over the past decade and will continue to do so as we strive toward this goal. Researchers are scheduling more conferences and seminars to bring together fellow scientists in a variety of academic disciplines. Many of these conferences attract large delegations and require more space than Donaldson Brown Hotel and Conference Center can provide. The new conference center will offer increased lodging, meeting space, and banquet facilities to accommodate several such groups at the same time. The administration of our research program is already identifying national and international conference groups that this new facility will allow us to bring to campus, and this can only enhance the university's identity and reputation as a premiere research institution.
What are some of the important features of this new facility?
Tillar: One of the strongest attributes of the project as a whole is that it will combine space for alumni programs with a modern conference center and hotel to serve alumni and other members of the university community. The center will allow us to hold a number of large gatherings at the same time on traditional alumni weekends. In fact, outdoor program spaces and inside spaces, when combined, will have the capacity to serve up to 5,000 people. Some of the exciting features of the alumni center portion will include a university museum and a high-tech assembly hall. The entire facility will be constructed in traditional Hokie Stone and serve as a signature building at one of the major campus entrances.
Where will it be located?
Tillar: We are fortunate to have a site that is relatively close to the center of campus, in one of its most scenic areas. The center will be located at the intersection of West Campus Drive and Price's Fork Road, which will provide easy access and convenient parking. Although this will displace several holes of the golf course, the plan is for new holes to be reconstructed beyond the Duck Pond along Stroubles Creek in a manner that will enhance the course.
What will happen to Donaldson Brown Hotel and Conference Center?
Tillar: The current Donaldson Brown will be transferred to the residence hall system, at which point it will be converted to graduate student housing and seminar space.
What is the timeline for this project?
Tillar: We have just launched our fundraising campaign and need to complete our goal in the next two years. We anticipate beginning construction in late 2002. This is a large project and will take approximately two years to complete. If all goes according to plan, we can expect to have a grand opening in 2004.
How will support of this project be recognized?
Tillar: As part of our campaign planning, we have identified a number of spaces throughout the alumni center, conference center, and hotel that are appropriate for donor name recognition. These provide the means to honor individual donors, groups, or memorial tributes. There also will be walkways and terraces constructed of donor recognition pavers. We expect high participation and are pleased that this center will provide many recognition opportunities.
Do you have any final comments for our alumni?
Tillar: Virginia Tech alumni support of other projects throughout the years has resulted in some significant additions to the campus, including the early YMCA building (now the Performing Arts Building), the War Memorial Gym, and the War Memorial and Chapel. I am confident that alumni will enthusiastically support this new alumni center, their first real home on campus in the 125 years of the Alumni Association. We anticipate that this facility will be a flagship building on campus and a source of tremendous pride for all.
For more information on the Campaign for the Virginia Tech Alumni and Conference Center, call T. O. Williams III, director of the campaign, at 540/231-2808, or go to www.unirel.vt.edu/alumnicenter.