Members of the class of '51 on campus for their 50-year reunion this fall.
"Princiservant" of the Year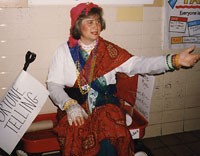 Callaghan Elementary School Principal Nancy Moga (management, housing, and family development '76), Virginia's Distinguished Principal of the Year for 2001, personifies the "pal" part of her title. Yet she thinks principal should be spelled, "princiservant," explaining, "I am primarily a public servant. I like seeing that children become good citizens equipped with basic knowledge." Moga also enjoys her school's positive climate and the fact that her award has increased the overall sense of pride at Callaghan.
In October, she joined 60 other principals at the U.S. Department of State for the National Distinguished Principals Program in Washington, D.C. Moga has served on countless education-related boards and currently serves on a state committee addressing the school leadership shortage. "Principals are getting older, the job is getting tougher, and many younger candidates are not interested in accepting all the demands," says Moga, who regularly waits with children who've missed the bus and mops up spills.
Of all the efforts Moga has coordinated as principal, she is most proud of hosting three Japanese intern teachers to improve cultural understanding and diversity, an increasingly relevant task in our global society. She expresses concern, however, that while schools are increasingly given new responsibilities, they don't receive equal amounts of support. "Schools do a good job with what we have, but we are always being asked to do more or to solve society's problems. We aren't given adequate resources when we are asked to take on new roles," she says.
Making women seen and heard in technology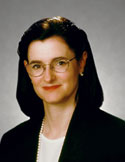 A goal of the Houston chapter of the Association for Women in Computing (AWC) is raising young women's awareness of technology and helping them pursue related degrees. In order to provide role models for these young women, AWC named Houston's top 20 women in technology, a list that includes Christina Hanger (mechanical engineering '84), Compaq's vice president of operations and supply chain.
After receiving the award, Hanger participated in a panel discussion and career workshop with 130 women engineering students sponsored by Schlumberger, a global technology services company. This opportunity, she says, was just one of many provided by the award "to talk to girls and young women considering careers in technology." In November, AWC sponsored an event for 200 middle school girls to encourage them to think of themselves as scientists creating technological solutions to current problems.
Hanger's career path provides plenty of examples for young women to follow. She has worked for both IBM, where she won an award for outstanding innovation and rose to director of business development and strategy, and Compaq, where she quickly progressed up the corporate ladder with her successful improvements in inventory and manufacturing. And she believes she has a lot to share with women thinking of entering the technology field. Her advice to young professionals: "Volunteer for hard assignments and make sure others recognize your accomplishments."
Nurturing America's future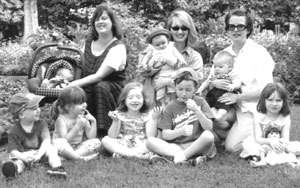 After Mary Despian (English '86) and her business partner noticed the lack of a regional parenting publication in their area of Virginia, they created Nurture, a free, monthly magazine targeted to parents in Fredericksburg and six surrounding counties. Writers include pediatricians, legislators, educators, and parents. "From the beginning we wanted to tap area experts, rather than act like the experts ourselves," Despian says. Topics range from fostering creativity and philanthropy in your child to adoption and pregnancy. The magazine also offers a good bit of humor because "if there is one thing that parents need, besides patience and love, it is a good laugh from time to time," she notes.
Nurture's staff is certainly in touch with its subject matter--four out of six of the staff were pregnant at the same time! On the integration of business and motherhood, Despian, who has three children and formerly worked in public relations, says, "I may have traded my briefcase for a diaper bag with marketing materials and baby wipes side-by-side, but I know I have the best of both worlds--and my little girl's face has definitely closed many advertising deals!"
The community has been responding positively to Nurture--Geico called to request 500 magazines to give to their employees that have children, and the city of Fredericksburg approved sending Nurture home with each child in the school system. Nurture, in turn, responded to the community after the events of Sept. 11. Staff members talked to counselors, doctors, and stress management experts to pull together information and advice for parents on addressing their children's concerns over the attacks.
Alumnus to provide "makeover"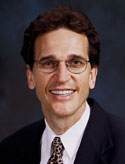 When Hitsgalore.com created an advisory board to recover from the dot-com slump, it appointed Gordon Patzer (Ph.D. business administration '80) to help reposition the formerly successful dot-com provider of Internet information as a successful entertainment corporation. Among the changes Patzer and other members of the board have envisioned: changing the company's name, moving the company from Los Angeles to Beverly Hills, and producing television programming.
Dean of the College of Business and Public Administration at California State University at San Bernardino, Patzer is ideal for helping with a corporate makeover such as this. He has worked for CBS as a program analyst and for every major film studio and several television news stations as a strategy consultant, with movie credits including Bull Durham and Who Framed Roger Rabbit. "I still recall giving my creative business/marketing advice for my first major film names, who were the two producers of Tucker: Steven Spielberg and George Lucas," Patzer says. He also authored the controversial Physical Attractiveness Phenomena out of his long interest in confidence enhancement through appearance alteration.
Patzer is serving a three-year term on the board of directors for the San Bernardino Chamber of Commerce and is working on the creation of the Appearance Research Institute, a non-profit organization with the goal of advancing understanding of appearance.
Let us have your best shot!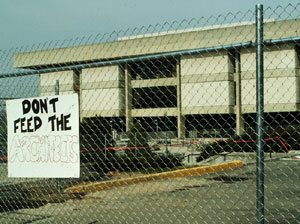 During the construction of Hancock Hall in 1988, a fence surrounding the area made it look as though Cowgill Hall was caged in, inspiring someone on campus--popularly assumed to be an engineering student--to post this "Don't Feed the Architects" sign. We're looking for similar photos to run in an upcoming issue of the magazine. If you have any humorous or otherwise interesting photos taken during your years at Tech, please send them to: Editor, Virginia Tech Magazine, 105 Media Building, Blacksburg, VA 24061. Please include your name and address (so we can return all photos), as well as a brief description of the shot, including the year it was taken. We look forward to seeing your submissions!