Take a gander at these birds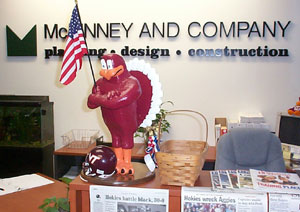 We enjoyed the history of the Hokie Bird in the fall issue of Virginia Tech Magazine. We were at "VPI" back in the early '60s and have watched the evolution firsthand. Last May, my very talented son, Bill Johnson III, presented me with a carved Hokie Bird [above] for my birthday. The Hokie Bird is carved from a block of pine (actually several blocks glued together) and stands about two feet tall. The monument to Hokies everywhere stands guard in our reception area.
William D. Johnson Jr. '71
Williamsburg, Va.
---
Around 3:00 this afternoon, my coworker, Randy (who also studied at VT), called me over to his window, which overlooks our office parking lot. I followed his gaze out the window and couldn't believe my eyes--what should be sitting on my car but a real live turkey!
We'd seen it wandering around the neighborhood this past week, but apparently it wanted to get a better look at the Virginia Tech window decal and alumni license plate frame on my car. Fortunately for us, my boss (a UVa grad) had his digital camera and was kind enough to overlook our school rivalry for the moment and snap a few pictures.
I'm not sure if the turkey will still be out there when it's time for me to leave work today, but if it is, maybe it'll carpool with me down to Blacksburg. It's always nice to have someone help pay for gas.
Erin Caprielian '99
Parsippany, N.J.
---
All-American alumnus
In the "Spirit of Ut Prosim Rises from the Ashes" article [winter 2002], it was interesting to see how our university helped in the aftermath of Sept. 11. I am also honored that you decided to quote me in this wonderful article, stating that "a few international students spoke at the [Hokies United] rally, including senior electrical engineering major Sartaj Dhami."
However, I would like to point out that in no way am I an international student. I was born and raised here in America and am very proud of it. My parents migrated here from India in 1978. My faith is Sikhism, one of many different religions from the Indian Subcontinent. Followers of Sikhism wear turbans and do not trim their hair, including their beards. Unfortunately, a lot of Sept. 11 anger and hate crimes have been geared toward the Sikh community since people confused Sikhs with the Islamic extremists of Al Qaeda.
That is why I spoke up as an American and as a Sikh at the Hokies United event. I'm not looking for a correction but felt it necessary to share this because our perceptions of Americans have changed since Sept. 11.
Sartaj S. Dhami '02
Chantilly, Va.
---
Hokies everywhere!
I was eating breakfast at the University of Evora in Portugal during my Fulbright assignment when a Portuguese professor walked in to pick up another visiting professor. We started to talk and it turns out he received a Ph.D. in plant pathology from Virginia Tech and has many fond memories of Blacksburg. So even 3,900 miles away from Blacksburg, Hokies turn up everywhere!
Susan Athey '76
Fort Collins, Colo.