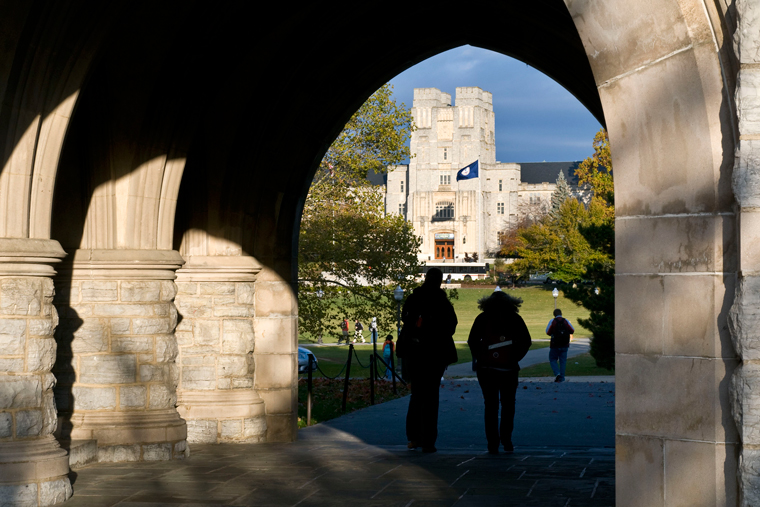 Alumni

|

We want to hear what you have been doing. Although we cannot print stories, obituaries, or photographs submitted to the magazine, your photos of alumni celebrations -- weddings, births, anniversaries, birthdays, and other spirited occasions -- can be included here in the magazine's online version.

Mail your images to Virginia Tech Magazine, 105 Media Building, Blacksburg, VA 24061, or e-mail them to vtmag@vt.edu.

Mail your career, retirement, wedding, birth, and death news to Alumni Notes, Virginia Tech Alumni Association, Holtzman Alumni Center, Blacksburg, VA 24061; e-mail it to fleets@vt.edu; or submit it online.

Because of the magazine's schedule, your news may not appear in print for several issues.
Wickham B. Coleman Sr. (AGED) is the recipient of the 2008 Electric Cooperative Distinguished Service Award.
'54
John A. Wood Jr. (GEOL) is a professional artist and is represented by the Addison Gallery on Cape Cod, Mass.

[top]
'60
Richard T. Crowder (AGEC) is a professor of strategic management and international trade for Virginia Tech's Department of Agricultural and Applied Economics.
'64
W. Blaker Bolling (IE) retired after 23 years as a professor of management at Marshall University.
James H. Viox III (CE) received the 2008 Kentucky Society of Professional Engineers' Hall of Fame Award.
'65
Douglas R. Fahl (CE) was appointed by the governor of Virginia to serve on Virginia Tech's Board of Visitors.
'66
Amado F. Cavazos III (CHE) was elected to the board of directors of Innophos Inc.
'67
Boris O. Taran (CE) received the prestigious American Concrete Pavement Association's Gold Award in the Commercial Service and Military Airports category.
'68
J. Jefferies Miles (BAD) was selected as "The Best Antitrust Lawyer in America" for 2009.
Arthur K. Reilly (EE) is chair to the National Science Board Committee on Strategy and Budget.

[top]
'74
Michael L. Smith (GBUS) is the homeland security group manager for the National Security and Emergency Management Program.
'75
Patricia L. Bartlett (URPL) is executive assistant to the secretary of the Smithsonian Institution.
Neil C. Damgaard (IEOR) received his doctor of ministry degree from Dallas Theological Seminary and is senior pastor of Dartmouth Bible Church.
Ben J. Fink (ME) is principal of Hayes, Seay, Mattern & Mattern AECOM.
Michael D. Smolen (ESEN) is recipient of 2008 G.B. Gunlogson Countryside Engineering Award.
'76
Darrell Nolen (HIST) is a senior AMIO analyst for USCG Atlantic Area and president of the Old Dominion Soccer Club.
'77
Douglas M. Durant (AGE) has been named a 2008 class member of American Society of Agricultural and Biological Engineer Fellows.
Calvin D. Jamison Sr. (EDPE) was appointed by the governor of Virginia to serve on Virginia Tech's Board of Visitors.
'78
Donald C. Duncan (ANSC) is a licensed master guide and owns Alaska Private Guide Service.
Andrew O. Selsky (COMM) was a finalist for the 2008 Daniel Pearl Award for Outstanding International Investigative Reporting.
'79
Frederick J. Cobb (COMM) was appointed by the governor of Virginia to serve on Virginia Tech's Board of Visitors.

[top]
'80
'90
Carrie N. Blankenship (GEOL) is a professional geologist in Virginia and North Carolina.
'02
Jason R. Ince (AGED) was named the Outstanding Young Member for 2008 by the Virginia Association of Agricultural Educators.
Megan Weaver Patton (ACIS) is assistant vice president and internal auditor for Bank of the Carolinas.
'04
Stephen L. Halla (HNFE) received his doctorate in osteopathic medicine from Ohio University College of Osteopathic Medicine.
Nicholas J. Pascale (PSCI) received an M.B.A. and a J.D. /bachelor of civil law from Louisiana State University.
'07
Brandon K. Maxwell (ARCH) received his LEED certification and is employed with Gould Turner Group.

[top]
---

Weddings
'84 Ivan A. O'Connor and Valerie S. Camille, 7/10/08.
'93 Christine E. Paulsen and Jim Molski, 6/14/08.
'94 Jamil Hasan and Amanda Kosowsky, 9/20/08.
'95 Linh Phuong Luong and Timothy P. Brett, 8/23/08.
'98 Mary N. Mayzel and Oswaldo Acosta, 7/25/08.
'98 Jill A. Zizzo and Bill Colangelo, 6/21/08.
'99 Kathryn P. Crowder and Ryan D. Yarzebinski, 8/2/08.
'00 Pratima Aiyagari and Ravikiran Buddhavarapu, 8/8/08.
'00 Phillip A. Lorenzon and Carian Hange, 5/31/08.
'01 Amy J. Byrne and '02 Jonathan D. Lipscomb, 6/1/08.
'02 Bryce H. Lyle and Jody Baum, 8/2/08.
'03 Michael W. Dunn and Suzanne Cross, 3/1/08.
'03 Timothy G. Kushon and '06 Myra Lee Roblaski, 8/31/08.
'03 Lilian B. Davalos and Andrew Mills, 6/14/08.
'04 Tammy Fitzgerald and Ryan M. Stowers, 5/26/08.
'04 Virginia Anne Edwards and Ryan M. Swails, 11/3/07.
'03 Christina M. Kull and '05 Lyonel A. Abou Nassar, 9/2/08.
'05 Shannon M. Baker and '05 Kevin R. Denholm, 9/20/08.
'05 Jamie A. Cassey and Jeffrey M. Hudson, 8/2/08.
'05 Shaun C. Koehler and '06 Kaitlynn D. Hubbard, 6/6/08.
'05 Gregory S. Mercer and '06 Katie Plecker, 5/17/08.
'06 Laura E. Sturgeon and Thomas A. Casey, 5/31/08.
'07 Nicole M. Noel and '07 Matthew S. Raynes, 8/16/08.

[top]
---

BIRTHS and ADOPTIONS
'88 Richard T. Michaelangelo and '94 Rebecca Tardiff Michaelangelo, a daughter, 8/11/08.
'90 Joya Ghatak Moody, a son, 1/15/08.
'91 Cynthia Rahal Styers, a daughter, 2/19/08.
'91 Pamela Griner Weintraub, a daughter, 8/5/08.
'92 Michael G. Novean and '94 Catherine Hritz Novean, a son, 5/5/08.
'94 Kimberly Neis Coates and '95 Gregory M. Coates, a daughter, 4/22/08.
'94 Lisa Levensen Plaskow, a daughter, 9/14/07.
'94 Jenny Astudillo Wienke and '94 Christopher R. Wienke, a daughter, 1/4/08.
'95 Patrick J. Garr, adopted a daughter, 6/19/08.
'95 Steven K. Horning and '95 Andrea Rimsky Horning, a daughter, 8/13/08.
'95 Brigitte Azran Mandel, a daughter, 8/8/08.
'96 Ryan P. Keleher and '97 Kimberly Keenan Keleher, a son, 3/3/08.
'97 Lisa Riggs Frazier, a daughter, 4/11/08.
'97 John T. Neel and '99 Hannah Coleman Neel, a daughter, 8/14/08.
'97 Danielle Marrone Pates, a son, 2/25/08.
'98 Jennifer Ginther Griffin, a son, 12/21/07.
'99 Stephen J. Errickson and '99 Julie Hudson Errickson, a son, 5/8/08.
'99 Jason T. Grubbs, a son, 9/4/08.
'99 Robert P. Higgins, a daughter, 8/10/08.
'99 Norman B. Hodges IV, a daughter, 8/30/08.
'00 Sarah Slotsky Cole, a son, 7/7/08.
'00 Laura Vasquez Gazda and '04 Daniel R. Gazda, a daughter, 5/27/08.
'00 Jeremy S. Gibson, a son, 8/4/08.
'00 Tara Oliver Scheffler, a son, 4/10/08.
'01 George J. Flynn III, a daughter, 9/15/08.
'01 Becky Staubus Henry, a son, 5/3/08.
'03 Rachel Gwaltney Kuchta and '04 Steven T. Kuchta, twin girls, 7/7/08, www.thekuchtafamily.com.
'03 Stacey Blackburn Stenzel and '03 Erich L. Stenzel, a daughter, 5/17/08.

[top]
---
DEATHS

'31 J.E Givens, 8/21/08
'36 Apollon G. Orphanidys, 7/14/08
'36 John C. Sanders, 8/8/08
'37 G.B. Arthur Meidling Jr., 8/26/08
'38 Philip S. Perdue, 8/22/08
'39 Ora M. McColman, 8/19/08
'39 Clopton F. Wilkinson Jr., 9/12/08
'40 William W. Cosby, 7/23/08
'40 Leslie C. Gates, 9/7/08
'40 Thomas P. Griffith, 3/19/08
'40 Nicholas Katsarelis, 9/3/08
'40 Raymond G. Tessmer, 12/17/07
'40 Wallace T. White, 7/21/08
'41 Henry W. Withers Jr., 8/21/08
'42 W. Leslie Kiduff, 7/20/08
'42 Harold E. Ritter, 7/27/08
'42 B. Glenn Roy Jr., 11/23/07
'42 John V. Terry
'43 Rhody B. Hall Jr., 8/31/08
'43 C. F. Kidd, 1/30/08
'43 John J. McQueen, 8/1/08
'44 L.O. Gillette, 8/10/08
'44 Emory M. Potter, 8/5/08
'44 Mckendra S. Strickler, 8/12/08
'44 E.L. Wisman, 9/13/08
'45 Bruce P. Enderwood, 8/1/08
'45 Robert B. Horning, 7/30/08
'46 Jesse G. Alspaugh Jr., 10/15/07
'46 Harry Bushkar Jr., 9/1/08
'46 Houston J. Kauffman, 9/2/08
'46 Nancy Roane Lathrop, 8/22/08
'46 David M. Loomis, 10/20/07
'46 Frank J. Parrish, 8/5/08
'46 William H. Schwettman Jr., 9/2/08
'48 W.W. Argabrite Jr., 9/18/07
'48 William H. Hegamyer, 8/3/08
'48 James G. Sealy, 9/8/08
'48 Carlton E. Seay, 5/22/08
'49 W. M. Burton, 8/2/08
'49 Peter A. Mani Jr., 7/6/08
'49 William P. Murden Jr., 6/10/08
'49 James C. Parks, 9/3/07
'49 Edwin F. Sharpe, 9/9/08
'49 William C. Thomas Jr., 7/25/08
'50 Edwin C. Armbrister Sr., 9/18/08
'50 Ernest L. Critzer, 7/28/08
'50 Joseph T. Crosswhite Jr., 8/4/08
'50 John R. Guilfoyle III, 8/26/08
'50 William R. Honeycutt, 7/17/08


[top]



'50 Robert L. Huddleston, 7/3/08
'50 Hugh P. Nolen, 8/3/08
'50 Edward S. Palasthy, 9/14/08
'50 Louis F. Popp, 8/9/08
'50 Margarita Seckinger, 1/18/08
'50 Robert C. Sykes, 8/18/08
'50 Edwin F. Wilson, 9/2/08
'51 Robert C. Naff Jr., 8/14/08
'52 Beverly G. Oliver, 8/3/08
'55 Charles R. Davis, 7/16/08
'55 Arthur N. Matthews Jr., 8/16/07
'56 William D. Jones, 8/25/08
'56 Donald N. Torbert, 8/20/08
'57 George A. Donnally, M.D., 7/26/08
'57 Henry C. Walker Jr., 9/14/08
'58 John R. Graybill, 8/17/08
'58 Stanley H. Martin II, 9/9/08
'58 T.R. Pauley, 8/26/08
'59 John E. Blair, 8/16/08
'59 A.J. Russo Jr., 8/5/08
'60 Collin E. Farmer, 8/24/08
'60 Bertrand S. Soleau Jr., 9/8/08
'61 James E. Ballard, 8/14/08
'61 Bernard L. Blommel, 8/25/08
'62 J. C. Clarke, 8/1/08
'62 Robert L. Greggs Jr., 7/27/08
'62 Donald L. Jones, 9/15/08
'69 B.S. Dodson, 3/1/08
'69 G.G. Garnett, 9/1/08
'72 Malcolm J. Coleman Jr., 12/31/07
'72 James B. Mohler, 9/2/08
'73 James E. Sullivan Jr., 8/6/08
'74 David B. Hess, 8/12/08
'74 James W. Milne Jr., 9/16/08
'74 Leonard E. Olson Jr., 8/31/08
'76 Janette Birch Spees, 7/17/08
'81 Jeffrey M. Baker, 8/22/08
'81 Glenn W. Bowden, 10/15/07
'81 Steven C. Halsey, 10/3/07
'82 Kay Young Oliver, 8/21/08
'82 Russell S. Payne, 7/19/08
'84 Magdalena Astruc Freeze, 8/23/08
'85 Kirk D. Heldreth, 8/4/08
'88 Jesse W. Meadows III, 7/28/08
'89 Patrick T. Goff, 10/21/07
'92 Michael D. Goode, 9/6/08
'97 Nate M. Pence, 8/28/08
'99 Julia Ann Novak, 8/10/08