FEATURE
Stagecraft
The versatility of Virginia Tech's newest institute and artistic venue
OPERAcraft: High school students imagined a world in Minecraft, and their characters were brought to life with the voices of Virginia Tech music students.
Ariana Wyatt is passionate about opera. As an assistant professor of voice in Virginia Tech's School of Performing Arts, a Julliard Opera Center graduate, and a soprano who has performed for prestigious opera companies, Wyatt shares her love for music with students every day.
Now, an innovative research project combining arts education, technology, and storytelling has provided a rare opening for Wyatt to cultivate an appreciation for art and music in an unexpected place—the hearts and minds of teenage boys.
Wyatt's project, OPERAcraft, has given eight local high school students the opportunity to produce a virtual opera from scratch. The students worked together to create the story and libretto (the opera's text or words). Instead of a traditional set, however, the students built a virtual set for the production using Minecraft, a video game that allows users to create their own world and avatars for the characters that inhabit it.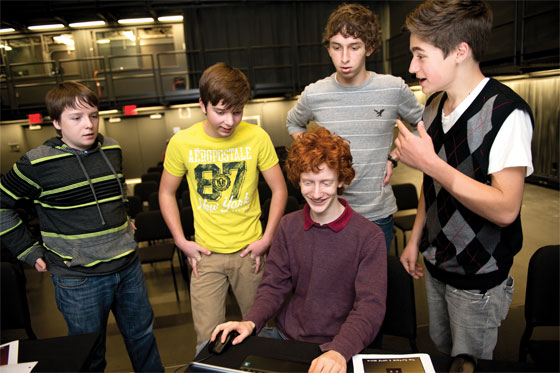 The Minecraft crew (standing, from left) was comprised of area high school students Carter Croy, Isaiah Battaglia, Adam Chittenden, Elias Sarver-Wolf, and Chris Brumback (sitting).
To help transform OPERAcraft from concept to reality, Wyatt recruited Tracy Cowden, an associate professor of piano and vocal coach in the School of Performing Arts; Kelly Parkes, an assistant professor of teaching and learning in the School of Education; Katie Dredger, a visiting assistant professor in the School of Education; and Ivica Ico Bukvic, an associate professor in the School of Performing Arts. Wyatt also received a grant from Virginia Tech's Institute for Creativity, Arts, and Technology (ICAT). In addition to providing funding for the project, the institute provided other resources, including equipment, technical support, and spaces for collaboration and performance.
OPERAcraft is just one of a long list of projects supported by ICAT. Virginia Tech's seventh university-level research institute operates at the nexus of the arts, design, engineering, and science to promote learning, discovery, and engagement.
As is evident in Wyatt's work with the high school students, the institute is committed to preparing students, from kindergarten through high school, to succeed in a world that demands teamwork and collaboration among the science, technology, engineering, and math (STEM) disciplines. ICAT supports teachers and students in the development of critical and creative thinking skills and explores collaborative learning environments that emphasize the importance of the connections between and among disciplines.
The ICAT mission also includes fostering research and the creative process. The institute has developed a collaborative environment where all kinds of people—from faculty and students to industrial partners and community volunteers—can make change happen. One of the unique aspects of the institute is that its faculty reside in other departments and colleges across campus. While they don't work for the institute specifically, they receive varying levels of support.
"It's all about place, time, and opportunity," said Ben Knapp, ICAT's founding director. "That's what we provide for Virginia Tech faculty and students. They come here to work and play with other people, and we do an excellent job of giving them the resources to do just that."
OPERAcraft and other ventures are what Knapp refers to as "ICAT-enabled projects" conducted by the institute's 30 affiliated faculty members from 12 Virginia Tech departments. This collection of projects involves creating computational and interactive environments for learning and entertainment; understanding the continuum among the body, computation, and imagination; incorporating new materials, objects, and methods for creativity; and stimulating local innovation and cultural awareness in Southwest Virginia.
Located in the new Moss Arts Center, the institute has a suite of "living labs"—flexible spaces with technological capabilities to support a wide variety of research, experimentation, and creative practice. These new spaces provide a home base for faculty and students to collaborate, co-create, perform, and explore the intersections of art and science.
"Why is this important for Virginia Tech? It's this kind of work that will help prepare our students to thrive in a world where design, aesthetic, and technology have become symbiotic," Knapp said. "Students need to think not only in a computational sense but [in] a design sense, and feel comfortable working across disciplines to meet challenges. Our students must become scientists, engineers, artists, and designers."
That combination of skills exemplifies the institute's output goal—innovation. Of course, innovation comes in many forms, including preparing a new generation of entrepreneurs, transforming education, increasing public engagement, and spurring economic development through the creation of jobs and spin-off companies.
These results have been showcased nationally. Aki Ishida, an ICAT-affiliated faculty member and an assistant professor in the College of Architecture and Urban Studies, led a team of Tech students and faculty to create a digitally interactive audio-visual lantern field installation at the Smithsonian's Freer Gallery of Art during the National Cherry Blossom Festival in Washington, D.C., last spring. The work features mulberry paper lanterns lit with LED lights to create a multisensory space that responds to the presence and behavior of viewers. Inspired by traditional Japanese lantern festivals and cherry blossom viewing, the installation created an ephemeral place of gathering through light. Integrated technology gave participants an opportunity to interact with their environment and each other, while a public workshop allowed them to also become makers of the work.
For Wyatt, one result of the OPERAcraft is performance. On Dec. 4 and 7, OPERAcraft became a reality, with two performances in the Cube at the Moss Arts Center. As the interactive world created in Minecraft was projected on a scrim, Virginia Tech music students sang the finalized score to "The Surface: A World Above," while the high school students controlled the character avatars, prompting body gestures and lip-syncing with the live soloists.
"I learned a lot about the creation and implementation of an opera," said Blacksburg High School sophomore and OPERAcraft participant Adam Chittenden. "In all honesty, I never really enjoyed opera very much, but OPERAcraft gave me the opportunity to see the work put into creating an opera. I am now able to appreciate opera more. Minecraft was the perfect tool for set design—[and] I strongly believe that video games such as Minecraft can be used in the arts."
Said Wyatt, "OPERAcraft was a crazy idea to try something completely outside the box and provide an opportunity for in-depth exposure to the arts. The most gratifying aspect of this project has been the complete engagement by the participants. The boys have shown up week after week for months and created a work of art together. The ultimate success of the final performance [was not how we measured] our achievement in this project. If we gauge by commitment, this project [was] a victory. This would not have been possible without the continuing support of the Institute for Creativity, Arts, and Technology and the Center for the Arts."
Susan Bland (M.A. communication '10) is the communications manager for the Center for the Arts at Virginia Tech.