Winter 2016-17
Editor
Assistant Editor
Art Director
Graphic Designers
Contributors
Copy Editors
Photographers
Webmaster, Digital Editor
Director of Content Strategy
Director of Design & Digital Strategy
Senior Associate Vice President for Alumni Relations
Publisher
Letters
---
Still looking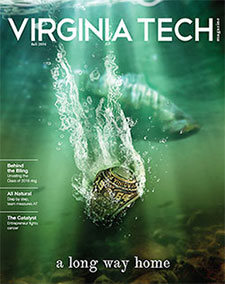 Fall 2016
I always enjoy my Virginia Tech magazines, and your latest stories of the amazing discoveries of lost class rings really hit home. I, too, have lost my ring. Unfortunately, it hasn't found its way home.
In the fall of 1956, I was on the way to Arlington, Va., on a break from my pilot training in Moultrie, Ga., when I decided to take a short break to refill my tank and rest. It had become my habit to tap my ring on the steering wheel while listening to music. Following my stop, as I continued my drive, I suddenly realized I wasn't tapping. I looked down, and my heart sank — no ring.
I turned around and sped back to the gas station with great hopes that I would find it on the edge of the sink where I had taken it off. It was gone.
After all these years, I wonder occasionally where my ring is and what possible use it might be to someone else. I ordered a new ring and wear it proudly, but I would still love to locate the original. My name and "Arlington, Va." are inscribed inside. Perhaps your readers can join my search.
Randall Wade Everett III '56
Blacksburg, Va.
Third time's the charm
Thank you for sharing the story about lost-and-found class rings. It's nice to know that I'm not alone when it comes to misplacing my Virginia Tech ring. I may be setting records for the number of times my ring has gone astray — three to be exact.
Getting it back hasn't always been easy. Once, [the search] required a dip in the frigid February waters of the New River in a wetsuit. Once, the ring fell victim to being left on a car roof in Texas during an unexpected roadside assistance stop; and once, it was left at the home of a friend, where it was found in a child's toy box eight months later. That was in 2006. I'm thankful to report that for the last 10 years, I've managed to keep it relatively close.
S. Kevin Barger '76
Dawsonville, Ga.
Story ideas and letters to the editor
Email – vtmag@vt.edu
Mail – Virginia Tech Magazine (0109); Media Building, 205C, Virginia Tech; 101 Draper Rd. NW; Blacksburg, VA 24061
Online – submission form
Class Notes
Email – fleets@vt.edu
Mail – Class Notes, Alumni Association; Holtzman Alumni Center (0102), Virginia Tech; 901 Prices Fork Rd.; Blacksburg, VA 24061
Online – submission form
Address Changes
Email – alumnidata@vt.edu
Phone – 540-231-6285 (M-F, 8 a.m.–5 p.m.)
Mail – Alumni Association; Holtzman Alumni Center (0102), Virginia Tech; 901 Prices Fork Rd.; Blacksburg, VA 24061
Online – updates
Advertising
Jeanne Coates '88
757-715-9676
The university's flagship publication, Virginia Tech Magazine forges stronger relationships among alumni, donors, and friends of Virginia Tech. The magazine highlights the vibrancy of a university on the leading edge of technology, service, learning, research, and scholarship and showcases the achievements of alumni, faculty and staff, and students through a rich array of feature stories, alumni profiles, and university and alumni news. Virginia Tech Magazine is published quarterly by the Office of University Relations, with support from Alumni Relations. The Virginia Tech Foundation underwrites most production costs.