High on Manhattan
How Hokies are living the good life in "The City That Never Sleeps"
l-r Lauren Rumerman, Nick Cullen, Steve White, Amanda Gurtis Davis, Jeremy Davis, Patrick Farrell, Tara Petrucci, Sean Herlihy.
On Jan. 26, a Virginia Tech writer and photographer visited with Manhattan Hokies alumni chapter officers and alumni. Each alum fielded the same question.
"How'd you get from where you were to where you are?"
"Hard work and perseverance," said Sean Herlihy '06. Determined to land a job on Wall Street, Herlihy began interviewing and networking in April 2006. The finance major was hired in April 2007, and he's now an investment associate at RBC Wealth Management. The firm is his third employer, and at each stop, because of consistent networking, he's worked alongside the same core group of professionals.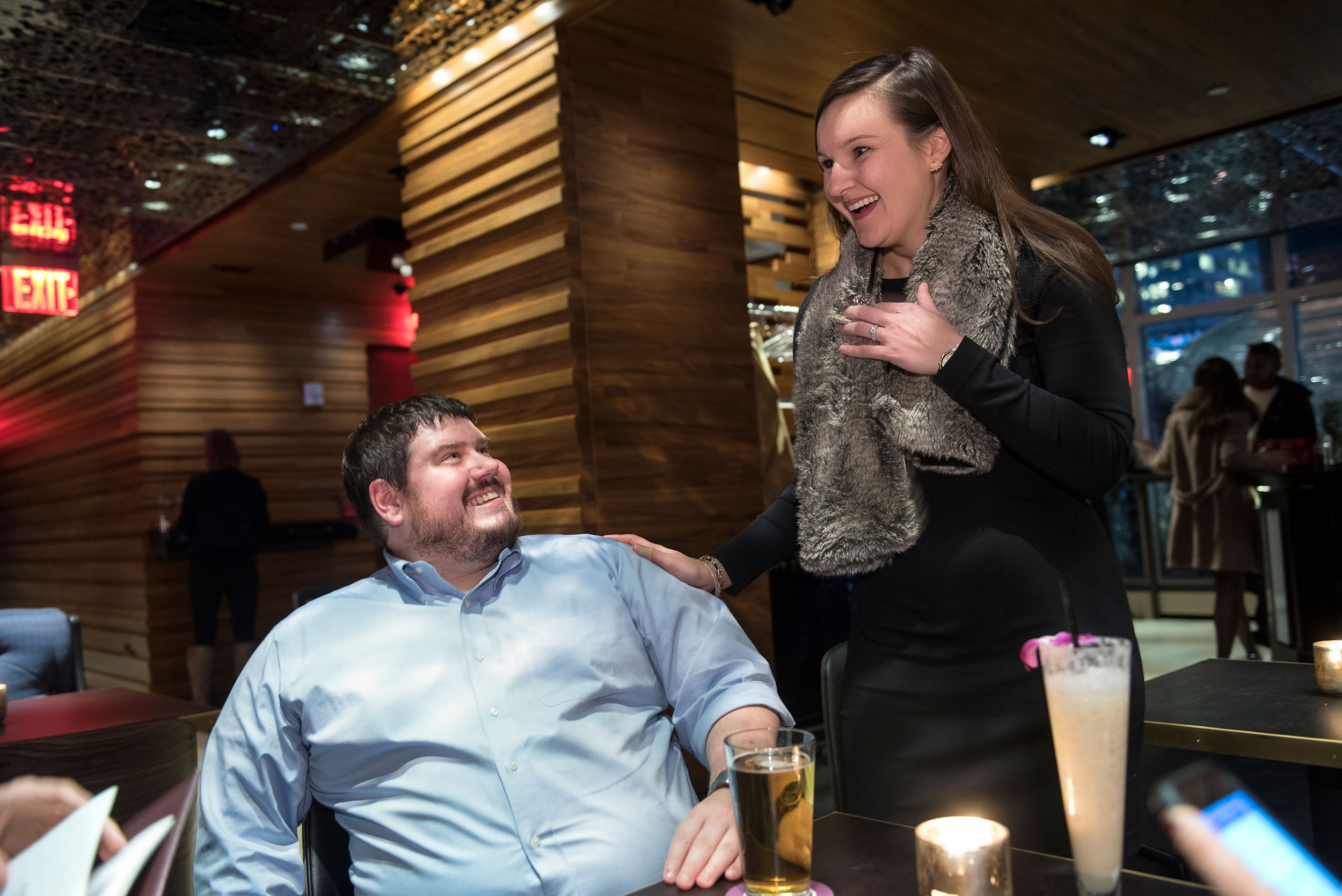 Sean Herlihy, Amanda Gurtis Davis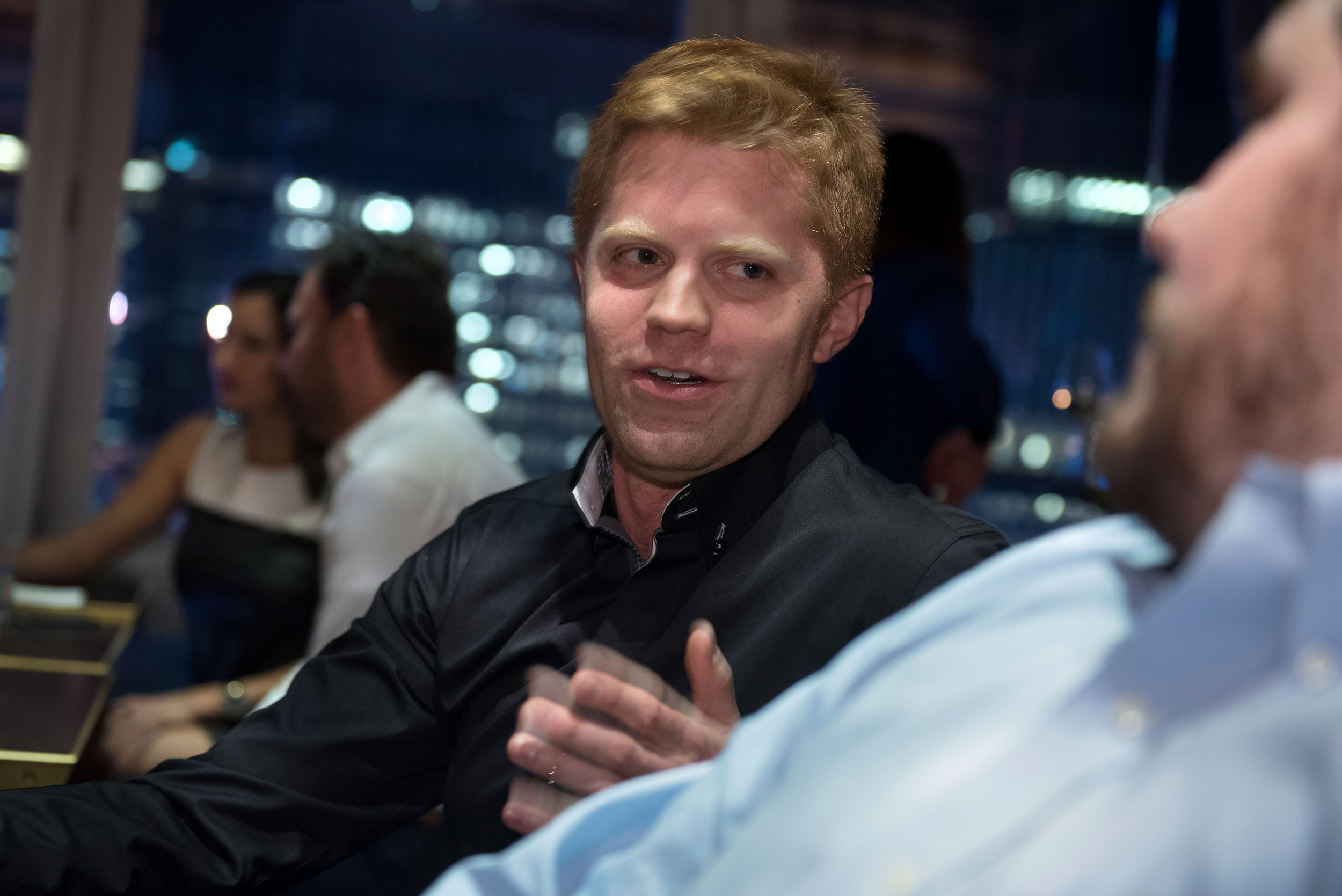 Patrick Farrell
"How'd you get from where you were to where you are?"
"A lot of learning," said Patrick Farrell '07. "Virginia Tech was the start. You can't stop learning and trying new things. Virginia Tech taught me the foundation and how to learn, and then I just continued the process into my professional life."
After finishing his bachelor's and master's degrees in electrical engineering at Tech, Farrell spent five years working and learning more about software engineering from two Ph.D. mentors. He then began to travel and learn how to fly drones, shoot photos and videos, and market products online. "If I had stopped learning, none of that would've happened." In 2017, he co-founded Creative Collisions Group, for which he is the chief technology officer.
Farrell also values persistence. He's quite fond of Today Show anchor Hoda Kotb's 2008 commencement speech, in which the Virginia Tech alumna described being told "no" by 27 TV news directors over the course of a 10-day trip all over the East Coast, before landing her first job in Mississippi.
"How'd you get from where you were to where you are?"
Tara Petrucci's first advertising professor at Virginia Tech was New York native Donna Wertalik, who instilled in Petrucci a sense of empowerment as a woman. "That's what led me to only look for jobs and internships in New York City," said Petrucci, "and I've never looked back."
Petrucci, who earned degrees in business marketing and studio art, also credits the upbringing and encouragement she received from her parents and the leadership roles she experienced as an orientation leader and dance team captain at Virginia Tech. "When you meet good people, you learn to hang onto them. I surround myself with people who challenge me and bring positivity to everything they do. When you find this type of quality, you can amplify these types of relationships."
Now an interactive designer with Candyspace, a digital agency, Petrucci '12 said the keys for her were "learning how to be comfortable being uncomfortable, knowing who you are, and remembering why you started."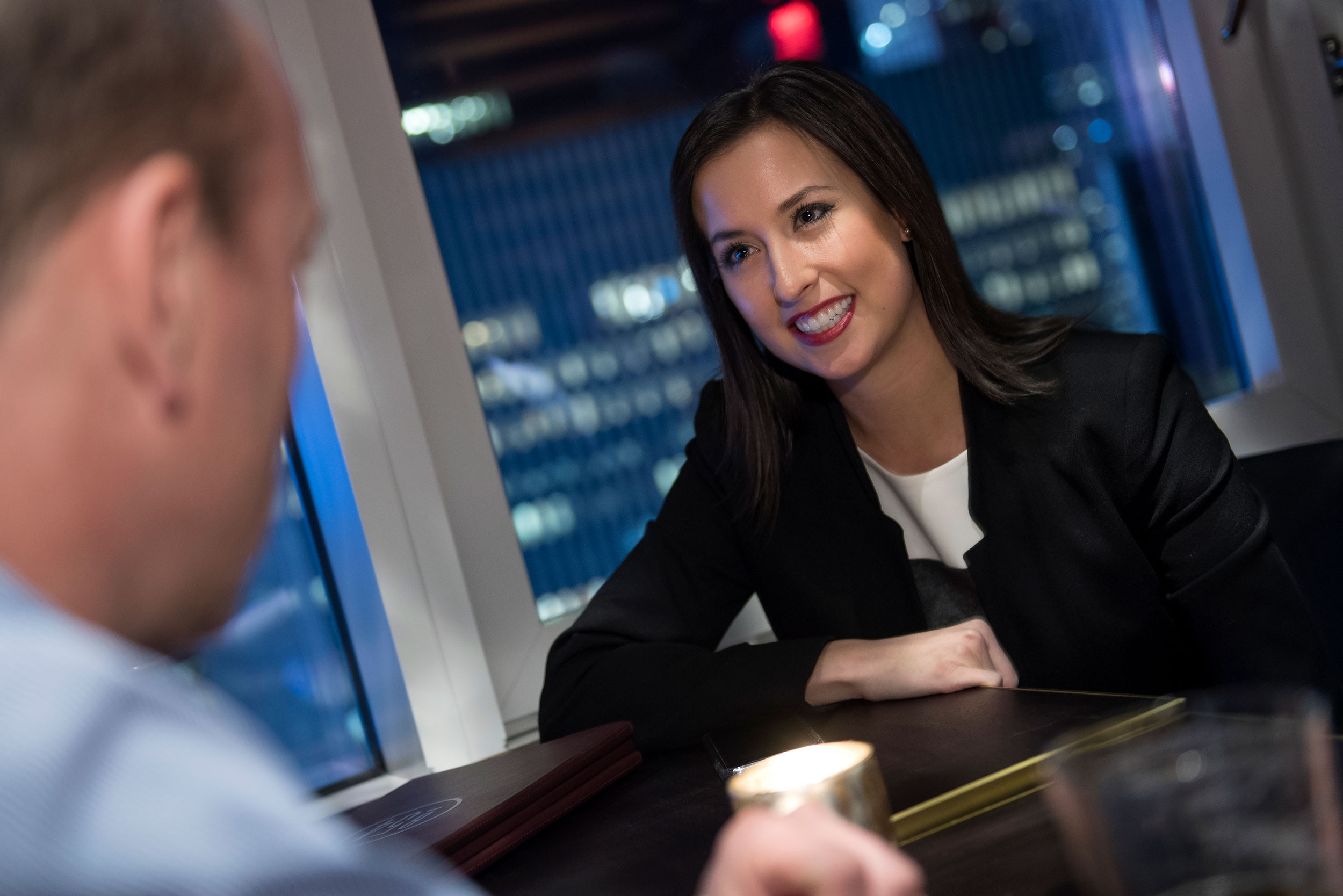 Tara Petrucci
"How'd you get from where you were to where you are?"
"No. 1 is realizing that no matter if you're having a high or a low point, you must remain on an even keel," said Nick Cullen '91, a managing director with Goldman Sachs. "No. 2 is realizing that it's impossible to satisfy 'The Man,' whoever it is for you. And No. 3, I got from there to here by truly appreciating and practicing the art of listening."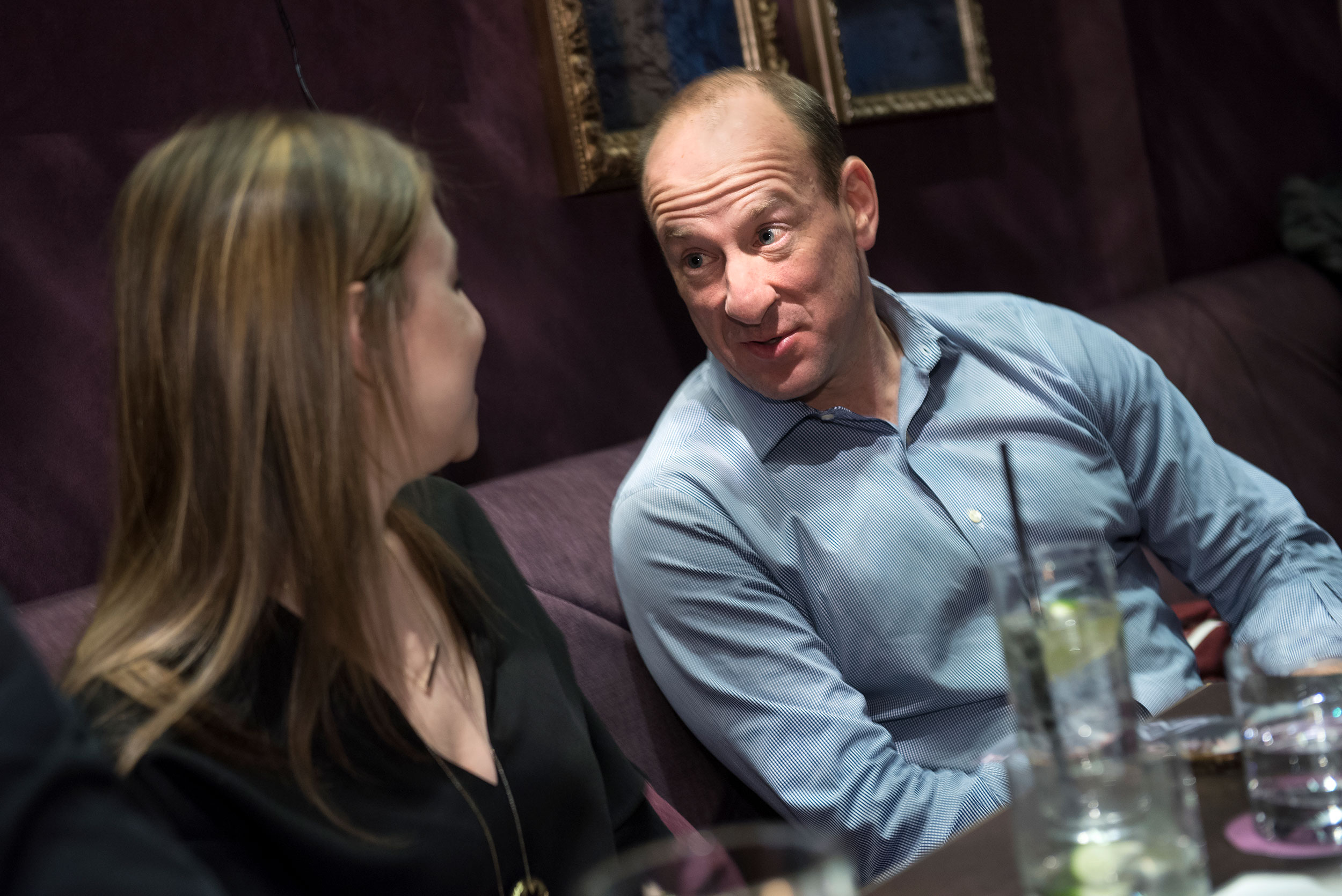 Nick Cullen
"How'd you get from where you were to where you are?"
Steve White '97 recently moved from ESPN to the Fox Networks Group as the director of digital ad sales finance. In the 2000s, though, White was headed to Florida to work in real estate with his dad. Until the housing market collapsed, that is. "I said, 'Let me go to New York for one year.' Something about this city called to me. I came up here and I loved it, and as a computer programmer, I fell backward into media."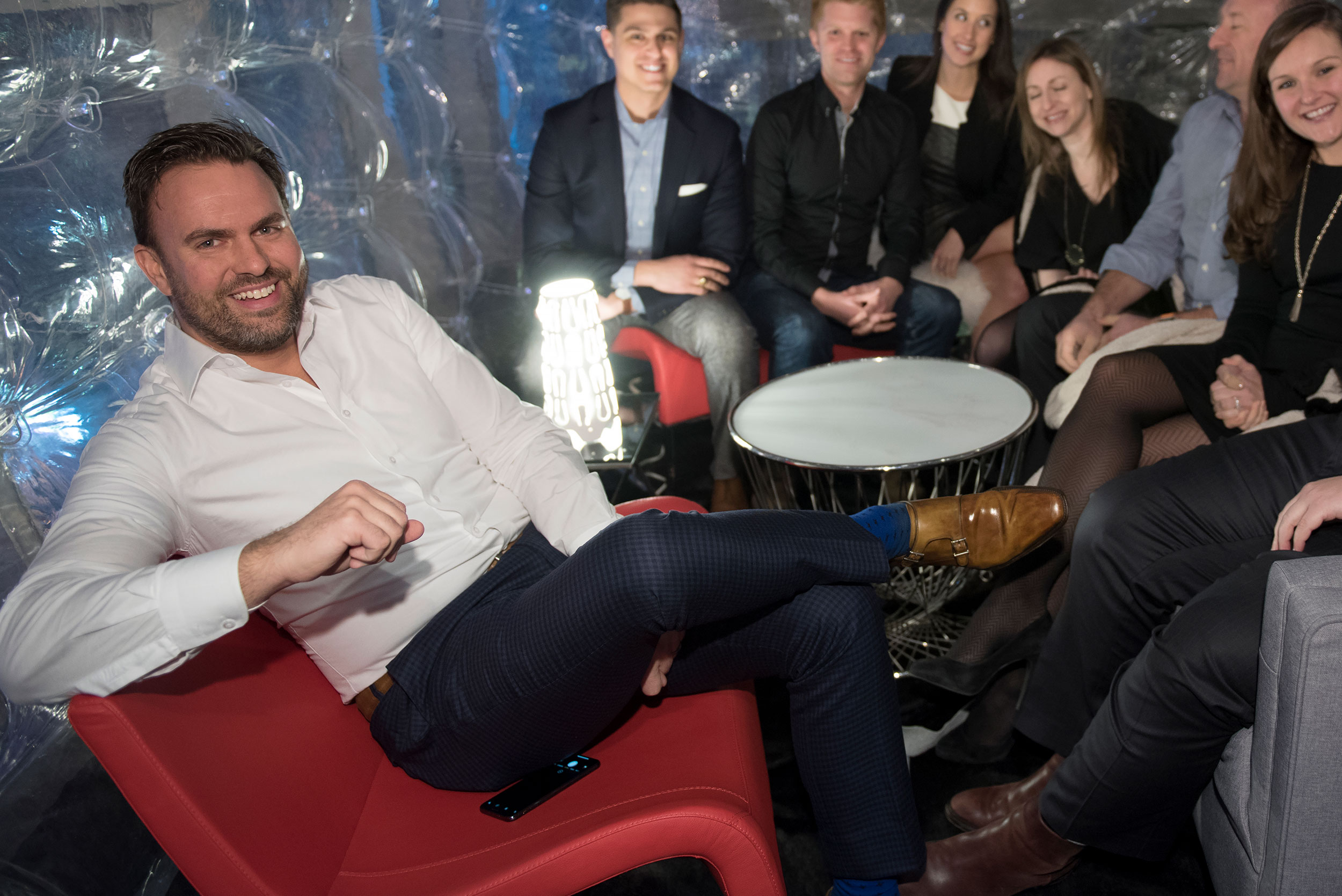 Chapter president Steve White, left/fore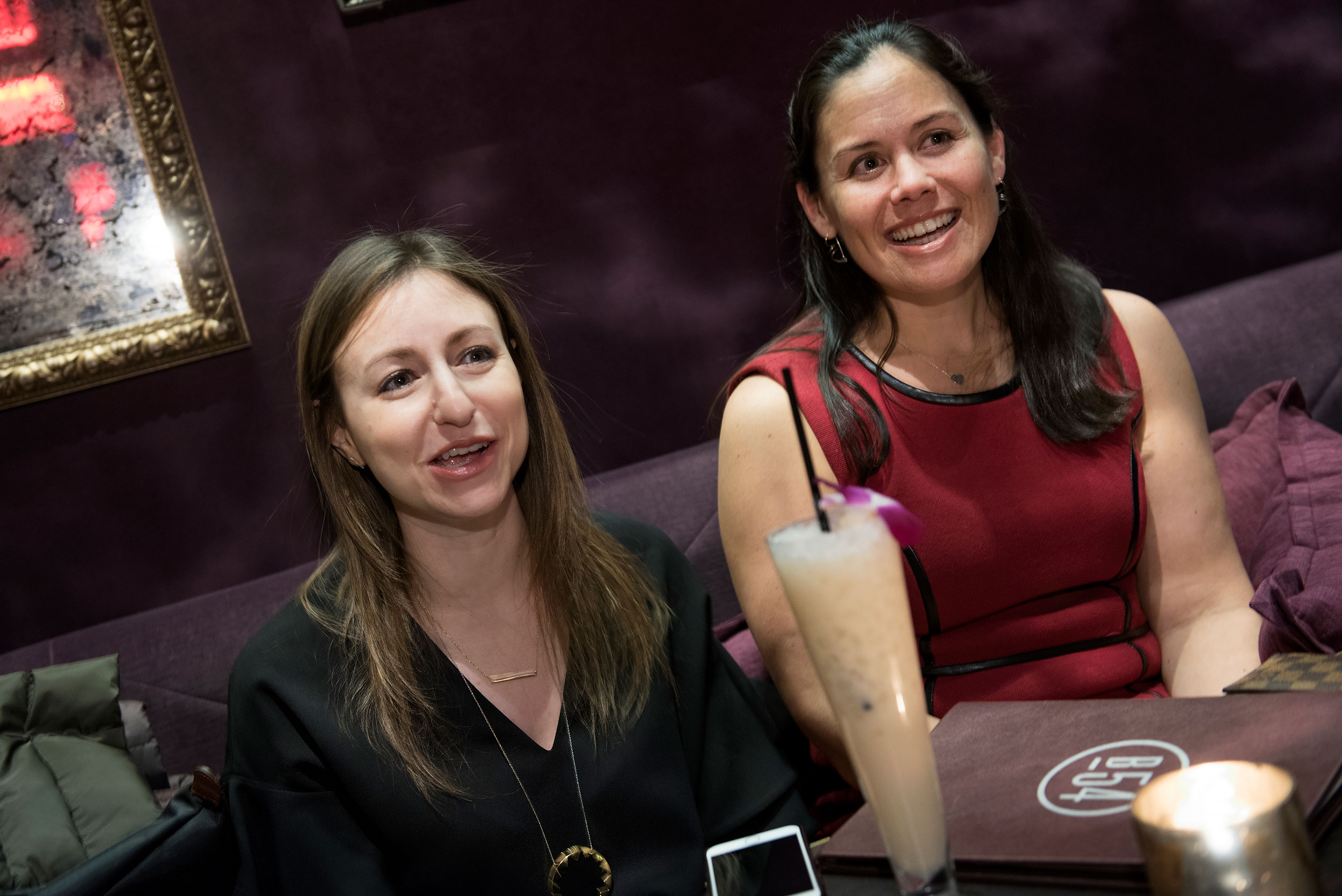 Lauren Rumerman, Casey Wallace
"How'd you get from where you were to where you are?"
Casey Wallace's decision to attend Virginia Tech rested on one factor: the university's center in Riva San Vitale, Switzerland (now called the Steger Center for International Scholarship). "That was the entire reason I went to Tech."
Family connections drew her to New York. Her parents were born and raised there, though they raised her in Maryland. She had visited her grandma, who lived in the city, and she had visited her uncle, who was a broker at the New York Mercantile Exchange. So she knew that an internship would be her ticket back to the city, and she landed one with Deutsche Bank. The 2004 graduate is now a senior vice president with Citi.
"How'd you get from where you were to where you are?"
To launch her career in corporate retail, Lauren Rumerman '06 knew of one route and one place: an assistant buyer training program in New York City. The May 2006 graduate applied to 50-plus retailers, finally landing a position in October 2006 with Linens-N-Things. She now works as a director of financial planning for Macy's, in part because she remained open to what her mentors were telling her—that she was good at buying merchandise for the stores, but she could also excel in financial planning. "Being open to [new advice] can leave you open to greater things," Rumerman said.
"How'd you get from where you were to where you are?"
"I did not mean to be here," said Amanda Gurtis Davis '09, who first visited New York City when she was 13 years old and recalls thinking that the city smelled bad.
But when she graduated in 2009, without a job, she moved to the Big Apple to live with her sister, who is 10 years older. And a friend of her sister's, a former coworker at Goldman Sachs, eventually hired Davis as an assistant for the hedge fund sales team at AllianceBernstein. Davis later moved to the firm's trading desk, where she is a trading executive assistant.
"How'd you get from where you were to where you are?"
"A one-way plane ticket and a budding romance with Amanda," said Jeremy Davis '09, glancing over at his wife, Amanda. "I booked a one-way plane ticket to follow her. I also wanted to work at the intersection of private capital and public need," he said, adding that New York City was the best option for that. "So I followed the girl of my dreams and big-city aspirations."
As an assistant vice president at Moody's Corp., Davis leads corporate social responsibility strategy for the company. "It's as close as you can get to living out Ut Prosim in the corporate world," he said.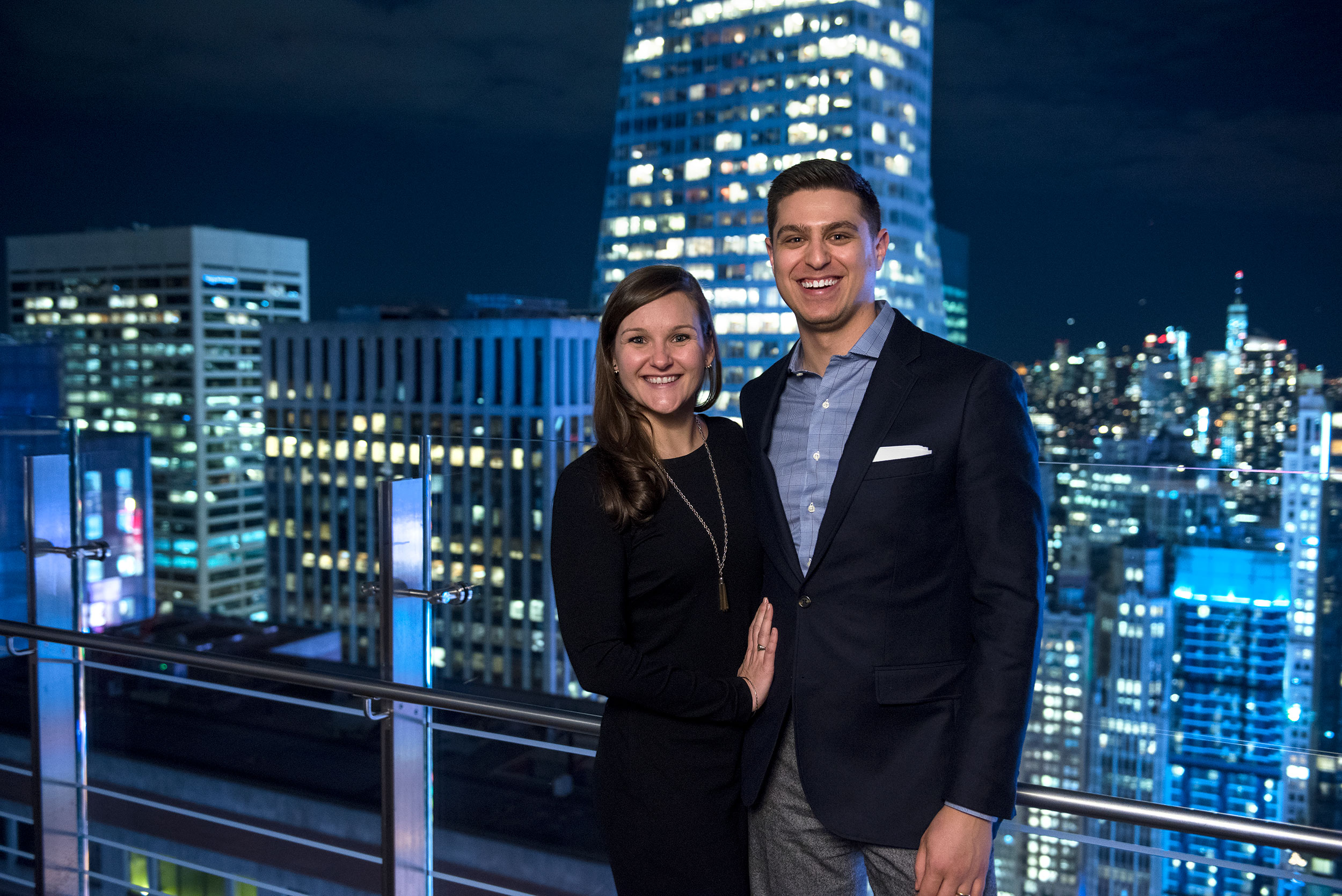 Amanda Gurtis Davis and Jeremy Davis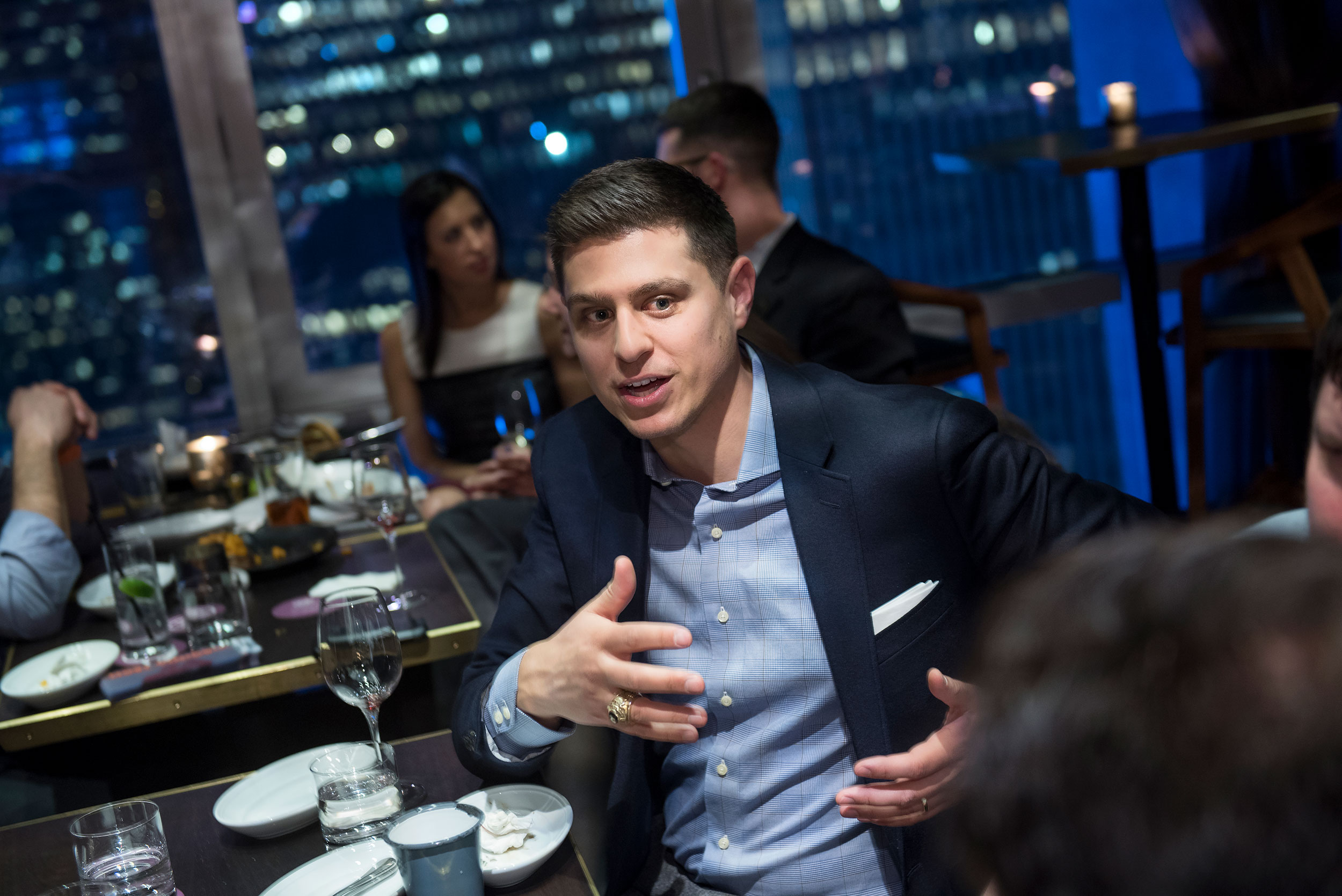 Jeremy Davis
[swipe for more]
Nick Cullen, Steve White

l-r Steve White, Jeremy Davis, Patrick Farrell, Amanda Gurtis Davis, Tara Petrucci, Lauren Rumerman, Nick Cullen, Sean Herlihy

l-r Nick Cullen, Steve White, Amanda Gurtis Davis, Jeremy Davis, Lauren Rumerman, Patrick Farrell, Tara Petrucci, Sean Herlihy

Manhattan Hokies alumni happy hour at Bar54 in New York City.

Tara Petrucci, Steve White, Amanda Gurtis Davis

L-r Jeremy Davis, Nick Cullen, Tara Petrucci, Steve White, Amanda Gurtis Davis

Jeremy Davis, Nick Cullen

Nick Cullen

Steve White, Casey Wallace