Meditations on a retirement career
Jim Wyche Green

by Su Clauson-Wicker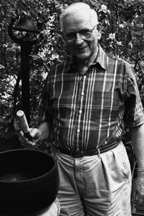 If Jim Wyche Green '38 had truly wanted to relax, travel, and do nothing after his retirement from the U.S. State Department in 1976, he should never have picked up a book on meditation for his celebratory trip to the beach.
Meditation brought Green relaxation, but not idleness. Instead, Green, now 81, finds himself zealously pursuing a new mission in life--to share the practice with as many others as possible. Twenty years after retirement, he has written a meditation manual, taught 88 workshops, and is still going strong. The Southside Virginia native had developed a curiosity about meditation in the mid-1970s after reading a study that credited meditation with lowering blood pressure, slowing pulse rate, depressing respiration rates, and shifting brain waves into the relaxed, creative alpha state. "That really impressed me," Green says. "I read the book cover to cover, but I was a little leery of actually trying to meditate. I was trained as a scientist, and I operated as such. When I finally did give meditation a try, I had such a wonderful sense of things coming together. I think years at the State Department, dashing around and seldom being able to finish anything to my satisfaction, left me feeling less than integrated."
So Green began meditating daily in his Falls Church, Va., home. But soon his mind began to wander and to ask all manner of questions about each exercise as a way of dodging the discipline required. Deciding he needed more in-depth instruction, Green contacted the author of his meditation book, Lawrence LeShan, and ended up in a five-day seminar taught by one of LeShan's associates, Joyce Goodrich.
Four days into the course, Green experienced a mystical rapture in which he "lost all sense of self, time, and space," he says. During that meditation, he found himself so totally concerned about the welfare of others that he temporarily lost his identity as a separate person. "My ego was totally absent in this experience," Green says. "No words can describe the sense of transformation I was experiencing."
For about two months following the seminar, Green stayed in a state he described as ecstasy. "I meditated constantly, slept very little, wrote about, and talked excessively about my experience. Everyone, including me, was glad when that phase had passed," he says.
During this time, he realized he had to teach meditation. "This was not something I had planned to do," he says. "I had planned to spend my retirement reading, traveling, and doing projects around the house. Now everything was secondary to my 'commission.' It was not a calling; it was a command." After teaching sociology and anthropology at three universities and spending 20 years as an advisor--an informal teacher--to foreign governments, Green had thought his teaching days were behind him. With considerable reluctance, he began organizing his first classes.
Getting started as a meditation teacher in Northern Virginia in 1978 was not easy. He asked about sponsorship at the church where he was an active member, but was refused, as he was at 13 other mainline churches. "I considered meditation to be spiritual development, but there was zero interest in this approach from these quarters," he says.
Green led his first free, four-day seminar in his living room. Afterwards, his students persuaded him to set a small fee, saying they had at first been suspicious of his motives.
Green has since led 75 beginning seminars and 13 advanced, introducing more than 500 bankers, civil servants, engineers, and others to a non-denominational meditation practice that draws from a variety of disciplines. In 1994, he felt called to write and publish Integrative Meditation: Towards Unity of Body, Mind, and Spirit, a guide for prospective meditators and teachers of meditation.
He has trained in psychotherapy and hypnotherapy, which he says helps him deal with problems that might come up when new meditators get in touch with their subconscious minds.
Green's first wife, Pearl (Cornett '38) didn't develop an interest in meditating until the end of her life, but she wholeheartedly supported his practice. "She'd say, 'I'm so glad you meditate. You're so much easier to live with,'" Green says. "When you meditate you're more likely to try to understand others instead of pushing your own agenda. You see results from reducing the stress in your life."
Before Pearl died of heart failure in 1982, she asked her husband to teach her how to meditate. Green's second wife, Arlene, whom he met though a macrobiotic cooking class taught by her daughter, meditates daily.
The young Jimmy Green would probably have laughed in the face of anyone who suggested he would take up meditation and hypnotherapy later in life. In the farming community around Chatham, Va., in the 1920s, you didn't hear those terms. Green grew up worshipping in a mainline Protestant church ("not much meditating and an awful lot of talking going on there") and attended a military prep school on an athletic scholarship before enrolling at VPI's (Virginia Tech's former name) soil science program. Green recently offered the military school an endowment if they would start a program teaching meditation to interested faculty and cadets--he thought it would improve their leadership skills. The school, however, refused his offer.
Green worked his way through Tech, measuring corn and waiting on tables. While earning his M.S. in agricultural economics, he lived in the basement of professors Leland and Mildred Tate and fell in love with his first wife in Mildred Tate's marriage and child development courses.
Immediately after Tech, Green joined the Extension faculty at N.C. State as a land-use planning specialist. When World War II came, he was called to active duty, earning two bronze stars and the Croix de Guerre from both France and Belgium. Following the war, Green tried managing a small chemical company and then running the family farm in Chatham, but neither was his niche.
A preacher brother-in-law convinced Green that he'd gotten "the call," and Green enrolled in Duke's divinity school in 1947. "After a most valuable year, I realized I could serve God and do what I wanted," Green says. "So I went back to school in sociology at the University of North Carolina for my Ph.D. and taught at N.C. State.
In 1954, Green was lured away from academia to serve as community development advisor for the government of Pakistan and then South Rhodesia, Peru, and Panama. He returned briefly to academia to chair the department of sociology and anthropology at U.N.C.-Charlotte in 1969-70 and then worked for USAID on various projects until his retirement.
"I've been spiritual all my life, although not always in an overt way," Green says. "In meditation, I've gone from asking, to becoming silent, to listening. The waiting is the hard part, but I believe guidance does come to those who seek it properly."
Even at 81, retirement is not a consideration for Green. "Teaching meditation is more fulfilling than all the alternatives I have considered," he says. "And besides, I haven't finished paying back the larger society for the wonderful life it has given me."