Tales out of school
What they did on their summer vacations really is a story
by Su Clauson-Wicker
"Go and be a frontiersman," Dan Liebert's project advisor bid the senior liberal arts major in May as Liebert left Blacksburg on a 500-mile solo canoe trip to evaluate water quality along the Roanoke River.
"You are on a voyage of discovery," University Distinguished Professor of Biology George Simmons told Liebert, "See with all your senses what's going on out there."
His advice to Liebert could have been a good dispatch for many Virginia Tech students heading off to supplement their university learning experiences with summer adventures. This past summer Tech students were experiencing for themselves the worlds of Washington politics, village life in the high Andes, horse-packing above the snowline, and other situations that propelled them head-on into real-world complexities. Some changed career plans mid-stream. These students kept their eyes open, experienced life--sometimes on the edge--and came back enriched, with stories to tell.
For Liebert, illusions about the romance of frontier river travel went belly-up by the time he hit the city of Roanoke.
"There I was, sitting in my canoe surrounded by a pool of garbage," he says. "Plastic bottles, oil cans, McDonald's bags--you name it--anything that was dropped on the streets washed out into the river. Guys were laughing at me for canoeing in it."
Within a day of putting in at the bucolic Ellett community near Blacksburg, Liebert passed the outlet for a sewage treatment plant. After that the mosquitoes became "overwhelming," he says--a sign that "something was messing up the stream system," and he developed a rash where his skin came in contact with the water. To top it off, he encountered an eight-foot waterfall over a dam that didn't show up on his map. "I was terrified and disgusted the whole first week," he says.
If Liebert hadn't been funded by a $2,000 grant from the Virginia Tech Water Resources Center and hadn't been receiving three hours of honors research credit for the water-testing venture, he might have bailed out right there. But after a short rest in the riverside Roanoke Marriott during which Liebert scouted down river, he stopped being terrified of what lay ahead and had fun in some of the Roanoke's class III rapids. He also met a lot of friendly people and hit the town of Altavista at festival time.
Liebert was testing a technique of evaluating water quality by measuring oxygen fluctuations over the course of a day. Simmons, his advisor on the project, hypothesized that if extreme differences in oxygen level showed up, the system was likely to be unbalanced--perhaps full of algae or other organisms that would make oxygen during the day and consume it at night. Sampling the water every three hours at the same location over a 24-hour period was problematic for Liebert, but he did find big enough differences above and below towns to feel the method has validity.
When Liebert came out of the flood-swollen Roanoke in tidewater Williamson, N.C., after four weeks of paddling, he was thinner, stronger, more self-reliant, and more pessimistic about the effect education efforts are having statewide on water quality. "I saw some industrial and agricultural pollution, but what I experienced the most was trash from individuals," he says. Even people who said they loved the river would litter in the river basin.
When Liebert receives his degree in December, he hopes to find a job in environmental education. He and Simmons have also talked about re-creating his river experiences for a biology field class.
"Dan came back with a qualitative expression about water quality. I'd like to take a class on the river for a week or two to duplicate that experience," Simmons says. "I would like them to not be so overwhelmingly quantitative in focus; I want them to see the river as Dan did, as an entity with its own moods, not just a pool of water to dip a sampling bottle into."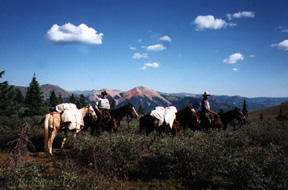 While not structured as an educational experience, the two months Rob Speiden spent riding the Colorado Trail from Denver to Durango on horseback gave the environmental systems engineering major lots of time to think about what he's going to do with his life.
During the 470-mile, horse-packing trip through Colorado's highest mountains, Speiden honed his skills of observation, tracking the footprints of people and animals for days. The former member of the Southwest Virginia Search and Rescue team also gained additional experience coping with an emergency--his own--when he slit his arm with an ax while trying to free his horse from a frozen stream.
"Luckily, a hiker with a cellular phone had just caught up with us, so he called 911, and the rescue crew showed up in two hours," he says. While Speiden was waiting, he got a hiker to photograph the wound for posterity and then stanched most of the bleeding with a homemade bandage. "I only hit one vein," he says.
Speiden's companions, his dad and a friend, freed the horse, but it died of pneumonia a few days later. Speiden's wound required 60 stitches, and his doctor told him to take a week off. While he was "recuperating," Speiden and his group climbed one of Colorado's highest peaks, Mt. Elbert at 14,433 feet. Despite the accident, Speiden looks back at the trek as "an overall great experience of living outside and waking up to other things in life." When the trip ended, he decided to stay in Colorado. He is finishing up his last three credits for a Virginia Tech degree at Colorado State University and looking for jobs in the agricultural engineering field.
The closest senior Cherilyn Carruth came to the outdoors was attending the Whitewater hearings on Capitol Hill, but she says her summer has been one long adventure.
As an intern for Virginia Senator John Warner, Carruth assisted with his campaign, attended U.N. subcommittee hearings, did background research, gave tours of the Capitol, and met numerous political celebrities. "It's fast-paced," she says. "You never stay any place more than an hour." Carruth, a political science and communications senior, received 12 credit hours for the internship, part of the 10-week Washington Semester Program through Virginia Tech. She spent twice as much time in the senator's office as required by her course.
"I always felt I was missing something when I took time out for class on Thursdays," she says. "The staff does a tremendous amount of the senator's work."
Competition for an internship with the senior senator was intense, but Carruth won it with the help of a lobbyist friend, she says. She chose Warner because he was pro-military and was especially pleased to be able to work on military issues.
The high points of her internship were celebrating Warner's victory over Jim Miller in the Republican primary and getting stuck in the Capitol elevator with South Carolina Senator Strom Thurmond. She also met Senator Bill Bradley and presidential candidate Bob Dole while he was still a senator.
"I'm making the connections now that will help me later," she says. After graduation, Carruth intends to work at the Capitol for several years and then switch over to the private sector to become a liaison.
So how much did Carruth actually get to see Senator Warner? "Oh, I saw him numerous times, almost every day after the primary," she says. "We've actually talked four or five times."
For fifth-year students Geoff Sabin, Jeff Nokkeo, Marco DiPaolo, and Eric Lars Olson, summer was also hectic in an urban way. The Virginia Tech students comprise four-fifths of the Geoff Sabin Orchestra (GSO), a band that spent the summer crisscrossing the mid-Atlantic and Southern states on a concert tour. They released their first CD, "These Reasons," in late spring.
Sabin, who finished his degree in architecture between playing gigs, acts as business manager, lyricist, vocalist, and designer of the CD cover. He also joins engineering major Olson on acoustic guitar, while architecture student Nokkeo and business major Marco DiPaolo back them up on bass and drums, respectively. They intend to make a career of their music, which Sabin describes as "East Coast acoustic groove rock with a strong song orientation."
The Blacksburg-based band averaged at least four days a week on the road, mostly in Virginia, North Carolina, Maryland, and New Jersey. "By the end of summer, we got pretty sick of seeing the inside of a car," Sabin says. "But we were still charged up about performing. We were still selling our music to new people, and our passion came alive when we were on stage."
Although the concert tour was hectic, the group managed to do a fair amount of sightseeing in the cities where they were playing. "I like to look over the architecture of the area," says Sabin, who always carries along his sketch book. They also rehearsed, arranged new bookings, and promoted their CD. Sabin is using his architecture background designing promotional posters for GSO and other groups.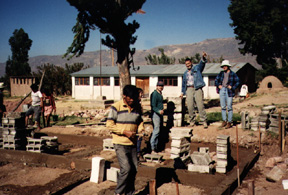 A remote village in the mountains of Bolivia has clean drinking water and a sanitary septic system for the first time, thanks to four Virginia Tech engineering students, who left their research last summer to supervise the project.
In June, four graduate students--Steve Brauner '95, Vickie Burris, Sudhir Murthy '93, and Steve Starbuck--traveled to Vilomilla, Bolivia, to design and help construct a community bathhouse under the auspices of the Virginia section of Water for People (WFP). Previously, the villagers had one common tank to store water and sometimes resorted to drinking water from irrigation ditches. Some suspected the high infant-mortality rates might be related to impure drinking water.
An underground water distribution system from a nearby subterranean river had already been designed and pipe laid to the village by the WFP Virginia section, which initiated the Bolivian project (membership includes alumni Trina Mastran '92, Patrick Brady '60, Vernon Lucy '64, Gerald Peaks '69, and David Wilkes '79). Mastran accompanied them as WFP's student coordinator. The goal of the WFP, a service branch of the American Water Works Association, is to develop sustainable drinking water supplies among people throughout the world.
Through benefit concerts, car washes, and ultimate Frisbee tournaments, the Virginia Tech WFP chapter had raised $3,000 for the Bolivian project, which was supplemented by travel funds from the College of Engineering and materials money from WFP.
"We learned a lot in two weeks," says Murthy, "mostly about project management, especially about international project management."
Murthy, originally from India, was impressed by the lifestyle in the remote Quechua Indian village. "This is definitely the place to be," he says. "These people know how to enjoy life. They know how to balance the rat race and leisure. Their attitude gives me incentive to go back."
The Tech engineers designed the project and communicated by fax and e-mail with students and faculty from the University Mayor de San Simon (UMSS) in Bolivia to determine what materials and building methods would be available.
When the Virginia Tech students showed up at the site at 7 a.m. the first morning, they were not accustomed to the 7,000-ft. altitude or physical labor, but they pitched in to move cinderblocks and dig trenches. "That's not what engineers usually do, but we appreciated learning how the nuts and bolts sorts of things are done," Starbuck says. "I think we bonded more with the villagers because they saw us doing physical labor."
Communication was sometimes difficult because some students knew little Spanish and the laborers spoke mostly Quechua anyway. "When in doubt, you smile and say 'gracias' a lot," Murthy says. Both Murthy and Starbuck enrolled in a Spanish class when they returned to Tech.
By the time the Tech students left Vilomilla, the bathhouse foundation and shell were constructed and the excavation of the septic system was complete. The villagers, assisted by the UMSS students, installed the fixtures according to the Tech design a few weeks later. "When we look at it in retrospect, we accomplished a whole lot," says Starbuck.
"I know now that I really want to take this type of vacation regularly," says Brauner. "I'd like to be able to take a month off every year from a regular job and volunteer for work like the Bolivian project."