ALUMNI ASSOCIATION NEWS
CONTENTS
Vote for alumni association board members
Classes to celebrate
Civil War Weekend, March 12-14
Short features about alumni
Class Notes
Profile Head

Vote for alumni association board members
The following nominees have been proposed by the nominating committee for election to three-year terms from 1999 to 2002. Please vote for fourteen and return the ballot by March 1. Results will be announced at the association's annual meeting in October.
Marcella K. Arline '74, Hershey, Pa.
Food Science and Technology
Gregory D. Brainerd '83, Glastonbury, Ct.
Management
Marni E. Byrum '76, Alexandria, Va.
Political Science
Victor B. Calaman Jr. '83, Richmond, Va.
Marketing
Scott C. Cappiello '94, Falls Church, Va.
Computer Engineering
B. Keith Fulton '89, New York, N.Y.
Urban Affairs
Gene A. James '53, Richmond, Va.
Animal Science
David E. Lowe '63, Charleston, W.Va.
Business Administration
Nancy Glisson Lucy '93, Mechanicsville, Va.
Communications
Nancy M. Moga '76, Covington, Va.
Management, Housing and Family Development
Melissa Byrne Nelson '92, New York, N.Y.
Finance
Michael J. Quillen '70, Gate City, Va.
Civil Engineering
Nicholas P. Valdrighi '57, Richmond, Va.
Mechanical Engineering
Susan Hensley '77, St. Joseph, Mo.
Home Economics
Write-in nomination _____________________________________
Signature _______________________________________________
Return to: Virginia Tech Alumni Association, Alumni Hall (0102), Blacksburg, VA 24061.
Back to Contents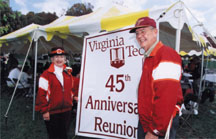 Classes to celebrate reunions in '99
Classes celebrating reunions in fall 1999 will include: The Class of 1949 (induction into the Old Guard), 1954, 1959, 1964, 1969, 1974, 1979, 1984, 1989, and 1994. Look for reunion details and events in the spring 1999 issue of the Virginia Tech Alumni Association News.
Civil War Weekend, March 12-14
Virginia Tech's eighth annual Civil War Weekend will be held Friday, March 12 through Sunday, March 14th, and will once again feature Alumni Distinguished Professor James Robertson Jr. Also back by demand is Brian Steel Wills, associate professor of history at Clinch Valley College.
Activities include the popular Civil War genealogy seminar, a discussion of Civil War sites on the Internet, and a lecture on Hollywood's fight with the Civil War, given by Dennis Brown, screenwriter of The Perfect Tribute.
Participation is limited, so act quickly. The registration fee of $120 includes all materials, instruction, and meals.
Back to Contents