Bohland named interim provost

President Charles W. Steger has named James R. Bohland as the interim provost to replace Peggy S. Meszaros, who returned to the College of Human Resources and Education as an endowed professor for human development on Sept. 1. Bohland directs the School of Public and International Affairs (SPIA) in the College of Architecture and Urban Studies and the College of Arts and Sciences. He wrote the proposal that led to the creation of SPIA five years ago and has been its only director.
Bohland formerly headed the Department of Urban Affairs and Planning, a post he held for 12 years. He joined the Virginia Tech faculty in 1980 and became a full professor in 1984. His research interests lie in health policy and planning and in the social impacts of information technology. He is currently examining the structure and resource systems of community technology centers in disadvantaged neighborhoods under a grant from the National Telecommunications and Information Agency.
Steger named Peter Eyre, dean of the Virginia Maryland Regional College of Veterinary Medicine, to chair the search committee for a permanent provost. Bohland has indicated that he will not be a candidate for the permanent position.
Back to Contents
Doctoral candidate facilitates United Nations Peace Summit

Katherine Hall, Ph.D. candidate in educational curriculum and instruction, facilitated the opening ceremonies of the United Nations Peace Summit in Cannes, France, earlier this year. A website Hall created several years ago for a class caught the attention of a United Nations official. Hall's expertise in instructional design and distance learning became apparent through a series of e-mail exchanges between the two, which, in turn, gained Hall a summer internship position in Geneva as well as the leadership role in the opening ceremony. Hall also conducted a workshop in Cannes on interactivity in web-based instruction.
Back to Contents
Flanagan named VP for development, university relations

Elizabeth "Betsy" Flanagan joined Virginia Tech in July as vice president for development and university relations, a position formerly held by President Charles W. Steger.
Flanagan came to Tech from the University of Virginia, where she was director of individual, major, and planned gifts and played a key role in the school's $1-billion capital campaign. Before her tenure in Charlottesville, she worked for 10 years at Richmond's Crestar Bank, rising to a vice president in the trust department. Flanagan began her career in higher education at Ferrum College in 1976 holding various academic and administrative positions.
She holds a B.A. from Bethany College, M.S.W. from West Virginia University, and Ph.D. from the University of Virginia and is also a certified financial planner.
Back to Contents
Forest products students claim national bridge-building title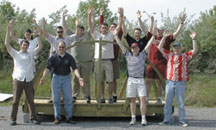 The student chapter of the Forest Products Society at Virginia Tech's College of Natural Resources took top place in the eighth national timber bridge design competition. The students placed first in four categories and second in the category of most practical design. Each team had to design, construct, and test its bridge on its home campus, then submit documentation of its activities and results to a panel of judges for review. The purpose of the contest was to promote interest in the use of wood as an effective bridge construction material.
Back to Contents
Noted historian joins faculty of Virginia Center for Civil War Studies

William C. Davis, an award-winning author of numerous books on the American Civil War and a nationally noted consultant on the period, has joined the Virginia Tech faculty as director of programs for the university's Virginia Center for Civil War Studies. He has more than 40 books to his credit and has won countless awards for his work, including two Pulitzer Prize nominations.
Davis has served as historical consultant on several Civil War television productions. He is a fellow in the Society of American Historians and past president of the National Historical Society.
Back to Contents
Online graduate degree program honored
Virginia Tech's online master's degree in political science received an E-Learning Design Award in an international competition organized by the Center for Research on Learning and the Online Academy at the University of Kansas. The award recognizes innovative online courses with exceptionally rich content.
University Distinguished Professor of Political Science Timothy W. Luke developed the degree program in 1995 along with Christopher Couples (political science M.A '97) through the College of Arts and Sciences' Cyberschool project. Luke continues to develop and manage the program (www.cyber.vt.edu/psci/olma/olma) along with Jeremy Hunsinger (political science M.A. '98).
Back to Contents
Nichols named Dairy Shrine Guest of Honor
James Nichols, dean of the College of Agriculture and Life Sciences from 1975 to 1991, has been named national Dairy Shrine's Guest of Honor for 2000. This is the highest honor awarded annually by the National Dairy Shrine and one of the most prestigious in the dairy industry.
Nichols had a major influence on the dairy industry in Virginia. He led the establishment of the Virginia-Maryland Regional College of Veterinary Medicine and also used legislative and dairy industry support to build a new dairy cattle teaching and research facility, thus keeping Virginia Tech a leader of dairy production science.
Back to Contents
Winslow receives scholarship to study in Russia
Emily Winslow, a sophomore from Richmond who is studying German, international studies, political science, and Russian studies at Virginia Tech, has received a one-year $15,000 national Security Education Program scholarship to study in Russia this year. The highly competitive scholarships are funded by the Department of Defense and are designed to improve America's understanding of different cultures and languages.
Back to Contents
Wilcke named endowed professor
Jeff R. Wilcke, a professor in the Department of Biomedical Sciences and Pathobiology, has been named to the Metcalf Endowed Professorship in Veterinary Medical Informatics. This is the first endowed professorship ever established on the Virginia-Maryland Regional College of Veterinary Medicine's Blacksburg campus.
Veterinary informatics involves the application of modern information technology to manage vast amounts of medical data. Wilcke has been working in this emerging field for the past 15 years and was one of the first faculty members in the college to use computer technology to enhance student learning in the mid-80s. The professorship is made possible by a gift from philanthropist Dorothy A. Metcalf.
Back to Contents
Hokie Car races for scholarship funds
The rush of the NASCAR racetrack will soon hold more than just entertainment value for Hokies--the stakes were raised in July with the university's announcement of an innovative new partnership with NASCAR officials, Wood Brothers Racing, and 25-year-old driver Eliot Sadler. With a special-edition "Hokie Car" designed for one race in the Winston Cup series, Virginia Tech administrators expect to generate thousands of dollars toward the university's scholarship funds.
Sporting full Hokie regalia, Sadler's #21 Ford now bears an orange and maroon paint job, scowling Hokie birds on either side, and the VT logo on the hood. In a deal that cost only $5,000, Tech will receive 8 percent of all revenues from the sale of hats, T-shirts, die-cast model cars, and other merchandize bearing the "Hokie Racing Team" and VT logos.
The car was scheduled to race in the Chevrolet Monte Carlo 400 at Richmond International Speedway in September.
In addition to profits from sales items, Sadler pledged to donate all his winnings to the scholarship fund, and Tech officials plan to auction off the Hokie Car's hood on e-Bay.
"I'm an instant hometown hero being associated with Virginia Tech," said Sadler, a native of Emporia, Va. "This is a great combination, and I'm looking forward to representing everybody very well."
Back to Contents
Snizek wins two advising awards
Molly Snizek, chapter advisor to Virginia Tech's Delta Gamma Fraternity since 1973, has won two advising awards for the 1999-2000 academic year. This is the first time an advisor has received both awards in one year.
Snizek received both the University Student Leadership Advisor of the Year Award and the Shari Malone Outstanding Greek Advisor Award. The latter is restricted to Greek organizations, and the former is a university-wide competition open to any student organization at Virginia Tech. Winners are chosen based on student nominations. Both awards honor advisors for outstanding service, commitment, and involvement.
Back to Contents
VTTI lands $15-million traffic safety research contract
U.S. Secretary of Transportation Rodney E. Slater has announced a three-year, $15-million contract for advanced safety research to be performed by a consortium of traffic safety research organizations headed by the Virginia Tech Transportation Institute (VTTI).
"This project will provide a means by which the nation's best researchers can solve some of our most difficult real-world problems using tools that have never been available before, including the Smart Road and the National Advanced Driving Simulator," said VTTI Director Tom Dingus.
Officials with the National Highway Traffic Safety Administration said the contract will provide support to explore human-factors research using data collected on actual roadways, on the Virginia Smart Road test facility, and under simulated driving conditions. Areas of research may include antilock brakes, vehicle lighting, visibility, vehicle sensors, suspension, handling, driver response, and rollover.
Back to Contents
Eska awarded NEH stipend
Joe Eska, associate professor of English, spent his summer in Châteaubleau, France, performing a linguistic analysis of an inscription from an excavation there. His work was part of the National Endowment for the Humanities Summer Stipend program. Eska's project was the first attempt at a full analysis of the language and content of an 11-line Gaulish inscription discovered in 1997 during excavations at Châteaubleau.
Back to Contents
Research softens jet noise pollution
Virginia Tech mechanical engineer Ricardo Burdisso and research associate Jerome Smith have created a new technology that greatly reduces jet engine noise. The system, which works by taking some of the acoustic energy from one part of the engine to cancel sound in another part, has been favorably received by several aircraft design firms, including BF Goodrich, which licensed the patent and has plans to develop the technology further during the next three years.
Experimenting in the university's Vibrations and Acoustics Laboratory, Burdisso and his colleague developed this passive approach to reducing noise. By using existing acoustic energy, no additional weight is added to the engine, which in turn eliminates any concerns about additional engine fuel consumption.
Back to Contents
Lloyd receives NSF CAREER award
Gwen Lloyd, a mathematics educator in the Department of Mathematics, who also teaches methods courses in the Department of Teaching and Learning, recently received a CAREER award from the National Science Foundation. The award is one of the foundation's most prestigious for new faculty members. Her research will focus on the professional development of prospective elementary teachers in the context of current math education reform efforts in the United States.
Back to Contents