2004 U.S. News rankings released
Virginia Tech's undergraduate program ranked 73rd among the top 100 colleges and universities in the nation, according to U.S. News & World Report's "America's Best Colleges 2004" survey. Tech slipped from 66th in last year's survey, a drop most likely due to reductions in the number of undergraduate course sections--which, says Larry Hincker, associate vice president of university relations, is directly attributable to losses in state funding. Among the nation's top public universities, Virginia Tech is ranked 32nd. U.S. News also ranked the College of Engineering at No. 17 among engineering schools that offer doctorates and No. 11 among engineering schools at public universities. The industrial engineering program, which has been ranked among the top 10 peer programs for several years, made it to the top five this year. Among business schools, the Pamplin College of Business ranked 39th. TOP
New BOV members named
Virginia Gov. Mark Warner has appointed four new members to the Virginia Tech Board of Visitors. Three of the new members will serve from July 1, 2003, through June 30, 2007: Michael Anzilotti (marketing '71), president and CEO of First Virginia Bank; Sandra Stiner Lowe (M.S. urban affairs '79), director of Fairfax County's Office of Partnerships; and James Severt (accounting '58), retired president and CEO of Nationwide Homes. Hemant Kanakia, chairman of Photuris Inc., will serve from July 1, 2003, through June 30, 2006, which is the remainder of the term of former member Bruce Smith, who resigned from the board in June due to his NFL commitments. TOP
---
On Memorial Day, the National D-Day Memorial Foundation in Bedford, Va., dedicated a portion of its Memorial Wall, including plaques that will eventually list the names of all the members of American and other Allied forces who lost their lives on June 6, 1944.

Among the names listed on the first series of plaques is that of Jimmie W. Monteith Jr. (Class of 1941).

Robert Chandler '61 (left) and Maj. Gen. Jerry Allen, commandant of the Virginia Tech Corps of Cadets, attended the dedication.

Two more alumni will be added to the wall in the future: Meade H. Baker (Class of 1938) and John B. Schenk (Class of 1940).
---
Center renamed for distinguished alumnus
In April, the Corps of Cadets Center for Leader Development was renamed in honor of W. Thomas Rice (civil engineering '34) in recognition of his support of Virginia Tech, particularly the corps of cadets, the College of Engineering, and the Alumni Center. Rice has served as president of the Alumni Association, rector of the board of visitors, and a member of the Virginia Tech Foundation Board and Executive Committee. The Major General W. Thomas Rice Corps of Cadets Center for Leader Development, which is housed in the Pamplin College of Business, was created in 1996 to educate students about leadership and integrity. TOP
---
"The Liberty" wins NASA vehicles concept competition
"The Liberty"--an electrically powered, hydrogen-fueled, twin-prop aircraft designed by undergraduate aerospace and industrial engineering students from Virginia Tech and Loughborough University in the United Kingdom--took home first place in the NASA Revolutionary Vehicles Concepts and Systems Competition. The competition, sponsored by the NASA Langley Research Center's Aerospace Vehicle Systems Technology Office, challenged students to develop innovative concepts and systems for all types of future aircraft. TOP
---
Tech's dairy team makes the grade
For the second year in a row--and only the second year of the annual competition--the Virginia Tech Dairy Management Consulting Team won the North American Intercollegiate Dairy Challenge. Twenty-four collegiate teams from across the United States were required to evaluate all aspects of a commercial dairy farm based on its production and financial records, a tour, and an interview with the farm's owner, and then create a computer presentation of their recommendations. TOP
---
Tech gets $3.5 million NSF ADVANCE grant
The National Science Foundation (NSF) has awarded Virginia Tech a $3.5 million ADVANCE Institutional Transformation Award to enhance the careers of women in the fields of science and engineering. The five-year project will focus on four major program elements to address institutional barriers that hinder the hiring, retention, and advancement of women faculty members in science and engineering. The program elements will target institutional culture, practices, and leadership development needs specific to Virginia Tech. TOP
---
University earns record licensing royalties
Hokie fans everywhere contributed to Virginia Tech's record year in sales of official university products. During fiscal year 2002-03, Tech earned more than $833,900 in royalties from the nearly 500 licensees approved to manufacture Virginia Tech products. The majority of the revenues goes to the university general scholarship fund to help support students in need. TOP
---
The HokieBird wants you!
The 2003-04 Hokie Kids' Club is looking for new members. Benefits include a ticket to the Kid's Day men's and women's basketball games at Cassell Coliseum; opportunities to attend several autograph sessions and clinics with Tech athletes and coaches throughout the year; an exclusive members-only T-shirt and official Hokie Kids' Club ID card; a birthday card from the HokieBird; a bi-monthly newsletter about Virginia Tech athletics; and team posters, schedule cards, and more. To register a child or learn more about the club, call 540/231-3236 or e-mail hokiekidsclub@vt.edu. TOP
---
Popular dean of students retires
After 24 years at Virginia Tech, Barbara Pendergrass, dean of students since 1998, retired in June. Pendergrass moved to Blacksburg in 1979 to work as a counselor for minority students and as a staff counselor at Virginia Tech while attending school part-time, earning her doctorate in counselor education at Tech in 1987. As dean of students, Pendergrass made a difference in attitudes, bringing visibility to the needs of different minority communities on campus and affirming their value and importance to the university. "I wanted them to know that they are welcome at the table," she says. "Anything that was inclusive was very meaningful to me, as well as seeing students grow and take action to accomplish something." TOP
---
Students win honors in AMEX competition
A team of student financial planners from the Department of Apparel, Housing, and Resource Management passed through two rounds of competition among 26 schools at the recent American Express Planning Invitational, earning honors for best case study and best presentation, and second place overall. Teams were required to showcase their knowledge of financial planning, including creating comprehensive financial plans for a fictitious family. TOP
---
New plate heralds third "Crazy" sweepstakes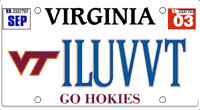 The university recently unveiled a third Virginia Tech license plate for Virginia drivers. The new plate will be available from the Virginia Department of Motor Vehicles in early October. Tech's other two official license plates are the number-one sellers among all college and university plates in the commonwealth. Alumni can show their admiration for the new tag when they register for a chance to win cash prizes of $5,000, $3,000, or $1,000 by entering the university's "Crazy for the Hokies New Plate" sweepstakes. Simply send in an official entry form (found at every Duncan Automotive Network dealership; go to www.DuncanAutomotive.net for locations) or a postcard that includes your name, home address, daytime phone number, and the phrase "I am crazy for the new plate." Entries may be mailed to Virginia Tech Licensing, Visitor Information Center, Blacksburg, VA 24061, or dropped off at any Duncan dealership. There is no limit to the number of entries an individual can submit before the Nov. 17 deadline. For more information, go to www.CrazyForTheHokies.vt.edu. TOP
---
New college and department associations
The university's college and department restructuring plans have been in effect since July 1. Following is the new list of Virginia Tech's seven undergraduate colleges (the Virginia-Maryland Regional College of Veterinary Medicine remains unchanged) and their corresponding departments. Keep these changes in mind when planning ahead for individual college homecomings this fall.
College of Agriculture and Life Sciences
Agricultural and Applied Economics
Agricultural and Extension Education
Animal and Poultry Sciences
Biochemistry
Biological Systems Engineering
Crop and Soil Environmental Sciences
Dairy Science
Entomology
Food Science and Technology
Horticulture
Human Nutrition, Foods, and Exercise
Plant Pathology, Physiology, and Weed
Science
College of Architecture and Urban Studies
Architecture
Art and Art History
Building Construction
Environmental Design and Planning
Industrial Design
Interior Design
Landscape Architecture
Public Administration Policy
Urban Affairs and Planning
Pamplin College of Business
Accounting and Information Systems
Business Information Technology
Finance, Insurance, and Business Law
Hospitality and Tourism Management
Management
Marketing
College of Engineering
Aerospace and Ocean Engineering
Chemical Engineering
Civil and Environmental Engineering
Computer Science
Electrical and Computer Engineering
Engineering Fundamentals
Engineering Science and Mechanics
Industrial and Systems Engineering
Materials Science and Engineering
Mechanical Engineering
Mining and Minerals Engineering
College of Liberal Arts and Human Sciences
Air Force ROTC
Apparel, Housing, and Resource Management
Army ROTC
Center for Interdisciplinary Studies
Communication
Educational Leadership and Policy Studies
English
Foreign Languages and Literatures
History
Human Development
Music
Navy ROTC
Philosophy
Political Science
Sociology
Teaching and Learning
Theatre Arts
College of Natural Resources
Fisheries and Wildlife Sciences
Forestry
Geography
Wood Science and Forest Products
College of Science
Biology
Chemistry
Economics
Geological Sciences
Mathematics
Physics
Psychology
Statistics
TOP
---
Circle of Excellence Retreat
This summer, women from across the commonwealth and several other states participated in Virginia Tech's first Circle of Excellence Retreat, held at the Homestead Resort in Va., to learn more about the university and the roles they can play in its future. The 50 attendees, including alumnae, other university friends, faculty, and staff members, enjoyed a series of faculty presentations and participated in focus groups. Virginia Tech Vice President for Development and University Relations Elizabeth Flanagan (front row, third from left) urged the attendees to help identify ways to increase the impact that women have on the university: "We know as women that we can make a difference through our philanthropy." TOP
---
Five physics students earn NSF fellowships
National Science Foundation (NSF) awards are among the top measures of a scientific program's success, and Virginia Tech's physics department students received five awards this year. Of the 32 fellowships the NSF recently awarded to graduating physics majors, three went to current Virginia Tech students and two went to University of Texas at El Paso graduates who will conduct their fellowship work at Virginia Tech. The NSF gave five other awards to current Virginia Tech students in fields other than physics. TOP
---
$1 million grant awarded for bioterror vaccine
Thomas J. Inzana, the Tyler J. and Francis F. Young Professor of Bacteriology in the Virginia-Maryland Regional College of Veterinary Medicine, has been awarded a $1.06 million grant from the U.S. Army to develop a vaccine for tularemia, commonly known as "rabbit fever." An infection characterized by ulcers, swollen glands, fever, and flu-like symptoms, tularemia can spread through the blood and lymphatic systems to infect the respiratory tract. Its agent of origin is Francisella tularensis, which the Centers for Disease Control classifies as a Category A bioterrorism agent. A World Health Organization Committee estimated that aerosol dispersal of 50 kilograms of virulent F. tularensis over a city of 5 million people would cause 250,000 inhabitants to become seriously infected and 19,000 deaths. TOP
---
Project gauges risk of airbag use in helicopters
Virginia Tech engineering researchers have developed a computer model to determine potential risks of airbag deployment to the eyes of military helicopter pilots wearing night-vision goggles. Erik Power, a Virginia Tech mechanical engineering (ME) graduate student at the time, was the lead researcher in development of the human eye model. Power and his research collaborators, including Stefan Duma, ME associate professor and Power's adviser on the project; ME student Joel Stitzel; Ian Herring, assistant professor of veterinary medicine; and ME Associate Professor Robert West, as well as researchers at other universities, received the Army Aviation Medical Association's Joseph Haley Writing Award, which annually recognizes the best paper published in the field of helicopter aviation medicine. TOP
---
Tech's agricultural sciences research is still tops
Virginia Tech brought in nearly $5 million more in research and development funding for the agricultural sciences in 2001 than in the previous year, according to the National Science Foundation. The 2001 increase brought Virginia Tech's funding for research in agricultural sciences to nearly $68.7 million. While Virginia Tech remained among the top 10 universities nationally in agricultural science research, its standing dropped from the No. 7 spot to the No. 9 spot. Nationally, funding for agricultural research increased about 6.2 percent to more than $2.3 billion. TOP
---
$1 million grant awarded for bioterror vaccine
Thomas J. Inzana, the Tyler J. and Francis F. Young Professor of Bacteriology in the Virginia-Maryland Regional College of Veterinary Medicine, has been awarded a $1.06 million grant from the U.S. Army to develop a vaccine for tularemia, commonly known as "rabbit fever." An infection characterized by ulcers, swollen glands, fever, and flu-like symptoms, tularemia can spread through the blood and lymphatic systems to infect the respiratory tract. Its agent of origin is Francisella tularensis, which the Centers for Disease Control classifies as a Category A bioterrorism agent. A World Health Organization Committee estimated that aerosol dispersal of 50 kilograms of virulent F. tularensis over a city of 5 million people would cause 250,000 inhabitants to become seriously infected and 19,000 deaths. TOP