Tracking down details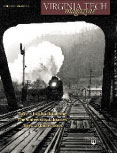 I was both surprised and elated to open up my mailbox and see the cover photo of the spring issue. I am an employee of the Norfolk Southern Railway Company, and such a picture on the cover of my alumni publication was a delight to show off to my peers in the track design and construction office in Atlanta, Ga. However, because the photo's location was undocumented, a debate soon sprang up as to where it had been taken.
It was finally agreed upon by my boss and a member of the bridges and structures department that the photo was taken in Naugatuck, W.Va., where the "NA" line, which runs from there to Kenova, W.Va., terminates and becomes the "N" line at railroad milepost 484.29 (484.29 miles from Norfolk).
Just a little bit of info to keep everyone "on track." (Sorry, it had to be said!) Keep up the good work!
John R. Tomlin '97
Atlanta, Ga.
Editor's note: We applaud your co-workers--the photo was indeed taken in Naugatuck, W.Va., in 1930.
---
Found: The one ring
Here is a story that you might find interesting. Somewhere between 15 and 20 years ago, I was playing racquetball with my brother-in-law, Michael Mandel, class of 1969, at the Westwood Club in Richmond, Va. Afterward, I went to my locker and noticed that my Virginia Tech 1965 class ring was nowhere to be found. Despite searching the locker and the locker room and reporting the ring missing, we never found it. After that day, not a week went by when I did not miss having that ring on my finger. I inquired as to a replacement but was unsuccessful.
Then, this February, I received a call from a Jimmy Bratton of the Hull Street Outlet in Richmond, who told me that he had picked up the lockers at the Westwood Club, which is renovating its men's locker room. He heard something rattling inside one of the lockers and when he unlocked it, he found what appeared to be a ring. It was covered with paint, so he soaked it in turpentine, then traced me here in Richmond.
The end of the story is that even though I've had to have the ring size enlarged--as I am nowhere near the same size I was when I was playing tennis at Tech--I am now anxiously awaiting the return of my class ring from the jeweler and truly consider Feb. 5, 2004, as one of my luckiest days.
Irving M. Blank '65
Richmond, Va.
---
The bear necessities
I'm Kim Koditek, Virginia Tech Class of 2015, and I am a big Virginia Tech fan. My house is in the woods and there are tons of wild animals. There is one special animal there, though.
My mom was just coming back from dropping me off at school when she saw that our Tech flag [on the side of our house] was gone. Half of the flagpole was still there, but the other side had been ripped off. When I got home from school, my mom told me that she had called the police because she thought the flag was stolen. Of course, I got scared.
A couple of weeks later, my dad [George Koditek Jr. '81] was walking through the woods and found the flag and broken pole. The flag was torn and ripped and the pole had big teeth marks, and we realized a bear had taken it. I said, "We must have a Virginia Tech bear!"
Kim Koditek
Aldie, Va.
---
Definition of true value
On page 4 of the Summer 2004 issue, the article about Virginia Tech "remaining a top value" says that the in-state tuition rate is $5,838. When I started at Tech in the fall of 1955, I had spent the summer (70 days) working for $1.25 per hour. (The usual "kid" wage at the time was only $1.00/hr.) Thus, after working eight-hour days, I earned $700. I saved all of it to pay for my tuition, room, board, and laundry (as a member of the corps) for my freshman year. As a result, I felt that Tech was a good value because I could earn my education by working during the summer (and over the Christmas holidays).
For the same to be true today, the student's wage during a 70 work-day summer would have to be about $10.50 per hour. I suppose that may be reasonable these days, but does this new "tuition" rate still include the corps student's room, board, and laundry? If not, why is the tuition rate today not as good a value as it was in the 1950s? I believe that any person should be able to earn enough to obtain a good college education.
David L. Overman '59
Punta Gorda, Fla.
Editor's note: The in-state tuition rate does not include room or board. Times have changed since you were a student. The Commonwealth of Virginia once supplied the lion's share of operating funds for state colleges and universities; today, however, state appropriations account for only 39 percent of the educational division (meaning that tuition must account for the balance) and 28 percent of the university's total budget. Still, by most any measure, Virginia Tech remains an excellent value. We rank 23rd out of our 23 peer universities--schools such as Penn State, the University of Texas, N.C. State, the University of California at Berkeley, and Purdue--when comparing total cost to attend. Virginia Tech is also the least expensive public university in Virginia, ranking 15th out of the 15 public colleges and universities.
---
HokieBird sightings site
Great article on our traveling HokieBird [Summer 2004 issue, page 30]. The only thing missing was the link to our website: http://thecamerons.deepnet.com/hokietours. I made it for people to see all the places the HokieBird has been.
Douglas Cameron '70
Akron, Ohio
---
Winter 2005 issue of Virginia Tech Magazine
Readers who receive the Winter 2005 issue of Virginia Tech Magazine will be getting a holiday treat! The Office of University Relations has decided to produce the winter issue in DVD format. This DVD--which will be accompanied by a truncated print version of the magazine--will feature video segments of magazine stories and departments. The DVD also will include several bonus features--new videos that showcase today's Virginia Tech, such as general overviews of the university and its students, an in-depth look at the corps of cadets, and highlights of recent health and medical research achievements. The Winter 2005 video features will be viewable on a DVD player or an up-to-date computer. Virginia Tech is proud of its achievements--we hope that after viewing this special issue, you will be, too.
---