---
Raising a stink
Virginia Tech's second Amorphophallus titanum, or "corpse plant," bloomed recently in the university's horticulture greenhouse complex, emitting its powerful signature stench and attracting hundreds of visitors who wanted a whiff of the phenomenon. A blooming Amorphophallus titanum, or titan arum, is rarely seen because it only puts forth one blossom every four to 10 years. Virginia Tech's other titan arum bloomed last fall, drawing crowds who braved not only the odor but masses of football traffic to view it. This year, the second plant--nicknamed "Phil"--seemed more attuned to the football schedule, conveniently blooming on Aug. 4.
Hilton to manage new university hotel
Virginia Tech has expanded its relationship with the Hilton Hotels Corporation to manage the university's new hotel, The Inn at Virginia Tech, and the Skelton Conference Center. The new accord will complement the agreement under which Hilton already manages The Hotel Roanoke & Conference Center under the Doubletree brand. This agreement also provides for Hilton's management of the Donaldson Brown Hotel and Conference Center (located on the Blacksburg campus), which will close as a hotel when the new complex opens in fall 2005.
TOP
Free tutoring pays--for now
Each academic year, approximately 1,200 students take advantage of the free tutoring offered in the Department of English's Writing Center. But according to Department Chair Lucinda Roy, most of these students aren't English majors--in fact, about 20 percent are from the College of Engineering. Marie Paretti, who directs the writing program for the Department of Engineering Science and Mechanics and the Department of Materials Science and Engineering, says that most of the departments in the College of Engineering don't have their own writing programs, and many of those students rely on the Writing Center for help.
Subsequently, when the Department of English's budget was severely cut in 2003 and Roy realized the Writing Center wouldn't be able to continue offering free Monday-Friday services without some help, she turned to College of Engineering Dean Hassan Aref. The dean, who contributed $10,000 to keep the center running during the 2003-04 academic year, notes that he considers the money to be reimbursement for "the fair share of use of the resource by engineering students."
The funds not only helped keep the center open, but allowed Roy to hire a tutor with professional writing expertise. Roy notes that many of the students who take advantage of the center's free tutoring have learning difficulties or use English as a second language. Additionally, professors with heavy course loads who don't have time to give students extensive one-on-one feedback on papers often refer them to the Writing Center.
As for the 2004-05 school year, Roy is unsure if the Writing Center will need additional help. "We'll try to do the best we can," she says. "I think it's probably something that the administration is going to have to look at to see if it's a service the university really needs." Still, Roy hopes that budget cuts won't force the Department of English to close the Writing Center in the future. "It's a great place for our graduate students to learn about teaching," she says
TOP
Kelly becomes new College of Natural Resources dean


Michael Kelly, former chair of the Natural Resource Ecology and Management Department at Iowa State University, became the second dean of Virginia Tech's College of Natural Resources on Sept. 1. He replaces Gregory N. Brown, founding dean of the college, who announced his retirement this summer. A Fellow of the Soil Science Society of America, Kelly joined the Iowa State University Department of Forestry as professor and department chair in 1995, a position he held until 2002. Under his leadership, the department increased its research significantly and gained prominence in restoration ecology, bio-based materials research, and undergraduate natural resource education. Kelly, who also served as interim chair of the Department of Horticulture during 2001, implemented in 2002 a merger of the Department of Forestry and the Department of Animal Ecology into the Department of Natural Resource Ecology and Management.
TOP
Are you crazy?
For the Hokies, that is! If so, you could be a winner in this year's "Crazy for the Hokies" sweepstakes. Anyone can enter the contest by sending a photo of someone wearing a Virginia Tech T-shirt, holding a stuffed HokieBird, or even simply holding a sign saying "Crazy for the Hokies." Photos should be mailed to Virginia Tech Licensing, Blacksburg, VA 24061. The first-place winner will receive $5,000, the second-place winner will receive $1,000, and 10 third-place winners will receive Hokie Headquarter tailgating canopies. Winners of the fourth annual contest will be selected in a random drawing and announced at halftime during the Tech vs. University of Virginia football game on Nov. 27. For more information, go to http://www.crazyforthehokies.vt.edu/.
TOP
Program helps teachers meet requirements
This fall, Virginia Tech's Department of Teaching and Learning in the College of Liberal Arts and Human Sciences resumed its 39-credit master of arts in education with reading specialization endorsement (PK-12) for the state of Virginia. The degree program, which has been accredited for more than 15 years, was put on hiatus several years ago; however, the extensive reading proficiency requirements of the national No Child Left Behind Act created a demand that led to the program's reinstatement. Designed for experienced teachers, the program will admit up to 20 students. Its first course is being offered during the fall 2004 semester at the Higher Education Center in Roanoke, Va.
TOP
Licensing royalties surpass $1 million


Virginia Tech closed out fiscal year 2003-04 with an all-time high of more than $1 million in licensing revenues, which translates into retail sales of more than $25 million. This new benchmark represents continuous growth in licensing royalties at Virginia Tech over the past 10 years. "Virginia Tech products, whether clothing or coffee cups, umbrellas or golf balls, can now be found in stores across the nation. The VT logo has instant brand recognition among sports fans," says Locke White, director of licensing and trademarks. "Virginia Tech's new affiliation with the Atlantic Coast Conference has certainly generated a tremendous amount of excitement," he adds. The university collects an 8 percent royalty on the wholesale price of goods that bear the Virginia Tech name or logo. Revenues collected from licensing royalties are directed to university scholarships.
TOP
Malawi teachers earn master's degrees
When 24 students from Malawi earned their master's degrees in education from Virginia Tech this June, the special ceremony marked an important step forward for the African nation's teacher development program. Supported by a $2.2 million grant from the U.S. Agency for International Development, this international outreach venture by Virginia Tech, in collaboration with Domasi College of Education and the Malawi Institute of Education, was created to develop a team of Malawians who can prepare primary teacher educators. These 24 graduates will form the core of the new Department of Primary Education at Domasi College, which will offer a bachelor's degree in education. Next year, six additional Malawians will earn their doctorates from Virginia Tech.
TOP
Stemming illegal music downloads
By joining Apple's iTunes on Campus program, Virginia Tech became one of several universities taking steps to stem the illegal downloading of music by students. Beginning this fall, current faculty, staff, and students are able to access the iTunes software at no cost to the university. iTunes offers an extensive library of more than 700,000 songs for Mac and PC customers to purchase and download for a small fee. "Virginia Tech's use of iTunes will allow students to download songs legally and will also assist faculty members who may use music in their curricula," says John Krallman, the university's director of Information Technology Acquisitions. This partnership emerged in response to the growing national debate over copyright infringement when music, photographs, and other electronic information are downloaded from the Internet. Earlier this year, the Record Industry Association of America filed lawsuits to stop illegal music usage and subpoenaed several universities, including Virginia Tech, to provide the names of students using IP addresses to which the association had traced music downloads.
TOP
University celebrates new dairy complex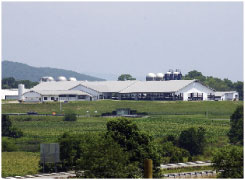 More than 500 dairy industry supporters, including alumni, producers, students, faculty, legislators, and administrators, helped Virginia Tech's College of Agriculture and Life Sciences celebrate the opening of its new state-of-the-art dairy complex during a ceremony held at the Alphin-Stuart Livestock Arena on July 16. According to Sharron Quisenberry, dean of the College of Agriculture and Life Sciences, the new dairy facility will greatly enhance the college's ability to educate dairy science students, increase research-funding opportunities, and help it demonstrate optimal management practices. The facility features a 232-cow freestall research barn and a double-eight, rapid-exit herringbone milking parlor and milking center. The complex also includes the latest design in waste management technology, including solid separation and composting, and the recycling of wastewater after extensive separation and a three-stage aeration process.
TOP
Student power
This summer, vehicles created by engineering students conquered in the air, on land, and at sea.
In June, "Centuria," a single-engine jet aircraft designed by 15 undergraduate engineering students from Virginia Tech and their counterparts at Loughborough University in the U.K., won the Best Overall Award in NASA s 2004 Revolutionary Vehicles and Concepts Competition. Students were challenged to develop innovative concepts and systems for future aircraft. Virginia Tech s team designed Centuria with a new jet engine optimized for lower flight speeds at low altitudes.
This marks the second consecutive year and the fourth time in the past seven years that Virginia Tech/Loughborough University teams have won first place in NASA-sponsored university design competitions.
Triumph in June also came on the ground when the Virginia Tech Autonomous Vehicle Team won first place overall and several event categories during the 12th annual Intelligent Ground Vehicles Competition. Tech's team of 18 undergraduates and one graduate student constructed three of the 28 vehicles in the competition and was the only group from the U.S. to place in any event category. Each autonomous vehicle was equipped with computer and navigational technologies and programmed to maneuver without direct human intervention. Virginia Tech's "Johnny-5" vehicle placed first overall, first in the autonomous challenge category, and second in the navigation and design categories. "Gemini" placed third overall, third in the autonomous challenge, and first in design. "Optimus"--last year's first place overall winner--took home third in the navigation challenge.
In August, piloting "Specter," Tech students set two world records and won two first-place prizes during the international Human-Powered Submarine Contest in Escondido, Calif. Specter has two parts--a fin and a composite nosecone equipped with SCUBA gear. The pilot, whose head and torso fit into the nosecone, propels the sub by butterfly kicking with the fin. Amy Linklater, a master's student in aerospace engineering, set the women's world speed record with Specter in the one-pilot, non-propeller-driven submarine category with her top speed of 3.427 knots. Adam Maisano, a master's student in materials science and engineering, set a men's world speed record in the same category with a top speed of 3.574 knots. Both speeds are being submitted to The Guinness Book of World Records.
In addition, the Virginia Tech team--which also included four undergraduates and another graduate student--won top prizes for most innovative submarine and best operating team and second-place prizes for best submarine design and most safety-conscious team.
TOP
---
Anticancer drug improved


A multi-university research team, led in part by Virginia Tech University Distinguished Professor of Chemistry David G.I. Kingston, has altered the structure of the world's best-selling anticancer drug, paclitaxel--commonly known as Taxol--to make it more active in killing cancer cells. Because paclitaxel, a highly complex compound, cannot be prepared synthetically in a commercially viable way, the research team's objective was to break down the drug's structure in order to develop an effective synthetic compound. Previously, the shape of a side chain in paclitaxel's structure was unknown, and scientists were unsure exactly how it bound itself to cancer cells. Using a molecular design of the drug, the research team developed a synthetic compound that proved 20 times more active than the original.
TOP
Macromolecules institute created
Virginia Tech's nationally recognized excellence in the field of polymer science and engineering has led the university to create the Macromolecules and Interfaces Institute (MII), representing the convergence of three centers, an institute, and a graduate degree program. MII consists of about 20 faculty members who are heavily involved in polymer, adhesion, and composite research, along with more than 30 additional faculty members. The new institute will streamline research efforts in polymer science and engineering and may even raise the university's top-five ranking in the field. Research in the areas of macromolecules, interfaces, adhesion, and composites currently accounts for approximately $8.5 million in annual research expenditures at Virginia Tech.
TOP
VBI receives largest NIH contract
The Virginia Bioinformatics Institute (VBI) at Virginia Tech and its partners have been awarded a five-year, $10.3 million contract from the National Institute of Allergy and Infectious Diseases, a branch of the National Institutes of Health (NIH). The purpose of this contract, one of the largest from the NIH in Virginia Tech's history, is to establish a national Bioinformatics Resource Center (BRC) comprised of a multi-organism relational database in support of infectious disease research, especially as it affects biodefense and emerging infectious diseases. VBI's BRC will study a wide range of common diseases, including hepatitis A, rabies, Rocky Mountain spotted fever, and typhus. VBI will serve as the lead research group among collaborators from the Virginia-Maryland Regional College of Veterinary Medicine, Virginia Tech's Department of Computer Science, Loyola University Medical School, the University of Maryland, and Social and Scientific Systems Inc.
TOP
Tech to study unmanned vehicles
Using a $2.2 million grant from the U.S. Department of Defense, Virginia Tech researchers will develop an experimentation site at the Virginia International Raceway near Danville, Va., as an initial step in the Joint Unmanned Systems Testing, Experimentation, and Research (JOUSTER) program. Unmanned and autonomous vehicles are increasingly important in military and search-and-rescue activities. Advancing the technology through programs like JOUSTER will eventually make it possible for unmanned machines to do more of the dangerous work, such as finding land mines and conducting close-range air surveillance in military conflicts. Charles Reinholtz, Alumni Distinguished Professor of Mechanical Engineering, says the experimentation site will be the first devoted to both unmanned air and unmanned ground vehicles.
TOP