NEWS
---
New April 16 Memorial dedicated
To coincide with the start of the new academic year, Virginia Tech dedicated a new April 16 memorial on Sunday, Aug. 19. The memorial, which includes 32 permanent Hokie Stones etched with the names of those who lost their lives, is in front of the Drillfield viewing stand, the same location as the original temporary memorial that was created in the hours and days following the shootings.
"Today, we join together as a community to honor, commemorate, and pay tribute to the talented minds of those innocent individuals who were taken from us far too soon," noted Vice President of Student Affairs Zenobia Hikes. "These cherished members of the Virginia Tech family--the young, gifted minds searching for knowledge and the dedicated, talented professors imparting that knowledge--will never be forgotten. With our native limestone as the base, we have etched their names into the foundation of this great university. The dedication of this memorial marks our determination to treasure the beautiful lives they lived."
During the ceremony, the 32 Hokie Stones used in the temporary memorial were offered to the families of the victims. After President Charles Steger concluded the ceremony by dedicating the memorial, a bell was rung 32 times.
To watch a video of the dedication ceremony, view a slideshow of the ceremony, or read transcripts of all the speakers' remarks, go to www.vt.edu/remember/memorial_dedication/.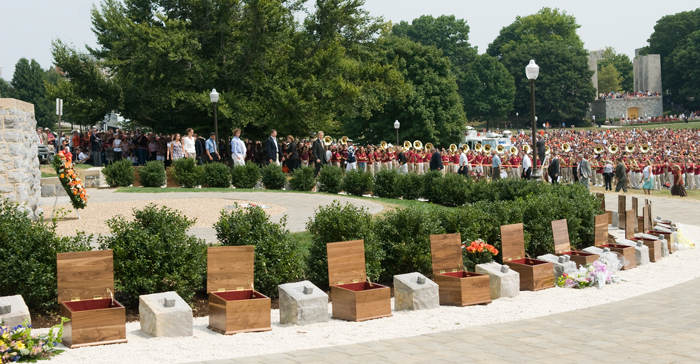 ---
VT-ENGAGE to honor victims of April 16
Virginia Tech has announced a new initiative called VT-E
NGAGE to honor the victims of April 16, 2007, and to reaffirm its commitment to its motto, Ut Prosim (That I May Serve).
The goal of VT-ENGAGE is for students, faculty, and staff to perform 300,000 hours of community service by April 16, 2008. The Virginia Tech Alumni Association executive committee voted this week to challenge its members around the world to donate an additional 300,000 hours of community service for a total of 600,000 hours.
"Imagine the power of 600,000 hours of community service," University Provost Mark G. McNamee said in announcing the initiative. "We can truly make a significant difference in communities around the world. We also hope other colleges and universities in the United States and abroad will join us by volunteering to honor the exemplary individuals we lost."
Explaining how alumni can contribute, Tom Carter (mechanical engineering '81), international president of the Virginia Tech Alumni Association, notes, "There currently are 116 active alumni chapters through which many alumni may choose to dedicate service hours to programs already in place for the chapters. However, all alumni are encouraged to select an avenue of service of their choice and pledge at least 10 hours through VT-ENGAGE in honor of the victims of April 16. It is hoped that alumni will perform their pledged service between the remaining months of this fall and before next April."
The volunteer service campaign kicked off on Tuesday, Oct. 16. To learn more about taking part in VT-ENGAGE, go to www.engage.vt.edu.
New program series helped to acclimate new students


This fall, Virginia Tech helped ease incoming students into college life with a new program, Hokie F6. Spanning the first six weeks of the fall semester, the program introduced students to their residence hall communities, showed them how to get involved in various campus organizations, familiarized them with alcohol awareness and safety practices, and connected them with campus resources that will aid them throughout their college careers. Participants also enjoyed free pizza parties, attended study skills seminars, and participated in community service projects. The featured event, The Tunnel, was designed to challenge students' ideas about diversity, tolerance, and oppression by immersing them in multimedia presentations. For more on Hokie F6, go to www.studentprograms.vt.edu/reslife/hokief6.

Courtesy of the Blacksburg Partnership

Come for the football,
take home a HokieBird


Show your Hokie spirit the day before Virginia Tech takes on the Florida State Seminoles at Lane Stadium.

On Friday, Nov. 9, the Blacksburg Partnership is auctioning off several remaining HokieBird "Gobble de Art" statues. The "Hokie Hoedown" auction will be held at the Blacksburg Country Club at 6 p.m.

To take a look at the birds, go to www.gobbledeart.org; the remaining statues are marked "available."

Proceeds from the auction will support the Blacksburg Partnership, a coalition of the Town of Blacksburg, Blacksburg businesses, and Virginia Tech that promotes the quality of life in Blacksburg.

Contact Diane Akers of the Blacksburg Partnership at 540/433-2008 or diane@blacksburgpartnership.org to learn more about the auction.
Tech team a semi-finalist in DARPA Urban Challenge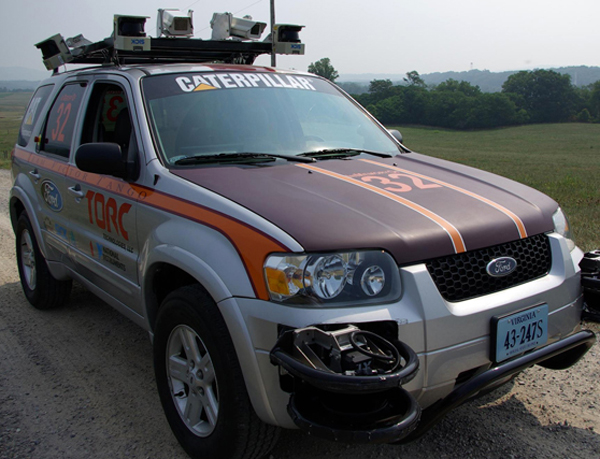 "VictorTango," a team of Virginia Tech engineering and geography students, will travel to Victorville, Calif., for the national qualifying rounds of the Urban Challenge autonomous vehicle competition, sponsored by the Defense Advanced Research Projects Agency (DARPA). The Tech team is among 36 semi-finalists selected by DARPA to vie for the Urban Challenge prizes--$2 million for first place, $1 million for second, and $500,000 for third.

After the Oct. 26-31 qualifying rounds, 20 teams will go to the starting gate for the final event on Nov. 3. Urban Challenge teams are attempting to develop vehicles that can maneuver a 60-mile course through traffic in less than six hours with no human intervention allowed past the starting line. The vehicles will have to obey California traffic laws, merge into moving traffic, navigate traffic circles, negotiate intersections, and avoid moving obstacles. VictorTango qualified for the semi-finals during a site visit made by DARPA judges to Virginia Tech earlier this year. The team's vehicle successfully demonstrated fully autonomous capabilities, driving a road course and interacting with human-driven vehicles. To learn more and to view a video of the vehicle in action, visit www.victortango.org.
---
Marching Virginians Band Day


On Sept. 15, during this year's MV Band Day, the Marching Virginians and the Marching Virginians Alumni Association celebrated a significant milestone during their halftime performance: 30 years of music from the pen of James Sochinski (pictured at left).

Formerly director of The Marching Virginians, Sochinski has created more than 250 arrangements for the MVs, writing in virtually every genre conceivable, from the Rolling Stones and Jimi Hendrix to Brahms, Shostakovich, and Orff.

His arrangement of "The Hokey Pokey," first performed in 1980, is the signature tune of the MVs and Virginia Tech.

Another work of special note is Sochinski's new arrangement of "Amazing Grace," written to commemorate April 16 and to honor Ryan "Stack" Clark, once a member of the band's baritone section. The piece features the baritones and, symbolizing all 32 lives lost, builds to four tone clusters comprised of eight notes each.


(Left): James Sochinski conducting "The Hokie Pokie" on MV Band Day. Photo by Bob White.
---

Own a piece of the "Hokie Nation"


"Hokie Nation," a feature-length documentary on Hokie football fan culture, is now available on DVD.

The documentary, which was shown in theatres in Blacksburg, Northern Virginia, Richmond, the Tidewater region, and Roanoke, features interviews with fans of all ages, as well as with Tech sports legends such as Bruce Smith, Antonio Freeman, Shayne Graham, and Coach Frank Beamer.

"Hokie Nation" was filmed between July 2006 and March 2007 and covers the entire Hokie game-day experience. For more information, go to www.hokiemovie.com.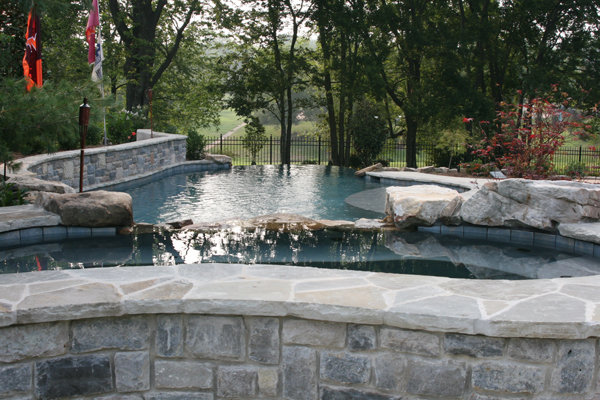 Steve Barry (marketing '81), treasurer of the Middle Tennessee Alumni Association, wanted to create what he calls a "little Hokie Oasis here in Tennessee."

Although he had hoped to use Hokie Stone, the actual stone from the Virginia Tech quarries is limited to university use only. Undaunted, Barry learned about the process of turning ordinary limestone into Hokie Stone and relayed that information to the construction crew. He also helped pick out the stone to be used, "even running specific percentages against the color variations based on campus photos," he says.

The project took about four weeks longer than the regular stone work that the cutters had performed in the past but, as this photo shows, it was time well spent!
Battle of the bugs . . . and more

An invader is destroying America's hemlocks. Virginia Tech forest entomology researchers are using the predators provided by nature in the villain's homeland to do battle in the United States. The eastern hemlock, a tall, long-lived coniferous tree that shelters river and streamside ecosystems throughout the eastern United States and Canada, is in serious danger of extinction because a tiny, non-native insect is literally sucking the life out of it. Entomologists at Virginia Tech are now studying a beetle from Japan that may be a natural predator of Adelges tsugae, or hemlock woolly adelgid. This research is only one of several projects--including tornado chasing, wearable computers, data mining, cognitive and emotional development in children, and recovery in Bosnia--reported in the latest issue of the Virginia Tech Research magazine. To learn more, read the magazine online at www.research.vt.edu/resmag/ or request a copy by e-mailing strulove@vt.edu.
Q: What does Virginia Tech have in common with "Jaws," Andrews Jackson, and a fruit fly?

A: They're all answers to questions on a card from the Volume 6 edition of Trivial Pursuit.

Pretty cool . . . however, we think that the Hokies are ANYTHING BUT trivial.
HokieBirdies at British Open



Tech golfer Drew Weaver did the seemingly impossible in June. Although ranked 181st among amateur golfers around the world by The R&A (derived from the Royal and Ancient Golf Club of St. Andrews), Weaver won the 2007 British Amateur Championship, the first American to do so since 1979. Even Weaver hadn't planned on playing so well--he'd traveled to Britain with his parents and had expected to "play a little golf" before sightseeing. The dream vacation, however, became a dream come true--in addition to stunning the golf world, Weaver won exemption into the British Open Championship, one of only six amateurs and the only American in the field of 156, which teed off at Carnoustie, Scotland, on July 19. Weaver birdied his first two holes and was only two strokes off the cut to compete in the championship's final two days. Following the Open's second day, "ABC World News Tonight" named Weaver its "Person of the Week." In an interview shortly after he had returned from Britain, Weaver said, "It's been overwhelming. It hasn't sunk in yet. I don't want to wake up from this dream."
---
Virginia Tech Magazine continues to receive condolences, poems, and other displays of support from alumni and friends in the wake of April 16. As a result, the Web page dedicated to such items is regularly updated. Go to www.vtmagazine.vt.edu/memorial07/condolences.html.

RESEARCH NEWS
VTTI awarded $3 million to plan driving study
The National Academy of Sciences' Strategic Highway Research Program 2 has awarded the Virginia Tech Transportation Institute (VTTI) $3 million for the Design of the In-Vehicle Driving Behavior and Crash Risk Study, the first stage of a multiphase project that will ultimately become the largest naturalistic driving study ever conducted. The VTTI research team was chosen for this project largely due to its experience with the 100-Car Naturalistic Driving Study, completed in 2006 and widely recognized for its advanced technology and comprehensive database. Other key members of the research team include the University of Michigan Transportation Research Institute and the Batelle Memorial Institute.
For this first phase, researchers will develop a research plan and technologies to be used in the full-scale data collection and analysis effort and will also conduct a small pilot study. Similar to the 100-Car Study, this pilot study will collect naturalistic (real-world) driving data from drivers in their own vehicles. VTTI's Data Acquisition System (DAS), first used for large-scale naturalistic research in the 100-Car Study, will be examined as part of this planning phase. Researchers hope to improve the system and to equip a small fleet of vehicles with advanced DAS's featuring traffic-signal-state assessment, lateral proximity sensors, real-time eye tracking, and ambient temperature sensors.
After completion of this phase, the institute will submit a proposal to conduct the data collection and reduction effort and then to complete a variety of analysis projects. Currently, the full-scale project is projected to be completed in 2011. The final study will look at a minimum of 2,500 cars nationwide, with the possibility of up to 10,000 vehicles instrumented in different stages.
Pioneering study proves increase in equine obesity
America's growing obesity problem isn't confined to humans. A team of researchers in the Virginia-Maryland Regional College of Veterinary Medicine and the College of Agriculture and Life Sciences at Virginia Tech has determined that horses are also facing serious health risks because of obesity. A pioneering study found that 70 percent of the horses evaluated were determined to be overweight or obese.
Previously, only one other study had looked at obesity in horses. A 1998 owner-reported survey of horse-owners conducted by the USDA's National Animal Health Monitoring System suggested about 5 percent of horses were overweight. Based upon the horses routinely seen through clinical practice in the Veterinary Teaching Hospital, however, the researchers "thought it was at a level of at least 15 percent," says Craig Thatcher, a professor in the veterinary college's Department of Large Animal Clinical Sciences. The team was alarmed to find that the numbers were more than double what they'd expected: 51 percent of the horses in the study were found to be overweight and 19 percent were found to be obese. "This study documented that this is an extremely important problem in horses that has been under-reported," says Thatcher, who, along with his colleagues, believes the study results suggest that horse-owners should change some of the ways in which they care for their horses. Also hinted at was that horses could emerge as an important model for studying the health implications of human obesity. Just as with people, it appears that the culprits for equine obesity are overeating and lack of exercise. For more on the study, go to www.vtnews.vt.edu/story.php?relyear=2007&itemno=390.
Nominate a scholar
Every week for 10 years, the Office of the Vice President for Research at Virginia Tech has recognized the research and scholarship of an individual faculty member. This recognition has also been an effective way to acquaint others with the research and scholarly activities going on at the university. In the program's early years, scholars were nominated by department heads and distinguished professors. Since the feature began to appear on the Web, however, nominations have been submitted by other faculty members and from students and alumni. "It is gratifying to hear about faculty members who shared their enthusiasm for research or scholarly discovery and creativity with students and earned the students' respect by so doing," says Robert Walters, vice president for research. "We appreciate the alumni nominations and perspectives on the research." Alumni interested in nominating a Scholar of the Week should go to www.research.vt.edu/rotw/AboutROTW.htm.