ALUMNI ASSOCIATION
2012-13 Annual Report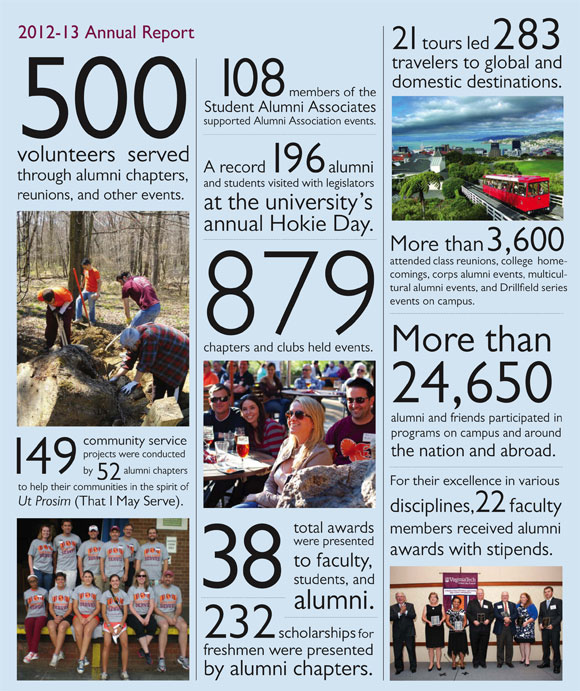 Alumni Awards
William H. Ruffner Medal
Michele "Shelley" Duke
University Distinguished Achievement Award
Tracy D. Wilkins
Alumni Distinguished Service Awards
Ben J. Davenport Jr. (business administration '64)
David E. Lowe (business administration '63)
Graduate Alumni Achievement Award
Dhruv Grewal (M.B.A. '85, Ph.D. business, marketing '89)
Superlative Awards
Outstanding Chapter Event
Denver – Inaugural Denver Hokie Ski Day at A-Basin
Outstanding Community Service Project
Denver – Hokies Adopt a Denver Family at Christmas
Outstanding Golf Tournament
Grand Strand/Myrtle Beach – 2013 Virginia Tech Myrtle Beach Golf Tournament
Innovation Award
Baltimore – VTea Event with Random House
Broadening Alumni Engagement Award
New River Valley – "Behind the Scenes" Campus Events
Most Improved Chapter
Seattle
Outstanding New Chapter
Charlottesville
Outstanding Chapter Volunteer
Doug Ewell (mathematics '80), Shenandoah
Outstanding Chapter Officer
Rachael Spruill (English '09), San Diego
Awards for Faculty Excellence
Graduate academic advising
Subhash C. Sarin, industrial and systems engineering
Undergraduate academic advising
Andrew S. Becker, foreign languages and literature
Extension
Jennifer L. Gagnon, forest resources and environmental conservation
International education
Glenn R. Bugh, history
International outreach
Kathleen A. Alexander, fisheries and wildlife science
International research
Russell A. Green, civil and environmental engineering
Outreach
Shannon E. Jarrott, human development
Outreach (team)
John W. Blankenship Jr., Virginia Cooperative Extension (VCE)-Tazewell County; Jocelyn D. Dailey, VCE-Goochland County; Brian L. Hairston, VCE-Henry County; Jeremy C. Johnson, VCE-James City County; Robert R. Meadows, 4-H director emeritus; Tonya T. Price, VCE-Northern District; Glenda M. Snyder, Extension agent emerita
Research
Jeffrey R. Walters, biological sciences
Joseph C. Pitt, philosophy
Teaching
Marlene M. Preston, communication
Lisa M. Tucker, interior design
William E. Wine Awards in teaching
Anthony T. Cobb, management
Joseph S. Merola, chemistry
Daniel B. Thorp, history
Graduate student teaching
Kevin Buffardi, computer science
Brandon Bear, physics (honorable mention)
Graduate student service
Zenithson Ng, biomedical and veterinary sciences
Shane McCarty, psychology (honorable mention)
Outstanding Recent Alumni Awards
John L. Koontz
(food science and technology '00, M.S. '03, Ph.D. '08)
College of Agriculture and Life Sciences
Jonathan B. Eisen
(architecture '90, M.S. architecture '91)
College of Architecture and Urban Studies
Maria V. Anderson
(business information technology '09)
Pamplin College of Business
Robert E. Bishop
(mining engineering '02)
College of Engineering
Sastry V.S. Kompella
(Ph.D. computer engineering '06)
College of Engineering
Robert L. Fried
(political science '09)
College of Liberal Arts and Human Sciences
Amanda Rosenberger
(Ph.D. fisheries and wildlife '03)
College of Natural Resources and Environment
Matthew D. Shoulders
(chemistry '04)
College of Science
Kristi D. Graves
(Ph.D. psychology '02)
College of Science
Jennifer A. Landolfi
(D.V.M. '03)
Virginia-Maryland Regional College of Veterinary Medicine
Outstanding Chapter Awards
Gold
Alleghany Highlands, Atlanta, Charlotte, Denver, National Capital Region, San Antonio, Seattle, Tidewater
Silver
First State, Kentuckiana, Minnesota, N.C. Triad, Shenandoah
Bronze
Baltimore, Central Florida, Central Pennsylvania, Charleston, Chattanooga, Cincinnati, Columbia, Dallas/Fort Worth, East Tennessee, Emporia/Roanoke Rapids, Franklin County/Smith Mountain Lake, Fredericksburg, Grand Strand/Myrtle Beach, Houston, Jacksonville, Knoxville, Middle Tennessee, New River Valley, Palmetto, Prince William, Research Triangle, Richmond, Roanoke Valley, Rockbridge, San Diego, San Francisco Bay Area, South Florida, Tampa Bay, The Villages, Tideneck, Williamsburg
---
An address from Alumni Association Board President Matt Winston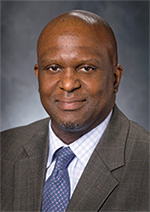 It is with great pleasure and overwhelming humility that I begin my tenure in this new role as president of the Virginia Tech Alumni Association Board of Directors. Our Alumni Association has celebrated many successes over the years, delivering strong programming and services while operating with a high level of financial strength and viability. This is due to the careful stewardship and professionalism of Vice President for Alumni Relations Tom Tillar and the entire staff who serve our alma mater.
It is because of all those accomplishments, and especially the dedication of Hokies around the world, that I am excited about what lies ahead for our association and all we might accomplish together. Our goal is to further advance the mission of the association and contribute to the overall success of our great university.
Unlike what you might find at other colleges, your membership in our Alumni Association requires no dues. I encourage you to take advantage of that and become engaged. Find an alumni chapter close to you. Volunteer and get involved in its activities, happy hours, and service projects. Help with the philanthropies that help fund projects for local communities or scholarships for the next class of Hokies. Come back to campus for reunions and activities hosted by the Alumni Association. Whatever you wish to do and however you wish to go about it, your goals can be accomplished with the support and camaraderie of your fellow alumni. Again, thank you for your service to the Virginia Tech Alumni Association and to our beloved alma mater. Go, Hokies!
---
Cotillion Club 100th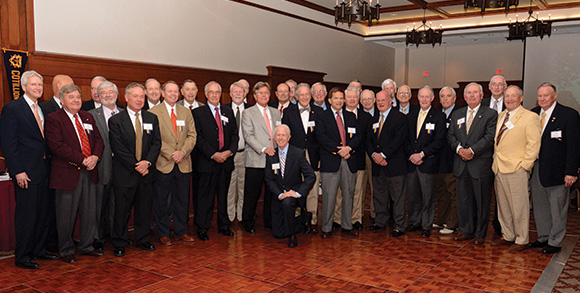 In April, Cotillion Club alumni celebrated the 100th anniversary of the club's 1913 founding on campus. In 1970, the club transitioned into Pi Kappa Alpha, reactivating the fraternity's Epsilon chapter, which was originally founded on campus in 1873. The organization had a healthy rivalry with the German Club (founded in 1892), sponsoring formal dance weekends and jointly producing concerts.