FEATURE
Tech-Savvy Success in the Heart of Blacksburg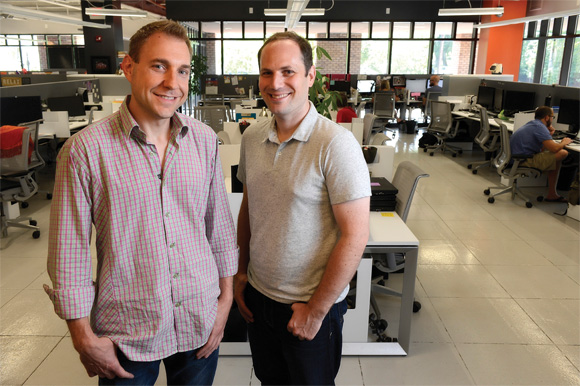 Aaron Herrington '00 (left) and David Catalano '06 (right) say the culture of their agency, Modea, is well-suited to Blacksburg. Photo by Jim Stroup.
We call ourselves Modeans," proclaims the graphic on the Modea website, which showcases the company's 2011 Ad Age Small Agency Culture of the Year award. Modeans are proud of this award, and it's easy to see why they earned it.
The digital advertising agency's office is an open space, lit mostly by ambient light streaming through the large windows that comprise Modea's corner of Kent Square in Blacksburg, Va. Desks line the walls, separated by just enough space to provide a bit of privacy if needed. Ideas are shared on the many whiteboard walls, either in bright Expo marker or on sheets of paper taped to the center wall. Movement is constant, talk is a necessity, and collaboration is essential.
The head of this group, David Catalano (finance '06) has learned the importance of collaborative spaces in an ever-changing field. Catalano's adaptability and commitment to his employees have fostered the success of Modea and its culture, and the company's strategic proximity to a major research university has led it further down the road to success.
Catalano and co-founder and business partner Aaron Herrington (business finance '00) quickly discovered that, despite the lack of people already working in digital advertising in the New River Valley, Blacksburg has many advantages, not the least of which is the ability to hire talent directly out of college. "Virginia Tech provides us with a steady stream of high-quality interns who often become full-time [employees] upon graduation," Catalano said.
Because of the surrounding area and the university, Modea has also been able to hire successfully from pools of applicants who prefer to work in small towns rather than big cities. "Another great benefit for a lot of our employees is [that Blacksburg is] a very comfortable place to raise families," said Catalano. These sentiments echo recent reports that have ranked Blacksburg as the top place to raise children—the region topped both Bloomberg Businessweek and www.realestate.com's lists on the subject.
After the company secured talented employees who wanted to live, work, and collaborate in Blacksburg, the culture developed on its own from there. "Maintaining a good culture is of the highest importance for us. If our people aren't happy, then they'll leave. The talent of our individuals is in sum total the talent that our agency has, so when our people leave, so do our capabilities and our strengths," Catalano said.
"You can't define what a culture is going to be; you can try, but it depends on the people you bring in," Herrington said. "We tried to bring in like-minded people and created a culture where people ... feel comfortable enough to talk when they have a problem."
Modea's work evolves with the market; the small digital shop is now beginning to break into more traditional media. "The more value you can prove to [clients], the more trust they have in you, and the more opportunities that you get," said Catalano. "[Now] we're helping [clients] drive their overall brand strategy and go to market strategy, across all media, not just digital exclusively. Our role has expanded rapidly over the past six years."
Despite the overall success, Modea still faces hurdles common among small businesses. Early in 2012, Modea lost a major client and was forced to cut staff in the division that focused on content creation to support the launch of smartphones.
The loss impacted the overall drive of the company. Modeans became more focused, Catalano said, and worked diligently to make up the lost revenue by spending the next few months working on intense business-development efforts. Now, Modea has grown back to approximately the same size it was prior to the layoffs last year.
"[Catalano] has had to learn to manage in great times and in hard times," said Doug Juanarena (electrical engineering '75), a friend and mentor to Modea's leaders and the vice president of Rackspace's Blacksburg operations. (Editor's note: Rackspace is another example of the region's thriving tech sector. See the story in the winter 2012-13 edition of Virginia Tech Magazine.) Catalano's relationship with Juanarena speaks to the growing network of mentor relationships in the region, which Catalano said he has seen improve in the past five years.
Catalano also credits the Roanoke Blacksburg Technology Council (RBTC) with implementing programs to allow for more knowledge-sharing among local businesses, which benefits everyone involved.
With existing business infrastructures like RBTC, access to high-quality talent, and Blacksburg's attractive quality of life, this small digital agency continues to grow in the region. "Fortunately," Catalano said, "when people move their families to Blacksburg to work at Modea, they seldom leave."
Hilary Andreas, a senior English major, and Emily Goodrich, a junior English major, were interns with Virginia Tech Magazine.