OFF THE SHELF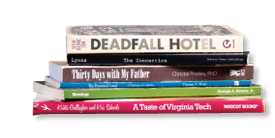 Book Notes
Books by alumni
NONFICTION
Rodney D. Barfield (M.A. history '68), "America's Forgotten Caste: Free Blacks in Antebellum Virginia and North Carolina," American history, Xlibris.
Melinda "Mindy" Conklin (family and child development '90, M.S. '94), "Richly Exposed," grief, faith, Tate Publishing.
Neil C. Damgaard (industrial engineering and operations research '75), "A History of Dartmouth Bible Church—the First Fifty Years (1963-2013)," local church history, WestBow Press.
Jerry Gaines (Spanish '71), "40 Stories High: A Compelling Account of a Teacher's Life-long Passion for Mentoring," education, ForWord Publications.


* The first black athlete both to join a Virginia Tech sports team and to receive a full scholarship, Gaines still holds school records in the outdoor long jump and 120-yard hurdles. Learn more »
Newton Lee (computer science and application '83, M.S. '84), "Counterterrorism and Cybersecurity: Total Information Awareness," counterterrorism history, technologies, and strategies, Springer.
FICTION
Kimberly Johnson Conn (family and child development '94), "Buying the Farm," family, Southern U.S., novel, self-published.
Edward Doney (mining engineering '65), "Target: Heartland," thriller, novel, Abbott Press.
Bill Prins (M.Eng. systems engineering '91), "Legends of the Ebu Gogo," archeology, historical, adventure, novel, Barnhardt & Ashe.
Jessica Buttner Sherry (English '00), "Sea-Devil: A Delilah Duffy Mystery," mystery, Christian, novel, Martin Sisters Publishing.
YOUNG ADULT/CHILDREN'S
Cliff "Cliffie" Coates (mechanical engineering '04), "The Tale of Emerys Treasure," young adult fantasy/romance, novel, Book Baby.
---
Featured author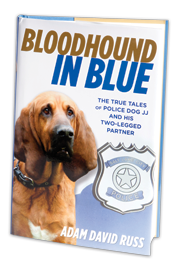 Adam David Russ (agricultural economics '94, M.S. '96) is assistant editor of the Blue Moon Literary & Art Review. His short stories have appeared in Paradigm, The Battered Suitcase, and the collection "All in the Game." A former Peace Corps volunteer, economist, and mathematics teacher, the award-winning writer is currently working on his next narrative nonfiction book. He lives in Northern California with his wife and son.
"Bloodhound in Blue: The True Tales of Police Dog JJ and His Two-Legged Partner" features police officer Michael Serio (sociology '95) and JJ, Utah's first police bloodhound. Their partnership resulted in finding missing children and tracking down hundreds of suspects and led to the addition of more than a dozen police bloodhounds in the Salt Lake City area. Below is an excerpt, reprinted with the author's permission:
"All units, be advised: Carjacking just occurred. Suspect vehicle crashed into car at intersection of 2300 East and Parleys Way. Female victim injured at the scene reports carjacking suspect fled on foot."
Serio arrived at the scene within a few minutes. The front end of a 1984 silver Nissan Maxima was wrapped in a violent embrace around the right rear bumper of a brand new black Jeep Cherokee. Officer Cody Lougy stood by the crash trying to gather information from a young woman crying and talking nonstop. A hitchhiker had taken her car with her in it, drove erratically, crashed, and ran off. Witnesses at the scene confirmed the last part; they had seen a tall white male, medium build, exit the car and run south.
Serio got JJ out and harnessed him up. Despite having a witness-confirmed direction, the start of the scent trail was going to be difficult. The crash had occurred near a busy intersection where two main roads met in a V and merged to form a larger road. Although it was 1:15 in the morning, traffic continued to pass by. Serio introduced JJ to the driver's seat of the silver Nissan Maxima, commanded "Go find!" and started casting his dog on the outer edges of the busy intersection. Officer Jeff Bedard followed, his first time behind a bloodhound. JJ picked up a track on the pavement and headed southwest through the empty parking lot of a Papa Murphy's Take 'n' Bake and behind a Phillips 66 gas station.
Serio worried a little that JJ wasn't baying, but he felt confident that, nostrils flaring and working like a Hoover upright across the asphalt, JJ was on to something.