The new College Avenue promenade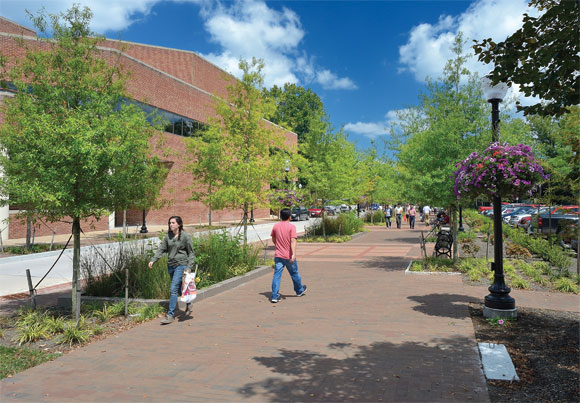 The new College Avenue promenade, which stretches from Squires Student Center to Main Street, features an extra-wide sidewalk, landscaping, and outdoor dining space for restaurants. Photo by Jim Stroup.
---
Marching Virginians facility to be constructed
This fall, Virginia Tech's popular Marching Virginians band has more than just its 40th season of existence to celebrate. In September, the Board of Visitors gave approval to erect phase one of a structure for the band—a roughly 4,300-square-foot building for instrument storage and percussion practice, and an attached, 3,500-square-foot pavilion that will provide covered space for the full band to practice, rain or shine. The project also includes a lighted practice field.
The facilities will be located behind the southeast corner of the Chicken Hill Parking lot, near Lane Stadium, and are projected to cost $4.75 million. Funding will come from the Departments of Athletics and Recreational Sports and donations raised by the College of Liberal Arts and Human Sciences.
Hokie Spirit quantified
In The Princeton Review's 2014 edition of its annual college guide, Virginia Tech again earned top honors based on student responses measured against responses from almost 400 colleges and universities. Rankings include

Pamplin restructures M.B.A. program to respond to changing market
The Pamplin College of Business is restructuring its M.B.A. program in response to changing market conditions for the graduate business degree. Starting in fall 2014, Pamplin will redeploy resources toward expanding enrollments in its part-time M.B.A. formats in Northern Virginia and other major metropolitan areas of the state.
"We're shifting our emphasis from Blacksburg to larger markets in response to student demand," said Steve Skripak, Pamplin's associate dean for graduate programs. "Urban locations like the Northern Virginia market are very attractive to our typical prospects in their 20s and 30s. We see considerable opportunity that could be seized with additional investment in recruiting top students."
Skripak emphasized that the changes will have no noticeable impact on the full-time students who began classes this fall and are expected to graduate from the two-year program in 2015. Courses and support activities for this last cohort of full-time students will go on as usual, he said.
Pamplin will offer three MBA formats designed to meet students' needs for career development and advancement while remaining employed: an executive M.B.A. in the Washington, D.C., area; a part-time program known as the evening M.B.A., also in metro Washington, D.C.; and another part-time program, called the professional M.B.A., that alternates class meetings between Richmond and Roanoke.
Blacksburg, Tech join US Ignite to help advance Internet's future
The Town of Blacksburg and Virginia Tech have joined US Ignite, a White House initiative that aims to realize the potential of fast, open, next-generation networks by facilitating a national high-speed broadband test bed for development and deployment of ultra-fast broadband applications. The initiative began in 2012 with a five-year charge from the National Science Foundation for US Ignite to serve as a coordinator and incubator of the nationwide test bed, which will spur the adoption of ultra-high speed and software-defined networks, jumpstart gigabit application development, and share best practices with its partners.
Plans are under way to enhance the broadband infrastructure in the downtown area in order to enable greater participation in high-speed network connectivity for citizens and businesses. Meanwhile, TechPad CEO and founder Bob Summers (computer engineering '98) has already received funding from US Ignite for his advanced fitness app, KinectHealth.
Locally, participation in the initiative is being led by Blacksburg Town Manager Marc Verniel and Scott Midkiff, vice president of information technology at Virginia Tech.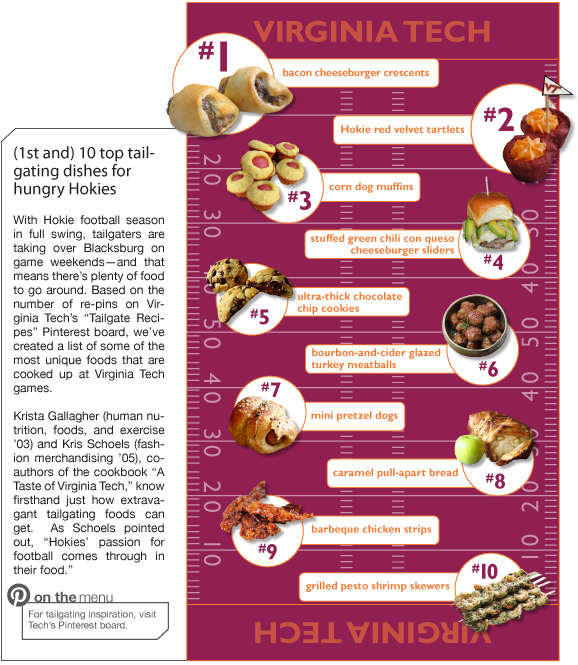 Don't hold your applause: clapping with wet hands
Focusing the dynamics of squeezing fluids using a simple experiment of clapping with wet hands, Sunny Jung and his colleagues have published a paper in Physical Review E that examines the question of why a thin film of liquid breaks into small drops by the squeezing or clapping motion.
Jung, an assistant professor of engineering science and mechanics, found that the film is ejected radically and generates fluid treads and droplets at a high speed. Other fluids, such as gasoline and oil, behave similarly, but a very viscous fluid such as honey would not. Understanding the reaction of fluid flows has implications for the mixing of fuel fluids in order to maximize combustion to attain fuel efficiency, and oil companies are interested in the findings because of the oil separation process.
Biomedical engineer achieves drug-patch breakthrough
An assistant professor in the Virginia Tech-Wake Forest School of Biomedical Engineering has developed a flexible microneedle patch that allows drugs to be delivered directly and fully through the skin. The new patch can quicken drug delivery time while cutting waste and can likely minimize side effects in some cases.
Leading development of the flexible patch was Lissett Bickford, an assistant professor and researcher of biomedical engineering and mechanical engineering in the College of Engineering. Work on the technology was completed while Bickford was a postdoctoral research associate at the University of North Carolina at Chapel Hill, and news of the delivery technology was published in a recent issue of the scientific journal Advanced Materials.
Universities celebrate grand opening in Newport News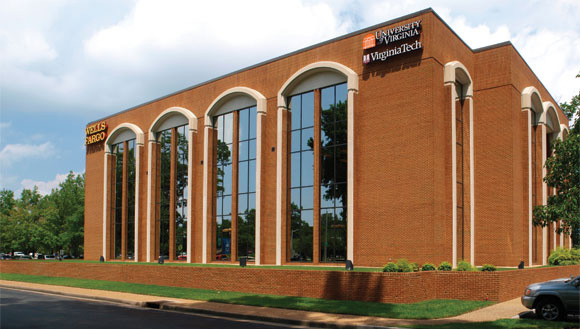 In August, Virginia Tech and the University of Virginia (U.Va.) unveiled their jointly operated Newport News higher education center, the latest in the growing body of Tech's commonwealth campus centers.
Located in Richmond, Virginia Beach, Critz, Abingdon, and Roanoke, the centers provide professional development and corporate training in their regions. Most also provide graduate-level academic offerings.
Melissa Lubin, who directs the center in Newport News, plus the centers in Virginia Beach and Richmond, said the emphasis in Newport News will be on customized professional development training for clients in industry and government. "Our longer-term goal is to expand our graduate offerings in this part of Virginia, which is concentrated in population and also in flourishing business environments," she said.
Lubin and her counterparts at U.Va. coordinated the center's development with an eye to each university's strengths, with U.Va. focused on certificate training in finance, information technology, and business. The universities will share the center's office, conference, and classroom space.
New living-learning community focuses on entrepreneurship
Thirty-five students are immersing themselves in entrepreneurship this semester through an "Innovate" living-learning community. Housed in the Oak Lane community, students from a variety of majors are living in a high-energy environment while interacting with faculty ambassadors, alumni coaches, a live-in residential learning coordinator, a graduate director, and upper-level students.
Pamplin College of Business Dean Robert Sumichrast said the Innovate program allows students to learn about entrepreneurship and build important skills, such as leadership, strategic planning, project management, and how to recognize opportunities. "Through courses in our management department, we have been preparing students to take an entrepreneurial approach in managing within any context, from startups to large organizations," Sumichrast said. "At the end of the program, these students will not only have experience, skills, and knowledge, but also have a network of colleagues and mentors that will help them launch their innovative ideas."
Student's Tanzanian library project gains momentum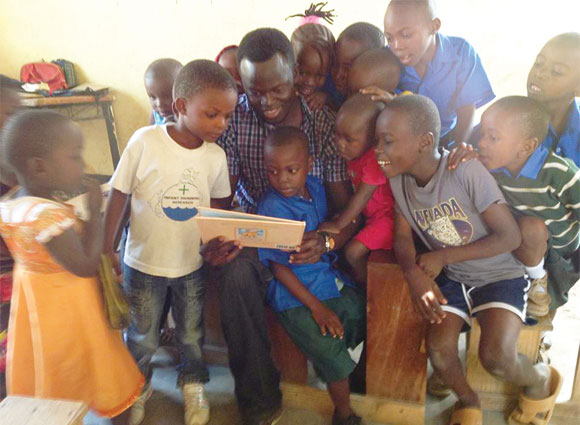 When he visited his home in Tanzania this summer, student Mohamed Mwinyi (above) received a hero's welcome. He was greeted by more than 400 students who cheered as he shared his vision for establishing a library in their village.
Mwinyi, a senior majoring in geographic information systems, came to the United States from Boko, a small village outside of Dar-es-salaam in Tanzania. He said the most striking cultural difference he encountered was unlimited access to books. In his hometown, there is no "maktaba," the Swahili word for library. The nearest one requires an expensive, complicated, all-day bus trip. Even if students can get to a library, access to the books is limited.
Mwinyi has been working on the library project for two years, collecting books, raising awareness and funds, and planning the physical location. Through University Distinguished Professor Scott Geller and his wife, Joanne, Mwinyi became involved in Actively Caring for People. He talked to one of Geller's classes, connected with volunteers, spoke to university groups, and generated more than 8,000 donated books on all subjects, which he will ship to Boko.
Now fundraising and gaining support through various community and university groups, Mwinyi is designing a website for the library project and working on an independent study of spatial analysis for the library building. During his trip to Boko, he met with government officials who were enthusiastic about the project. He now has the promise of a small room that will house the books. Teachers have volunteered to organize and secure the books, and Mwinyi is working out the details of a check-out system. "There will not be space to study, just to lend the books. But it is a start," he said.
Karen Roberto invited to review National Institutes of Health grant proposals
Karen A. Roberto, professor of human development and director of the Center for Gerontology at Virginia Tech, has accepted an invitation from the Center for Scientific Review at the National Institutes of Health to serve as a member of the Social Psychology, Personality and Interpersonal Processes study section. Her term extends from July 1, 2013, until June 30, 2017.
In this role, Roberto will review grant proposals made to the study section and make recommendations for funding. Membership represents a major commitment of professional time and energy, as well as a unique opportunity to contribute to the national biomedical research effort.
Roberto also serves as director of the Institute for Society, Culture, and Environment at Virginia Tech and holds the positions of adjunct professor in the Department of Internal Medicine and Department of Psychiatry at the Virginia Tech Carilion School of Medicine.
Researcher's work combines micro-organisms, unmanned drones
David G. Schmale III, an associate professor of plant pathology, physiology, and weed science in the College of Agriculture and Life Sciences, was named one of Popular Science's 2013 Brilliant Ten in the magazine's October issue.
His research using drones— also called unmanned aerial vehicles or UAVs—to explore microbial life in the atmosphere earned him a spot on the prestigious international list of scientists, engineers, and thinkers whose innovations change the world. Schmale and colleagues use research drones to track the movement of dangerous microorganisms that surf atmospheric waves. These atmospheric waves collect, mix, and shuffle microorganisms across cities, states, and even countries. The research has deepened understanding of the flow of life in the atmosphere, and has contributed unique tools for scientific exploration in the burgeoning field of aeroecology.
Recreating the ancient secrets of Damascus steel
This summer, two undergraduate students sought to unravel a historical secret lost centuries ago that has wide-ranging implications—such as lighter, more fuel-efficient cars and more powerful reactors for energy— for our future.
Participating in the Scieneering program, Veronica Kimmerly, a senior chemical engineering and mathematics major, and Beck Giesy, a sophomore mathematics major, put their hands and minds to work on trying to recreate Damascus steel—just one of the several projects tackled by more than 250 undergraduates conducting research across campus this summer.
The steel, manufactured as far back as 900 A.D. in the area that is now Syria, was known for its overwhelming strength and sharp blade, while also being capable of bending without breaking. But those who made the steel died hundreds of years ago without passing on the process. Researchers recently analyzed ancient pieces and found that the material contained carbon nanotubes—cylindrical constructs made up of a highly structured form of carbon—evenly dispersed through the metal. At the same time in the laboratory of Barry Goodell, professor of sustainable biomaterials in the College of Natural Resources and Environment, another discovery showed carbon nanotubes could be formed from wood and plant fibers.
"We are trying to make samples by pressing pre-carbonized wood fiber in between steel plates," Kimmerly said. "Basically, we are forming carbon nanotubes and then trying to press them into the steel."
The positive learning experience has helped stretch the students' boundaries. "The purpose of Scieneering is to do interdisciplinary research," Giesy said. "I decided to take that to the extreme and do something I had absolutely no idea about. With nanotubes, this whole process is about chemistry on a micro-molecular level, which I don't know much about—I've just taken basic chemistry [course work] so far. I am learning it as I go, and it makes it fun."
---