ALUMNI SHORTS
Superman's stunt double has Hokie roots Paul Darnell '05
It's a bird! It's a plane! It's … a Hokie?
Paul Darnell (human nutrition, foods, and exercise '05) spent his childhood like many American kids: playing sports, climbing and jumping off things, and pretending to be a superhero. But unlike most, Darnell recently got a chance to live out his fantasies when he was cast in "Man of Steel" as a stunt double for Henry Cavill, the film's Superman.
"I remember pretending to be Superman in my parents' backyard with a towel wrapped around my neck," Darnell said. "So to put on the actual Superman costume, it was fulfilling one of those lifelong dreams."
While at Tech, Darnell started preparing for his stunt career through both his nutrition-focused major in the College of Agriculture and Life Sciences and as a member of the club gymnastics team. Post-graduation, Darnell made the move to California, where he has rubbed elbows with some famous company. Darnell performed as a stunt double for actor Adam Sandler in 2008's "You Don't Mess With the Zohan," as well as for Robert Pattinson in several films, including "Twilight." Darnell also did stunt work in such movies as "Race to Witch Mountain," "The Other Guys," and "Battleship" before taking on the iconic Superman this past summer.
Beyond his growing list of film credentials, Darnell spends much of his time practicing freerunning, a sport that combines athletic skill with creativity. Though he can't quite leap over buildings in a single bound, Darnell does quite a bit of leaping between buildings and doing flips off every surface he can find. He often incorporates his freerunning tricks into his stunt work, but he has also found a more rewarding use for his unique skill set.
In the spirit of Ut Prosim (That I May Serve), Darnell, along with friends, opened the Tempest Freerunning Academy in Los Angeles. Children and teens learn freerunning skills from professionals in a safe gym environment. The academy opened in 2011 and its promotional video boasts more than 6 million views on YouTube. "[The gym] has changed our lives for the better," said Darnell, "and [I] hope that we can instill in children what we have learned and that anything is possible."
---
Tornado relief in Oklahoma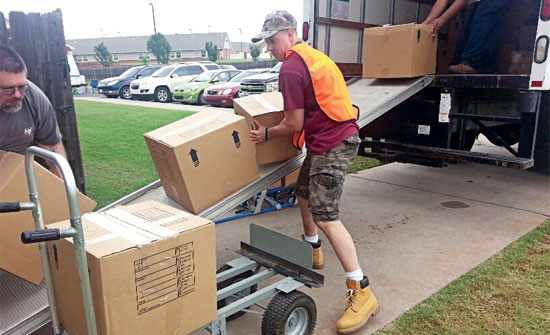 Gregory Azar '01
When a May 20 tornado devastated Moore, Okla., the Hokie Nation responded. Working with co-worker, friends, and Virginia Tech alumni in the Dallas-Ft. Worth area, Gregory Azar (housing, interior design, and residential management '01), pictured above, collected more than $4,000 in supplies within a week and led a convoy to Oklahoma.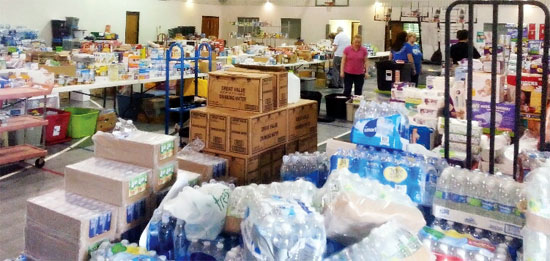 The volunteers delivered chainsaw oil, work gloves, water and Gatorade, diapers and baby wipes, shovels and rakes, respirator masks, pet supplies, toys, groceries and more. Several weeks later, 40 volunteers from Texas returned with more than $35,000 in donations, also helping a half-dozen homeowners with repairs and debris removal. Ut Prosim, indeed.
---
White House honors 2 'Champions of Change'
For their work in addressing critical transportation issues in the U.S., two alumni were among those dubbed "Champions of Change" by the White House. Tom Dingus (M.S. engineering and operations research '85, Ph.D. '87) and John Hillman (M.S. civil engineering '90) were among a small group of innovators honored in May. This year's theme was "Transportation Technology Solutions for the 21st Century."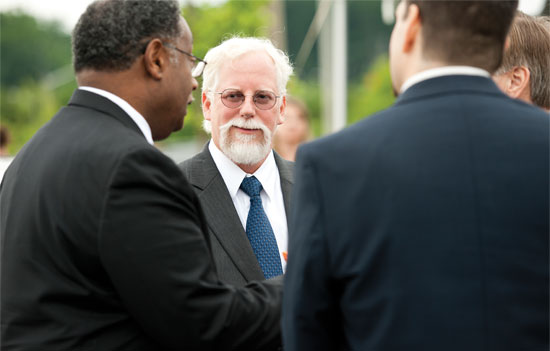 Tom Dingus '85, '87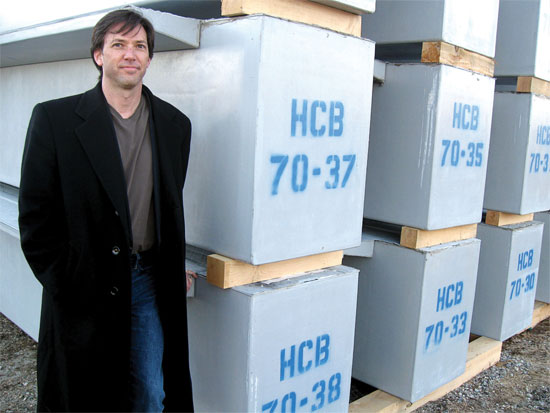 John Hillman '90
Dingus has served as director of the Virginia Tech Transportation Institute (VTTI) since 1996. An endowed professor of civil and environmental engineering in the College of Engineering, Dingus also serves as director of the institute's National Surface Transportation Safety Center for Excellence.
"The award also recognized all of those working at VTTI," said Dingus. "As the second-largest university-level transportation institute in the U.S., we are conducting research to save lives, save time, save money, and protect the environment. Our researchers and students are continually helping shape national and global change in public policies for driver, passenger, and pedestrian safety and are advancing the design of vehicles and infrastructure to improve safety."
Hillman, founder and president of HC Bridge Company LLC, has been employed as a structural engineer in the inspection, construction, and design of unique bridges for more than 27 years. He holds four U.S. patents for the unique bridge technology known as the Hybrid-Composite Beam (HCB), which helps address the growing number of structurally deficient or functionally obsolete bridges in the U.S.
"The HCB provides an alternative solution for new construction and bridge reconstruction that provides for longer service lives because of the corrosion-resistant nature of the composite materials," said Hillman. "In addition, because they're lighter weight and can be installed very quickly, there's less inconvenience to the traveling public. In the long term, there's definitely a financial benefit to using this technology."