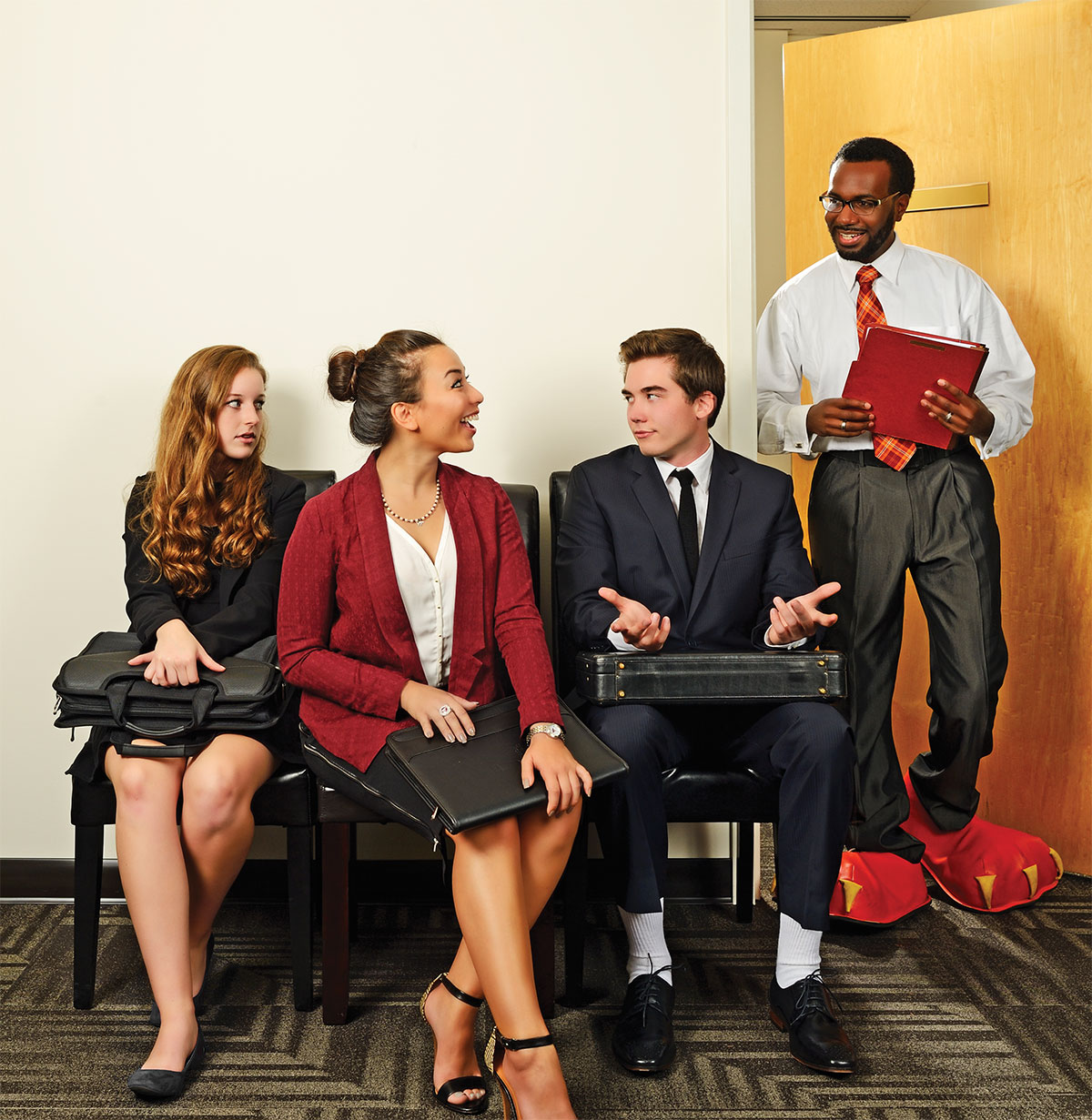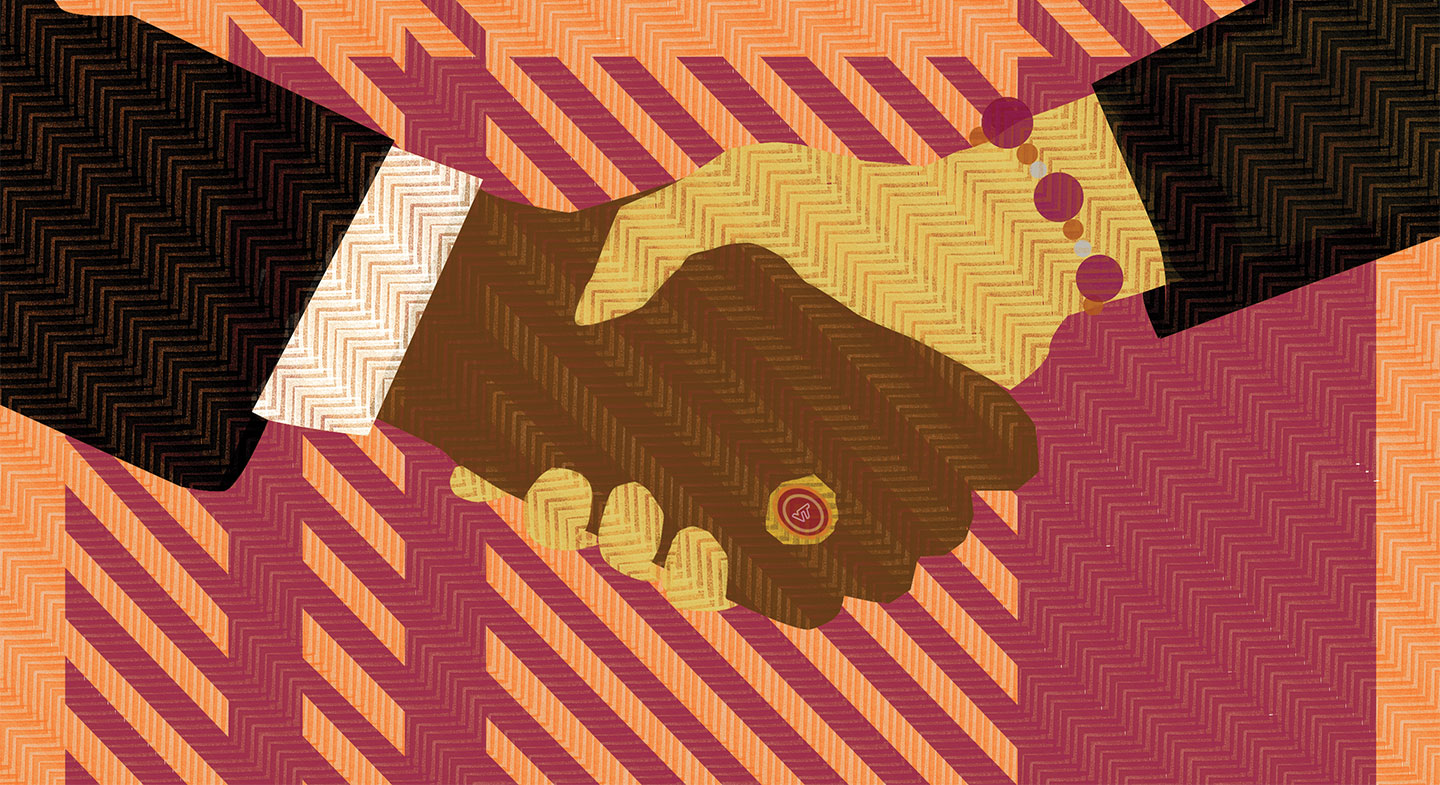 You're Hired!
The networking power of the Hokie Nation
by Mason Adams
Illustrations by Brad Soucy
You're Hired!
The networking power of the Hokie Nation
by Mason Adams
Illustrations by Brad Soucy
Unexpectedly bumping into another Hokie is one of the many joys that comes with a connection to Virginia Tech.
The encounter may start with something subtle, such as a slight Southern accent, or something obvious, such as orange and maroon from head to toe. Talk then shifts to campus building projects, a favorite professor, or a certain football team. Soon, former strangers have become fast friends, building a personal bond based on mutual trust and shared experiences.
Beyond the chance encounters, thousands of Virginia Tech alumni, students, faculty, and staff partner in a variety of Hokie networks that provide jobs to new graduates, a steady stream of talent to businesses, and an ongoing dedication to living the university motto of Ut Prosim (That I May Serve). Stretching across the university's colleges, campuses, and alumni chapters, these networks give students an opportunity to develop new skills and learn by doing while offering alumni access to talented graduates and a way to help their alma mater.
"When I go into a conversation, even if it's someone I don't know, and I say that I'm a Hokie, it not only breaks down barriers, but there's a level of trust that's pre-established, a cultural fabric related to values."

Mehul Sanghani '98
Coming home
Every year, the largest companies of the accounting world partner with the Pamplin College of Business to recruit Virginia Tech graduates. And without fail, it is the recent graduates who have been hired by what's now known as the "Big Four"—PricewaterhouseCoopers, Deloitte Touche Tohmatsu, Ernst & Young, and KPMG—who return to campus to recruit the next crop of talent.
It's been that way for decades. Back in the '80s, the then-"Big Eight" of accounting firms did the same thing. That's how Todd Headley (accounting '85) was hired by the Arthur Andersen firm. Over four years as an employee there, Headley gained professional training and experience working with 70 companies and learning all aspects of accounting, customer service, marketing, and more.
That immersive education left Headley perfectly poised for a leap into the rapidly growing tech start-up world of the early '90s.
"Over my career, I had worked in sales operations, financial operations, logistics, information technology, human relations, investor relations—a whole bunch of different things," Headley said. "What a start-up does is give you an opportunity to work outside the box. If you show an aptitude for it, guess what: You get more work. For me, it was a thrill."
From 1992 to 2003, Headley held key positions with four start-up companies that ultimately all sold to larger firms. He then joined Sourcefire, a network security firm with 30 employees and $2 million in annual revenue. During Headley's tenure as its chief financial officer, the firm grew to 700 employees and nearly $300 million in annual revenue before it was sold to Cisco for $2.7 billion.
Over the years, Headley had remained connected to Virginia Tech, first as an alumni recruiter for Arthur Andersen and later as a football fan. When he retired from full-time work in 2014, Headley, motivated by nostalgia and a desire to give back, re-engaged with the university. He was quickly energized by what he saw at the Pamplin College of Business.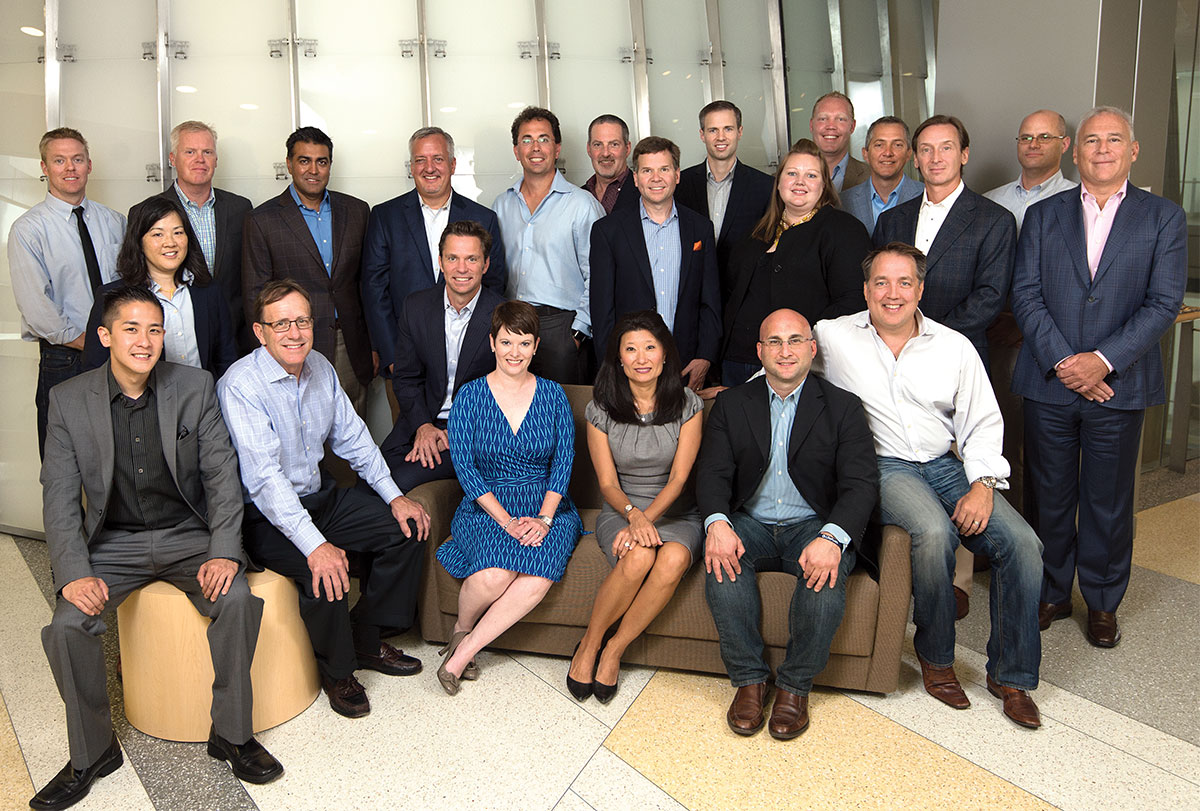 The advisory board for the Apex Systems Center for Innovation and Entrepreneurship, which met on campus in September, counts among its members many who are involved in the Virginia Tech Investors Network. Learn more about the new center's university-wide scope of responsibilities →
John Kinzer (accounting '90), chief financial officer of HubSpot, a company that makes software for Web marketing and sales, had a similar experience. Despite attending occasional networking events in Washington, D.C., and Boston, Kinzer felt disconnected from Tech. That changed when Robert Sumichrast was appointed Pamplin dean in 2013. Kinzer bought into Sumichrast's vision for the business college, and all the more so after he shared a supper with the dean and Derick Maggard (M.S. industrial and systems engineering '13), executive director of Pamplin's Apex Systems Center for Innovation and Entrepreneurship.
In spring 2015, Maggard and eight students visited HubSpot, where Kinzer arranged an office tour and discussions with people from different sectors in the company.
"I know I got a lot out of [the visit], and it gave me some energy," said Kinzer, who now advises the Apex center and mentors students. "It got me thinking about an intern program and bringing Tech grads up to HubSpot. There are a lot of commonalities and connections."
During the past academic year, the Pamplin college organized nearly 300 presentations by alumni and business leaders for classes and student groups. Student projects focus on real issues in companies and organizations. And 85 percent of students completed an internship last year, Sumichrast said.
"At Pamplin, our goal is to ensure that students get the best business education anywhere," Sumichrast said. "We take a broad view of what constitutes education. Formal education organized by courses and programs is an important part—but only a part. Pamplin education includes experiences beyond the classroom."
Votes of confidence
Headley, Kinzer, and other alumni who have experienced start-up success—such as LifeFuels CEO Jonathon Perrelli (finance '95)—formed the core of what became the Virginia Tech Investors Network (VTIN), a group of nearly 100 accredited investors who, six times a year, hear pitches from Hokie-led companies. Since its inception in February, the network has invested $2.38 million in five Hokie-led companies—FitNet, ThreatQuotient, Card Isle, Riff, and LifeFuels. Even if the network decides not to invest in a particular idea, its members often become mentors, offering advice that can be just as valuable as dollars.
The Virginia Tech Investors Network
In its first 6 months alone, from February to August, the network
counted 94 alumni members,
heard from 57 companies that wished to pitch ideas,
fielded pitches from 10 companies,
and invested $2.38 million in 5 companies.
One of VTIN's early investments was in Wayne Chiang (computer science '06, M.S. information technology '09), founder of ThreatQuotient, a software engineering and cybersecurity firm that counts Fortune 500 companies among its clients. When Chiang sought $1.5 million in Series A financing, a term used for new companies in their first round of fundraising, VTIN offered $800,000. By early August, another investor associated with VTIN chipped in, raising the network's total investment to more than $1 million.
"There are so many individuals and talents involved here," Chiang said. "That's really the draw of angel investors. You're not just taking capital from a faceless entity. They have a vested interest in seeing you do well. They invest a lot of time and their insights into the company."
VTIN benefits all parties. Students learn from successful alumni, alumni with new start-up companies garner support and advice, and alumni investors get in on the ground floor of businesses launched by graduates of Virginia Tech—making the network a hub for talent, invention, and innovation.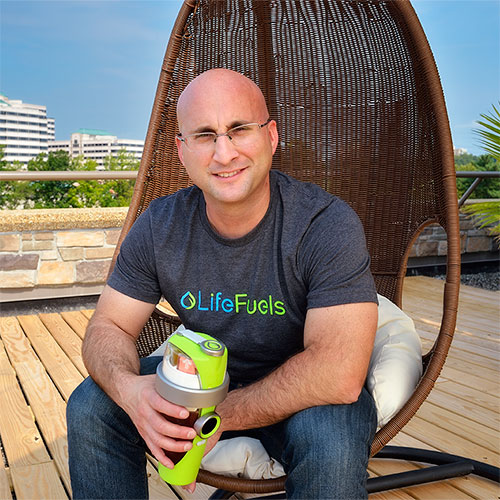 LifeFuels CEO Jonathon Perrelli '95 partnered with other alumni to form the core of the Virginia Tech Investors Network; he's pitched the network and also invested in it.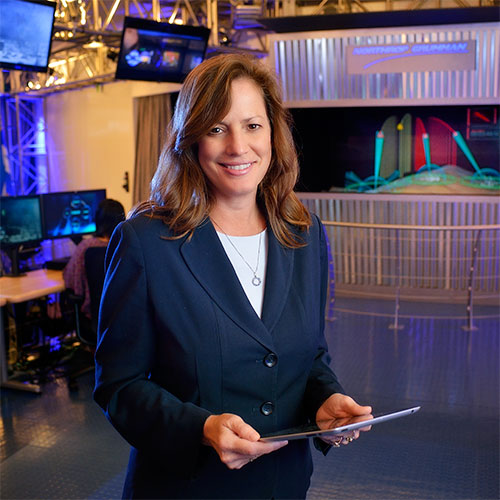 Northrop Grumman's Sandy Forney '86 serves on the Virginia Tech Science and Engineering Regional Growth Enterprise (VT-SERGE) board, networking with other high-ranking alumni, engaging with students, and sharing job opportunities with new graduates.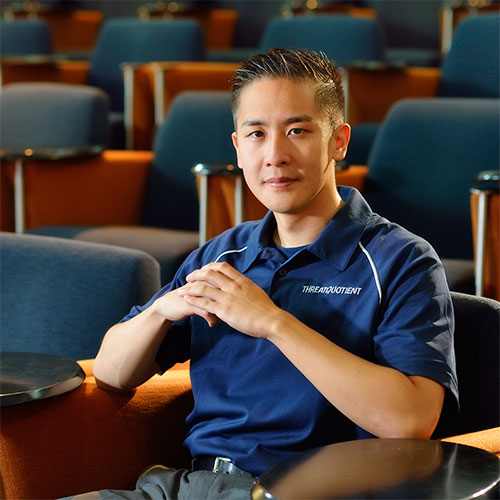 When ThreatQuotient founder Wayne Chiang '06, '09 sought $1.5 million in funding, the Virginia Tech Investors Network pitched in more than two-thirds.
Hokies on the Hill
Internships and mentoring serve to mold and shape the talents of students. However, as an undergraduate, Chris Yianilos (political science, history '94) had difficulty securing an internship on Capitol Hill. His freshman year, he fired off applications to every Virginia congressman and senator to no avail. The next year, Yianilos found an opening with a congressman from northern California, which later led to an internship with U.S. Sen. John Warner, of Virginia. After more than a decade in Warner's office as deputy chief of staff, legislative director, and legislative counsel, in addition to stints with U.S. Rep. Robert Wittman (biological sciences '81), of Virginia, and U.S. District Judge David Faber, Yianilos caught the attention of then-Virginia Tech President Charles W. Steger, who tasked him with creating Hokies on the Hill.
This program assigns students to internships in offices across Capitol Hill, whether with a congressman, a policy association, a committee, or a lobbying firm. Each Friday, the students gather for a classroom discussion that often features guest speakers.
Yianilos, now overseeing state and federal government priorities for Virginia Tech as the university's executive director of government relations, runs Hokies on the Hill with David Tinsley (political science '77), Tech's federal legislative liaison.
"It's a very personal program for me," Yianilos said of Hokies on the Hill. "I've been through what most of these students are trying to do. This is a way, in the spirit of Ut Prosim, to give back to my alma mater."
Many Capitol Hill Hokies turn their internships into jobs. In summer 2014, John Boyle's (political science '15) Hokies on the Hill experience led to an internship with the Association of Public and Land-grant Universities. Now he works as a staff assistant in the Roanoke office of U.S. Sen. Tim Kaine, of Virginia.
Similarly, Colin MacDermott (political science '12) spent his Hokies on the Hill internship working for U.S. Sen. Jim Webb of Virginia. Now, MacDermott is a staff member for the powerful U.S. Senate Appropriations Committee, which makes federal funding decisions that affect not just the U.S., but the world.
Although interest in foreign relations led Meghan Oakes (international studies, religion and culture '15) toward politics, she decided that a better understanding of domestic policy would give her a fuller picture of the world. Through Hokies on the Hill, she was placed in the office of U.S. Rep. Frank Wolf, of Virginia, which exposed her to a broad range of issues, such as health care and immigration reform.
"I was completely out of my comfort zone, but it was probably the best thing that happened to me," Oakes said. "I realized there are so many more issues out there that need champions."
Today, Oakes works on the health care policy team of U.S. Rep. Diane Black, of Tennessee.
"Ut Prosim is something you spend four years learning about, and now I'm working as a public servant," Oakes said. "On the Hill, I've met a lot of Hokies. That's such a great experience, laughing about being on campus. Tech has already given me so much—education, great friends—and now it's given me the experience and opportunities to pursue my career goals."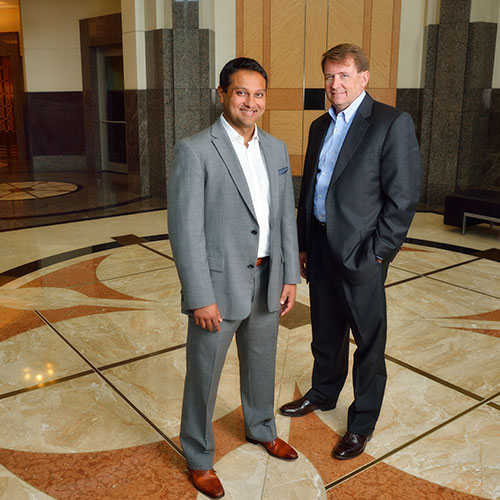 Mehul Sanghani '98 (left) employs nearly 40 Hokies at his company, Octo Consulting Group, including Robert "Bob" McCord '84, '86 (with Sanghani), the president and chief operating officer.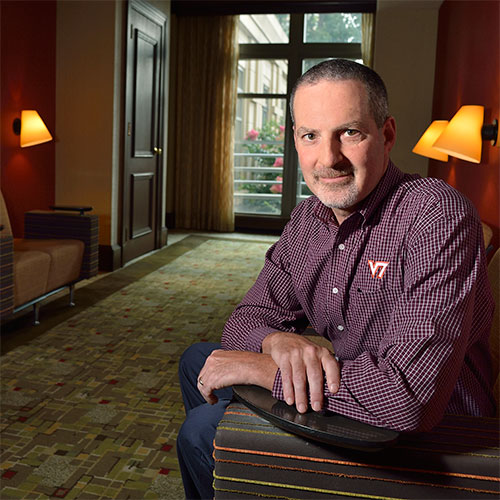 Todd Headley '85 was recruited by accounting firms as a student at Tech and later dove into the world of technology start-ups. Now, he's mentoring and investing in the next generation of Hokie entrepreneurs.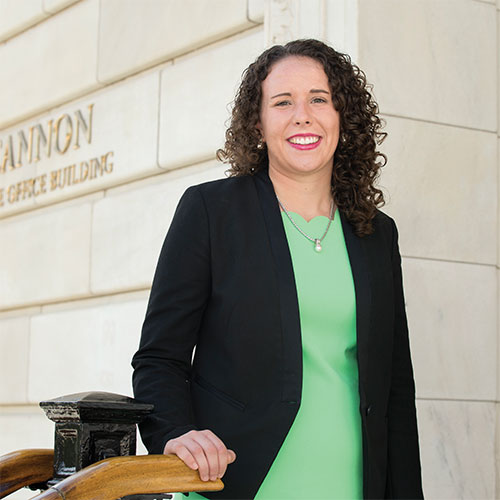 Meghan Oakes '15 capitalized on her experience in the Hokies on the Hill internship program to land a job on a U.S. representative's staff.
A level of trust
Virginia Tech's ascent into the ranks of the world's top universities can be attributed to many factors, but the prominence of the College of Engineering stands as a key driver. Companies around the world recognize a Tech engineering degree as a signifier of talent and quality, and many begin networking with students as early as possible.
A key facilitator in that networking is the Student Engineers' Council (SEC), which hosts an annual expo that serves as a career fair to link job-seeking students with companies in search of talent.
SEC President Zachary Mayes, a senior majoring in industrial and systems engineering, has worked with companies and sponsors to set up the expo in years past. That exposure helped him land an internship in Seattle with Boeing, and he spent the summer traveling to the manufacturing facilities of Boeing's suppliers to ensure their processes and quality control met the company's specifications.
5 ways to find Hokies online
---

Alumni seeking career assistance may contact the Alumni Association's Nancy Brittle, director of the alumni career resources program, at nbrittle@vt.edu or 540-231-8901.
During that time, Mayes made connections with full-time Hokies at Boeing—an informal network that may well prove as crucial as the more formalized version that got him to Seattle in the first place. As he finishes his degree at Virginia Tech, Mayes will ponder his options, which may include the possibility of returning to Boeing.
Boeing is hardly Mayes' only option, however, as evidenced by the broad range of alumni who participate in the Virginia Tech Science and Engineering Regional Growth Enterprise (VT-SERGE), a group of senior executives from major companies in the National Capital Region who advise the university on strategic issues.
Nearly 30 years ago, Sandy Forney (electrical engineering '86) found herself in much the same position as Mayes. Through her involvement with student government, sororities, and professional groups on campus, Forney was able to choose from a number of job offers. Today, she's director of engineering, performance, and tools for the information systems sector at Northrop Grumman Corp., a global security company that ranks as one of the Commonwealth of Virginia's biggest employers.
"As a company, Northrop Grumman already was working with Virginia Tech as a partner on various levels to stimulate innovation and create the next generation of engineers and scientists," Forney said.
By serving on the VT-SERGE board, which meets quarterly at the Northern Virginia Center and annually at the Blacksburg campus, Forney has access not only to a network of other well-placed Hokies, but also to student entrepreneurs who play an increasing role in Tech's engagement with the business world.
"We had the opportunity to meet the students who were leading start-up entrepreneurial programs," Forney said. "They'd have an interdisciplinary mix—a CEO from the Pamplin College of Business, a lead computer scientist, a lead engineer—and they'd get together and create a company. At VT-SERGE, we'd hear about these companies and meet these students, and I could connect them to our recruiters."
Mehul Sanghani (industrial and systems engineering, psychology '98) serves on both the VT-SERGE board and the Virginia Tech Board of Visitors. A Blacksburg native, Sanghani entered the software field in Silicon Valley before going into the government tech sector. In 2006, after working at a string of companies and meeting Hokies every step along the way, Sanghani started Octo Consulting Group, which serves primarily federal government customers. He employs nearly 300, including nearly 40 Hokies, and said he's on track to bring in more than $60 million in revenue in 2015. In mid-August, Octo hired Robert "Bob" McCord (mining engineering '84, M.B.A. '86) as president and chief operating officer.
Sanghani's VT-SERGE participation has proven to be a powerful way to network with high-level executives who share a love for Tech.
"That has been so helpful," Sanghani said of VT-SERGE. "When I go into a conversation, even if it's someone I don't know, and I say that I'm a Hokie, it not only breaks down barriers, but there's a level of trust that's pre-established, a cultural fabric related to values. Ut Prosim is obviously our motto, but it also speaks a lot to the trust and business relationships I've been able to build with other Hokies here in the community. In the federal business community, where it's a highly competitive market, where the top 40 companies do most of the business and then everyone else is at each other's throats trying to get the rest of business, it's crucial to have the Hokie network. You're able to really build that trust and stand on each other's shoulders in an overall cutthroat, hostile environment."
Bring It Home
Around the commonwealth, the nation, and the world, Hokies are launching new ventures and leading well-established companies. And in some cases, they're electing to start those businesses in—or relocate them to—the New River Valley.
Why? The region is richly endowed with the services, facilities, and amenities that contribute to business success. Read more at www.BringItHomeNRV.org.
Also, check out Virginia Tech Magazine's six-story series on tech-sector growth, highlighting the area's rich entrepreneurial resources.