CNBC's Brian Sullivan '93 interviewed by intern Landon Dowdy in the CNBC global headquarters newsroom, 2013
---
The Anchor
by Mason Adams
In fall 2012, the televisions at the Virginia Tech Foundation just happened to be turned to MSNBC's "Morning Joe" when Brian Sullivan, wearing a Tech hat, appeared on screen and predicted a Hokie win in the next day's football game.
Sullivan (political science '93) appears on the cable news show from time to time, and also hosts CNBC's "Power Lunch," which airs on weekday afternoons. His appearance that morning sparked a quick email from Virginia Tech Foundation CEO John Dooley. Sullivan responded within five minutes and soon agreed to return to Blacksburg to speak to the foundation and to a pair of student investment groups. Since reconnecting, he also has joined the Alumni Association Board of Directors.
Sullivan is revered as a voice in the business world. In a 2007 Bloomberg Business special titled "Subprime Shockwaves," he outlined the looming housing bubble just before a global recession. That special was nominated for a Loeb Award, as was Sullivan's 2013 CNBC documentary "America's Gun: The Rise of the AR-15."
His success wasn't always so assured, however. Like many freshmen, Sullivan came to Virginia Tech lacking a clear direction. But the personable young man did possess a sharp mind and a relentless work ethic.
The spring of his sophomore year, Sullivan and a Zeta Psi fraternity brother, Jeff vonSeldeneck (hospitality and travel management '94), started a two-man lawnmowing company.
"We had a pretty aggressive flier campaign where we stuck fliers in teachers' mailboxes on campus, and we started getting tons of phone calls really quickly," vonSeldeneck said. "Brian was an excellent sales guy. As we got phone calls, we'd set up appointments and go out and talk to [customers]. Brian was always good at asking questions and getting people to talk. It was a simple lawn business. You see what he's become: He interviews top executives. The early days were the same. He was always about learning and asking questions."
After graduation, Sullivan first talked his way into a job working for a Japanese bank and later into a temporary job at Bloomberg Business. His boss at Bloomberg gave him a stack of work and four days to complete it.
"I went back to him at the end of the first day and said, 'I'm finished,'" Sullivan said. "He said, 'You're stupid. Now I don't need you.' I told him that's how I work. He thought for a minute and said, 'Come back tomorrow, and I'll find you something to do.'"
The interaction led to a 12-year stint working for Bloomberg, which in turn launched Sullivan's news career. After "Subprime Shockwaves," his profile skyrocketed.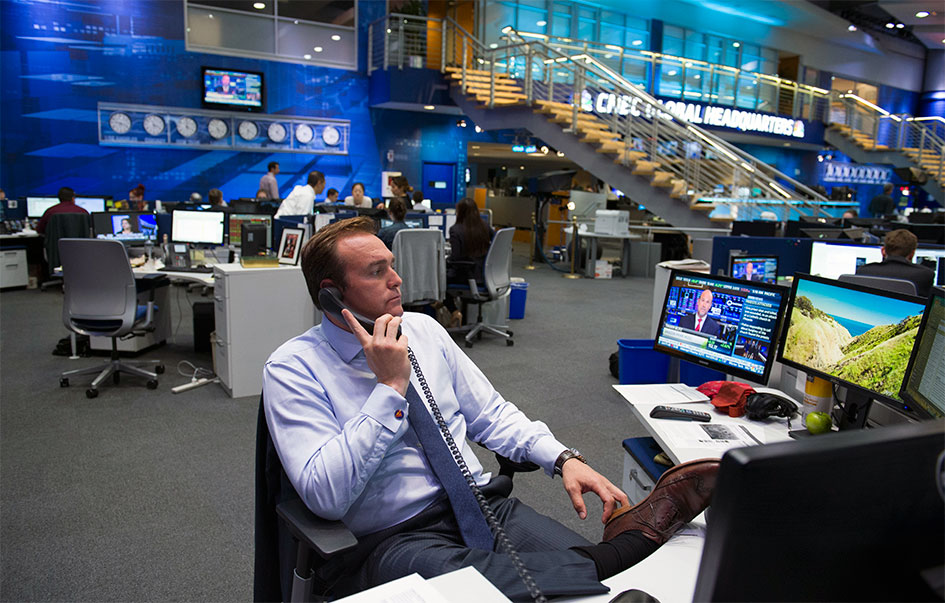 "Unfortunately, the past 15 years have given us plenty to talk about in financial media," Sullivan said. "I get to see the world from a 30,000-foot view. I tend to aggregate information, and I've been pretty good and correct on some of these macro-trends. Once a year, I make predictions, and I've been pretty spot-on."
In his down time, Sullivan races in the Spec Racer Ford class of the Sports Car Club of America, where he's won two divisional championships. His cars—both for races and for his New Jersey commutes, which occasionally stretch into New York City—sport Virginia Tech stickers.
"The cool thing about Tech is it's a big school, but it feels like a town, like a community," Sullivan said.
That feeling extends outside the U.S., too. In 2009, Sullivan visited Dubai, the ultramodern United Arab Emirates city, to report on the financial crisis. He landed on a Sunday, checked into his hotel room, and started researching sources.
One of Sullivan's first phone calls was to UBS, a financial services firm, and he noticed that the man on the other end of the line had a bit of a Southern accent. The two arranged to meet in the Dubai International Financial Centre later that evening. When Sullivan stepped off the elevator and into the man's office, he quickly spotted a photo of the Virginia Tech football team on the wall. As it turns out, Saud Masud (electrical engineering '99, M.B.A. '01) was a fellow Hokie. The two shared their experiences before getting down to business.
Sullivan said he wants to help Virginia Tech grow, in terms of influence and size, but in a way that preserves the sense of community that connects Hokies out in the world—even on a Sunday night in Dubai.