For years, Eric Eley (industrial engineering and operations research '85) wanted to become more involved in the Virginia Tech Alumni Association's chapter program, but often his job was too far from Blacksburg and his career and raising a family took much of his time.
Then, a close friend who Eley had lost touch with reached out to him after 20 years, and that simple gesture became "sort of a turning point." Eley, who had moved to Greensboro, North Carolina, for his work with Johnson Controls International, joined the NC Triad Alumni Chapter and four years ago took an active role in chapter leadership.
Eley is now president of the chapter and a strong advocate of the university's ongoing diversity and inclusion outreach efforts, including more diversity on the Board of Visitors and in administration and engaging alumni chapters to expose underrepresented communities to what Virginia Tech offers.
"As you grow and develop, you look at the value the university has brought to you," Eley said. "I found that I had a great experience there. … I found that I was committed to the university."
Eley was one of more than 120 participants in the Virginia Tech Alumni Association's annual Chapter Officers Forum Sept. 8-9, an event that draws some of the university's most ardent and dedicated ambassadors to campus. The university has about 60 to 70 active chapters.
"Our annual Chapter Officers Forum provides an opportunity for our alumni volunteer leaders to come together as colleagues to share best practices, celebrate successes, and to provide our team with the feedback we need to best support their efforts," said Ginny Ritenour, director of chapter programs.
Attendees learned about upcoming Advancement and Alumni Association initiatives pertaining to students and young alumni, University Relations, diversity and inclusion best practices, and fundraising. An awards dinner recognized the hard work and outreach of chapters and individuals, and a breakfast brought together students who earned chapter scholarships with members of those chapters.
"Chapters are truly an extension of the Advancement division and aspire to carry the flag for Virginia Tech in their communities," said Katie Marquis, assistant director of alumni engagement, chapter programs.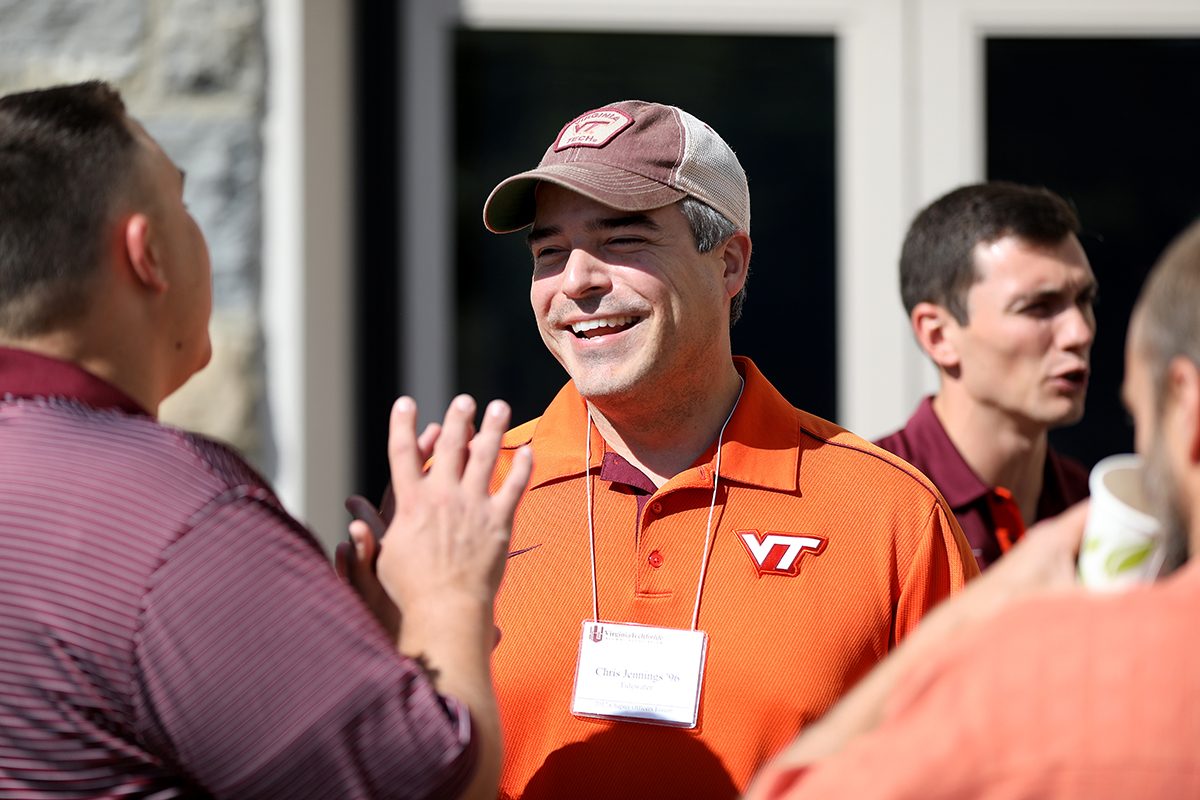 Chris Jennings is president of the Tidewater (Virginia) Chapter.
Chris Jennings (environmental science '96), president of the Tidewater (Virginia) Chapter since 2002 and a forum participant, agreed. "Having a well-run chapter furthers the land-grant mission of the university," he said.
Chapter volunteers work in their local communities, including often raising scholarship funds for local Virginia Tech students. Jennings' chapter has awarded more than $125,000 in the past 10 years to students from the Tidewater area.
Rochelle Ko (marketing, management '09), a management consultant in Northern Virginia, started volunteering with the National Capital Region Chapter immediately after graduating. In 2010, she began working with the chapter's job fair, a scholarship fundraiser that helps students find internships and jobs, but also exposes the local business community to the talent coming out of the university. She took over as president this past summer.
Like most vibrant chapters, the National Capital Region is a busy one, mixing service and social. Members hold a Big Event on the same day the university does; cook food at the Carpenter's Shelter, which works in Alexandria to help the homeless gain independence; and lay wreaths at Arlington National Cemetery. "We really try to serve the university by giving back [to the community] when possible," Ko said.
Training at the forum this year included emphasis on the crucial role chapters will play in Advancement priorities, such as the drive to raise Virginia Tech's alumni giving rate to 22 percent by 2022, and communicating the importance of annual giving. "We would like our chapters to be ambassadors for those things," Marquis said.
Alumni chapters will also play an important role in engaging young alumni earlier, something the NC Triad Chapter made a priority a few years back. Members became more involved in service activities, like the Big Event and feeding the homeless, which increased their visibility in the community, Eley said. But they also increased the frequency of social events, such as game-watching parties, which went from just one per year to four, and happy hours.
"The intent was to give all ages, but particularly young people, a conduit to other Hokies in the area," said Eley, who pointed out that until recently he was the youngest person on the chapter's executive committee. Now there are there are two from the Class of 2015 and one from the Class of 2011. "We've gotten a lot more young people engaged."
Engagement of all kinds has kept Jennings involved over the years. "I stay involved because of my fellow volunteers," he said. "I've had the privilege to work with some of the most dedicated Hokies I know. Their energy is infectious and has sustained our momentum as a chapter all these years."
And Ko loves what all the alumni and Advancement activity accomplishes. "I think it's very rewarding to provide a little connection to the alma mater," she said. "I obviously love Tech."